North Carolina and Hampton Roads
Part 4
On Monday morning, the goal was to get out of Goldsboro.  This was our "transition" day, where we switched gears and began the Hampton Roads part of our trip.  I had packed most of my stuff the night before and laid out my outfit for Monday, so I was pretty well prepared.  I went down for breakfast, where I had a lovely chat with the lady working the breakfast room.  We both commented on how nice the quiet was now that all of the kids were gone.
After breakfast, I repositioned the car to be next to the stair by our room, and I started carrying luggage down via the stairs, since both elevators were down that particular morning (the tech was working to fix them, but that wouldn't happen soon enough for our schedule).  At the bottom of the stairs, I was surprised to find a green anole next to the door.  It was friendly, and didn't mind when I took photos of it.
---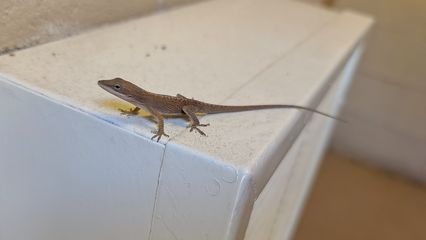 The green anole, just hanging out on a heater unit in the stairwell.
---
When I was finished loading the car, I came back up to get Elyse, and got a few photos of the room before we left.  I've started doing this in the last couple of years when I leave hotels, as a way to remember the place.  After all, it had been our little home away from home for the last three nights.
---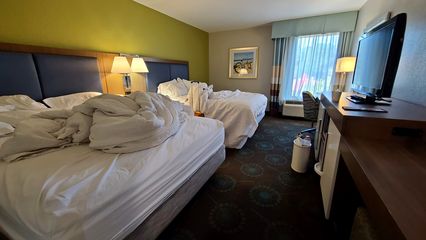 Room 333 at the Hampton Inn in Goldsboro.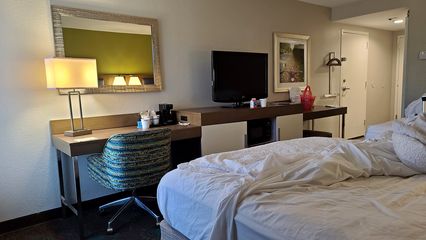 ---
The bathroom.
---
The only weird thing about our room was the door for the bathroom and the closet.  It was a barn door that served as the door for both the bathroom and the closet, and slid between the two.  This drove Elyse crazy, because she likes having all of the doors closed, and this design did not allow that, as one side was always closed, and one side was always open.  There was a latch for the door on the bathroom side, but unfortunately, it didn't go far enough out to be effective.
---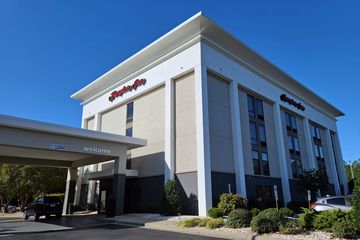 Exterior of the Hampton Inn in Goldsboro.
---
I really enjoyed my stay at the Hampton Inn in Goldsboro.  I would stay there again.  The staff was quite friendly, and it felt normal there.  No one wore masks except a very few, and apart from a plastic screen at the front desk (that everyone more or less talked around), some fruit wrapped in cling wrap, and the "CleanStay" signage from corporate in the room, it felt like a normal hotel stay, without an extra side of pandemic-related safety theater.  I greatly appreciated the normalcy, and it made me feel quite comfortable, as there was no one trying to micromanage me at a place where I was paying to be.  The same went for the area of North Carolina that we visited in general: almost no one was wearing masks, and people had, for the most part, moved on from COVID-19.  It was very refreshing, because despite a very high vaccination rate, the area where Elyse and I live has not yet moved on from the pandemic.
Our first stop after leaving the hotel was at Carlie C's IGA.  IGA grocery stores used to be fairly common, but now are relatively uncommon, so when you see an IGA store, you give it a look.  Elyse had identified this on our first night as somewhere that she wanted to go, but it hadn't fit in our itineraries on the other days.  So today, it was now or never.
---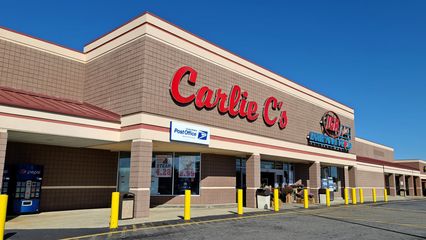 Carlie C's, an IGA grocery store in Goldsboro.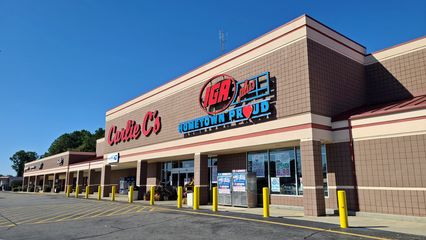 ---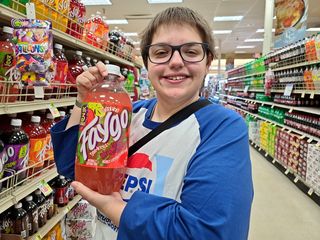 We found Faygo in two-liter bottles at Carlie C's, which is not common up where we live.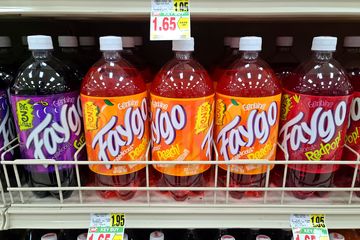 ---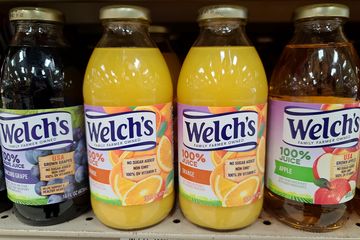 Welch's orange juice, which was a first for Elyse and me.
---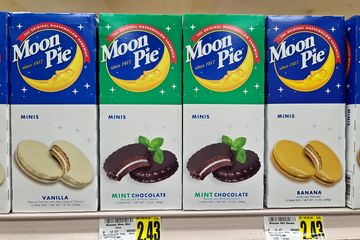 Mint chocolate Moon Pies, which were also something that Elyse and I had never seen before.
---
That visit took a little bit longer than I had wanted, but it was okay.  Elyse got a couple of cans of boiled peanuts to take home, and I got a drink for the road.  On the way back to I-95, I was presented with a few now-or-never opportunities to get photos of unfamiliar road signs.  I had really enjoyed my time seeing all of these different road numbers, particularly the US highway shields, but I knew that this would be over once we got on I-95 again, because that was a familiar road, and Hampton Roads was mostly familiar territory.  So I had a few "oh, that looks interesting" moments where we quickly pulled over to photograph signs.  Elyse complained a little bit about these stops, but, I mean, she did take a while at Carlie C's, so I didn't feel too badly about making several quick roadside stops for signage.
---
Reassurance markers for US 13, US 70, and NC 111 in Goldsboro.
---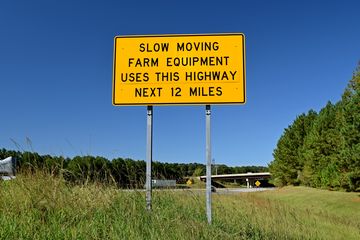 Sign warning that slow-moving farm equipment shares the highway with regular traffic on I-795, at the point where it merges with US 264 in Wilson.  This sign and others like it gave me some pause, because this was an Interstate highway, and traffic was moving at normal freeway speeds, with a speed limit of 70 mph.  I've gotten stuck behind plenty of slow-moving farm equipment during my time living in Virginia, and I would hate to come up on one of these while moving at freeway speeds.
---
End signage for Interstate 795, at the point where it merges with I-95.
---
And then when we got on 95, it was all over.  Interstate 95 was a familiar highway designation.  The drive on 95 was pretty straightforward, and we soon made it to our next stop, in Rocky Mount.  Our stop in Rocky Mount was a bit more abbreviated than I had intended, but such is what happens when you're trying to make a schedule.  Originally, we were going to do two visits to Rocky Mount.  The first was to have been on the way down, where we planned to visit the local shopping mall, Golden East Crossing.  I knew that we were not likely to reach Rocky Mount in daylight for the down trip, and since a mall is generally an indoor adventure, not having daylight didn't really matter.  Then on the way back up, we were going to explore the downtown area of Rocky Mount.  We ended up deleting the southbound visit entirely due to time considerations, and so this was the to be our one and only stop in Rocky Mount.  We made our way to the mall, where Elyse was going to check it out and film a few toilets.
After I dropped Elyse off at the entrance, I did a circle around the property in the car just to get a feel for things, and then I looked for a place to park to fly the drone.  I ended up finding that spot on the back side of the Olive Garden restaurant on the mall property, figuring that was a nice, out of the way place to launch, and for that, it worked quite well.  I launched, and quickly raised the altitude to 393 feet, slightly lower than the maximum allowable altitude of 400 feet.  Then I maneuvered into position to get aerial photos of the mall, just like I had done in New Bern and elsewhere.  I had my angle all lined up, and then I saw a message flash up on my screen: "Motor error.  Check propellers and fly with caution."  That's not good.  Shortly after that, I saw the camera's view turn counter-clockwise uncommanded.  I figured that my drone had been hit by a gust of wind up there, which knocked it out of the position that I had it in.  The Mavic Mini is light enough that it sometimes will get kicked around a bit in the wind, and this was consistent with that.
Dealing with wind reminded me of the way that I crashed my drone back in January while on a trip to Atlantic City.  In that case, the vehicle got hit by some wind while I was attempting to land it, and it flew away from me and out of sight, landing on the roof of a restaurant about four blocks away (which necessitated a second trip to Atlantic City two weeks later to retrieve it, along with the photos stored on the memory card).  I might have recovered from that flyaway incident and brought it home, except that the battery was running low, and when it ran out of power, it did a forced landing wherever it happened to be, sealing its fate.
In this case, I felt confident that I could recover from this unexpected move, because I had just launched my drone, and it was running on a freshly charged battery.  But then I observed a tumbling motion on my screen.  Moments later, the vehicle lost contact with the remote.  I suspected that I had just experienced a mid-air failure, and that I had probably lost my little drone for good.  There was a wooded area nearby, and considering the angle that I had been lining up to shoot, I figured that it had probably fallen in there, and it would have been unlikely that I could have recovered it from there, because hunting for it in the woods would be like looking for a needle in a haystack.  Mind you, that's if it was even accessible at all, and not high up in the trees, out of reach.  Good thing I hadn't taken any photos yet, I suppose.  I went into the flight logs in the app, and soon found that the drone's final reported position was nowhere near the woods.  Good.  Then I discovered something else: the drone had reestablished contact with the remote, and I could see an image on the camera.  In other words, my little drone was still alive!  I could see enough to know that it had landed on its back, and that it was in the grass.  With contact reestablished, I could get an exact position on it, and as it would turn out, it had landed behind a nearby Applebee's, about 500 feet away from where I was standing.  So from there, it was just a matter of going over and retrieving it.  I activated the beep-and-flash function to make its location obvious, and recovered it without issue.
Giving it a look, at first glance, it appeared to be in good condition.  All four motors were present, and all four of the legs appeared to be intact.  A propeller blade was missing from the left front motor.  The camera was hanging a little bit funny, but clearly, it could still see.  Upon further examination, the gimbal mount was cracked through, which explained the hanging camera.
---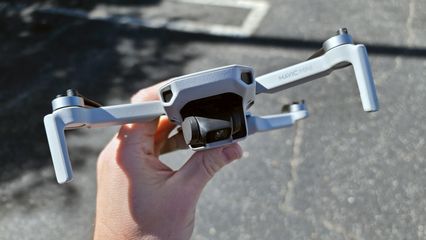 The drone, immediately after recovery, with the cracked camera mount.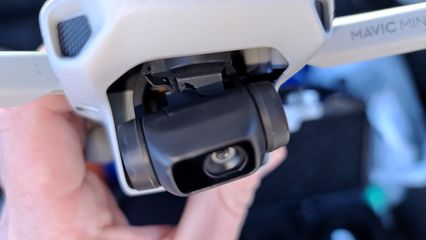 ---
I then attempted to see what would happen if I tried to fly it, despite the missing propeller blade.  I set it down on a level surface, and initiated a takeoff.  The propellers started up, it moved a few inches, and then it gave me a navigation system error and stopped.  This thing was done, and there would be no more flying on this adventure – at least not with this drone.  I didn't have any spare propeller blades with me, and so I had to figure out what to do now that I was down a drone.  My initial hypothesis was based on the loss of contact, thinking that the battery had malfunctioned, but when I asked about it later on Reddit, they locked onto the propeller blade's being missing entirely rather than its being broken off or something, and the consensus was that my drone had thrown a propeller blade mid-flight, which would explain the erratic movements that I saw in flight, as the propeller blade had worked itself loose and then eventually separated entirely.
In any case, there was nothing else that I could do with my drone right then, so I just put it away.  I then drove around the mall and photographed it with my DSLR.
---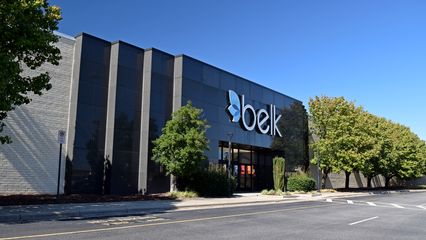 I found the Belk store to be the most interesting thing there, as it had identical architectural features to the one at the former Staunton Mall.  I'd seen many Belk stores before, but never one with the same features as Staunton's store, which had been built as Leggett, and became a Belk in the 1990s.  I suspected that this store, unlike Staunton, had always been Belk, as Belk was the predominant brand in North Carolina rather than Leggett.  The matching architecture could be explained away when you consider that Leggett and Belk were already somewhat related before they merged to form one company.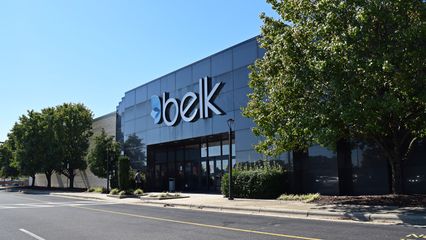 ---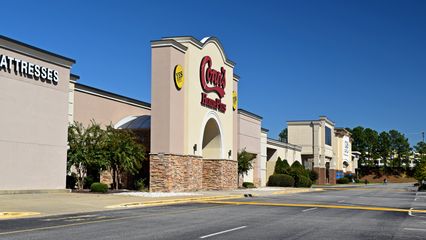 Front of Golden East Crossing.
---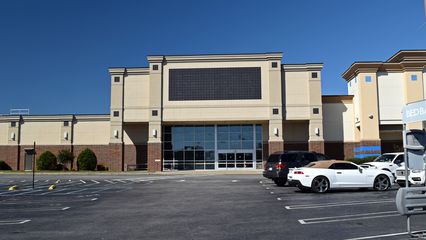 Former Bed Bath & Beyond store.  This location closed in 2016.
---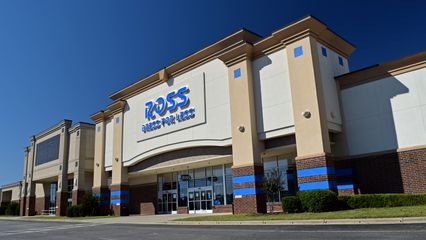 Ross store at Golden East Crossing.
---
After this, I went in to meet back up with Elyse in the Dunham's Sports store.  She did not take the news of the drone's loss too well, as she had plans for it later on in the day, that now clearly couldn't happen.  I had to remind her that it wasn't my intent to screw up our photography plans.  Upon discussing with her further, I determined that I would just get a new drone, since I was out of warranty replacements (which would have taken longer than I needed anyway), and in the year that I had it, I was frequently running up against the hardware limitations when it came to what I wanted to do with it.  In other words, it seemed that in a year's time, I had already outgrown it and was ready to upgrade to something better.  This incident just moved the timeframe for that upgrade from the future to the present.  We looked to see if there were any Best Buy stores nearby.  I quickly discovered that the nearest one was in Wilson, which was to the south of us.  Elyse wanted to go there, but I declined, since that was 25 miles south of us, which was opposite of our general direction of travel for this day.  I was not going to backtrack when we had more things to do ahead of us.  Additionally, I knew that Best Buy stores were plentiful in the Hampton Roads area.  We ultimately found a Best Buy in Newport News on Google that was near our next hotel, and we were expected to make it there in plenty of time.  So, onward.
While were still in Rocky Mount, we also did some photography of the former Kmart, as well as a former Walmart that was nearby.  The Kmart, which closed in 2016, was vacant, while the former Walmart had been converted to a Big Lots.
---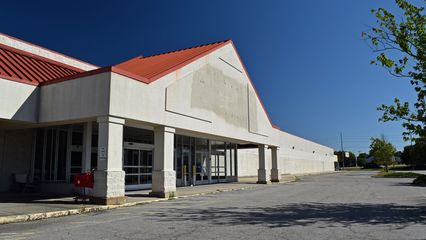 The former Kmart in Rocky Mount.  This store closed in 2016, and is still vacant.
---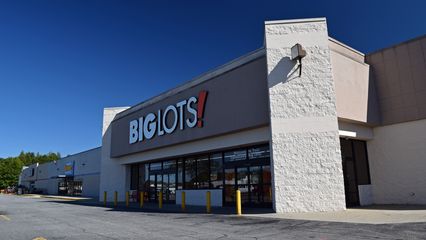 The former Walmart, across US 301 from the mall, now a Big Lots.  Walmart vacated this location in favor of a Supercenter on the other side of the mall.
---
From there, we left Rocky Mount, and hit the road once again.  Our next stop was a decommissioned siren, somewhat off the beaten path in Halifax.
---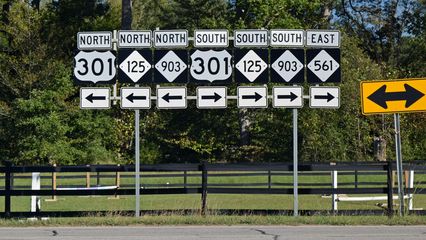 Sign assembly at the intersection of US 301 and NC 561 in Halifax.
---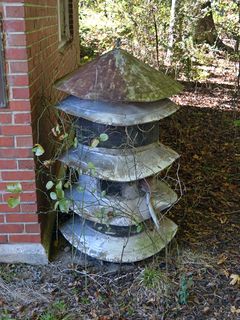 The siren, a Fedelcode Model 20, on the ground behind a small building.
---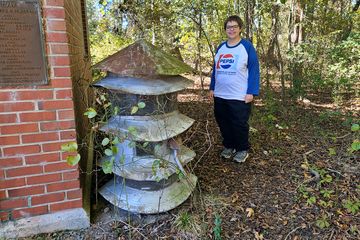 Elyse poses for a photo with the siren.
---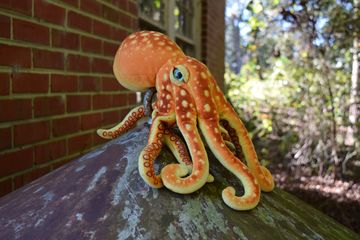 Woomy also posed for a photo with the siren.  However, Woomy was less than impressed by it.
---
On the way back to I-95, we saw the Amtrak Carolinian, which runs from New York to Charlotte via Washington, DC.
---
Returning to I-95, we made a quick hop over to Roanoke Rapids.  There, the goal was mostly just to check out the town to get ideas for a future visit where we had more time to photograph.  We stopped and got gas at a nearby gas station and had lunch at Taco Bell.  We then stopped at a North Carolina state liquor store, i.e. ABC Liquor Store, as Elyse was curious to see how it compared to Virginia and Montgomery County's government-run liquor stores.
---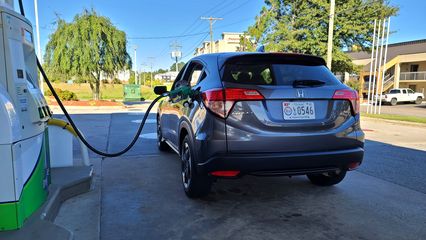 Fueling the HR-V in Roanoke Rapids.
---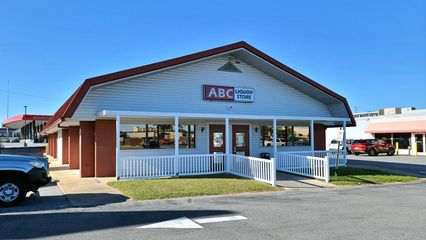 The ABC Liquor Store in Roanoke Rapids, housed in a former Bonanza steakhouse.
---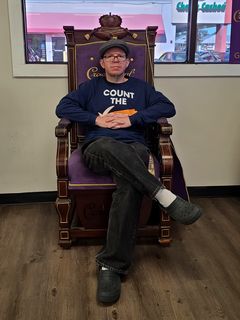 Elyse got a photo of me in a Crown Royal chair in the ABC store.  When I posted it to Instagram, I captioned it, "The king will now see you."
---
From here, we made our way through Roanoke Rapids via US 158, NC 48, and NC 46, eventually ending up back at I-95.
---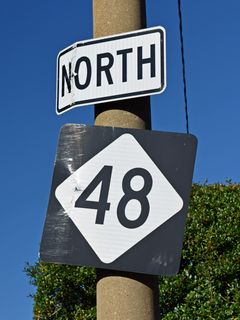 Reassurance marker for NC 48 on Roanoke Avenue.
---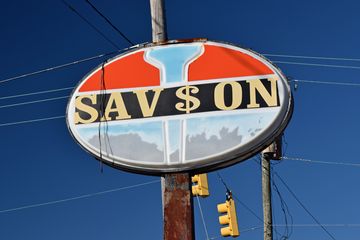 Sign for "SAV $ ON", created over what was formerly an Amoco torch-and-oval sign, at the intersection of Roanoke Avenue and First Street.
---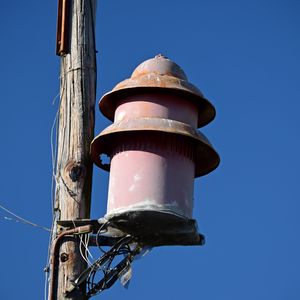 Darley Model 5 siren at the fire station in Gaston.
---
Roanoke Rapids is a place that I would love to spend more time in the future, but I don't necessarily know when that future will be at this point.  In any event, that was our last North Carolina stop, and from there, it wasn't long until we crossed into Virginia.
Our first stop in Virginia was Emporia, which is a small city that had a lot of money at one time, but whose glory days are now well in the past.  Like some of these other cities, it's worth exploring in more depth, but we simply didn't have enough time to do it justice on this particular trip.  Additionally, we had planned to do some drone photography in Emporia, but considering that the drone had thrown a propeller blade earlier in the day, we made do with more conventional techniques.
Our first stop in Emporia was a Federal Signal STH-10 siren that was housed inside of the structure of a communications antenna.  I waited for Elyse to photograph this one, and then we headed down to a water tower that I had wanted to do, while Elyse wandered around the downtown for a bit.
---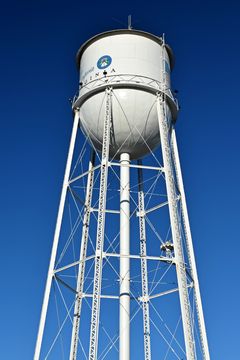 The water tower in Emporia.
---
Surprise: I found another Federal Signal STH-10 mounted inside the water tower structure.
---
Finishing up with the water tower, Elyse had me join her at Fork in the Road, which is a little ice cream shop at the corner of South Main Street and Brunswick Avenue.  That was a really neat place, with charming decor and a vintage HVAC system.
---
A statue of Cousin Itt from The Addams Family at Fork in the Road.
---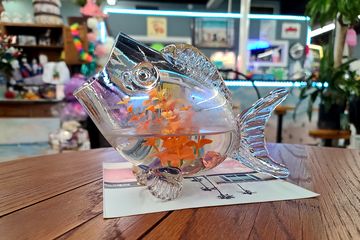 A glass fish sculpture on one of the tables.
---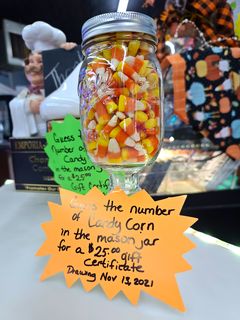 A contest where you guess the amount of candy corn in the mason jar for a chance to win a gift certificate.
---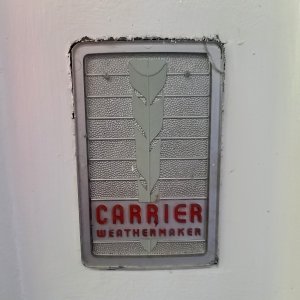 Elyse and I really enjoyed seeing the various fixtures that were part of the HVAC system, a vintage Carrier WeatherMaker system.
---
The most amusing moment was when we visited the restrooms.  Fork in the Road has two single occupancy restrooms, and, interestingly, the light switches for both of them were just outside of the restrooms themselves, next to the door.  So after I finished, while Elyse was still inside, I turned the lights out on her.  Yeah, I had to.  But it was all in good fun.
Leaving Fork in the Road, we resumed our journey towards the Hampton Roads area, taking US 58 eastbound.  We made one "roadgeek" stop along the way, stopping at the intersection of US 58 and State Route 308, in order for me to photograph the signage.
---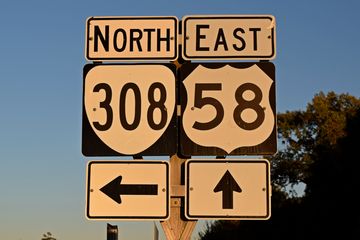 Signage at the intersection of routes 58 and 308.
---
We also made one more stop along the way, at Gurganus Peanuts in Capron.  That was an unplanned oh-that-looks-interesting stop, but unfortunately, Gurganus was already closed by the time we went through.  Well, crap.  But this stop wasn't planned, so those are the breaks sometimes.  In any case, we took some photos of and with a vintage tractor on the property.
---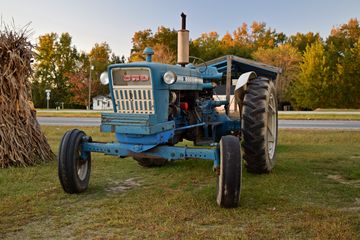 The tractor, a Ford 5000.
---
Elyse poses for some photos with the tractor.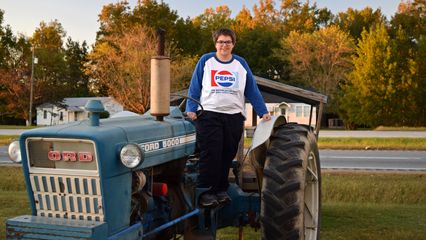 ---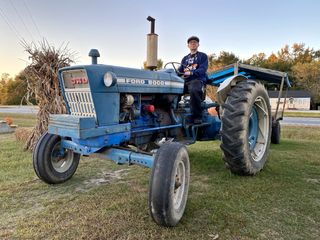 Elyse also got a photo of me with the tractor.
---
Getting back on the road, we eventually reached Suffolk.  I couldn't help but think, welcome to Hampton Roads, as we passed the city limits sign.  Of course, Hampton Roads is a big place, and the various cities in Hampton Roads are very large in area (they are county-sized), and we were coming in via the southwest corner of it, so we still had some way to go, but we were getting there.  Our route took us to Interstate 664 and over the Monitor-Merrimac Memorial Bridge-Tunnel (MMMBT), and finally we got to Newport News.  We navigated to the Best Buy store on Jefferson Avenue, in order to get a replacement for my crash-damaged drone.
But first, I noticed the store next door to Best Buy: a former Babies "R" Us that was now being used as a Spirit Halloween.  Had to get a few shots of that.
---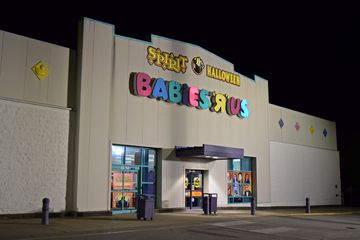 The former Babies "R" Us, with the sign still in place, and still lighting up.  Spirit Halloween just slapped their own sign on the wall directly above it.
---
At Best Buy, we quickly located the drone section, and checked out our options.  As far as drones went, I was planning to stay in the DJI ecosystem, and the options were a DJI Mini 2, a a DJI Mavic Air 2, and a DJI Air 2S.  I dismissed the Mini 2 more or less out of hand, because that was the upgraded version of what I already had.  Therefore, I would likely run into the same limitations with that as I did with the Mavic Mini, which I felt that I had already outgrown.  Between the Mavic Air 2 and the Air 2S, I went for the 2S, because I figured that I might as well get the newest model in order to future-proof myself a little bit more.
The idea was that with this purchase, we were out of "starter drone" territory.  This was a more serious drone, and I intended to use this for a while.  It was kind of like my original Mavica vs. Big Mavica back in 2000 and 2002.  My original Mavica, an FD73, was a good starter camera (here's a review of the near-identical FD75 to give you an idea about what it was about).  I got used to how to handle things, I figured out what I liked to shoot, and I got a lot of memorable shots in the process, even if the image quality was relatively low.  The same could be said about the Mavic Mini, in that I learned about drones with that device, and figured out what I liked to do with drones and how to best use them.  The image quality was good enough, and produced decent quality images.  Then after the original Mavica, I went to what I called "Big Mavica", a Sony Mavica CD400.  That was a significant upgrade, and was a far better tool for me now that I knew what I used my camera for and how I functioned with it.  I ended up using Big Mavica for a little more than five years, when it finally got damaged in a rainstorm and I decided to upgrade rather than repair.  I suppose that the Air 2S is the drone equivalent of Big Mavica for me.  Hopefully I get as much use out of this as I did with Big Mavica.
In any case, Aaron and Evan showed up while we were looking, and then once I had settled on my choice, I had to get an employee to get it out for me.  That took a surprisingly long time, as I felt like the store was a bit understaffed.  In any case, I eventually got someone, and I paid for it with my phone.  I had started using Google Pay a month or so prior to this trip, and had been using it on a regular basis since I set it up.  At $1300, this would be the largest purchase that I had ever made with my phone.  It worked like a charm: just tap, and ba-ding, paid.
And now, with new drone in hand, we all headed over to our hotel in Newport News.  This was the Hampton Inn on Ottis Street, which identified itself as "Yorktown".  As soon as I we rolled up to it, I quickly got a sense that I wasn't going to enjoy this place as much as I did the Goldsboro location, starting with the sign on the door that read, "PLEASE WEAR A MASK".  With no government mask mandate in place and my commitment to a 100% mask-free trip, we all ignored that, and no one challenged us on that issue.  However, it certainly set the tone for that hotel.  Similarly, in order to use the indoor pool, you first had to sign up for it with the front desk, and the pool's hours were severely limited.  The indoor pool was one thing that led me to choose this hotel over others, and there was no indication of that on any of the promotional literature that I found about the hotel.  Therefore, they screwed that up pretty well – so thanks for nothing.  Additionally, the front desk had a giant plexiglass screen in front of it that was tightly fitted to the space, which made it look less like a mid-tier hotel and more like a seedy motel where the front desk attendant is behind bulletproof glass.  The way I saw it, I was paying a lot of money to stay there, and this particular franchisee was going above and beyond in the area of safety theater, which I had little patience for – especially when the Goldsboro hotel was, for the most part, a normal stay with an extremely friendly staff.  By comparison, the staff at the Newport News location was nowhere near as nice as the folks working at the location in Goldsboro, and they were all wearing masks (in Goldsboro, almost no one wore a mask).  But the hotel was already paid for, so we ignored their safety theater as well as we could.  I realize now that I should have taken it as something of a red flag that they charged a slight premium for a room with a refrigerator and a microwave, which seemed unusual for a Hampton Inn.
After we got settled in the hotel, the four of us piled into the HR-V and went out in search of dinner.  We decided to go to Waffle House, in part because I had not been to one in nearly twenty years.  Seriously, the last time I went to Waffle House was in the spring of 2002, when I made a late night Waffle House run with a friend who lived in Potomac Hall with me, going to the location on East Market Street in Harrisonburg.  However, in this instance, we were stymied in our initial effort, because unbeknownst to us at the time, the location that we went to, on J. Clyde Morris Boulevard, was closed in order for them to make repairs to the roof.
---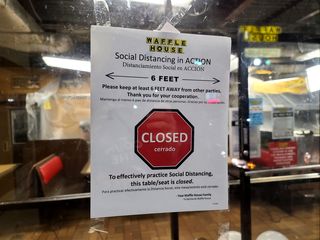 Social-distancing signage on the door, being used to indicate that the restaurant was closed.
---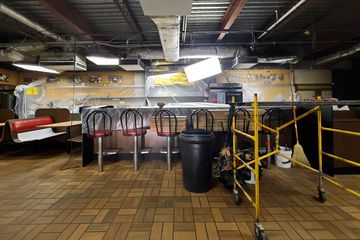 The interior of the restaurant, with the entire ceiling removed and the walls covered.
---
So with that restaurant closed, we went back on Google and found another one, on McLawhorne Drive.  That one was open, and not crowded.  The staff was friendly, and we all did pretty well.
---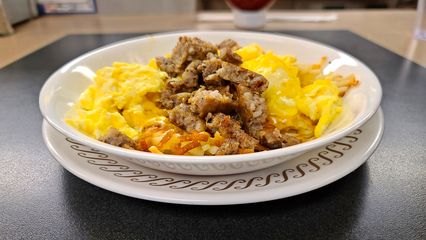 My meal at Waffle House, which I considered to be a good, solid meal.  I ate about half of this, and took the rest of it back to the hotel for later.
---
When we got back to the hotel, we parked the car, Elyse and I put our food away, and then we all walked over to the Kroger in the shopping center across the street for a carton of milk to have in the mornings.  We got our milk, and walked back over to the hotel.  We then said good night to Aaron and Evan, and they went back home.  And that was the end of our "transition" day.
Part 4