Night March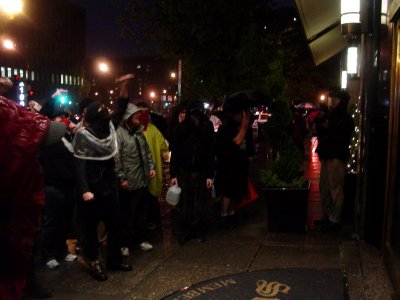 April 22, 2006.  Washington DC.  The World Bank and International Monetary Fund were having their spring meetings downtown on this particular weekend.  Via the mailing lists I subscribe to and a check on the protest calendar at DC Indymedia, I found out what was going on this weekend for protesting those meetings.  For some, it was an all-day affair, with training sessions at St. Stephen's Church at the corner of 16th and Newton Streets NW, followed by a "night march and actions to capitalist points of interest" from Farragut Square at 7:30 PM.  The day before, the Mobilization for Global Justice put on a "snarky, in-your-face theater to confront the meetings and draw attention to the destructive policies of the Bank and Fund," where they gave the World Bank a failing bill of health.
I didn't participate in the training sessions at St. Stephen's Church nor the media stunt, but I did participate in the night march from Farragut Square.  And what a day it turned out to be…
---
One word could describe the entire day fairly well: Rain.  Rain, rain, and more rain.  Leaving the house, it was quite cloudy, but dry.  I took a quick stop at the northbound rest area at milepost 262 on I-81.  There, the rain began.  Going into the rest area, it was dry.  Leaving the rest area, it was a downpour, and it would remain that way for the rest of the trip up.
Arriving at Vienna, I got parked in my favorite parking space (shown here occupied by my previous car, the Previa) on the top level of the North Garage, and spent a few minutes getting prepared for the day.  Now for a regular DC trip, this takes seconds.  I just grab the camera bag, load the first CD in, grab my cell phone and keys, and grab my jacket and/or umbrella if necessary.  But for a protest, things are a little different.  There, I carry a backpack, which contains my black hoodie, a spare shirt, a number of other protest supplies, a few bottles of water, and a hard case for my glasses.  And then "getting prepared" on protest days means adding a number of supplies from my camera bag into the small compartment on the front of the backpack.  This includes Big Mavica, my "protest" CDs (as explained in an April 2006 Journal entry), my transit log, and the various other odds and ends I carry in the little front pouch of my camera bag.  An important consideration here was choice of umbrella.  I have a smaller umbrella that I usually take on protest days.  "Smaller" in this case meaning that it fits in the backpack.  My regular umbrella is a huge golf umbrella.  Since it was raining cats and dogs outside, I took the regular umbrella and left the small one in the car.
So, except for my carrying the backpack and all my protest stuff inside of it, you'd think this was a regular DC trip.  I got on the Metro, and rode down to Rosslyn.  There, I did my Rosslyn thing.  I got a copy of the Express, and figured out what was going on for the day – before the protest, that is.  It had also stopped raining by now, causing me to regret my decision to bring my regular umbrella.
---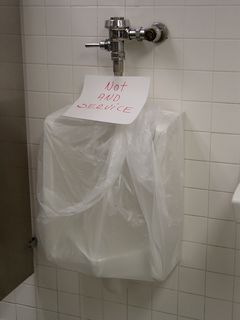 In the men's room at Rosslyn Center, however, I was met with a bit of a surprise.  This was not only due to the urinal being out of service, but also the sign indicating this.  Instead of "Not in service", the person making the sign wrote "Not and service".  Whoops…
---
From Rosslyn, took the Blue Line to Farragut West, and then walked south towards the World Bank.  All was quiet.  I figured I'd take a walk through downtown Washington, past a few potential sites where I might find activism around midday.  This time around, the streets around the World Bank building were all accessible to traffic.  The only noticeable difference was a large police presence around the building, and three Metrobuses parked in front.
So with nothing going on over there, and the most interesting thing from the outside being construction on 18th Street NW east of the building, I went on.  So I crossed 18th Street and then Pennsylvania Avenue, going from Murrow Park to the opposite corner, occupied by the World Bank's ironically-named InfoShop bookstore (which was closed at the time of my passing by).
---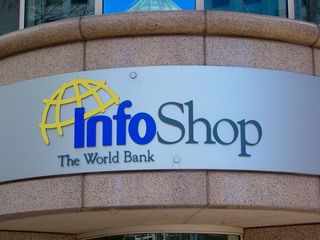 How ironic that the World Bank runs its own bookstore known as "InfoShop", seen here in this February 28, 2006 file photo, considering that a real Infoshop exists at 9th and P Streets NW.
---
From there, I walked southeast towards the White House, where, as I've noted before, no less than three Starbucks Coffee locations exist.  I consider that to be bordering on obscene, to need that many Starbucks stores in one location.
At the White House, there was a bit more activity than at the World Bank.  First of all, the western end of the 1600 block of Pennsylvania Avenue, near Blair House, was cordoned off as it usually is for a visiting head of state.  In this case, Chinese President Hu Jintao had recently been in town, visiting President Bush.  Further down the street, in front of the North Portico, I found two people holding a banner that said "Impeach Bush" in large letters and carried a link to yellowcakewalk.net.
---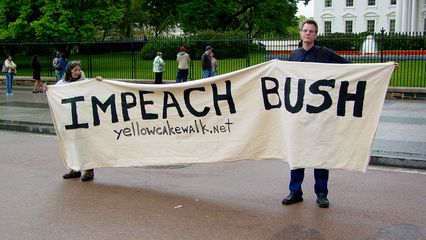 This is the "Yellow Cakewalk" banner.
---
The gentleman to the right and I also got into a discussion about the various demonstrations we'd each been to.  I'd mentioned my first protest (April 12, 2003), the June 5, 2004 march to Donald Rumsfeld's house, the events comprising the Day of Activism photo set, the Million Worker March, J20, the arrest of Midge Potts, Pete Perry, and David Barrows at a demonstration outside the Supreme Court, A16, and September 24.  I also told him about the global justice march that would be meeting at Farragut Square that evening at 7:30 that I was planning on attending.  He also told me about a curious-looking rally that was going on in Lafayette Square just across the street from our location.  He figured it "might be Freepers" (members of the right-wing group Free Republic).  It piqued my curiosity, so I took a look.
---
It seems that it was actually a Korean group demonstrating about what appeared to be something related to detainees in North Korea.  I couldn't tell much else about it because the speeches they were giving were in Korean.
---
Returning, the gentleman by then had put away his "Impeach Bush" banner, and pulled out an oversized Bush mask similar to that which the "Abu Ghraib Fraternity" had worn on J20, and carried a posterboard sign.
---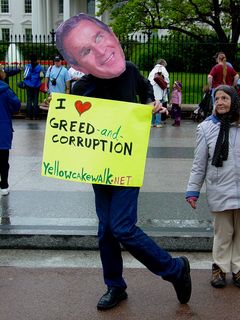 Putting the banner aside, the gentleman is now in full Bush mode, making all kinds of interesting poses using the Bush mask.
---
After a bit more conversation, I headed on out, but not before reminding him of the march that evening.  Following this, I walked down G Street NW to Hecht's, which has a men's room that's easily reached.  Interestingly enough, the way I find the men's room is by looking for the Speedos.  The men's room is right around the corner from the Speedos.  It's a strange way of finding the restroom, but it works.  Hecht's also has a direct entrance to Metro Center station, which is handy.
Following my brief visit to Hecht's, I went down into Metro Center, with the intention of going to Union Station for a bit.  At the Glenmont platform, I encountered a rail supervisor.  I asked her why the next-train information was not showing up.  After an answer that didn't seem right, I added that it appeared to be system-wide, as the same thing happened at Rosslyn earlier in the day.  Her answer then was basically, hang on, I'll go check, and she was off to the kiosk on the 11th and G Street mezzanine.  When she came back, I learned it was a server problem that was causing this information to not display, and that they were working on the problem.  Fair enough.  And I can manage.  After all, Metro ran for 24 years without next-train information before it was implemented in 2000.  Back then, people just watched the lights on the platform edge, and looked down the tunnel for headlights.
I rode Breda 3283 to Union Station.  There, I was interested in settling my stomach.  As is the usual case on a DC trip that includes a protest, my stomach was in knots before the protest.  And the fact that this protest was at night didn't make things any easier.  So I figured that maybe some food would calm things down.  I ended up going to Au Bon Pain, where I had a broccoli and cheddar soup in one of those hollowed out loaves of bread, and a drink to wash it down.  Sitting down, I ate with one hand, while I caught up on the news on my cell phone with the other.  Finishing, I took a walk around Union Station for a while before returning to the Metro.
---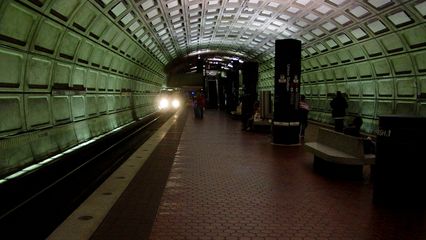 On the Metro, Union Station wasn't crowded by any means.  It was quite quiet.
---
Now was the time to do a little railfanning.  It's something I enjoy, and it's something to distract me and calm my stomach down, which was again all up in arms.  This railfan trip took me from Union Station to Fort Totten on a Silver Spring-bound Red Line train, then Green Line from Fort Totten to Mt. Vernon Square.  There, I transferred to the Yellow Line and rode it all the way to Huntington.
At Huntington, I exited the station and took a walk out in front of the north mezzanine.  Anything to keep my nerves in check, you see.  Returning to the station, I got my only 4000-series of the day – Breda 4086.  There, I got in a discussion with a family of tourists, who were returning to their hotel after visiting Mount Vernon.  Due to difficulties in getting the right bus, they ended up taking a cab there and back, which most certainly cost a pretty penny.  I also recommended that in order to get to their hotel, that they switch to a Blue Line train at Pentagon station.  I also corrected the father in his pronunciation of "L'Enfant Plaza".  Seems he had fallen victim to what seems a common DC-area affliction – that being pronouncing the first word as "Luh-font".  That's just one of my pet peeves.
I parted company with this family at Pentagon City.  This put me at Pentagon City Mall at approximately 4:30 PM.  This was unusual for me.  I usually don't arrive at Pentagon City until six or seven in the evening.  Of course, with the protest starting at 7:30, and my determining to arrive at Farragut Square at 7:00 sharp, that normal time just wouldn't work.  So I moved Pentagon City up, since I'd get more DC time later.
At Pentagon City Mall, I did what I always do.  I went over to One Stop News, and bought a copy of the day's Washington Post.  And I read it.  Front section, Metro, Style, and whatever else strikes my fancy as being interesting.  Then after the paper, I headed to Nordstrom, home of some very expensive clothing, and the best bathrooms in the whole mall.  Seriously.  Thus I went to their restaurant on the third floor, where there's a set of restrooms.  I freshened myself up in the women's room (the restrooms are single-person in the restaurant, so it's not like gender really matters here).  This involved cleaning my glasses, plus changing from the long-sleeve blue shirt that I came up to DC in, to my short-sleeve black shirt.  I also made sure to bury the blue shirt at the bottom, underneath all my other stuff for the protest.  I wouldn't need that shirt for a while, plus burying it deeply was an advantage later on.
Now, having slightly changed my outfit, I emerged from the restroom, and traveled via escalator to the first floor.  And with that, I left the mall to head to the protest.  However, this was no ordinary exit for me.  I had never left the mall via Nordstrom before.  Usually, when I leave Pentagon City Mall for the day, I leave by one of three entrances: One of the two main entrances at street level, or the direct Metro entrance.  I found out a few things using the Nordstrom exit this time.  The mall is longer than I realized, and that's where all the buses for the "matching shirt brigade" (i.e. tour groups) park.  So, after walking down the sidewalk past all the buses and such, I descended into the Metro.
On the Metro, where the display screens were still not working (serving instead as very expensive clocks), central control was making an announcement that certainly was a major letdown to a number of baseball fans all over the area: Due to poor weather at RFK Stadium, the Washington Nationals game against the Atlanta Braves was cancelled.  It's certainly a shame, but one must remember that baseball isn't football.  Football plays in practically any weather, while baseball calls on account of rain.  So no baseball tonight.
---
A Metro train services the outbound platform at Pentagon City, while a woman makes an announcement on the public-address system regarding the cancellation of the baseball game in DC tonight.
---
My strategy for getting to Farragut Square for the march was to approach from the north.  While it's true that I could get a one-seat ride to Farragut West station via a Blue Line train, I wanted to end up on the other side of the square, which is where Farragut North station has an entrance.  So I opted to take a Yellow Line train to Gallery Place, and then transfer to the Red Line to get to Farragut North.
---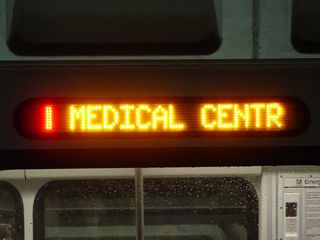 Due to track maintenance further up the line, my train was signed as going to Medical Center, instead of Shady Grove or Grosvenor.
---
Leaving Farragut North station, I got to the square, at 7:00 sharp.  Right on time by my own standards, but a full thirty minutes early by everyone else's (the march was scheduled to meet up at 7:30).  How many demonstrators did I find at Farragut Square?  Zero.  Expected?  Yes.  After all, it was early.  So I took up a spot next to a bench near the center of the square to keep an eye out for demonstrators.
Then the rain came.  It was drizzling when I arrived on scene at Farragut Square, so I already had my umbrella out and unfurled.  Now, that drizzle turned into a full-fledged downpour.  At 7:15, with the rain pouring down and having found no one yet for the protest, I called the Infoshop to determine if the protest was indeed still on.  I told them that I was on site, and that I'd found no one yet for the protest.  They checked online for me, and found nothing indicating that it was cancelled.  Good stuff.
Then I heard a bell ringing, coming from a building south of Farragut Square.  Looking that way, I noticed white lights flashing from inside.  Turns out that a fire alarm was going off at a nearby restaurant.  After the fire trucks showed up, the alarm was silenced and the fire department left.
After this, I took a walk around.  I saw a gentleman who was about my age with a messenger bag that had some patches sewn on it.  I approached him and asked if he was there for the protest.  He was.  So we talked for a bit.  Then we went across the street to get some cover – actually to some outside tables covered by a canopy in front of the restaurant where the fire alarm had gone off earlier.
---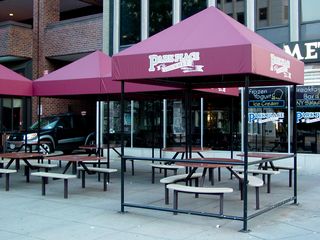 This is where we spent a few moments to get out of the rain, seen here in this June 6, 2006 file photo.  We stayed under the double canopy in the back, and pushed the tables together to ensure that we stayed out of the rain.
---
There, we encountered two women who were also there for the protest.  I didn't realize how much I'd networked at the Infoshop until one of them greeted me: "Ben!"  I was like, eh?  I'm not used to being addressed by name in DC.  So that really caught me off guard.  They then told me that they'd tried to get to my Web site, but they were coming up empty.  When this happens, in nine cases out of ten, the problem is misspelling the name.  "Schumin" seems to be hard for people to spell.  So I asked how they were spelling it.  "S-C-H-U-M-A-N…"  And that was the problem.  I told them that they had it right, except that it's "I-N" and not "A-N".  Now they can get to my site, and I hope that they enjoy their time there.
Otherwise, I made some changes to my outfit again since we were under the canopy, as I added the hoodie, put my glasses in the hard case and put those away, and stuffed a red bandanna in one hoodie pocket, and my black hat in the other.  After some more people showed up under the canopy, ready for the protest, we carried on a small conversation about whatever.  Then, checking my watch, I announced that it was now officially 7:30.  So I unfurled my umbrella again, and we went back across the street to Farragut Square.
Then we saw the remainder of the group.  A medium-sized group of mostly-masked individuals, carrying a banner reading "Globalize Resistance" came in from the northeast corner of the square, having marched from St. Stephen's Church to Farragut Square.  There, our group that had gathered at the square and the rest of the group finally met.  Considering that this was to be a black bloc-style march, those of us who were going to mask up for the march did so.  So I asked someone to hold my umbrella, I pulled out a red bandanna, and tied it on.  Since it was raining, I also pulled the hood up on my hoodie.  Would help keep the rain off a little bit, I figured.  I also heard a girl from the group say that she'd forgotten to bring a mask with her.  I loaned her a black bandanna from the bag, which she proceeded to tie on.  So everyone that wanted to was all masked up.
Then I heard a voice ask, "Whose umbrella am I holding?"  I said it was me, and it turned out to be a familiar (masked) face that was holding it!  It turned out that it was a photographer friend of mine that was holding my umbrella.  You may recall that on September 24, I spent much of the march with another person with a camera.  We would again spend time within each other's sights as we covered this march.  But first we had a chance to catch up.
Throughout the course of this event, I would be a rather popular person.  I was so popular in large part due to my large golf umbrella, which I took with me to help protect Big Mavica from heavy rain.  One early comment about it at Farragut Square was "anarchists get wet!"  A number of people got a kick out of it, but I would later find the person who made this comment next to me under my umbrella.
Despite everyone's having met up and masked up, though, we couldn't leave to go to our protest targets just yet.  An important part of a protest action, particularly with an affinity group going on an unpermitted march, is having your street medics on hand should someone get hurt or things get ugly.  Thus we had to wait for them to show up before we could march.  Meanwhile, some people passed out garbage bags for people to wear to stay dry.  I made do with my umbrella.
The police, meanwhile, had questions for us, as they were trying to figure out the ins and outs of our march.  First question from one of the officers was "Who is the leader?"  Everyone raised their hand and professed to be the leader.  This, boys and girls, is anarchism at work.  No leaders.  Next question was, "Where are you marching to?"  A number of people replied, "March?  What march?  Who said anything about marching?"  Bottom line was that no one was giving the cops any information.  Of course, I didn't even know where the march was going to go to at this point.
And then the street medics arrived.  Three people with red crosses taped to their outfits.  And with the arrival of the street medics, it was time to get going!  Now in going to this march, I figured that this was going to be a case of going into the area around the World Bank building, south of Farragut Square.  Thus I was quite surprised to leave Farragut Square by heading north.  As we were heading up Connecticut Avenue, I thought that maybe this was going to be a reverse of September 24, where our group (containing many of the same individuals present on this day) marched from Dupont Circle to the World Bank.  I figured that now, we were marching from near the World Bank to Dupont Circle.  But that would not be the case, and I was certainly surprised about where we actually went.
---
The march is underway, heading northwest on Connecticut Avenue.
---
As it turned out, we would be protesting the policies of the World Bank and IMF by demonstrating outside the hotels that the delegates were staying at during their spring meetings.  And our first stop was the Mayflower Hotel on Connecticut Avenue.
---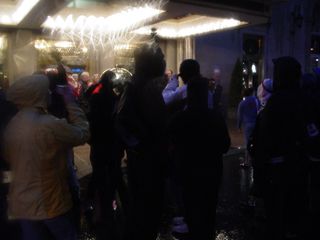 We arrived at the Mayflower Hotel a little wet, but it certainly didn't dampen our spirits.
---
We certainly made quite a statement, with our group all lined up along the sidewalk, with our "Globalize Resistance" banner prominently displayed.
---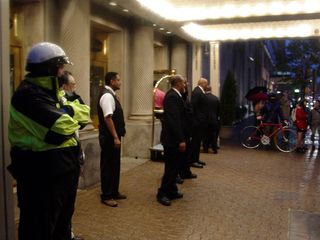 Meanwhile, hotel staff and the police guarded the hotel doors, to keep the demonstrators out of the building.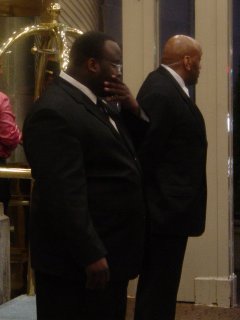 ---
"IMF, leave town, we will f—ing shut you down!"
---
"IMF, you can't hide, we know where you sleep at night!" in reference to the fact that we were demonstrating outside the hotels where they were staying, vs. at the World Bank building.
---
Unfortunately, while at the Mayflower, I began developing camera problems.  Part of it was due to this being a CD camera and all the bouncing around that it gets during a march causes issues with saving files.  The other was unique to this particular event due to the weather.  Despite the umbrella, in my effort to get the best image possible, the camera still ended up taking on some water.  The water on the outside of the camera was stuff I could deal with.  I was constantly wiping the water off the front of the lens.  However, over the course of the night, the inside of the lens would also fog up, due to the rain and the water and such.  This was one thing I couldn't do anything about.
Following our visit to the Mayflower, where we left shouting, "WE'LL BE BACK!  WE'LL BE BACK!" we continued on our way.  Our next stop was to be the St. Gregory Hotel on M Street.  The police followed suit in cars, on motorcycles, and on bicycles, with sirens blaring.  One officer, to his fellow bicycle cops, shouted, "Saddle up, boys!"
---
After leaving the Mayflower Hotel, our group resumed its circuitous march through the streets of Washington DC.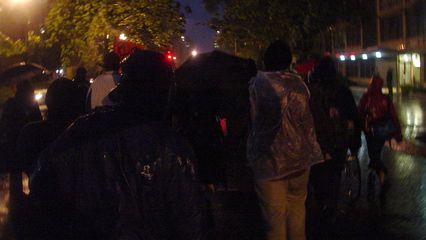 ---
When we arrived at the St. Gregory, the hotel's front doors opened automatically.  A number of people saw that as an opportunity to enter the hotel, presumably to confront the delegates directly.  Thus they stormed the hotel lobby, and rushed on in.  A number of others in the crowd were shouting, "Get out!  Get out!" in a tone indicating that they were shouting advice to their fellow demonstrators, and not as a part of the protest.
---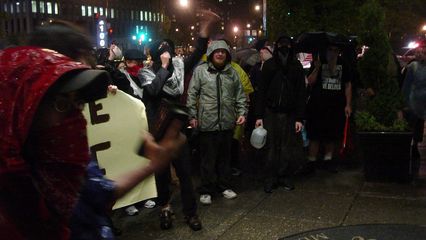 We have arrived at the St. Gregory Hotel!
---
When some members of our group realized that we'd caught the hotel off guard, part of our black bloc marched directly into the hotel's lobby.
---
I sympathized with those shouting for the people to get out of the hotel, and here's why.  I've been to quite a few political demonstrations.  Including this one, I've been to nine protest marches (though I didn't march at all of them), and I've also been to three minor demonstrations.  And one of those things is to never get yourself trapped somewhere.  Always leave yourself an out – a way to quickly escape the event entirely should things go terribly wrong.  These demonstrators basically walked themselves into a self-imposed trap by entering the hotel's lobby.  I imagine that they could have easily been arrested on the spot.
---
Right after the demonstrators went in, the police followed.  All they did was eject the demonstrators from the lobby and put them back on the sidewalk.  And that was all there was to it.
---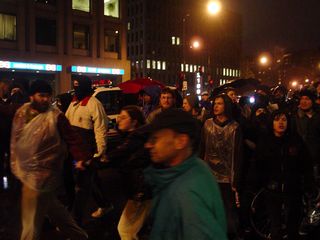 At the St. Gregory, most demonstrators were out in the street, well away from much of the action.
---
The chant changes from one including "burn it down" and "get out of our town" to "We'll be back!" as we prepare to leave the St. Gregory.
---
Again shouting "WE'LL BE BACK!  WE'LL BE BACK!" and with the cops again shouting, "Saddle up, boys!" we left the St. Gregory, and followed a deliberately circuitous path to our next stop, the Fairmont Hotel, also on M Street.
---
The march continues.  Notice the fog spot that had developed on the inside of my lens.
---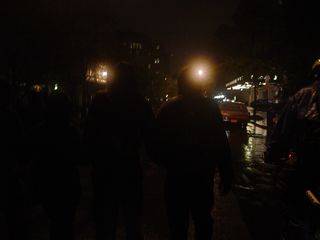 Before long, we arrived at the Fairmont Hotel.
---
At the Fairmont, where they quickly locked the doors when they saw us coming, we spotted people that we believed to be World Bank/IMF delegates socializing in the lobby.  Realizing this, participants in our group shouted, "COME ON OUT!  COME ON OUT!"  As expected, they did not come out.
We actually spent quite a bit of time at the Fairmont.  I have a feeling that part of the reason was that some of the delegates were actually present right there in front of us, and also the fact that the Fairmont had a very large covered area in the front – large enough for all of us to fit under.
Some of the things that our group shouted over the course of the evening were definitely something.  Some were your typical demonstration chants like "Whose streets?  Our streets!", "Show me what democracy looks like!  This is what democracy looks like!", etc.  However, at the Fairmont, the chants took an amusing twist.  At one point, our chants were directed at the police, when we shouted, "SHOW ME WHAT OVERTIME LOOKS LIKE!  THIS IS WHAT OVERTIME LOOKS LIKE!"  The police officers got a kick out of that, as a number of them were noticeably amused.  At another point, when it looked like we were going to continue on, we shouted "WE'LL BE BACK!  WE'LL BE BACK!" as we'd been doing when we left every hotel thus far.  But then the decision to leave was reversed, and we stayed.  So we retraced the three or so steps we took towards leaving, and shouted, "WE TOLD YOU WE'D BE BACK!  WE TOLD YOU WE'D BE BACK!"
---
In front of the entrance to the Fairmont, the police and members of the hotel's staff guarded the entrances, in order to maintain a clear space between us and those against whom we were protesting.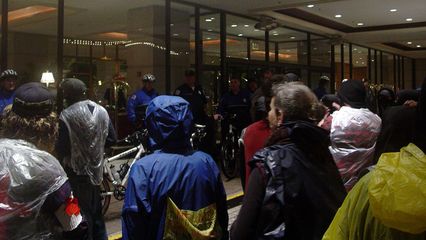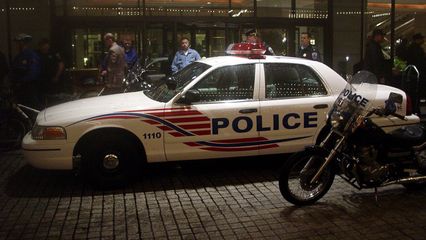 ---
We were still very much a spirited group by the time we reached the Fairmont.  Fortunately, the Fairmont's large canopy was sufficient to allow us all the opportunity to get out of the rain.
---
"Corporate corruption, who do we thank?  The IMF and the World Bank!"
---
"That's bulls—!  Get off it!  The enemy is profit!  Disease and starvation will not be sold by corporations!"
---
Some demonstrators liken the World Bank and the IMF to a well-known hate group, before going into the chant of "Show me what overtime looks like!  This is what overtime looks like!"
---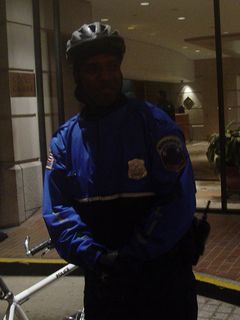 A police officer reacts to our chant of "Show me what overtime looks like!" with amusement.
---
The group invites suspected World Bank and IMF delegates spotted inside the hotel to "Come on out!  Come on out!"
---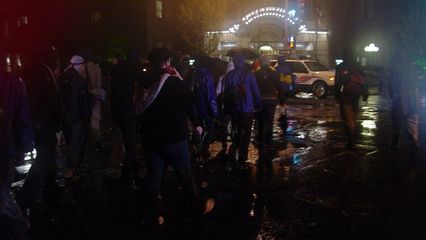 As the evening continued on, we eventually did leave the Fairmont, and headed on towards our next target.
---
We actually did keep one of our promises of "We'll be back" as we headed towards the St. Gregory again.  At this point it was around 9:00 PM, meaning that we'd been going for an hour and a half.  Additionally, we were soaked, and some were starting to tire.  Me, I was completely, totally, and utterly soaked through and through from the knees down.  Water was sloshing through my Chucks, and they had some serious street grime on them as well.
Between the Fairmont and our return to the St. Gregory, we passed near a fire station.  As we were passing, a fire truck started up and left the facility with its lights flashing.  This brought out two reactions from the group.  One reaction, which was held by many including myself, was to stop and allow the vehicle to pass.  Others, meanwhile, thought that the fire truck was an attempt by the police to stop us or slow us down, and wanted to block the fire truck.  Those in the latter group were overruled by those in the first group, and the fire truck proceeded unimpeded.
---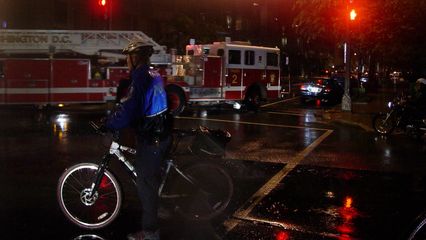 The fire truck leaves the station to respond to an emergency.
---
The prevailing view was basically that the fire department was a non-participant which gets priority use of the street over our protest march.  This happened previously on J20, where the march briefly separated to allow an ambulance to pass by.  The other view, being that the fire truck was attempting to slow us down, was one that I consider to be a bit paranoid and also quite dangerous.  As I see it, at a protest, the police are acceptable to screw with, as it's all part of the "game".  Fire and ambulance are "noncombatants" and thus, like bystanders, should intentionally be left out of the action.
---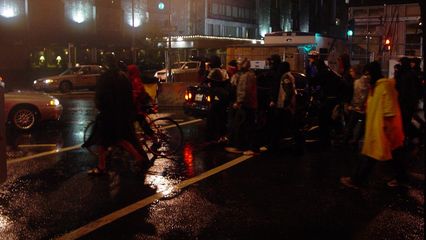 Following our brief stop to let the fire engines through, we were on our way again!
---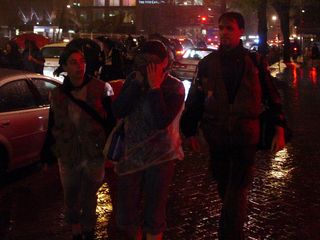 The street medics also stayed close to us, as they were there to help us should anything bad happen.
---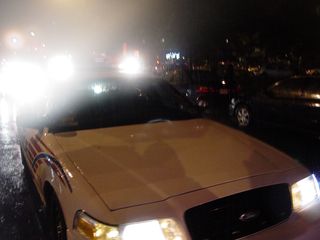 All the while, the police, in their cars, on motorcycles, and on bicycles, had their lights flashing, and their sirens blaring through the driving rain.
---
Additionally, on the way back to the St. Gregory, one person in a gray mask repeatedly attempted to start something with the police.  For this, I considered him to be a bit of a loose cannon, and kept my distance.  Even other people in our group were pulling him away from the officers, but he persisted.
---
Arriving back at the St. Gregory, the hotel staff quickly locked the doors, to prevent a repeat of what happened on our earlier visit.
---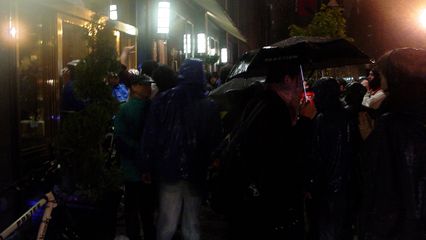 We said we'd be back, and we were!
---
After a quick visit to the St. Gregory, with another chant of "we'll be back", we were off again, this time to the Hotel Lombardy on Pennsylvania Avenue.
---
And the march was on once again, as we continued our circuitous march through the streets of Washington DC, headed to the Hotel Lombardy.  Don't even think about asking about the specific locations of these photos – I was so disoriented during this march through an unfamiliar section of the city, and at night, that I had no idea which way was north, south, east, or west (and in DC, I usually know which way is which).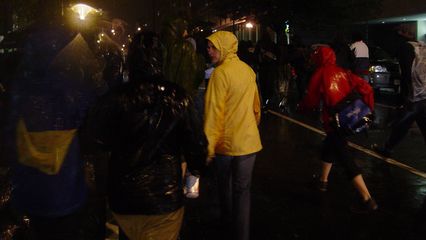 ---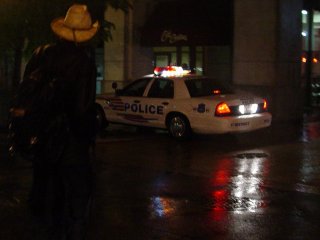 In order to keep ahead of us to block off streets to traffic, the police regularly drove their cars up on the sidewalk – at a considerable speed, no less.
---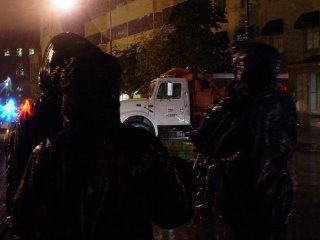 Seeing a city dump truck parked along a street during a protest march almost certainly reminded those who were in the black bloc march on September 24 about an incident where two similar trucks were tagged.
---
At the Hotel Lombardy, we made a good bit of noise and kept the emotion going, but, having by now been at this for two hours in unrelenting rain, people were starting to run out of steam.  As the canopy over the Hotel Lombardy's entrance was tiny, I ended up sharing the space under my big golf umbrella with quite a few people.
---
We have made it to our last target of the night – the Hotel Lombardy.
---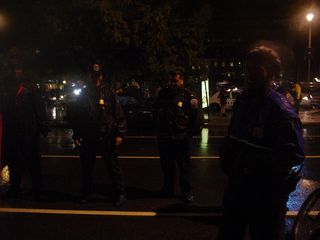 The police, meanwhile, stood guard not only at the hotel's entrance, but around the outside of our demonstration as well.
---
And from there, that was the end of the march!  The people who had come from the convergence center at St. Stephen's Church were going to catch a bus back there, and so that was it.  From the Hotel Lombardy, the group basically dispersed.  The group going to the convergence center caught their bus to go back there, and a number of others, including myself, caught the Metro at Farragut West, which was nearby.
Before getting on the Metro, though, I first made some adjustments to my attire at a covered area near the station entrance.  As what I was wearing was basically soaked from the rain as well as exertion, change was necessary.  So I unmasked, removed the hoodie and the shirt beneath it, and pulled out my blue shirt from earlier in the day.  It was a little wet around the bottom, but otherwise, it was nice and dry.  Just what I needed, too.  I stuffed the other shirt and the hoodie back in my bag.  And to complete the change, we officially went from "Superman" to "Clark Kent", as I put my glasses back on.  After all, what's the difference between Superman and Clark Kent?  Glasses.  And from there, I descended into the Farragut West station to start making some moves back towards Vienna.
---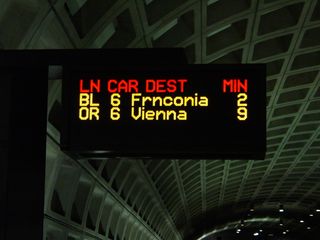 By this time, the server problem from earlier appeared to have been resolved, and train information was once again being displayed on-screen.
---
While I was waiting for the train, I heard my cell phone go off.  Turns out that it was Matthew Tilley.  We talked about whatever, as first a Blue Line train went by, and then my Orange Line train arrived to take me back to Vienna.  And of all the cars to get, I got Breda 2008, where, one may recall, I posed for a photo near the cab-end map prior to that car's rehabilitation.
Breda 2008 now has another "claim to fame" in my book, as I used it as a background to demonstrate the effects of all that water on my camera.  Once I stepped on board, my camera full of moisture met the rail car's air conditioning.  That caused all the water to condense on the lens.
---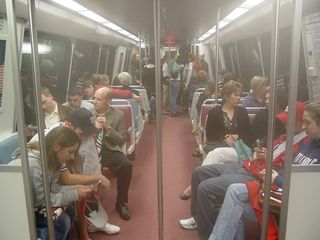 As you can see, Big Mavica's view of Breda 2008 was quite foggy!  This was due to condensation on the inside of the lens, which I unfortunately could do nothing about.
---
Thankfully, though, the air conditioning was just what the doctor ordered for the camera.  I made a restroom stop in Ballston before I finally got to Vienna, and checked Big Mavica over before heading back underground (since I had time, being that the next train wasn't for a little while).
---
Thankfully, after a little while in the air conditioning, the camera dried back out, and the lens cleared up, allowing for crystal-clear pictures once again, here of the lobby of Ballston Metro Center, and of Fairfax Drive out front.
---
And then from there, it was back to Vienna for me.  The rain had stopped, and it was still a touch on the cool side.  So I hopped in the car and cranked up the heat, and was off!  On the way home, I took a nap in the car at the Sheetz in Haymarket, and made my usual other stop at the Wal-Mart in Woodstock.
---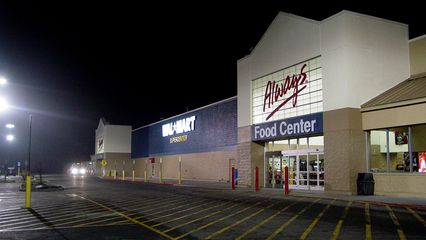 This is the Wal-Mart in Woodstock, seen here in a January 4, 2006 file photo.
---
At the Wal-Mart in Woodstock, I remedied a problem that I'd been having for much of the way home.  Have you ever gone driving in cold, wet shoes?  It's not a walk in the park, that's for sure.  I had the heat on high going down through the floor vents, and all to no avail.  My feet remained like little ice cubes all the way to Woodstock.  At Wal-Mart, where I did a little shopping, I noticed the flip-flop wall on the way to the rear bathrooms.  Leaving the restroom, I saw it again, and I was like, "Hmm…"  The price was $2.00 for a pair of cheap flip-flops.  And my Chucks were cold and wet.  Hmm.  So what did I do?  I picked out a nice pair, and switched shoes right on the spot.  First I undid the little cord that holds the pair together.  Then I yanked the tags off.  Then I took off my wet Chucks and my wet socks and sat them in the kiddie seat of the cart.  Then I sat the tag for the sandals next to that.  Then when I got up front, I handed the cashier the tag (since I was wearing the product), and bagged my nasty, wet shoes.  And tied the bag off, no less.
It's kind of amazing how one's feet can be warmer in flip-flops than in regular shoes.  But when one's regular shoes are totally waterlogged, we can believe it.  And that's how I made it the rest of the way home.
All in all, I had a wonderful day!  It may have had a slow start, but the night march more than made up for it.  Whee!