"WHOSE STREETS? OUR STREETS!"
June 8, 2004, 2:04 AM
It's been a few days since I last posted, and so I thought I'd fill you in on what's happened in my life.
Biggest event was on June 5, where I attended an International ANSWER (Act Now to Stop War and End Racism) protest in Washington DC. That was FUN. We went from Lafayette Park in front of the White House to Donald Rumsfeld's house at 2206 Kalorama Road NW. To get there we left Lafayette Park and took H Street to 14th Street. From there we went several blocks up to U Street, where we caught Florida Avenue to Connecticut Avenue, and finally to Kalorama Road.
I ended up connecting with a group of relative strangers from Chicago who drove a long way to come to this event. It was a very diverse group, too. One of the women had their hair colored purple. Another carried a bucket being used as a makeshift drum. Another was dressed for the weather (cool and wet) and were ready to follow the protest. The two men in the group appeared to be my age or slightly older, and were dressed for a Black Bloc, wearing all black and masks over their faces. Considering that I came to the protest alone, I was very pleased about how well this group from Chicago that I never met before and will probably never meet again accepted and welcomed me into their group. Very friendly folks. Me from two hours away, and them from half a continent away.
Chants at this protest ranged from "Occupation is a crime from Iraq to Palestine", "Ain't no power like the power of the people 'cause the power of the people won't stop!", chants about Mumia Al-Jamal (Free Mumia), "Whose streets? Our streets!" and others I can't remember off the top of my head.
Some pictures from my cell phone to illustrate the march…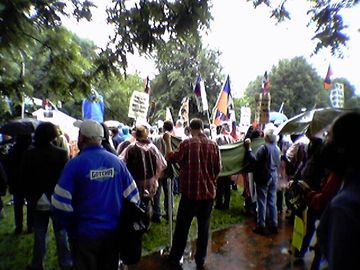 The protest group at Lafayette Park, in the rain, listening to speakers before the march.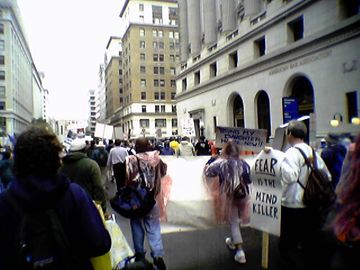 Marching up 14th Street NW, after the opening rally.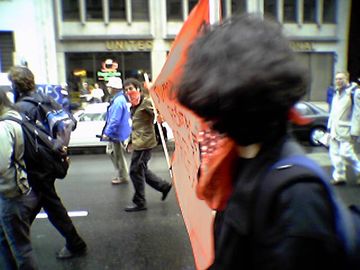 Masked protesters carrying a large red banner. They promoted the Web site redyouth.net.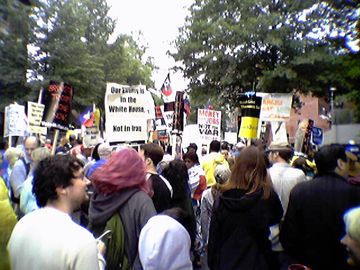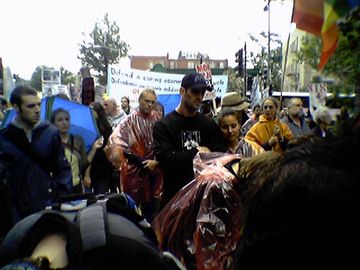 Approaching Donald Rumsfeld's house. Police initially did not let the entire crowd through for purposes of crowd control, as Kalorama Road is not a particularly large street. The police eventually relented, and opened the gates. Meanwhile, we all began yelling, "WHOSE STREETS? OUR STREETS!"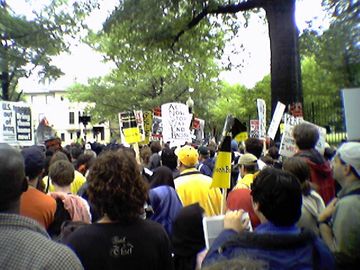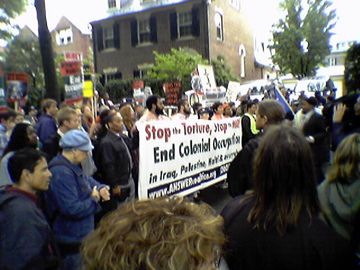 At Donald Rumsfeld's house, we gathered up again and the closing rally began, with some more speeches, including from Michael Berg, father of Nicholas Berg, the man who was recently beheaded on video. Mr. Berg also spoke in the opening rally.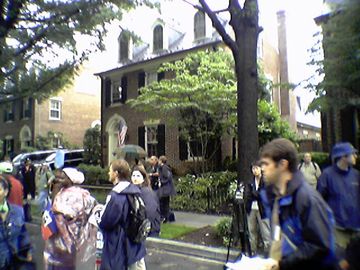 This house was the one identified at the time of the march as being Donald Rumsfeld's house, but according to a person posting on DC Indymedia, I identified the wrong house. I challenged him on Indymedia to identify the correct house, so we'll see how off I was, or if I ended up being correct after all.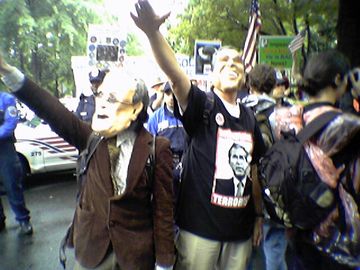 Some people really dressed up to make their point. These two wore masks designed to look like George W. Bush and Donald Rumsfeld, and likened them to Nazis by giving the Nazi salute while wearing the masks.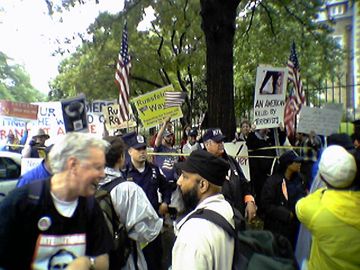 There was also a confrontation with a small group of counter-protesters that we met on Kalorama Road. These counter-protesters were in support of Bush, Rumsfeld, and the war, and were on the opposite side of the police lines from us.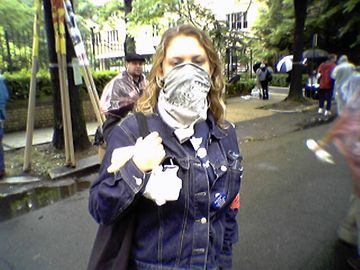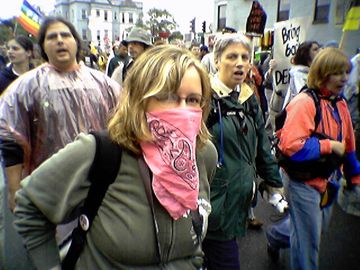 We also encountered a number of masked protesters in the crowd, who went masked for various reasons. The girl in the pink bandanna actually commented to me, "This is why I cover my face at these events," after I took her picture (with permission) during the march.
I really feel for the people who wear a mask at these protests. I can see why some of them do it. Some want to avoid being picked off in photographs like the pink bandanna. However, a mask also allows a person to unmask another side of their personality. Normally, the person is John Doe, who works a full-time job, and pays bills, and such. Put the mask on, and the person can cast John Doe aside for a few hours and become someone else, which lets him express feelings and emotions that he would never ever express as John Doe. It's a great feeling to finally release these feelings and emotions, that have been kept deep down inside for so long.
Let me illustrate using the Johari Window: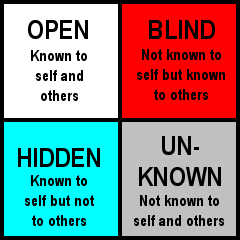 In the Johari Window, there are four sides to a person. The "open" side contains things about a person that they know and others know about them. The "hidden" side contains things that a person knows about themselves but does not reveal to others. The "blind" side contains things that a person does not know or realize about themself, but others know about them. And then the fourth side is the "unknown", which neither you nor others know about.
A mask lets a person reveal their "hidden" side for a while without fear of repercussions for it, which as I said can be a great feeling of release to let some of those things loose for a little while.
I think that's also why I bonded so well with the group from Chicago. It was a symbiotic relationship, as I found a group to bond with at this protest, and the gentlemen gained another person in their small Black Bloc (see where this is going?). Plus by wearing a mask at this protest, it allowed me the opportunity to express my displeasure with the situation in Iraq, and to shout it at the top of my lungs. Plus, it allowed me the opportunity for the first time in quite a while to not be identified with this site, which happens more often than you think. Plus, this time, I was participating in the protest, whereas the last time I was at an ANSWER rally, back in April 2003, I was fairly obviously media, with Big Mavica around my neck, my camera bag at my side, and my tripod slung over my shoulder. Recall that the April 2003 demonstration eventually became the A Protest Against the War photography set. Thus the mask helped me separate from my Web site for a while, plus allowed me to let my hidden self out for a while in a place where people wouldn't be put on edge by it, as there were a number of others wearing masks for various reasons, as at a protest it's expected to have some people masked up, and thus more acceptable in that environment and that social situation. I partly attribute that to why I had so much fun at the protest, because it was such a wonderful feeling of release to not be Ben Schumin for a little while.
And the technique seemed to work, too. Before the protest, when I was leaving my car in the parking garage at Vienna, a person asked me where the Metro was, and I replied that it was right over there (I was in the north garage, for those familiar with the Vienna/Fairfax-GMU station). The person said, "You look really familiar. Did you go to JMU?" And it turned out to be someone who lived in Chesapeake Hall during the time I lived in Potomac Hall at JMU. This person also soon placed more definitively where he knew me: "You're Schumin!" Translation: He knew me from my Web site, plus seeing me in passing around JMU. Then for the protest, I made a slight wardrobe change, and I was someone else for about four hours. Then afterwards, after parting with the group from Chicago and text-messaging them my Web site URL to remember me by, I changed back out of my by then very sweaty and rained-on protest clothing, and went back to being me again, with no one the wiser. I felt good (though tired), and I was able to separate the march from my regular life. Even discussed the protest as an outsider with some of the marchers near the Woodley Park-Zoo/Adams Morgan Metro station (nearest to where the march ended). Discussed with one group of people from the march about how I was from Stuarts Draft, and they were familiar with how conservative and pro-Republican Stuarts Draft is.
And then I simply disappeared into the Metro and that was the end of it. I came out later and resumed what would be a normal DC trip for me, hitting my usual hot-spots like the Exeloo automatic toilet at Huntington (still a novelty!), Freedom Plaza, and Pentagon City Mall. Pentagon City was especially beneficial, as I spent fifteen minutes in the Aqua-Massage machine, getting all the tensions from the march worked out of me, making me feel goooooooooood again.
And I'm slowly but surely learning DC, as I want to eventually move up there. One day in July, I'm going to hit DC and capture all the decorative pandas that have been placed around the city, similar to the mermaids at Norfolk that I covered two years ago.
Web site: Alyssa Ravenwood - On Making Masks puts in a very good way what I mean when I say that a mask is a release from ourselves
Song: Don't really have one right now - this journal entry really puts a drain on the mind, as this was some serious thinking and discussion here. Your comments are welcome - go to the forums and say something.
Quote: "I hope that this thing just needs to dry off for a while..." - Me about my entry into the Vienna station complex from the Interstate. On the exit ramp from the Interstate to the Metro station, I hit a HUGE puddle of water head on, as it was in the low part of a curve, where it was hard to see. I usually take that curve in the lower part, and I didn't expect such an accumulation of water. But I nailed it head on, sending water flying everywhere. When I emerged from the puddle, the car was acting funny, straining to hit 25 MPH. Turns out it was from the water, as I'd completely soaked the undercarriage. I manage to limp over to the North Garage at Vienna and parked on the covered Level 3 (I usually park in the open-air Level 4) to let the car dry out. It was fine on the return trip. Now, though, I know that water accumulates there, and to avoid it in the rain. I also learned that when Metro train operators drive the trains manually (Mode 2) in the rain and other bad weather, that they put the train back into automatic control (Mode 1) once they've passed two stations in the tunnel.