No Armageddon For Bush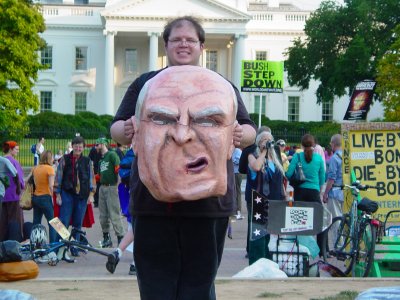 At 6:00 PM on June 6, the DC Anti-War Network (DAWN) had a two-hour rally in Washington DC in Lafayette Park and on Pennsylvania Avenue in front of the White House called "No Armageddon For Bush" that sought an end to the war in Iraq and the avoidance of war in Iran, and world nuclear disarmament.  As the event was held on June 6, 2006, a date that shortened to 6-6-6 (i.e. 666), which has a "number of the beast" connotation, they went with a "no Armageddon" theme, and performed an exorcism on the White House.
After a day in Washington which involved a late start, finding no parking at Vienna and having to park at West Falls Church, a trip out to New Carrollton, and a visit to the Infoshop, I took the Metro to McPherson Square and walked the block from the Metro to Lafayette Park.
Arriving at Lafayette Park, all seemed quiet.  Lafayette Park is a good-sized area with lots of trees and such preventing a full view of the whole park at once, and so I didn't find the DAWN group first thing.  So I sat at a bench near the center of the park and waited a little bit, and looked around the park.  I saw a group near the middle of the south end of Lafayette Park, just across the street from the White House's North Portico.  This would be the DAWN group.  The first person I saw was Carol Moore, whom I'd met before on February 9 in front of the Supreme Court (Confirmation Demonstration), and who had sent me a photo of myself from J20.  She was holding a sign and remembered me, and also remembered that I'm on her mailing list.
---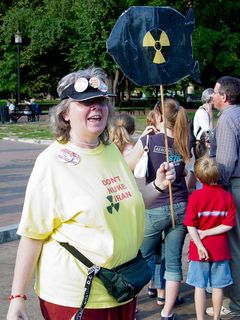 Carol Moore holds up her sign, designed to look like a nuclear bomb.
---
I also saw David Barrows, dressed as a minister in purple robes this time around, rather than as a detainee, which was the outfit that I'd expected.  David remembered me, too, as I was the one who filmed his arrest in front of the Supreme Court, and then I also met him in November in front of the White House doing a similar demonstration.  I didn't recognize David at first, but it soon clicked that it was David in those robes.  Very sharp.  He wanted to know the address to my Web site.
---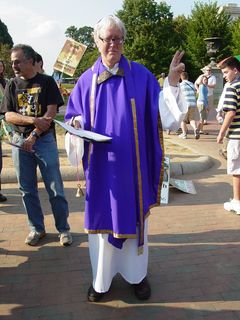 David Barrows gives a peace sign for the camera, looking quite sharp in his clergy robes, ready to conduct an exorcism.
---
The plan for this demonstration was, after rallying the crowd with some speeches, street theater, and tug-of-war, to do an exorcism of the White House, to drive the demons out on 06-06-06.  The street theater was provided by four people wearing prison stripes and giant heads carefully designed to resemble George W. Bush, Dick Cheney, Donald Rumsfeld, and Condoleezza Rice.  What amazed me is that these heads were actually made in California, and then were transported in the back of someone's car to Washington DC for this event.
---
The oversized Bush, Rumsfeld, Cheney, and Rice heads sit on the ground, awaiting the time when they will be put to use.
---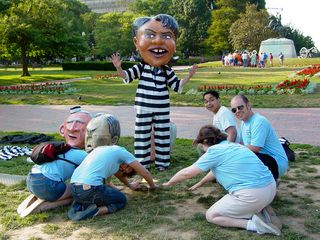 With the person wearing the Condoleezza Rice head all set and ready to go, a group formed around her and bowed down to her.
---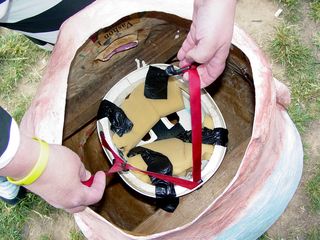 A look inside the Dick Cheney head reveals how these heads are designed.  They're made out of papier-mâché, and incorporate a bicycle helmet to help the wearer to keep the head in one place.  The wearers of these heads are able to see out the mouth hole.
---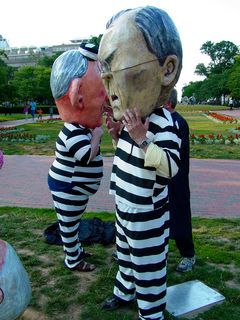 Meanwhile, the person portraying Donald Rumsfeld, as well as the original person playing George W. Bush, put on their prison stripes and got their heads in place.
---
I was actually asked on two occasions if I would dress up in the prison stripes and wear one of the giant heads on two occasions.  Once initially, and then once when a cast change became necessary after the original person portraying George W. Bush started to feel sick due to the rising temperature inside the head.  Despite that I regularly dress up for black blocs (on six different occasions to date), I declined this one, because I was primarily doing photography for this one.  That and I'm not that great of an actor.
---
In addition to the four "prisoners" in costume, another person wore a black robe, a rubber skeleton mask, black gloves, and holding cardboard cutouts designed to look like nuclear weapons, while standing on a crate containing a sign saying "NO NUKES".  And on top of that, a woman wore a black costume with red wings and gloves, and carried a three-pronged fork, to represent the devil.
---
There were a lot of people present at this event.  You of course had members of DAWN present, since they organized the event in the first place.  Then you also had the people, many part of DC's regular "activist crowd", who turned out for the event.  There were also many photographers out and about.  I fell into this group on this particular day.  And then due to the location, there were lots of tourists, who were there mainly by coincidence, and were checking out what was going on mainly out of curiosity.  However they got here, though, it ended up making for a great turnout for the event.  Some carried signs, some participated in other ways, while others were just there to watch.  And there were no Freepers to be found in the bunch.  No counter-protesters whatsoever, for that matter.  Their absence spoke more than if they were present.
---
The sentiment at this event was very anti-war, and even more so anti-Bush, as conveyed through the signs carried by some of the participants.
---
A number of people gave speeches during the rally.
---
While the speeches were going on, a gentleman came up to me and asked me a question.  The question was phrased hypothetically: How do you convince a terrorist to stop being a terrorist and to do less-extreme measures?  I responded to what I thought was a hypothetical question, saying that most terrorists were so far off the deep end that it was practically impossible to turn them around.  However, it turns out that the gentleman had a specific example in mind – the Palestinian terrorist group Hamas.  The answer to his question was "get them to run for office."  In January 2006, Hamas won a majority of seats in the Palestinian Legislative Council.  And now they basically have no allies, and they're broke.  Interesting thought.
---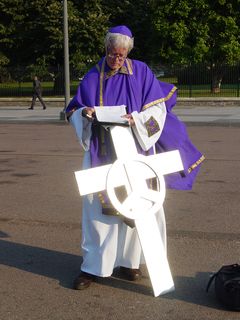 Meanwhile, David Barrows takes a moment to study his notes for the upcoming exorcism.
---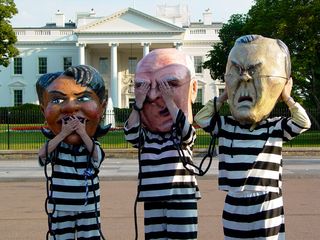 During the speeches, Condoleezza Rice, Dick Cheney, and Donald Rumsfeld played innocent with the classic see-no-evil, hear-no-evil, speak-no-evil bit…
---
…and also, along with George W. Bush, hammed it up with the devil.
---
Dick Cheney took a moment to clean out his ears, and pick his nose.
---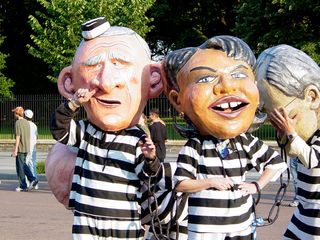 Then while Bush picked his nose, Cheney took a moment to kiss Bush's behind, while Condoleezza Rice looks on.
---
A number of people also took a moment to pose for photos with the people portraying Bush, Cheney, Rumsfeld, and Condoleezza Rice.
---
After the speeches, a game of tug of war ensued.  This was a tug of war between the anti-war activists (in other words, the participants), and the warmongers (i.e. the people wearing the heads, and the person dressed as the devil).  An orange "pool noodle" served as the rope.  As expected, the anti-war activists won with flying colors.
---
---
When the exorcism began, the sound people fixed the sound to add an echo effect, and David Barrows began reading from his script that he was holding against the peace sign cross.
---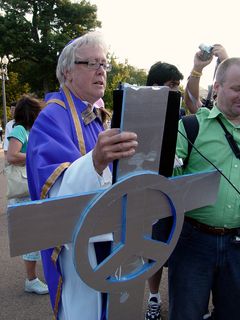 David Barrows conducts the exorcism on the White House, while many look on and join in.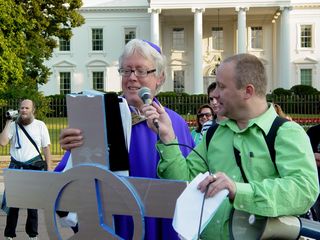 ---
"…those cowardly complicit in the United States Congress cease perpetuating the war crimes of the Bush Administration…"
"Stop the war on Iran!  To oblivion with Bush's Armageddon!"
---
"Take your warmongers, war criminals, and torturers, take them away from us…"
---
It appears that Donald Rumsfeld has heard about all that he can stand!
---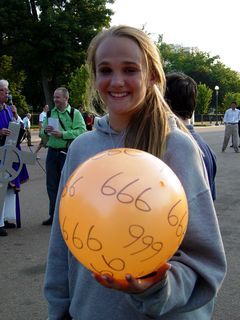 During the exorcism, a "666" ball was being tossed and passed around.
---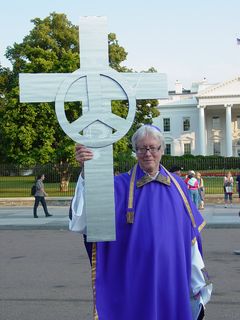 The exorcism is complete!
---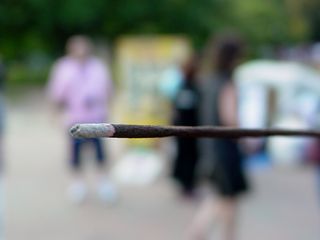 Following the exorcism, everyone lit incense, which had been distributed prior to the exorcism's starting.
---
After the incense, a few more people gave some short speeches, and Carol Moore sang Imagine by John Lennon, as well as the song We Shall Overcome.
---
"…it may not be his intention, but it's the only possible outcome of starting a war with Iran…"
---
Carol Moore sings "Imagine" by John Lennon.
---
And that was the end of the event!  DAWN had a meeting in Lafayette Park following the event, while I headed on out.
---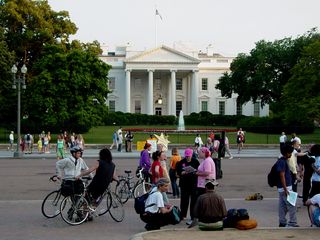 After the event was over and I was preparing to leave, a number of people remained in front of the White House.
---
I left the park via 16th Street NW and then walked west on Eye Street past McPherson and Farragut Squares, stopping to shoot the file photo of the canopies for Night March.  From there, I went down into the Farragut West station, and took the Blue Line directly to Pentagon City, where I headed into the mall for a chance to cool off, relax, and most importantly, dictate notes into Big Mavica while the memories were still fresh, which greatly helped me when I was putting this set together.
---
I dictate some notes into the camera while the memory was still fresh, to aid putting this photo set together.  It's so much easier to put little notes like this directly into the photographic record with Big Mavica than to doodle them down in my notepad.
---
And that was it!  This was quite an event, and it certainly made June 6, 2006, aka 6-6-6, a very memorable day.