Outer Banks 2017
Part 3
The next day, we got up, got packed, and headed out.  This was not to be a simple return trip, but rather, the trip home was part of the vacation, and we had stuff planned for it.
Our first stop was the Cape Hatteras Lighthouse.  We made this stop in order to get new photos of the lighthouse with my DSLR camera.  While the forecast was calling for a nice day, it was still cloudy out when we arrived.  Oh, well, I suppose.  Meanwhile, Elyse just wanted to look at the lighthouse, and asked that I turn the car around to a tail-in orientation so that she could see the lighthouse (read: she was staying in the car).
---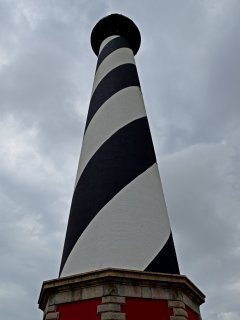 ---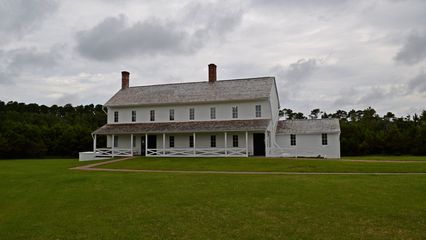 Lighthouse keeper's quarters, now a museum.
---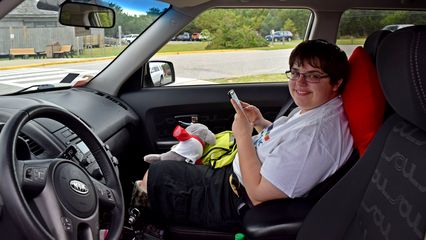 Elyse, in the car.
---
In hindsight, I believe that if we had waited another hour, we probably would have had clear skies for the Cape Hatteras Lighthouse.  But considering how much else we had planned for the trip back up, we unfortunately couldn't wait.
From there, we headed north, and stopped for breakfast at Atlantic Coast Cafe in Waves, which is the same place that Pete and I went in 2014.  After our meal, we headed across the street to the KOA facility, where Elyse filmed the elevator.
---
Elyse's video of the KOA elevator.
---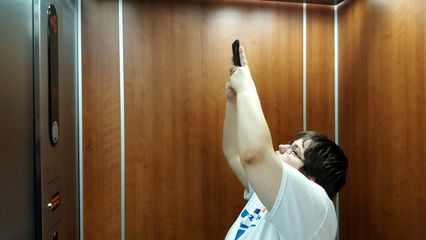 Elyse gets photos of the elevator, including the floor indicator and the inspection certificate.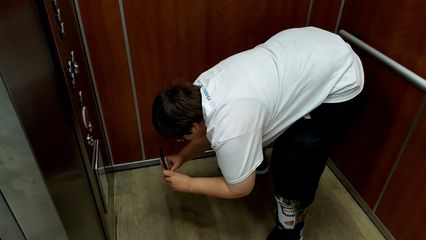 ---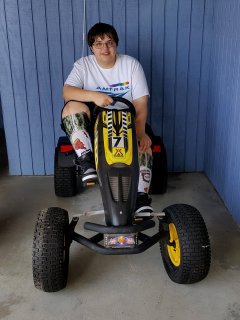 Elyse sits on some sort of all-terrain pedal vehicle at the KOA.
---
From there, we were off.  There was a small backup on our approach to the Bonner Bridge, as the work on the new bridge made it necessary to single track on the old bridge in order to allow proper access for construction equipment.
---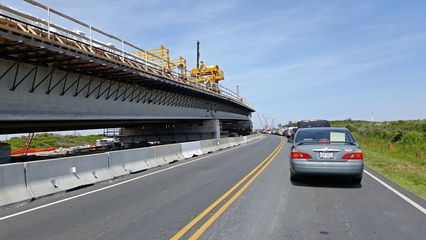 Backup leading up to the Bonner Bridge.  The new bridge is being built to the left.
---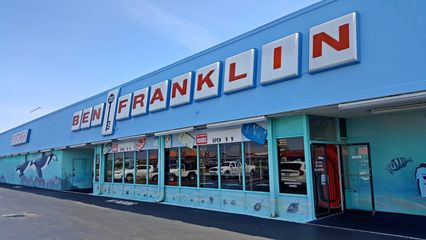 Elyse had to make a pit stop while we were traveling up Route 158, and we initially ended up stopping at this store.
---
That's a rarity these days.  How often do you see a Ben Franklin store anymore?  Unfortunately, they didn't have a public restroom (why do so many places around beaches not offer restrooms?), and so our visit there was short.  We ended up finding a restroom at a Staples store across the street.
Continuing on, we made a very large side trip, turning off of 158 and getting back on Route 12, this time going north.  The plan was to see the Whalehead Club and the Currituck Beach Lighthouse, which were located next to each other, all the way up in Corolla.  This was virgin territory for me.  I had never been further north on the Outer Banks than the point where Route 158 turns onto the mainland.  This section of Route 12 goes through Southern Shores, Duck, and then Corolla.  I was surprised to see that Route 12 in the northern Outer Banks is not designed for speed or volume, as it has two lanes and many curves, with speed limits between 25 and 35 mph.  We followed this road for approximately 20 miles until we reached the property.  Much to my surprise, we crossed into Currituck County.  I always assumed that the Outer Banks were in Dare County all the way up, and that the Currituck name was due to historical association, and not that it was actually part of Currituck County, especially when you consider that there is no direct connection between this part of Currituck County and the mainland.  It is only accessible through Dare County, by crossing the Wright Memorial Bridge and then taking Route 12 back up through Duck.  There has long been discussion of a bridge from the Currituck Banks to the mainland, but so far, that bridge has not been built.
When we arrived, we first visited the Whalehead Club.  There, Elyse wanted to see the building's vintage elevator, and they were kind enough to show her that without charging admission.
Then we went out and photographed the grounds.
---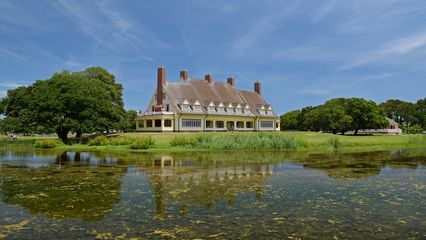 The Whalehead Club.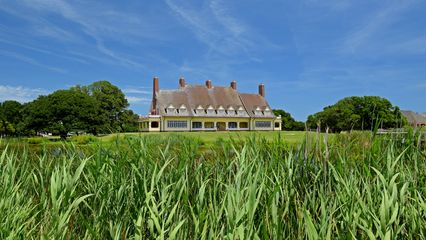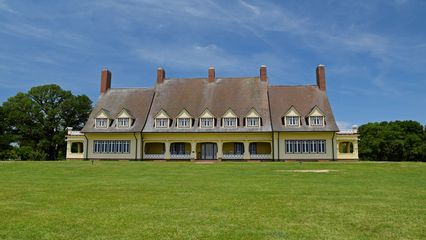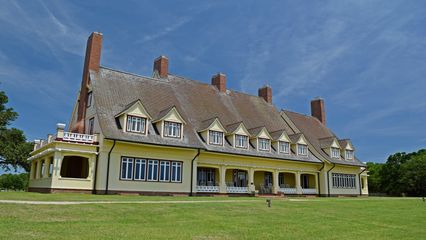 ---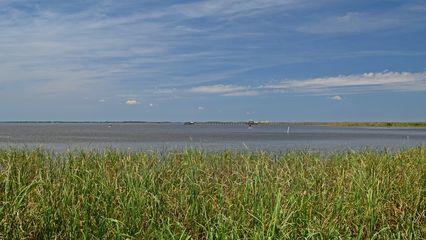 Currituck Sound, separating Corolla from the mainland.  The mainland is visible in the distance.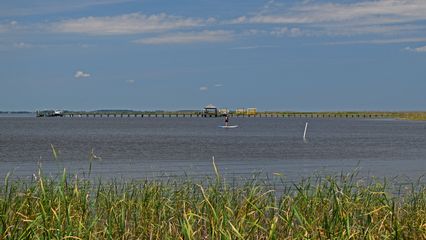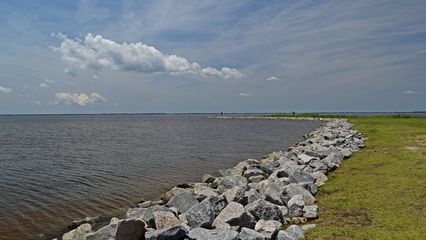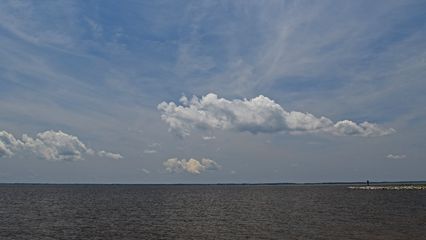 ---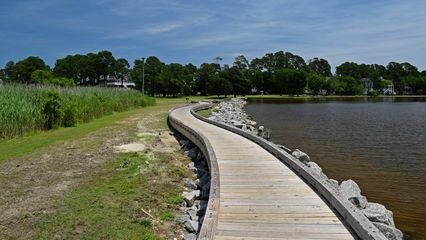 Wooden walkway along the water's edge.
---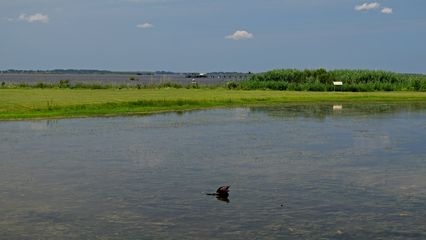 Pond in front of the Whalehead Club.
---
Then we headed over to the lighthouse.  Elyse waited in the car while I got photos.
---
The Currituck Beach Lighthouse.  Some restoration work was going on around the balcony at the time of my visit.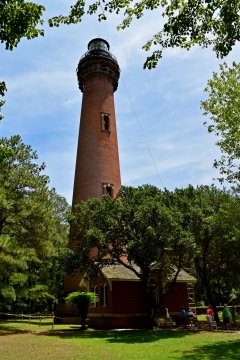 ---
All in all, this wasn't a bad place, though the grounds around the lighthouse smelled like cat urine for some reason (go figure).  I would have loved to climb the lighthouse, but unfortunately, our schedule did not permit this.  Something for next time, I suppose.
On the way up, Elyse had spotted a few buildings that looked like they might be interesting for elevators.  So we checked them out on the way down.  I waited in the car for those stops, while Elyse did her thing.  These things are often hit and miss, as sometimes a building that she thinks will have an elevator doesn't have one, and other times, a building where you might expect to have a vintage elevator instead has a recently modernized elevator.  Of the three buildings that we stopped at, one didn't have an elevator, and Elyse filmed the other two.
---
Elevator at the Sun Fish Grill in Corolla.
---
Elevator at the Hampton Inn in Corolla.
---
We then finished our side trip, returning to Route 158 and going over the bridge back to the mainland.  Our next stop was again Border Station, where we had lunch.  Elyse had a hamburger, and I had some Carolina-style barbecue, which was served, fittingly enough, on the North Carolina side of the store.
---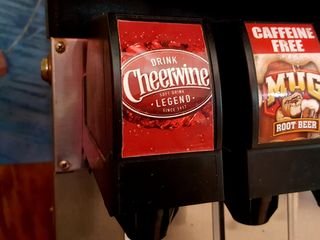 You know that you're in the South when they have Cheerwine on the soda fountain.
---
Going into Virginia, we knew that Hampton Roads was not going to be fun.  Because of the side trip that we made to Corolla, we would hit Hampton Roads right around rush hour.  But no worries – that was why we made the Border Station stop.  Gas, food, restroom, and we were ready to sit in traffic for a while.  Traffic was backed up leading into the Monitor Merrimac Memorial Bridge Tunnel, but things started moving again once we reached the tunnel portal.
---
Traffic backup leading up to and on the bridge.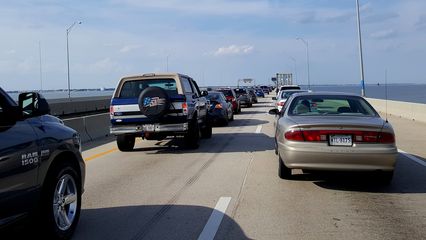 ---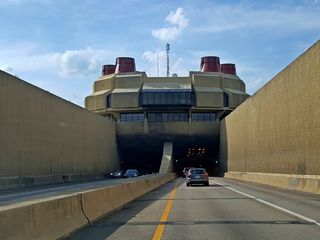 Going down into the tunnel part of the MMMBT.
---
We made a brief restroom stop at a Quality Inn in Newport News, and much to our surprise, this three-story hotel, originally built as a Super 8, had no elevator for Elyse to film.
Our next stop was in Richmond, where we went to Carytown.  Elyse wanted to show me a vintage restroom in a nearby restaurant, plus we wanted to visit Rocket Fizz again, as we were almost finished trying the round of sodas that we had previously bought in March.
---
Vintage restroom at the Can Can Brasserie in Carytown.  Those full-length urinals remind me of elementary school.
---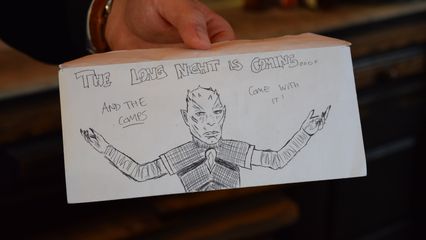 Drawing on an envelope at the host's station at the Can Can Brasserie.
---
At Rocket Fizz, I decided to give their coin drop challenge a try, where you drop a quarter into a shot glass at the bottom of a much larger container of water.  If you get it in, you get a free soda.  I positioned the quarter directly over the shot glass and dropped it in vertically, and, much to my surprise, I nailed it!
---
My quarter landed directly in the shot glass.  I was astonished that I actually made it.
---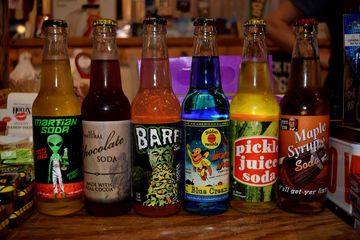 Our take from Rocket Fizz for our second round of novelty sodas.
---
Leaving Richmond, I-95 was moving rather well.  We made a stop at the Best Western in Thornburg, which was now complete and open for guests.  Elyse checked out the elevator, while I waited in the lobby.
---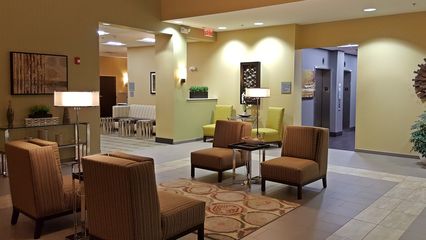 The lobby of the Best Western in Thornburg.  Not bad, though nothing to write home about, either.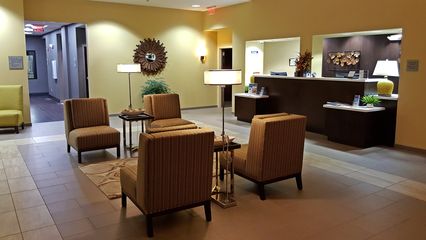 ---
As we were finishing up at the Best Western, Aaron Stone, a friend of ours who lives in the area, gave us a call.  Surprise: Andrew Reams, aka DieselDucy on YouTube, was in the area on his way to the DC area for a trip to Europe, plus a few other friends were on their way as well.  So the lot of us got together for dinner at Steak 'n Shake in Fredericksburg.  What a wonderful get-together on our way back from vacation.  It just worked out perfectly.
After dinner, we ran it nonstop back to Montgomery County, arriving around 1 AM.  We certainly stretched the return trip out quite a bit (Google gives approximately six hours' driving time for the trip), and we took all day, but it was totally worth it.  And I'd say that we had quite a bit of fun on this little mini-vacation.  I love going to the Outer Banks.  Definitely need to do this more often.
Part 3