Adventures in Tennessee
Part 2
On Thursday, we got up for further road tripping.  We weren't doing Knoxville itself quite yet.  Rather, we were heading west, to Crossville, where there was a Buc-ee's store.  For those not familiar, Buc-ee's is a Texas-based convenience store chain that only expanded outside of Texas within the last few years.  They say that everything is bigger in Texas, and Buc-ee's is no exception.  The Crossville store, which opened a few months before our visit, is around 54,000 square feet in size.  By comparison, Sheetz stores are around 4,000 square feet, and 7-Eleven stores are around 3,000 square feet.  Buc-ee's has everything that you would expect a convenience store to have, like gas pumps, packaged food, drinks, and so on, but they also have a large foodservice operation, selling brisket sandwiches and other hot foods, and they also sell branded merchandise and a lot of other gift items.  As I understood it, Buc-ee's was an experience not to be missed.  So we went out to Crossville to visit Buc-ee's, and then we built a day out of it while we were there.  That was about an 80-mile drive from our location, and it would take us along I-40 across Knoxville, across the Cumberland Plateau, and into the Central Time Zone.
---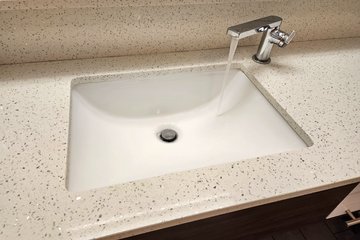 This was the sink in our hotel room.  I wasn't a fan of this design.  It looks nice, but I felt like the faucet was too close to the edge of the sink, and the shape of the basin, combined with the location of the faucet near the edge of the basin, made it difficult to fill up my water bottle.
---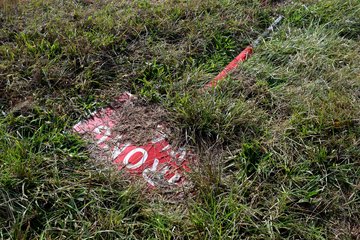 Once we got out of the hotel and on the road, we stopped on the roadside just before we got on I-40 in order to photograph some of the I-40 shields.  This "WRONG WAY" sign was on the ground near the I-40 signs.  Considering the way it was laying, I wondered if someone hit it while going the wrong way.
---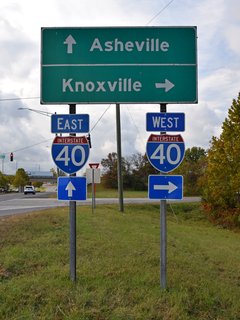 I-40 shields at the intersection of I-40 and Strawberry Plains Pike.
---
Elyse photographed one of the I-40 signs, and then got a selfie with it.
---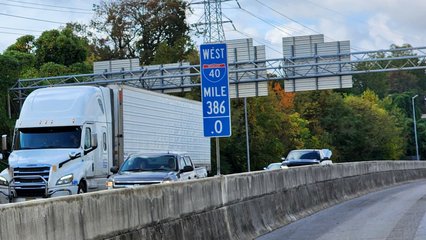 One thing that had caught my attention in Tennessee since the night before was the color of the mileposts.  In most states that I've been to, the milepost signs, while of similar overall design, are green.  Here, they are blue.
---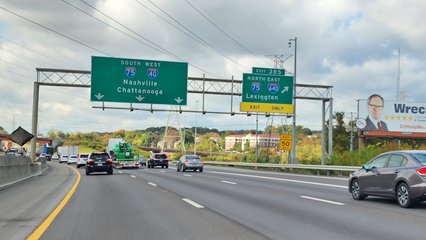 Sign assembly on I-40 approaching the intersection with I-75 and I-640.
---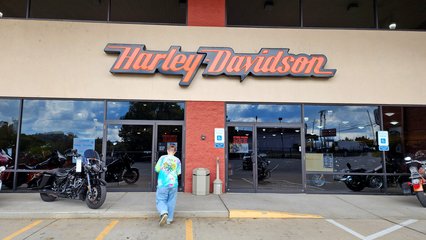 As was the case last year, we occasionally dipped into a Harley-Davidson dealership so that Elyse could score a poker chip.  This one was Bootlegger Harley-Davidson, on the west side of Knoxville.
---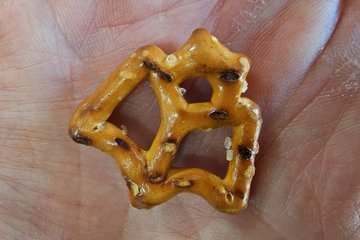 Bat-shaped pretzel that we got at the Harley Dealership.
---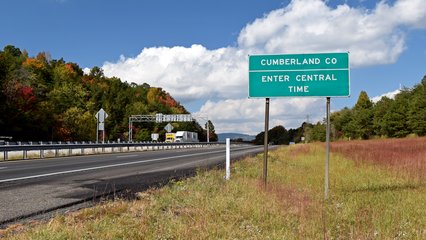 The boundary between Eastern Time and Central Time in this area follows the border between Roane County and Cumberland County.  I missed seeing the time zone boundary back in 1992, and so I made absolutely certain that we stopped and saw it, because we don't live anywhere near a time zone boundary.  Therefore, this was important.  I had my eyes peeled for it going down I-40, since I knew what the sign looked like, but didn't quite know where it was relative to everything else, and as soon as I spotted it, we stopped for it.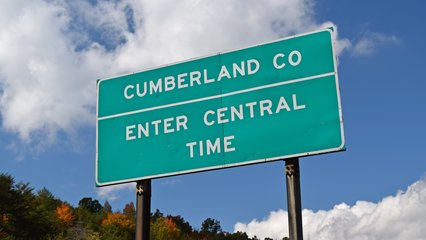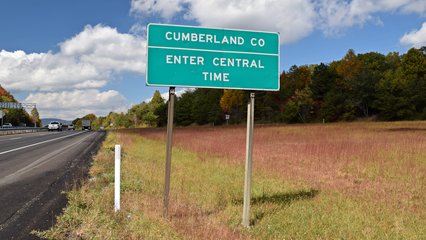 ---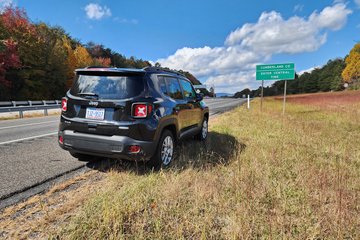 Got a photo of the Renegade parked on the roadside while I was at it.
---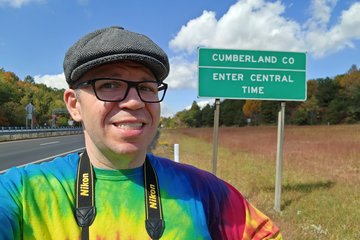 I also made sure to get selfies with it, because a nerd's gotta nerd.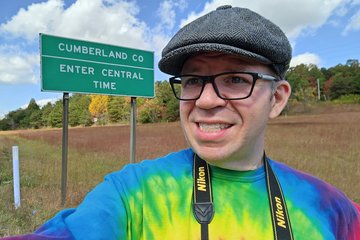 ---
And then we got to Buc-ee's.  As it was the lunch hour, the place was hopping.  We got gas, we visited those world-famous restrooms of theirs, we shopped around, and then we got food.
---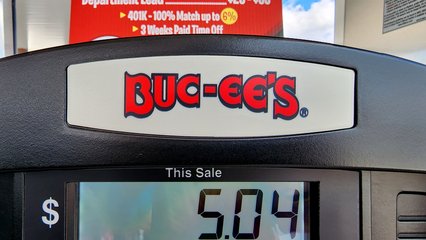 First stop was the gas pumps, where I got $28.33 worth of fuel for the Renegade.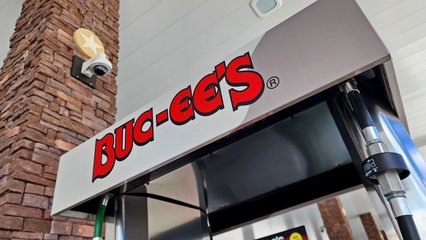 ---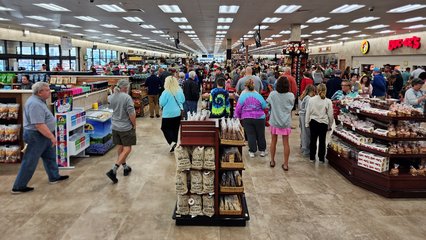 After fueling, we went inside.  Welcome to Buc-ee's!  I was feeling a little overwhelmed right about then, because the store was huge, and there were a lot of people.  But after getting used to it, I was able to navigate it like a pro.
---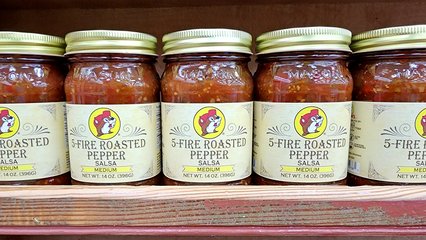 Some of the canned offerings at Buc-ee's.  They had all kinds of salsa, as well as jams and jellies.  It took a lot not to clean the place out, because it all looked so good.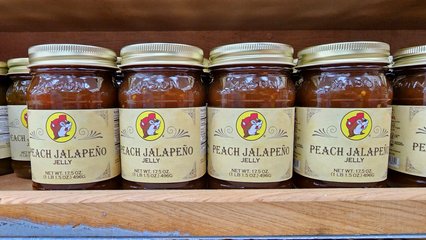 ---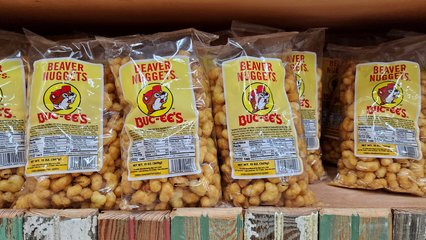 Beaver Nuggets.  These are caramel-coated corn puffs, and they're quite good.  Elyse's parents had gotten a bag of them for us when they visited Texas over the summer, and we enjoyed them, so we were delighted to get some more – so we bought two bags to take home.  Yes, they're loaded with sugar, but we were on vacation.
---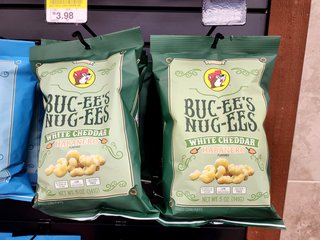 They also had these, called "Buc-ee's Nug-ees", which were essentially Beaver Nuggets that were flavors other than caramel.  We didn't get any of these.
---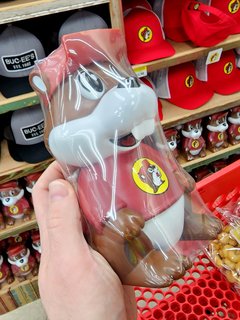 A plastic drink container shaped like the Buc-ee's beaver.
---
Selfie with a Buc-ee's hat and with bags of jerky.
---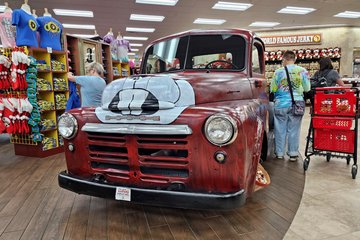 A Dodge pickup truck painted with the Buc-ee's beaver.
---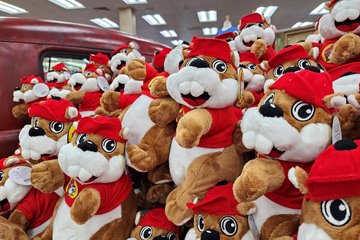 A pile of stuffed beavers in the back of the truck.  One of these little guys came home with us.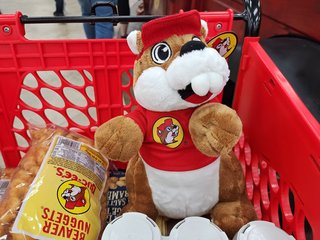 ---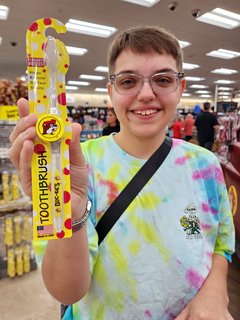 Elyse holds up a Buc-ee's toothbrush.
---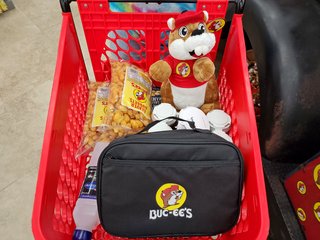 Our haul thus far.  Beverages, Beaver Nuggets, a lunch box, and a stuffed beaver.
---
A rack of prepackaged food items, including multiple flavors of parfait.
---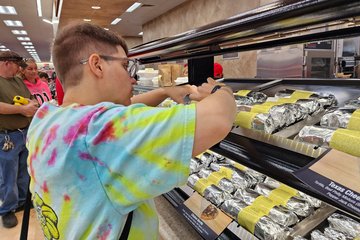 Elyse looks through the burritos.
---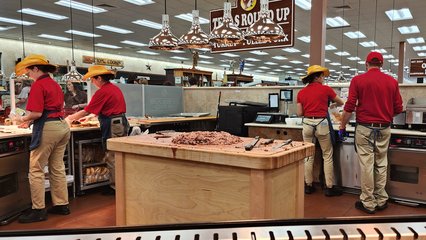 "Fresh brisket on the board!"
(Though it should be noted that the people who were doing that call and response gave me the impression that they were only doing it because they had to.  They definitely didn't sound like they were enjoying themselves.)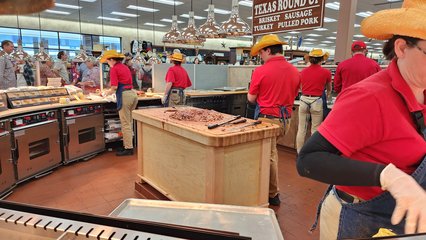 ---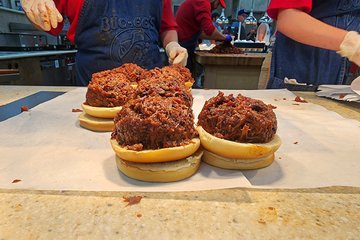 Watching Buc-ee's sandwiches get made.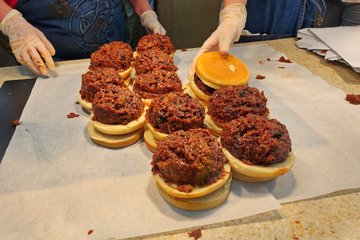 ---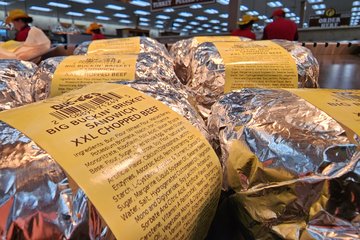 Fresh brisket sandwiches, ready for sale.
---
We ended up getting a lot of stuff at Buc-ee's – more than I intended.  In addition to what I showed earlier, we also got some shirts, plus we got brisket sandwiches.  Our total in the store was $160.41, which was more than I had intended, but it was all stuff that we could actually use.
I also realized one thing pretty quickly after we had bought our sandwiches: there was nowhere to actually eat at Buc-ee's.  I thought that was a pretty big oversight at first, but then realized that it was probably intentional, because with the volume that Buc-ee's did, if they offered seating, then they would probably have to build their buildings twice as large in order to seat everyone, plus they would have to clean and maintain that space.  So the places are designed with the idea that you buy it there, and then take it somewhere else to eat.  We ended up going back to the car and eating on the dashboard, which was not ideal, but it worked.
Getting in the car, one look at the sandwich told me that this was not going to be a neat affair.  I ate my sandwich with a fork, and in order to prevent any stains because of the awkward position I was eating in, reaching over the steering wheel and all, I took my shirt off.
---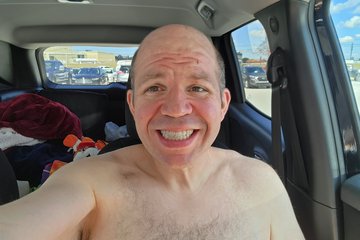 Yep, I really did eat it shirtless.  And let it be known that messy brisket knows how to find your clothes.  I may not have gotten any on my shirt, but it found my pants.  Figures.
---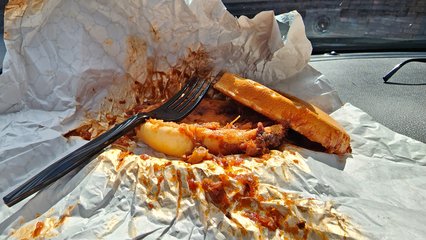 The brisket is eaten.  I also ate the bun, because trust me, I wasn't letting that sauce go to waste.
---
Finishing up with lunch, after putting my shirt back on and going in to wash my hands, I went around and photographed the exterior.  I had wanted to send the drone up for some aerial shots of the sign, if nothing else, but there was just too much going on all around to even consider it.
---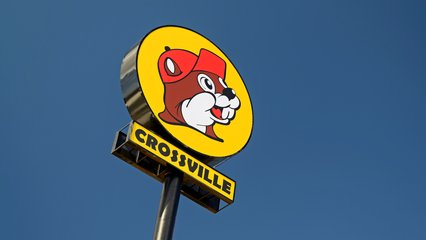 Tall sign for Buc-ee's, visible from all around.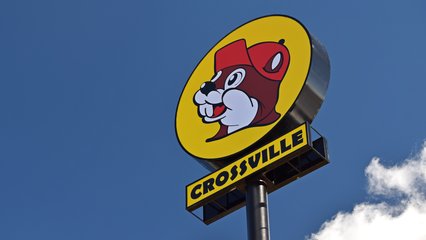 ---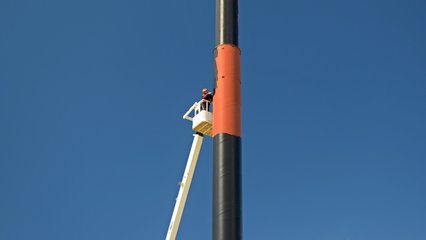 As a testament to how new this location was, there was a guy on a lift giving the pole of that massive sign its first coat of black paint on top of the primer.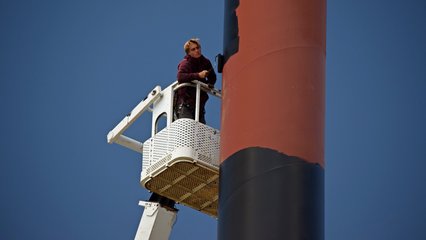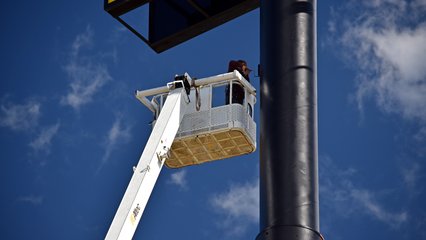 ---
These signs reminding dog owners to clean up after their animals were posted in various places along the outskirts of the property.  The sign on the left amused me thoroughly with the message addressed to the dogs themselves, consisting of "Grrrrr, bark, woof.  Good dog."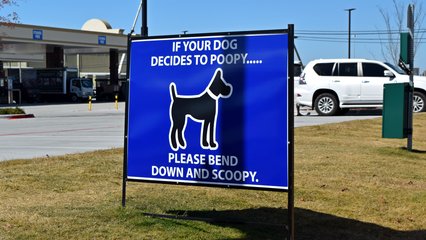 ---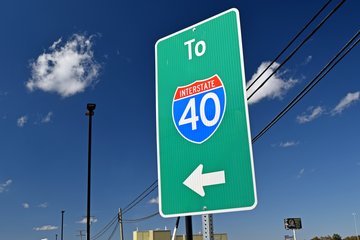 One of several signs posted on the property indicating how to get back to I-40.  The way that most people come into Buc-ee's is via an entrance-only ramp directly off of the main road, on the east side of the property.  The other entrances, as well as all of the exits, are on side roads on the south and west sides of the property.
---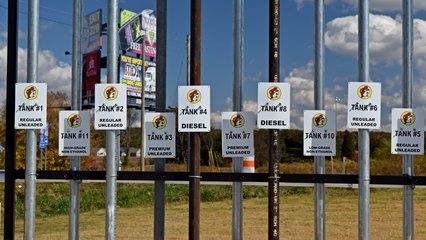 Signage indicating what kinds of fuels go in each of the underground tanks to supply the pumps at Buc-ee's.  And in true Buc-ee's form, the beaver logo is on all of the signs.
---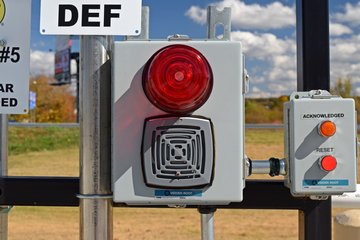 Veeder-Root overfill alarm, complete with Edwards Adaptahorn.
---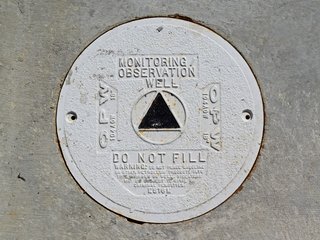 Monitoring/observation well cover for the fuel system.
---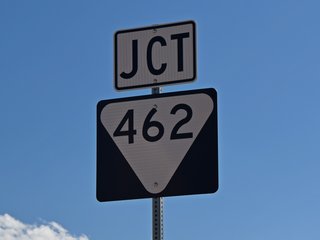 Shield for State Route 462 next to Buc-ee's.  Like Virginia, Tennessee designates primary and secondary state routes, with primary routes' having a square shield with an outline of the state in the bottom, while secondary routes use this triangular design.
---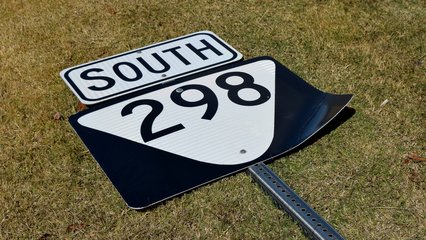 A reassurance shield for State Route 298, i.e. Genesis Road, was on the ground.  I assume that someone hit it at some point, and it had not yet been put back up.
---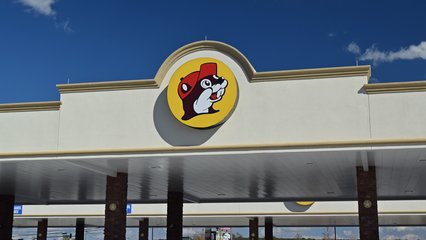 Fueling area at Buc-ee's.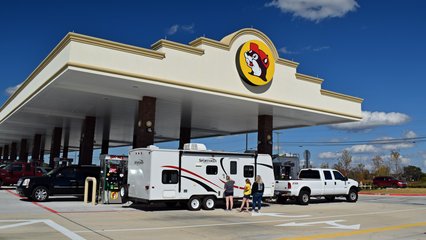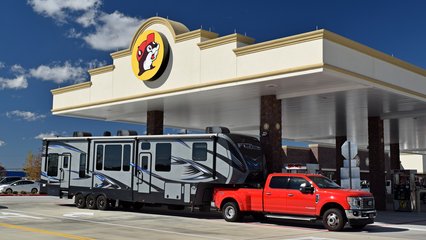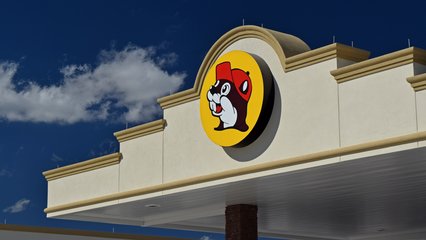 ---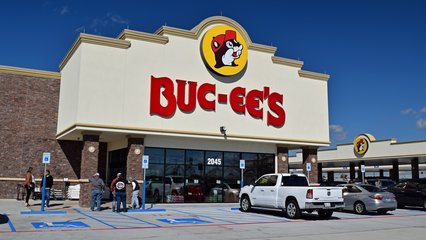 Buc-ee's side entrance.
---
Finishing up at Buc-ee's, we headed back to I-40.  However, before we got on, I stopped to grab some more photos of I-40 shields in better lighting.
---
Our next destination was one exit up the road going eastbound in order to check out a place that sold NASCAR stuff that Elyse had seen advertised on billboards as we were coming in.  The place was right off of the exit, and when we got there, I immediately remarked that the place didn't look like it was open.  Elyse then noticed a lock box on the door, which lent more credence to the idea that they weren't open.  Then I went up and looked through the door.
---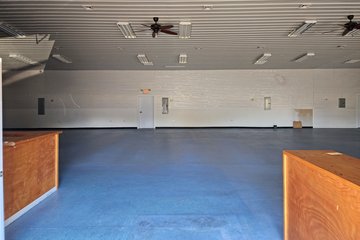 That confirmed it: they were gone.  That was disappointing.
---
But all was not lost: Elyse found another NASCAR place in Crossville, and off we went.  We took local roads to get there.  We were surprised that Google led us to a place called "Rugs to Go", though, which caused us to go right by it without even realizing it.
---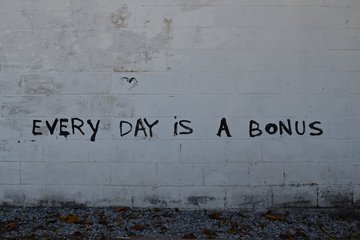 Though I did get a good photo out of the place where we turned around, with this graffiti that read, "Every day is a bonus."  I mean, they're not wrong.
---
We then checked Google again, and apparently, the rug place was the right building.  We drove around the building once to see if the NASCAR place was a separate suite or something, but while we found an entrance to an upstairs space, it was clearly an apartment.  So we went into the Rugs to Go place, and we immediately saw NASCAR stuff.  As it turned out, the NASCAR business and the rug business shared a space.  Hey, whatever works.
We also found out what happened to the other NASCAR store.  As it turned out, the owner of that store had recently retired, and decided to close the store rather than sell it.  The billboards that we saw for it just hadn't come down yet.
All in all, we had a good time there, though we ultimately didn't buy anything.  Seeing a lot of Dale Earnhardt stuff there, we discussed the way that Earnhardt was a very polarizing figure in NASCAR in his day, that people either loved him or they hated him.  I recounted one time when we had gone to a race in Richmond, during qualifying runs prior to the race, most drivers got a neutral reaction when they were announced.  But when Earnhardt's name was announced, there was a loud chorus of boos from the stands.  It also came up that Earnhardt's competition style ultimately caught up with him in the accident that cost him his life in 2001.  The lady running the store then mentioned how much NASCAR was overhauled following that incident for safety, and how, while they may have been closer to stock cars before, they were much more specialized racing vehicles after that.
---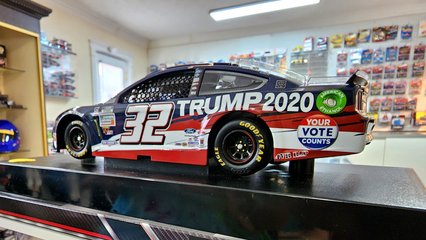 We also spotted this model racecar on display, painted up in one of Corey LaJoie's 2020 designs.  Considering that Trump lost in 2020, I don't know if I'd necessarily want to display that (but then again, Tennessee is a very red state), but I suppose that there is historical value to it.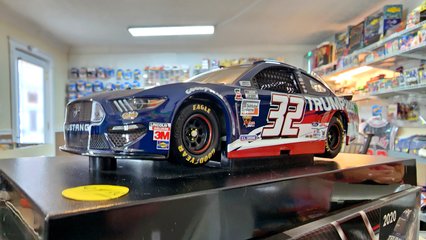 ---
Finishing there, we headed into downtown Crossville.  It was your typical American small town, and I liked the architecture of one of the buildings downtown.  So we stopped, and I photographed around a bit.
---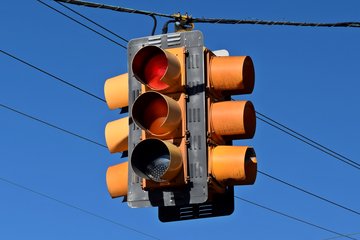 Four-way traffic signal at the intersection of 4th Street and West Avenue (US 70).
---
US Coast & Geodetic Survey benchmark in front of the Cumberland County Courthouse.
---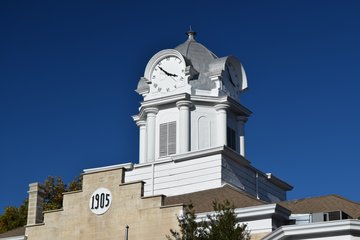 Cupola on the Cumberland County Courthouse.
---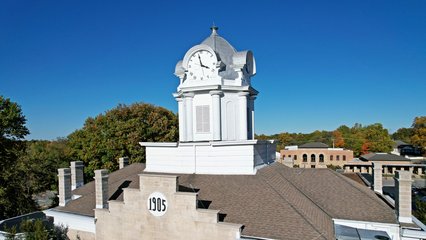 Then I took the drone out and went for a quick flight around the Cumberland County Courthouse.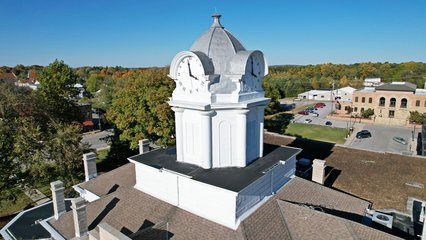 ---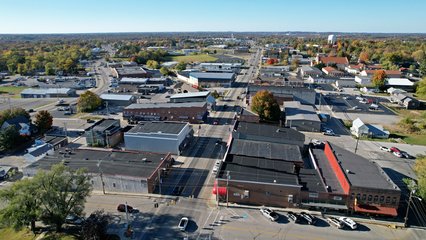 Some general overview shots of downtown Crossville.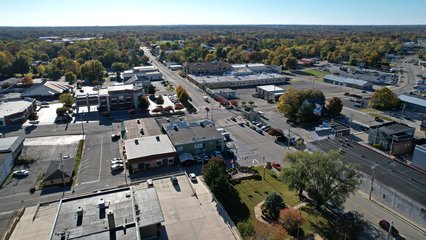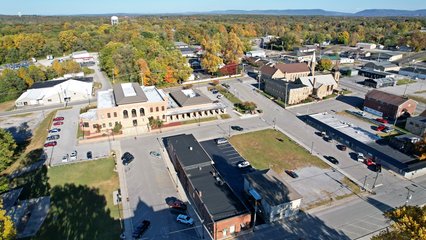 ---
A collection of highway shields on the way back to I-40.
---
When we got back to I-40, we headed east.  Not long after getting on, we made a stop at a rest area, since we both had to go to the bathroom.  We parked next to another Jeep Renegade, and compared our car with theirs.  Our Renegade had all kinds of little Easter eggs on it, like a Willys car on the edge of the windshield, a mountain climber on the back window, and Jeep logos all over it.  We wanted to see it on another one.  We were surprised to find out that this one didn't have the Willys vehicle on the windshield, but then upon discovering that they had replaced the original Mopar windshield with an aftermarket windshield, it all made sense.  But with all of the little Easter eggs on this car, I think that is one case where I would insist on going OEM for a replacement because the little bonuses bring joy.
I also found the road maps that Elyse wanted, and grabbed two for her.
---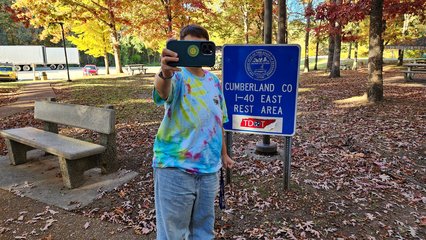 Elyse gets a selfie with a sign at the rest area.
---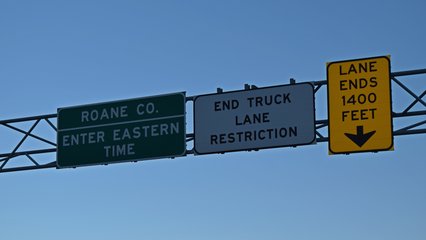 Not too far past the rest area, we crossed into Roane County, and back into the Eastern Time Zone.  This is what I had missed back in 1992, and we almost missed it again, except that Elyse spotted it in enough time for us to pull over and get photos of it.  This, however, is not the sign that was there when we went past this spot in 1992.  This sign on the overhead gantry was of somewhat recent construction, having been installed some time between July 2019 and September 2021 according to Google Street View, replacing the sign that I missed in 1992.  This is what the sign that I missed back in 1992 looked like, which was very similar to the one on the westbound side.
---
And for what it's worth, going in and out of Central Time like that caused a lot of havoc with my organization system for photos.  The phone names the photos based on the date and time that they were taken, and so when we crossed into the next time zone, the phone updated its clock based on our location, and therefore all of the photos taken in Central Time were backdated by an hour, which in turn put them in the wrong place in my timeline.  I had to go back later and fix all of the timestamps from Central Time in order to put them into Eastern Time so that they would show up in the proper order.
Continuing on, we also got off at exit 364 for what I believe was supposed to have been a stop to buy a drink, but then we quickly realized that it was not the exit that we had intended to use, so we turned around and got back on the freeway.  Before we did, though, Elyse noticed one of those parabolic dish bells, and so we got photos of that along with other signs in the immediate vicinity.
---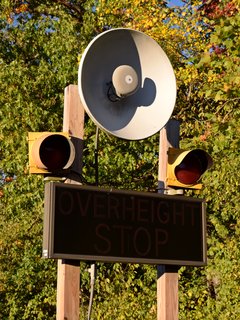 Parabolic dish bell, serving as a warning for overheight vehicles in order to prevent them from hitting the bridges that carry I-40 across TN 95 and US 321.
---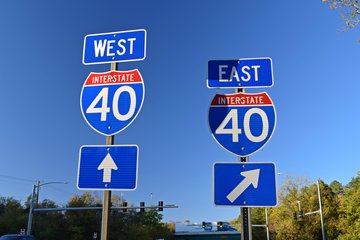 I-40 shields.  I was disappointed that the eastbound shield was in shadow from the westbound shield, but those are the breaks sometimes.  Clearly, westbound is trying to show off or something.
---
That, however, didn't stop me from getting some solo shots of the westbound shield.
---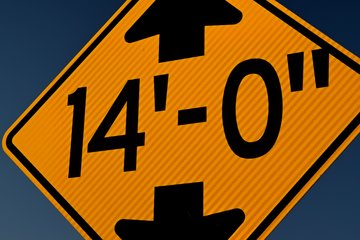 A fairly close shot of the 14'0″ warning sign for the bridges.
---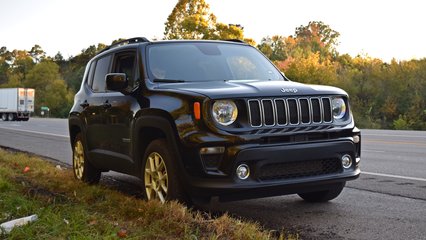 Photo of the Renegade during this stop.  It wasn't the HR-V, but it served well in the role.
---
From here, we finally started approaching Knoxville, and as such, things were starting to pick up on I-40.  We got off another exit on the outskirts of Knoxville to go to a Casey's convenience store.  For those not familiar, Casey's is a regional chain of convenience stores, and they typically sell pizza at their locations.  Elyse had become familiar with Casey's while she was on a weekend trip to Omaha this past summer, and wanted to show me.  Unfortunately, though, this Casey's was an older location, and didn't contain any of the amenities that the locations that Elyse had enjoyed in the Nebraska locations.
---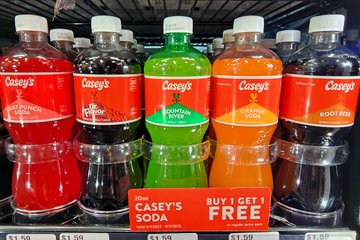 Private label sodas at Casey's, consisting of fruit punch, "Dr. Flavor" (presumably a spicy cherry flavor), "Mountain River" (presumably a citrus flavor), orange, and root beer.
---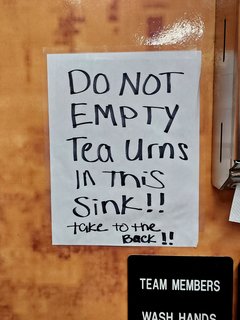 Sign directing employees not to dump tea urns into a hand-washing sink.  I still say that this sort of thing just advertises to the customers that there is a problem, and I don't need to know about this.  Thus signage like this should not be in view of the public.
---
Not finding the pizza that we expected to find, we just bought drinks (not sodas, mind you) and kept it moving, with the expectation that we would try a Casey's again later on.
Leaving Casey's, we headed into Knoxville.  We didn't have directions on, so we just navigated by the seat of our pants.  We drove through the campus of the University of Tennessee, and then made our way over to the World's Fair Park to see what the parking situation looked like for tomorrow (turns out that you can't park right there, but rather you have to park somewhere else and then walk over).  We then headed over to the Knoxville Area Transit hub, since Elyse wanted to ride.  Knoxville has a surprisingly nice transit center, with public restrooms and a vending machine area with seating.
---
Escalators and stairs at the KAT hub between street level and the upper level.
---
Wheelock RSSWP (weatherproof version of the Wheelock RSS for outdoor applications) at the KAT facility on the upper level where the buses board.
---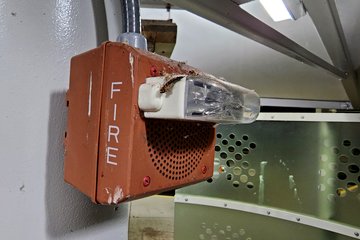 Wheelock ET70WP speaker/strobe on the upper level of the KAT facility.
---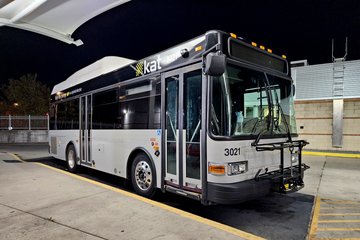 KAT bus 3021, a 30′ Gillig Low Floor hybrid.
---
From here, Elyse and I parted company for a while.  She rode buses, while I drove around looking for things to photograph.  I ended up parking on the street next to the Langley garage, and went up to the top of that with the tripod.  I photographed the Sunsphere from there, and also photographed around the area a little bit.
---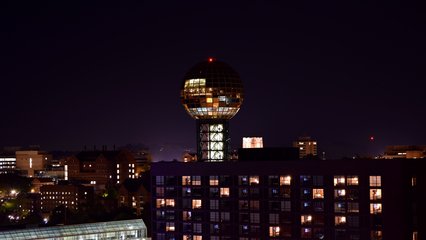 The Sunsphere, viewed from the Langley Garage.
---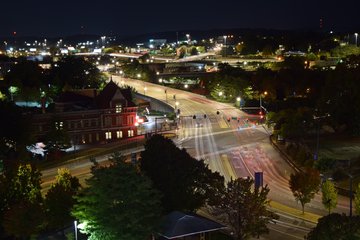 Another view from the Langley Garage, showing the intersection of Western Avenue, West Summit Hill Drive, Henley Street, and Broadway.
---
I also lucked out in a big way, as a fireworks display started nearby, and I was in an ideal place to capture it.  The photos that I got weren't amazing, mainly because I had the camera set on manual focus, and in my excitement to shoot an unexpected fireworks display, I forgot to set it back to autofocus.  So the shots were largely out of focus, but it was fun because it was something that I don't normally get to do.
---
The fireworks.  The photography here wasn't amazing, but I had fun with it.  And I still have no idea what this fireworks display was for.
---
I then walked over to a seafood restaurant that Elyse and I had seen the sign for earlier.  Elyse, having been raised in Maryland, laughed about it while questioning the quality of a crab restaurant that far inland, but I liked the neon sign.  So I set my tripod on the sidewalk, and went to town with it.
---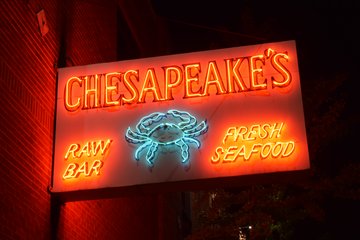 The crab restaurant's sign.  I shot a bunch of photos from the same angle with the intention of stacking them, and this is the result.
---
I then headed back to the car and headed out to an Arby's with a vintage sign that Elyse had brought to my attention based on her riding around on the bus.  I'm always up for photographing an Arby's with a vintage neon sign, and I've never done it at night before.  The problem at night, though, is that a lot of these signs often have sections that are burned out, and therefore aren't going to show up well.  Unfortunately, this particular Arby's had enough sections out that it wasn't worth photographing.  However, while I was over there, Elyse was coming by again on the bus, and I got a photo of the bus that she was on.  I did the rapid-fire shooting for this so that I could pick, and the results were… not good.
---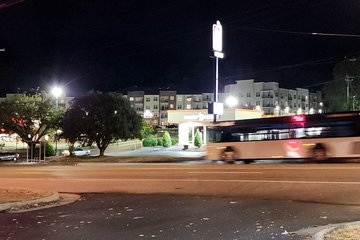 Yeah, I started shooting too early.  That's how much bus I got.
---
After that, it was getting late, and so we went off in search of food.  We ended up going to Weigel's, which is a convenience store chain in east Tennessee.  They're kind of like Sheetz in a way, in that they do have a kitchen and a decent selection of food.  However, the food that you could order on the kiosk was mostly pizza, which none of us were in the mood for.  Elyse got a salad, but salads don't always sit well with me following my weight loss surgery, so I passed on that, and ultimately didn't get anything.  We got back on the freeway to start heading towards our hotel, and saw a sign for another Casey's.  We thought that maybe this one would be like the ones that Elyse saw out in Nebraska, but it was just like the first one, i.e. just a standard convenience store.  We didn't even get out of the car, and just returned to the freeway.
I ended up getting food from a Taco Bell down the street from our hotel, and tried their new "Truff" sauce on a burrito.  It was pretty spicy, and I liked it.  I don't know if I'd get it all the time, but it has a good kick to it.  And that was our day.
Part 2