Free at last!
August 14, 2006, 4:04 PM
The detour is done! The complete rebuilding of Route 608 (Cold Springs Road) has been completed, and so now we have our road back.
To give you a little background information, for the past six months, those who live in my neighborhood have had to go this way to get to US 340 and on to Waynesboro, marked in red: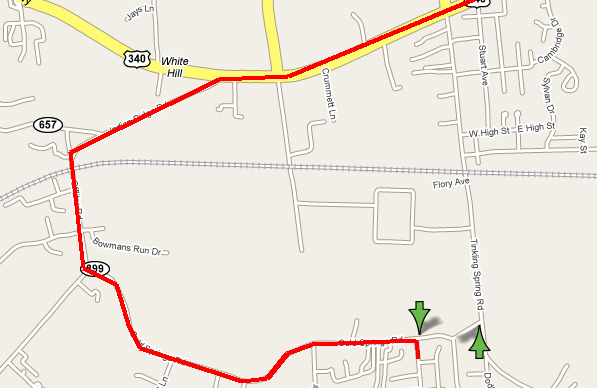 Image: Google Maps
All that distance to get out of the neighborhood. And the work area, meaning the section of road that was closed, is the section of road in between the green arrows. To give you a comparison, the regular way to 340 is as follows: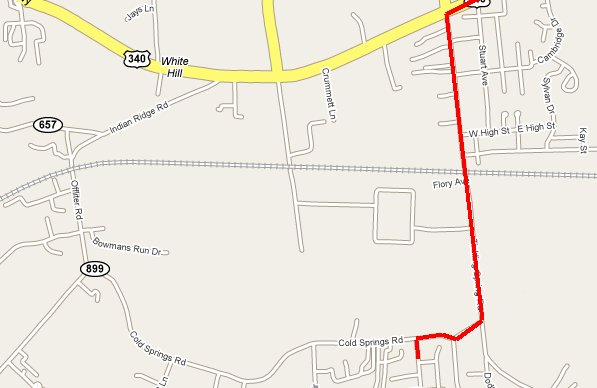 Image: Google Maps
Big difference. The work that caused this closure and lengthy detour was a complete rebuilding of the road between Draft Avenue and Forest Springs Drive to fix a flooding problem and a dangerous curve. The flooding problem was solved by the installation of a box culvert and the raising of the roadway by a considerable amount. The curve was fixed with the culvert installation, since the road was built along a straighter alignment. I had no problems with fixing that curve, because on September 9, 1997 on my way home from work, the Previa became a casualty of that curve (see accident photos). So I knew how dangerous that curve could be.
The reason most of us in the neighborhood were so annoyed, though, and why this was such a controversial project, is because we got practically NO notice that the road would be shut down, and that we would have this lengthy detour. We got about a weekend's notice. That's it. And this was a major lifestyle change, considering the price of unleaded, and the additional travel time required (ten minutes each way) to get around the detour. And the detour also caused significant traffic problems on US 340 at Indian Ridge Road due to a left turn in that area with no dedicated turning lane, causing lengthy backups during the evening rush period.
And you know what really burned me up? There was another way out of the neighborhood through a church that would have completely avoided the detour, and would have saved a bundle in fuel and time, that the church went out of their way to prevent the use of by neighborhood residents. Ridgeview Baptist Church in Stuarts Draft, on Ridgeview Drive at Falling Rock Drive, has an access on both sides – on the neighborhood side on Ridgeview Drive, and on Hodge Street outside the neighborhood. This would be the distance equivalent of the regular route across the closed 608, vs. this lengthy detour. And Ridgeview Baptist Church really did go out of their way to prevent the use of the road as a through street, placing lots of heavy road construction barrels across their parking lot, and "Road closed" signs on their lot.
Now true, the church is on privately-owned land. They can do what they want with it, and choose who may use their property. However, as a so-called Christian denomination, they should have reached out to those in need. Isn't that what Jesus would have done? It would not have been difficult to allow cross-traffic through their property. They could have built tremendous goodwill in the community with such a gesture. Even potential safety concerns could have been addressed with a little bit of ingenuity. In the end, they did not build any good will with their neighbors. In fact, I'd be comfortable in saying that they did just the opposite, and that now much of their neighbors do NOT like them for their lack of compassion. I personally consider them to be quite hypocritical, and they no longer have my respect.
So now we know what kind of so-called Christians they are at Ridgeview Baptist, as they were a lot of help during this whole construction project, with gas hovering around $3.00 a gallon the whole time.
But now, though, I'm just glad to have my road back.
Web site: The News Virginian: "Detour No More"
Song: Experimental Film by They Might Be Giants
Quote: By the way, I have some "before" photos that I took of the stretch in question on the way home from a trip in 2003. I'll post those after I get some "after" photos of the same part.