As we have for a number of years, Sis and I went looking at lights…
December 24, 2005, 10:44 PM
Yes, Sis and I went looking at Christmas lights once again this year, on Christmas Eve as always, and one word comes to mind for this year's displays: lackluster.
Christmas 2005 will definitely go down as a blah year for outdoor lighting displays. Far fewer houses decorated at all this year than usual, both in our neighborhood and elsewhere. And a lot of others scaled their displays back significantly.
First of all, though, Sis and I went looking for a set of decorations that used to reside in our neighborhood. I received a lead from a coworker on where this particular family had moved, and we followed the leads. This particular house, by the way, was just awful-looking in its decor. When they were in our neighborhood, these people had Santa, a nativity scene, large wooden snowmen with the family members' names on them, winter-themed Disney characters, VeggieTales, and certainly much more than I'm remembering at this point. And it was all lit by large, garish white lights. So you could see this display a long way away.
So we went in search of this house along the rural roads in Fishersville based on the leads we'd been given. No house. And trust me – if it was done up, we'd have found it, because you could use their display as a navigational beacon easily. We never found it, but also felt uncomfortable fully exploring some of our leads, since some of it was an unfamiliar rural unpaved road in the dark.
Otherwise, though, it was disappointing. We only found one house fully done up in a full display. Usually we find a lot of these. Here's the one we found: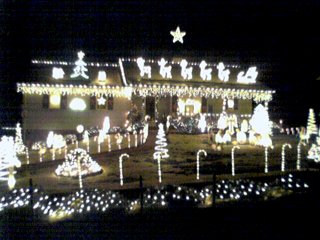 That's the only serious lighting display we saw. And we toured three neighborhoods. Usually there's a lot more than this.
Still, this confirms it – it's not just me who's not in the Christmas spirit this year. The whole area as a whole isn't really into it this year.