Toronto 2019
Part 5
Sunday, we were greeted with cold and rainy weather.  Granted, we had gotten cold and rainy weather on our first day, but this was far more intense, i.e. nothing that you really wanted to be out in.  Our plan for Sunday was to go out of the city, while hitting a few filming locations along the way.  But before we left, Elyse had something to eat at the Market Garden.  By coincidence, we sat in the same spot where Sarah Lanthier and I had played Monopoly back in 1999.
---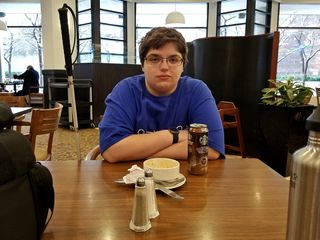 Elyse poses for the camera after finishing her breakfast.
---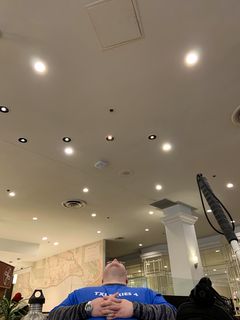 Elyse questioned my mindlessly staring at the ceiling, as seen in this photo.  My response, referring to that access panel in the ceiling, was, "That's just the hatchiest hatch I've ever seen!"
---
After leaving the hotel, our first stop was 2 Lynwood Avenue, near the intersection of Avenue Road and St. Clair Avenue East.  This building was not featured in Today's Special, but the site was.  This location was used as the site of Muffy's old house, which we saw being demolished in "Our Story Part 1".  While Elyse waited in the car, I opened up my umbrella and got a few photos.
---
The building at 2 Lynwood Avenue, which replaced the houses that we saw being demolished in "Our Story Part 1".
---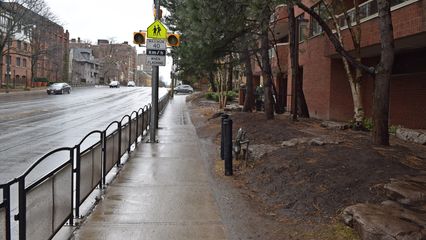 This is the sidewalk where Muffy lamented her house's being demolished before riding off at the beginning of the sequence.
---
This completed my visiting of all of the locations for the scenes for Muffy's origin story, which consisted of this neighborhood, Nathan Phillips Square, and the Richmond Street side of the store.  Nina Keogh said regarding the Avenue Road part of that story that they practically stopped traffic due to the sight of a mouse riding a scooter in the street.  It serves as a reminder that not everyone is well-versed in Today's Special, and that while the idea of Muffy Mouse riding her scooter down the street seems reasonable enough to someone like me, to someone not familiar with the show, that might be a very strange occurrence.
We then headed up to Parker Pet Care, previously known as Parker Boarding Kennels.  Parker appeared in a sequence of still images in "Trains" where TXL, speaking as Penelope, narrated.  This was the first of several Penelope sequences, and one of two that Sam's neighbor Susan appeared in (the other was in "Movies").
This stop was intended to be a quick one, i.e. photograph the exterior and keep it moving.  I had previously corresponded with the folks at Parker a few years ago when I was verifying the location of the facility for the new version of the Today's Special site, and they had said that the place had been renovated since then, so I saw no reason to go in.  But Elyse needed to use the restroom, so we went in.  There were two people working the front desk, whom I chatted with while Elyse used the restroom. One was too young to remember Today's Special, but the other person remembered the show, and absolutely loved the fact that scenes from the show were filmed there.  She also loved the "TXL Series 4" shirt that I was wearing.  She was even so kind as to tell me which entrance they showed on Today's Special.
Once Elyse was done using their restroom, I got my exterior photos, and we were on our way again.
---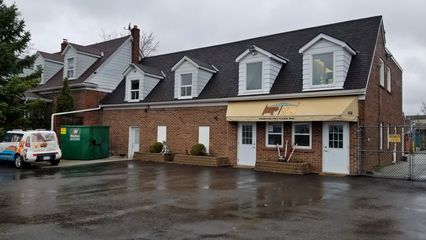 Parker Pet Care.  The facility appeared to have begun life as a residence, and was later converted to a pet care facility, with a few additions over the years.  Penelope would have entered in her basket through the door on the far left (the one not covered by an awning).  The area to the right, where the awning is located, is a later addition.
---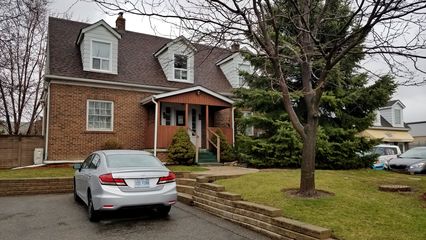 The house, which is presumably the original part of the facility.
---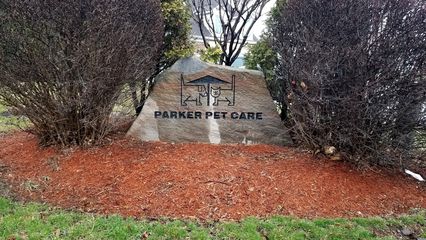 Stone sign for Parker Pet Care in front.
---
The next stop was another Penelope location: Secord Animal Hospital, where Sam and Jodie brought Penelope for a checkup in "Pets".  Being a Sunday, they were closed, and so I quickly got my exterior photos while Elyse waited in the car.  That was more challenging than I might have preferred, because it was really windy, which wreaked havoc with my umbrella, plus the rain was cold.
---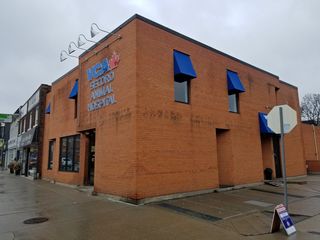 Secord Animal Hospital, where Penelope got her checkup.
---
We then got onto the 401 and headed out to Pickering, where we visited the Pickering Town Centre shopping mall.  I feel like my ride on the 401 really made this experience just that much more authentic.  I remembered hearing them talk about traffic on the 401 on CFRB (another place that Sam and Jodie visited, in "Sleep") when I used to stream them online back in the nineties.  When I visited Toronto in 1999, the bus that took Mom and me from the airport to the Chelsea took the 401 very briefly on the way to its first stop, the Royal York (which the driver pronounced "Royal Yerk" due to his accent).  I remembered the crown-shaped shields and the blue signage on the local lanes to distinguish their signs from the green signs on the express lanes.  But now, I was driving it in my own car.  In heavy rain.  That was an experience.  There's nothing like driving on unfamiliar roads in torrential rain.  True, I had Google feeding me directions the whole time, but nonetheless, it was kind of exciting.  We noted how built up it was around the 401, with massive apartment buildings all over.  I suppose that we found that notable because the 401 felt far away, and so seeing tall buildings that far out was surprising.
We got off of the 401 where Google told me to (imagine saying that 20 years ago!) and found our way to the mall.  We parked outside of the Hudson's Bay store and entered the mall that way.
I was looking forward to seeing this Hudson's Bay store out in Pickering.  I had never been to a "regular" Hudson's Bay store before – just their flagship store on Queen Street in downtown Toronto.  Generally, flagship stores have a lot of different offerings that a regular store would not have, like, in the case of our store, the Saks Fifth Avenue store within a store, the large bridal area, the Arcadian Court, the big food hall, and so on.  As it turned out, a regular Hudson's Bay store is more or less the equivalent of a Macy's store in the States, with a similar sort of decor, similar product mix, and similar price points.
While there, we spotted a section with some very distinctly Canadian merchandise.  I suppose that it's the same way that the Maryland and DC flags lend themselves to inclusion on products.  If your flag lends itself to favorable placement in popular culture instead of just as a flag, you might as well.
---
Elyse shows off some Canada-themed mittens at Hudson's Bay.
---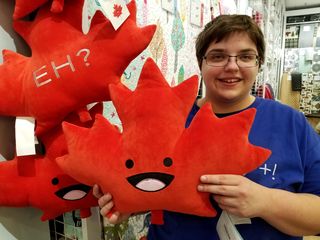 A maple leaf pillow with "Eh?" embroidered on the back at Quilts Etc. elsewhere in the mall.
---
We then headed down to the food court and had a root beer float from A&W, using paper straws to consume it.  That certainly hit the spot, and I also got to experience paper straws for the first time.  For the record, I had no issues with a paper straw, despite the bad reviews that they've gotten from other people, including Elyse.
---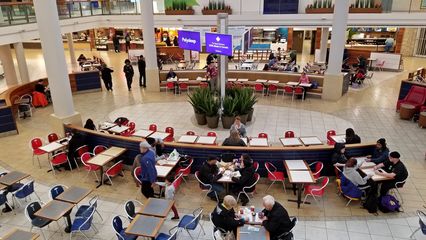 The food court at Pickering Town Centre, seen from the upper level.
---
We then went back upstairs and visited Mastermind Toys, which had some things that amused us.
---
We found a toy set with a manufacturing error, seen at left.  Clearly, this construction worker wasn't supposed to be facing away in the package, but there he was.  Rather, he was supposed to be facing outward, like the otherwise identical set to the right.
---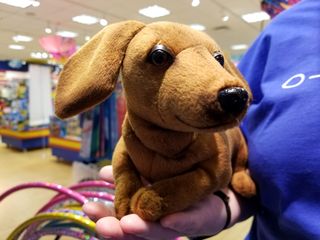 This stuffed dachshund was adorable, and reminded me a little of Greta.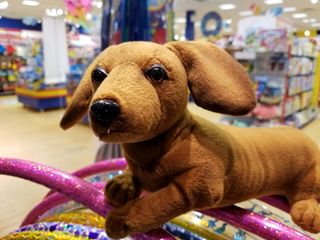 ---
We then visited Miniso, which had various trinkets for sale.  We both were amused by this stuffed animal, whose face seemed to say, "I'm not angry.  Just very disappointed."
---
"I'm not angry.  Just very disappointed."
---
At this point, it was approaching closing time for the mall, so we made tracks towards Hudson's Bay in order to get through the mall entrance before they closed it.  Neither Elyse nor I wanted to take a long walk outside of the mall in the pouring rain, so we made absolutely certain that we got in before the mall entrance was closed.
---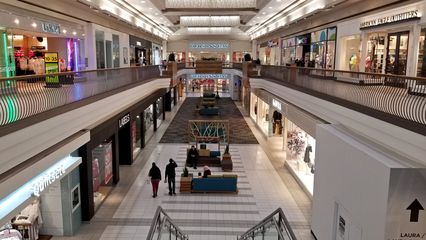 The Hudson's Bay wing of Pickering Town Centre, viewed from the upper level.
---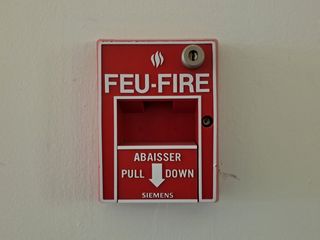 Siemens fire alarm pull station at Pickering Town Centre – another two-stage system.  We were quickly finding out that two-stage systems are very common in the Toronto area.
---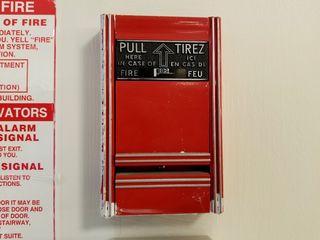 Pace pull station at Hudson's Bay.
---
Returning to the car, we took the 401 back towards Toronto, as our next stop was North York General Hospital.  Sam and Jodie had visited Dr. Blair Fearon there in "Ears" in order to figure out why Sam was having trouble hearing.  As it turned out, Sam had stuffed cotton into his ears in order to drown out the sound of construction outside of his home, and had forgotten about the cotton when he got up to go to work.  Sam then was given a hearing test, where they verified that his hearing was good.
At North York General Hospital, we quickly discovered that there was no such thing as free parking, which I found disappointing.  I knew that we coiuldn't see where they actually filmed the scenes inside, since it was Sunday, plus I considered it likely that those spaces had since been renovated out of existence in the 35 years since the segment was produced.  I ended up waiting in the car and getting some exterior photos from the car while Elyse went in to see the elevators.
---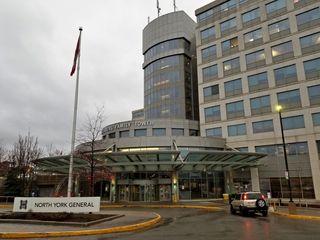 North York General Hospital.
---
Elyse rides the elevators at North York General Hospital.
---
When we finished up at North York General Hospital, we did perhaps the most American thing that one could imagine Americans doing while in Canada: we went to Walmart.  We deliberately looked for an older Walmart rather than something recent, in hopes of finding a store that was a former Woolco.  I believe that we found such a thing in the Walmart on Lawrence Avenue in North York based on old Street View imagery, though the store has been heavily remodeled since then.
---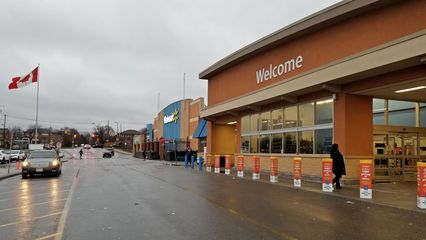 Welcome to Walmart.
---
Then to add to the Americanness of it all, we ate at the McDonald's inside said Walmart store.  We each had a McWrap, which is not available in the States, and we also had poutine, which they definitely don't offer in the States.  The Canadian McDonald's experience was more or less identical to that in the States, with the exception of the better sodas due to the lack of high fructose corn syrup.
---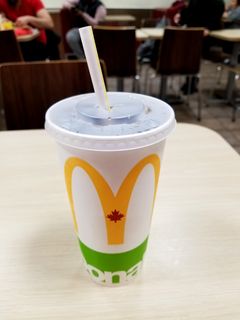 McDonald's Canada soft drink cup.  Note the little maple leaf on the McDonald's logo.
---
Walmart, meanwhile, is apparently also a universal concept, because Walmart was Walmart, even in Canada.  However, there were a few noticeable differences.
---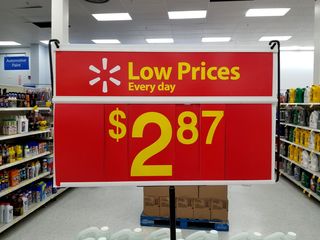 In Canada, Walmart price signs are red with yellow lettering.  These are black and white in US stores.
---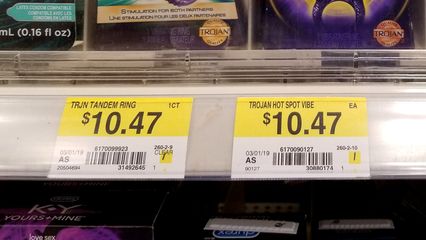 Unlike the price signage, shelf labels are identical to their US counterparts.
---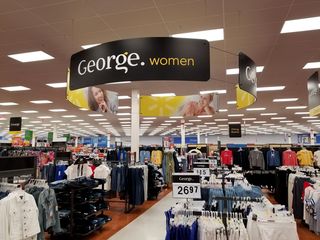 In the States, "George" is one of several private label brands of clothing sold at Walmart, typically on the higher end men's clothing.  Here, "George" is the brand for the clothing department as a whole.
---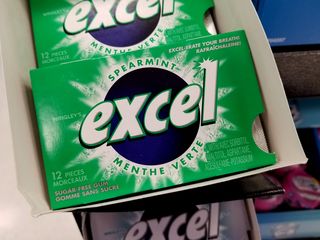 I was surprised to see that the gum that is called "Eclipse" in the States is called "Excel" in Canada.  As it turns out, Excel is the original, and Eclipse is based on Excel.
---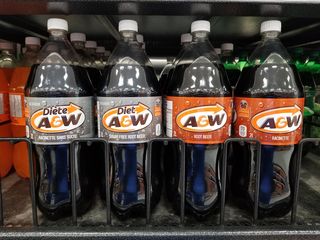 Canadian A&W Root Beer.  Note the slightly different logo, and the French language wording on the packaging.
---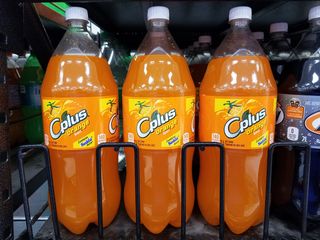 The equivalent to Sunkist in Canada is sold as C'Plus Orange Burst.
---
One thing that surprised me was the lack of bagging wheels at Walmart in Canada, seen here at the front registers (left) and the electronics register.  Bagging wheels have been a fixture at US Walmart stores since 2001, and so I found it surprising that they haven't made their way up to Canada.
---
You always knew that Walmart had a certain level of contempt for its customers.  These prompts on the self checkout seem to confirm this, as it is made quite clear that they think that their customers are out to scam them.  First, before being allowed to start scanning, you have to accept a prompt telling you to scan everything correctly and while they thank you for your honesty.  Then at the end, they double check with you to confirm that you actually scanned everything right, and give you the opportunity to go back and fix any mistakes that you may have made.
---
While at Walmart, we each bought a 12-pack of American soda with the Canadian sweetener.  Elyse got Mountain Dew, and I got 7-Up.
Our next stop was a place that Elyse put high on her list of places to visit: Poop Cafe.  Poop Cafe is a poop-themed dessert restaurant, billed as "Toronto's First Toilet Themed Dessert Bar".  It was really cute, playing on the poop emoji and going all-in on the bathroom theme, with water cups shaped like urinals, the food served in bowls that resembled little toilets, as well as actual toilets used for chairs.  We each got an ice cream dish.  I got Nutella flavor, and Elyse got something more fruity.  It was really good, to the point that I was a little disappointed when I finished it, because that meant that it was over.
---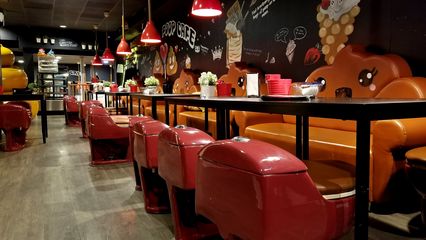 Poop Cafe.  Note that the seats are real toilets, and the benches in back are shaped to resemble poop.
---
The sundaes that Elyse and I got at Poop Cafe.  Mine, at left, was more Nutella-based, whereas Elyse's was more fruit-based.
---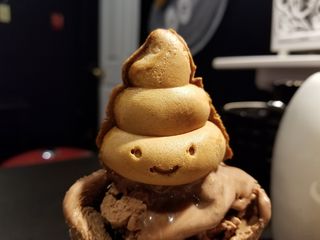 This little poop emoji topped both of our sundaes.
---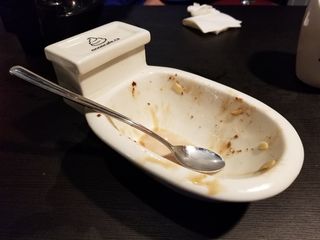 The toilet-shaped bowl that Elyse's sundae came in after she finished it.
---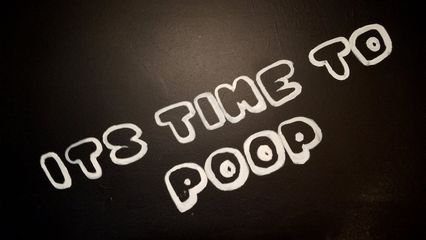 Sign in the bathroom reading, "It's time to poop".
---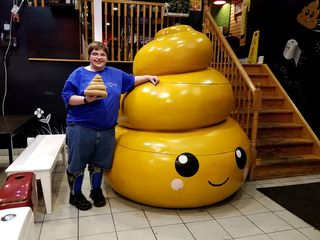 Elyse poses with a giant poop located near the entrance, and holds a stuffed poop alongside it.
---
Poop Cafe was certainly a fun place.  I definitely want to go back here next time I'm in Toronto.  Leaving Poop Cafe, we headed back to the Chelsea, and, after hitting the pool, retired for the night.
Part 5