Canada Trip
Part 2
The second day of the trip, and the first full day in Canada, Mom woke up early, and then woke me up. We then went down to the Market Garden, the restaurant at the Delta Chelsea, and got their standard breakfast platter. That entailed some eggs, toast, sausage, and potatoes. Then of course, we got coffee as well as some juice. And that was a fine meal, and it left us full.
That day, Sarah and family slept in, so Mom and I took a walk on Yonge Street in the direction away from the store. We passed all kinds of stores. Some were conventional, selling stuff like umbrellas, clothes, and the like, and others were… non-conventional.
On this little jaunt, the most memorable store we ran across was a tattoo parlor. The person seemed to be doing very well, and was very skilled at it, judging from (A) the pictures of the body art that he did, and (B) the sheer volume of pictures. We stopped to look at the pictures in the window (we didn't go in), and found all kinds of interesting tattoos and piercings. You could get tattoos almost anywhere, and we saw piercings of the tongue, lip, navel, etc.. The most interesting tattoo and piercing job was actually photographed twice on the window. In the first picture, this guy had a naked lady tattooed on his back. In the second picture, he got part of the lady in the tattoo pierced! So he had this tattoo on his back, with a piercing on his back as well, on the tattoo.
Also on this walk we ran across your run-of-the-mill restaurants. McDonald's, Burger King, Taco Bell, and Starbucks.
Upon getting back, Sarah and crew was up, and so we joined them. Sarah and I had planned on playing Monopoly one day on this trip, and she had brought her game. So, while Mom, Darlene, and Carmen (Pete's wife) went to the museum of textiles, Sarah and I went down to the Market Garden, and set up the Monopoly game. Before we started, we both were bragging about our Monopoly abilities for a long time (about six months on ICQ and the phone), and now it was time to prove who was the better monopoly player.
It started out all right. We played with Sarah's once-around-the-board rule, which means you can't purchase until you've made it around the board once. Once we got through that, we played for real. Early on, I was doing well, and then I started on a downward spiral for a while, as I was hitting Sarah's properties as well as getting some particularly nasty Chance and Community Chest cards. But then my luck began to turn with my acquisition of the Free Parking pot. My luck lasted a while, and it looked like I was going to win, but then eventually my luck turned again, as Sarah placed hotels on Park Place and Boardwalk. I was able to avoid them for a while, but then, the inevitable happened, and Sarah finally defeated me, as I became the victim of Boardwalk. During some of our game, Pete's daughter came down and watched our game for a while.
So much talking about it, and I lost. Oh, well. It happens. But after this, Mom and I went and took another walk on Yonge Street, this time towards the store. We walked in the vicinity of the store, as well as made one lap around the entire store, making a quick search for the historic plaque that was featured on Today's Special. We didn't find it on this walk, but we got to see more of Toronto. We returned to the Delta Chelsea by way of Bay Street, the next street over.
After this, Mom and I joined Sarah, Darlene, and Norman, as well as Anni, Aaron (Canada's first blind Rhodes scholar), and Cindy (another friend), for a potluck dinner. Pete and family had left for Sudbury that afternoon. During the potluck dinner, we had all kinds of food, including KFC chicken, cheesecake, and all kinds of other fun foods! We all socialized, we watched some sports, and went out on the balcony (all rooms have balconies at the Delta Chelsea). All in all, it was a fun time.
---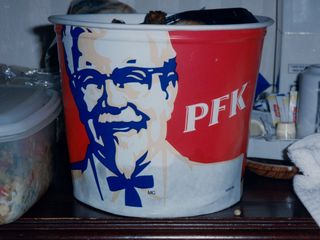 The KFC bucket, as most things are in Canada, was bilingual in French and English. This is the French side, showing KFC in French: PFK.
---
After this, we all went up to "Deck 27", the Delta Chelsea's top-level pool. It was on the 27th floor, and we all had a fun time there. Only Sarah and Darlene wanted to swim (though I went up to my knees to help Sarah into the pool), but I seriously considered getting in, evidenced by the fact that I did bring my newfound swimsuit (remember, the one I bought at the airport) to the pool area with me, just in case. We all had a lot of fun, talking, watching Sarah and Darlene, and chuckling as Sarah splashed her mother in the pool. After everyone was through in the pool, we all wanted a little change of venue, but not a large one, and so we went out on the balcony to catch the night air. It was definitely neat up there.
---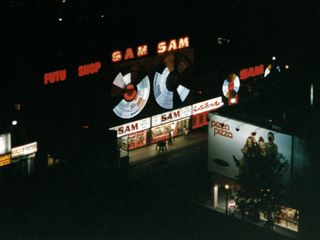 I took many pictures of the night skyline, but none came out, except for this one at left, of Sam the Record Man. The lights on these two circles were not partly burned out, but rather, the lights flashed to simulate spinning.
---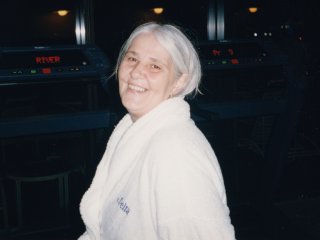 After this, we went back inside, and I took this picture of Darlene.
---
After this we went back down to Sarah and family's room. Anni, Cindy, and Aaron had to leave at this point, but Sarah and I decided to go downstairs and play some late-night rounds of cards. We probably would have played crazy eights, war, etc., except we never played cards! What was intended to be a late-night card playing session ended up being a late-night pizza break. We both got two slices of the Delta Chelsea's pizza with everything but the kitchen sink on it, and we talked about stuff. Life in Sudbury, life in Stuarts Draft, the trip so far, etc.. And then at 12 AM, as requested by Mom, I returned to the room for beddy-bye, but not before first seeing Sarah back to her room. And so I then changed into my pajamas, and went to bed. Sleep is now upon me…
Part 2