About Me
Hi! My name is Ben Schumin. I'm glad you've come here, so that I can tell you how I got to this point in life, and perhaps give you some idea about where things are going.
Childhood
I was born on May 30, 1981 at 12:49 PM at John F. Kennedy Memorial Hospital in Stratford, New Jersey. From birth to the age of three-and-a-half, I lived in Glassboro, New Jersey. I learned to read at a young age – in fact, I can't remember a time when I didn't know how to read. Just after Christmas in 1984, my sister, Ann Schumin, was born. I then became an older brother to someone. Not long after that, my father was promoted within Scott Nonwovens (then part of the Scott Paper Company), where he became the Quality Manager at the plant in Rogers, Arkansas.
Rogers is where I spent most of my childhood years. We lived there from 1985 to 1992 – a little over seven years, from three-and-a-half to eleven years old. We lived in a ranch-style house on Holly Street. I went to elementary school in Rogers. I had Kindergarten at Southside Elementary School, and then spent first through fifth grade at Bonnie Grimes Elementary School. While I was in second grade, we got our first computer at home – an IBM PS/2. At the time, that was state of the art. One of my favorite elementary school memories was Pac-Man Scooters in Phys. Ed, where all of us kids got good exercise and didn't even realize we were getting it.
Growing up
In 1992, as my parents grew tired of Rogers for various reasons, my father found a job in Waynesboro, Virginia. We moved to the neighboring town of Stuarts Draft, where I lived from 1992 to 2007, and where my parents still live. Compared to Rogers, Stuarts Draft was like a breath of fresh air. While we had a rather adversarial relationship with the schools in Rogers, it was a far better situation in Stuarts Draft, where I attended Stuarts Draft Middle School. In 1995, I graduated from middle school to high school, and spent the next four years at Stuarts Draft High School.
My freshman year of high school was the year when I really got to get the feel for the Internet, on a World Wide Web still in its infancy. During the first semester of that year, I really started to explore around. By February 24, 1996, early in the second semester, I had a crudely-designed home page – just a single page, made by an online page generator. It had no pictures, some text, and not much else. I had fun updating it every week, though. Just a little less than a month later, on March 23, 1996, I created The Schumin Web. Mind you, it wasn't known as The Schumin Web back then, and the design was rather crude by today's standards, but it was a site, and it's grown and improved as I've grown up and improved my skills.
I first entered the workforce in high school, working part time as a directory assistance operator for CFW Information Services. It was a great job to have while in high school, and the people were awesome.
College
After I graduated high school, I began college, where I studied at James Madison University and ultimately earned a Bachelor of Science in Public Administration in 2003. College was a wonderful experience, as I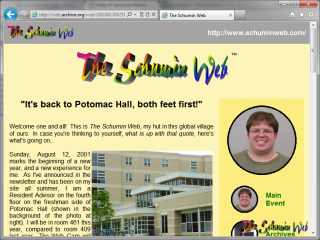 was involved in various Hall Council organizations, and became a Resident Advisor in Potomac Hall during my junior and senior years.
College was also the time when Schumin Web evolved into its present format consisting of several sections containing somewhat-related material.
My college years are well-documented in my subsidiary site, College Life.
After college
After college, I had my sights set on our nation's capital. In going to Washington DC to visit on a number of occasions, I'd really started to take a liking to the area. However, unable to find a job in Washington or thereabouts right out of college, I ended up taking a job in the Walmart store in Waynesboro, which was in the process of opening. All the while, I continued my search for a "real" job. I considered myself to be highly overqualified for the work I was doing at Walmart, but it was something that paid something (very little something) until I could find that job in DC.
I had always considered myself to be philosophically incompatible with Walmart. Walmart was big business and shameless capitalism. Meanwhile, during my first few years out of college, I took a turn towards anarchism and anti-capitalism, going to anti-war rallies, anti-globalization rallies, and pro-labor marches, often in black bloc configuration, and finding myself increasingly at odds with my employer on their views of the state, labor relations, and some of their business practices.  Much to my amazement, I lasted three years there. I was ultimately fired in March 2007 for what I consider to be specious reasons.
However, getting fired from Walmart was the best thing to ever happen to me. I got a job with Food & Water Watch, a non-profit organization based in Washington DC that I find far more closely in line with my own views. And, as mentioned, it's in Washington, so I finally got to relocate to the Washington DC area. Thus on May 10, 2007, I officially moved out of my parents' house in Stuarts Draft, and settled into an apartment just north of Silver Spring and Wheaton, Maryland. I love the city life. So much to do!