Toronto 2019
Part 7
April 16 was a day that I had not exactly been looking forward to.  This was the day that we were going home.  I had thoroughly enjoyed this adventure, and I really didn't want to see it end.  If I could have extended our trip another week, I totally would have.
Our morning was pretty straightforward: eat, pack, load the car, check out, and then leave the hotel.  Thankfully, unlike in 1999, there was no fire alarm this time around to interrupt my process.
---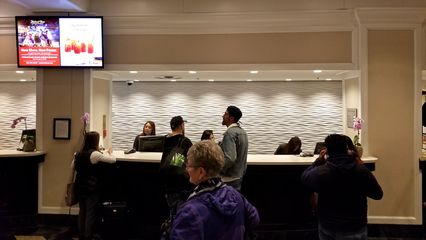 Waiting in line to check out at the Chelsea.  Until next time, I suppose.
---
The plan for the drive home was to make it part of the adventure rather than solely a drive home, and as such, we had stops planned.  Generally speaking, when I travel, the outbound trip tends to be all business, focused on making good time on the fastest route with relatively few stops.  However, I'm usually far more willing to make recreational stops and such on the return trip.  Recall that on the Outer Banks trip in 2017, we took a massive side trip to Corolla, made a long stop in Richmond, and visited friends in Fredericksburg.  To this end, we were taking a different route home from Toronto than we did going up, going more or less straight south through central Pennsylvania rather than the more westerly route that we took on the way up.  This was a shorter route than we took going up, but it was also much slower, with about half of the distance on local roads rather than freeways.  According to Google, despite that the westerly route is 76 miles longer, the time difference between the two routes is only about 15 minutes.
We also planned a few stops on the way out of Canada.  First, though, I got gas at a 7-Eleven.  I had deliberately topped up the tank in Buffalo before entering Canada, and the plan was not to buy any gas in Canada, owing to the much higher price of gasoline.  A rough conversion of the per-liter price in Canadian dollars to a per-gallon price in American dollars meant that I was paying around $3.88 per gallon for gasoline in Canada.  That said, I only bought as much fuel as I needed to ensure that I got back to Buffalo without running out.  I probably could have made it with what I had, but a few extra liters in the tank gave me peace of mind and prevented me from arriving in Buffalo on fumes.
I also lost 4G data service during the drive out.  I had downloaded the offline maps for the trip home over the air the night before, and with a 500 MB/day allotment for data while roaming, I suspected that I would hit that limit at some point.  When that happens, Verizon drops you down to 2G speeds until the end of the current 24-hour cycle, unless you buy another 500 MB for $5.  Considering that we would be back in the States in a few hours, I wasn't worried about it, because once we crossed back into the States, I would be back on domestic service, and would get my 4G back.
After fueling, our first stop was the Gladstone Hotel on Queen Street.  The Gladstone is a boutique hotel that contains a very rare specimen: a manual elevator that is still in operation.  This was my first time riding a manual elevator, and it was neat watching the staff move the handle to go up and down and make accurate stops.  It reminds me of what I do at work operating trains, though vertically instead of horizontally.
---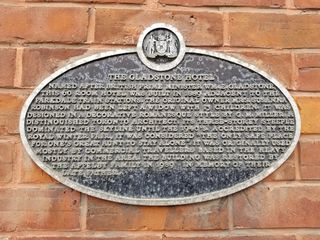 Historical marker at the Gladstone, similar to the one at the store.
---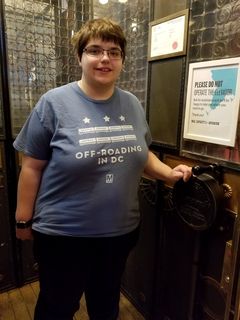 Elyse poses for a photo with the manual elevator handle.
---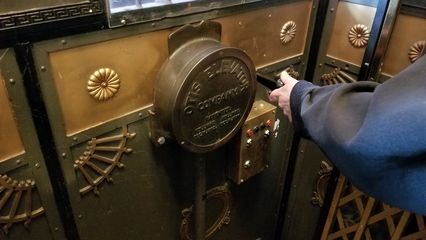 An employee at the Gladstone operates the elevator.
---
Leaving the Gladstone, we headed out of Toronto, taking the Gardiner Expressway to the Queen Elizabeth Way.  Our next stop was in Oakville, for a rare Today's Special filming location outside of Toronto.  In "Movies", Sam and Jodie went to The Playhouse, a one-screen movie theater in Oakville, to see Clive and the Cowboys.  The research for this theater was surprisingly difficult, for two reasons.  First, I was going off of incomplete information, as the establishing shot of the theater only showed part of the sign.  Second, I was operating under the assumption that the theater was in Toronto.  I spent many hours researching different movie theaters in Toronto that would have existed during the early 1980s, and comparing the architecture between what I saw in the show and what I was researching, all to no avail.  I found my answer when I posted to a page about vintage Toronto, and someone referred me to the Playhouse.  Everything checked out, and so I had gotten my man, so to speak.  It makes me wonder why they chose to shoot in Oakville rather than in Toronto.  Who knows.  In any case, we put the address in and navigated right to it.  I checked out the filming location, while Elyse checked out a nearby elevator.
The theater is long gone, and the building has since been subdivided into two tenant spaces.  According to Google Street View, what's been there has varied over the years, but at the time of my visit, it housed a real estate office and a children's clothing store.  The upper floor of the building is still readily recognizable from its days as a theater, though the first floor is completely different.
---
The former Playhouse theatre, now home to a real estate office and a children's clothing store.
---
From here, we got back on the QEW and headed to Hamilton.  There, we visited the Hamilton Place Theatre, now known as the FirstOntario Concert Hall.  The Hamilton Place Theatre was one of three venues where the live show was performed (the other venues were Roy Thomson Hall in Toronto, and the National Arts Centre in Ottawa), and was the venue shown in "Live On Stage".  It also appeared in "Sam's Speech", which also used footage from the live show.
In the show, the theater is made to seem like it's relatively close to the store.  In reality, the theater and the store are approximately 42 miles apart, or about an hour's driving time away from each other.  Quite the distance for Muffy to go on her scooter, that's for sure!
---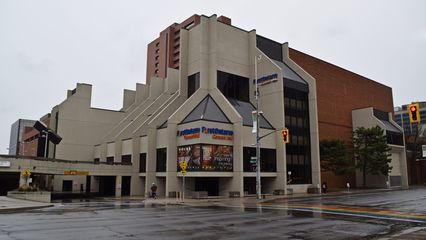 Arriving at the Hamilton Place Theatre, I got some exterior photos in the rain.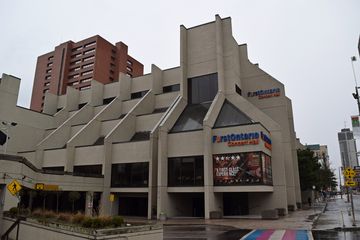 ---
I then tried my luck to see if I could get a look inside.  I first went in through the front door, and encountered a very nice gentleman standing near that door.  He tried with not much luck to call on his radio to find someone to come help me, but ultimately suggested that I go around to the backstage entrance to talk to the person there, and gave me directions on how to get over there.  When I got over there, I found a reception desk, and spoke with the lady there.  As it turned out, they couldn't take me to see the Great Hall on this particular day because they were hosting an event.  Fair enough.  They invited me to arrange for another day, but as I was leaving Canada very shortly, I unfortunately had to decline that offer.  They were apologetic, but I reassured them that it was okay, because I did admittedly come unannounced.  I also had low expectations to begin with, but had been willing to be surprised (i.e. I didn't expect that I would be able to see it anyway), so I had nothing to lose by asking.  I thanked them for their help, and then Elyse and I continued around the rest of the building before returning to the car.
The good news is that Elyse and I both want to explore Hamilton in more detail on a future visit to Canada, and so I can always make arrangements to see the Great Hall during that future visit.
Leaving the Hamilton Place Theatre, we made a brief visit at an elevator company that Elyse wanted to see.  There, she chatted with a staff member, and we got a photo with their display elevator panel.
---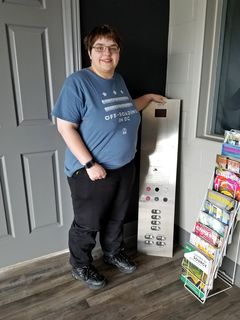 Elyse poses with the elevator panel.
---
Then we headed towards the end of the QEW, where our last stop in Canada was the duty free shop.  I was looking forward to this stop, because according to Elyse, they had the cigarettes with the Canadian packaging and warning labels on open display.  When I was in Canada back in 1999, cigarette packaging was about half label, half warning, varying depending on the size of the pack.  The warning label was white with black text, and had some very straightforward warnings ("Smoking can kill you" was one).  Nowadays, cigarettes in Canada are placed completely out of view in retail locations, and so you have to ask for them in order to see them at all.  Since neither one of us smokes, we didn't get to see the packaging or the newer warnings.  The warnings nowadays are much larger and more graphical, and contain much more information.
---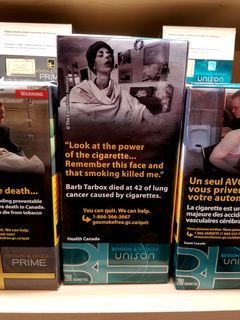 Here's an example on a carton of Benson & Hedges, depicting Barb Tarbox, a lifelong smoker who became a very outspoken anti-smoking activist in her final months before dying of smoking-related health problems.  I have to admit, though, that "Tarbox" is the perfect last name for a smoker.
---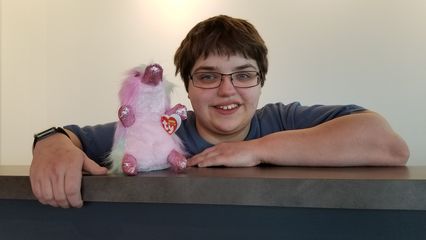 Elyse poses with a Beanie Baby toy at the duty free shop.
---
When we finished up at the duty free store, we went over the Peace Bridge, and back into the United States.  It was strange hearing Google welcome us to the United States as we crossed the bridge.  After going through US customs, we were on Interstate 190, landing right in the middle of rush hour in downtown Buffalo.  Nothing like good old American traffic, I suppose.  We weren't on the freeway for long, though, as we got onto local roads in search of gasoline and food.
We got gas at a Sunoco station off of US 62.  That amused me far more than it should have.  US 62 also passes through Rogers, Arkansas, and I was quite familiar with that part of the route from my Arkansas days.  I had not seen it since, short of seeing an exit for it on I-79 on the way up.  Thus for the first time in nearly thirty years, I was on US 62 again, if only for a very short distance.
After filling up, we got lunch at a nearby Firehouse Subs.  We both immediately noticed the difference in the quality of the sodas in the States vs. in Canada.  No more glucose-fructose sweeteners and their crisp, clean feel.  It's all about that high fructose corn syrup that coats the inside of your mouth.  Yuck.  I also had to remember that now that we were back in the USA, the prices meant exactly what they said again.  No more estimating exchange rates to come up with the "real" price anymore.
After lunch, it was time to begin our long drive through some very rural areas.  We would not see an Interstate highway again for quite some time.  We started out on US 219, which starts out as a freeway.  I was thinking, "Okay, I still have a freeway.  This is better than I expected."  We then discovered that said freeway rather abruptly ends at a diamond interchange near Springville, with jersey barriers directing all traffic onto the exit.  Apparently, the freeway was supposed to have continued further south, but the rest was never built.  We also saw a sign about a "bridge to nowhere" here, which hinted to this being an abandoned construction project.  Some research later on turned up some background information, but basically, don't expect to see any progress on that road any time soon.
Continuing along US 219, now a two-lane road, we passed through the towns of Ellicottville, Great Valley, and Kill Buck on our way south.  I always appreciate going through little towns if I'm going to be traveling on rural two-lane roads.  It breaks up the monotony, and you get to see some local culture.
Our next stop was at Sassy's Truck Stop, near Limestone.  This truck stop is in the middle of nowhere on the Allegany Indian Reservation, though fairly close to I-86.  Elyse strongly advised that we stop there, because it would the last opportunity to stop for quite a while.  I was good on fuel for the car, but I needed a drink for myself, plus it seemed prudent to make a restroom stop.
And then, what felt like the longest part of the trip began.  It consisted of two hours of driving down two-lane roads, over mountains and through mostly forested areas.  We knew that this was coming, as our planned route went through Allegheny National Forest.  It wasn't a bad drive, but it wasn't something that I necessarily would have wanted to do on a rainy night.  When we saw the "Welcome to Pennsylvania" sign early on in this stretch, I was both delighted and filled with dread.  I was delighted because we had cleared New York, and thus were making good forward progress, but I dreaded it because Pennsylvania is a big, rectangular state, and we still had a lot of driving to complete to get through it, and we would still be far from home when we were finished with Pennsylvania.  Thus it was a reminder of how much more driving we still had to do, since we would do more miles in Pennsylvania than any other state (or province).
The only town that we encountered during this stretch was Ridgway, which we saw mostly from a distance on US 219.  We later got on route 153 near Brockport.  The only bit of freeway in this stretch was twelve miles on I-80, between routes 153 and 970.  We then continued our travel along US 322 until we reached Philipsburg.
In Philipsburg, we saw a Weis supermarket.  That was a beautiful sight after two hours of driving through the woods.  We stopped, we got out, and we used it as an opportunity to walk around a little bit.  We were about halfway through Pennsylvania at this point, so it was a welcome distraction.
---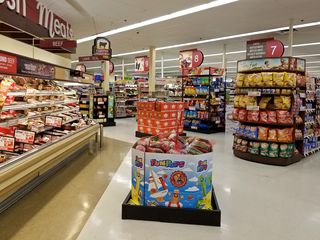 Walking around the Weis just to get up and stretch.
---
Local newspapers for sale at Weis.  The big story of the day was the fire at Notre Dame Cathedral in Paris.
---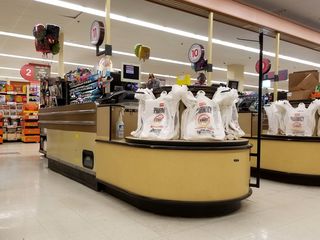 Unlike the Walmart up in Canada, this Weis store had bagging wheels.
---
Finishing at Weis, we got back in the car and we were on our way.  We were only 35 miles away from Altoona at this point, where we had planned a couple of stops.  I was delighted to see signs for Interstate 99, because it meant that my journey along all of these two-lane roads would be over soon, and that I would have freeways, for the most part, for the rest of the drive home.
In Altoona, Elyse wanted to do an elevator.  I readily agreed to this, since it would be a rest for me, and something for her to do.  We went to UPMC Altoona, where she went off in search of elevators, while I sat down in a chair and took a few moments to mentally unwind (i.e. I played on Facebook and Reddit for a bit).
We then had dinner at Sheetz, which was most of the reason that we went a route that would take us through Altoona.  This wasn't just any Sheetz, but rather, it was the company's flagship location.  This was one of the largest Sheetz stores that I had ever been in (I think that the Mt. Jackson, Virginia store might be bigger), and certainly the fanciest.  This location is where Sheetz tests out new menu offerings and other concepts, and to that end, we explored around the menu to see what was different, and gave potato skins a try for the first time while we were there.  I also filled up the car before we left, and so with food, drink, and fuel, we were good to go again.
---
The Sheetz flagship store in Altoona.
---
Leaving Altoona, we did the rest of the trip home, another 150 miles, nonstop.  We both had a surprising amount of energy, and so it was a very pleasant and easy drive.  I was a little surprised that Google sent us along US 30 rather than the Pennsylvania Turnpike for the stretch between I-99 and I-70, but it worked out, and brought us to Breezewood from the west rather than going through the main Breezewood strip.  I didn't mind, because it saved me a toll.
All in all, I enjoyed this trip to Toronto.  I truly loved exploring Toronto, and seeing all of the places in person that I grew up watching on Today's Special, and meeting so many wonderful people.  I definitely want to do Toronto again, and I hope that it's not another twenty years before I get to visit again.
Part 7