A16: The World Bank and IMF Demonstrations
Part 2
It seemed contrary to what one would expect, but in our march, which met up at Murrow Park across the street from the World Bank, we marched away from the World Bank, towards Dupont Circle.  One would think we'd start at Dupont Circle and march to the World Bank, but this ended up working out, too.  It was described as turning our backs on the World Bank and IMF.
The march took us up 18th Street NW, which we followed all the way up to Massachusetts Avenue.  Here, we made a big left turn, and took Massachusetts Avenue to Dupont Circle.  Before entering Dupont Circle however, we marched around the circle, and then turned to arrive at our destination.
During the march, various chants took place.  People said, "Show me what democracy looks like!  This is what democracy looks like!", "Whose streets?  Our streets!", "What do we want?  Cancel the debt!  When do we want it?  Now!", "Drop the debt!", and several others.
---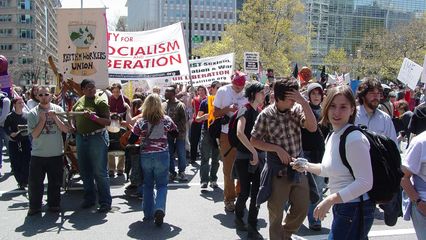 And the group turns its back on the World Bank, as we leave Murrow Park for Dupont Circle.
---
Dancing in the street.  Quite a few people would dance the entire way to Dupont Circle.
---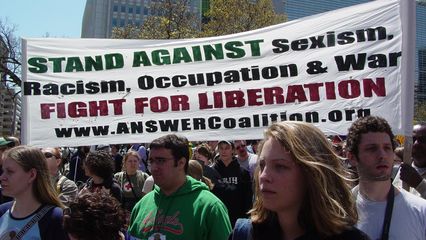 ANSWER Coalition showed up as well, with a large banner prominently displayed.
---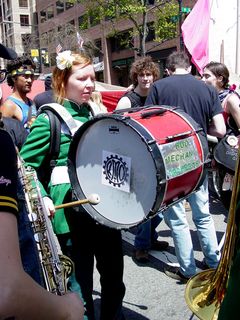 The Rude Mechanical Orchestra played music the entire way, dressed in green band uniforms.
---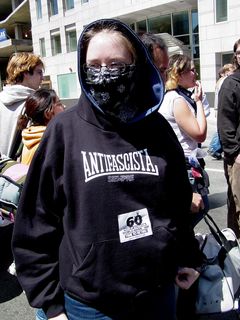 A masked woman wears an anti-fascist sweatshirt, while also wearing a "60 Years of Destruction" sticker.  Sis and I also wore these stickers, which were being given out at the rally site.
---
"Show me what democracy looks like!  This is what democracy looks like!"
---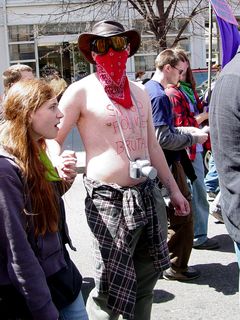 This gentleman wore a bandanna and ski goggles, with "STOP POLICE BRUTALITY" written on his chest in red marker.
---
"Whose streets?  Our streets!"
---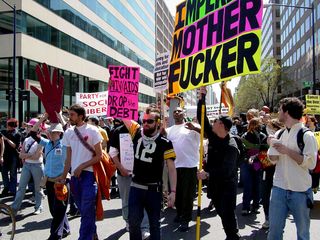 All kinds of signs were carried, and all sorts of props as well.  All attended, and all marched.
---
The Rude Mechanical Orchestra plays while their flag bearer dances and waves her flag through the streets.
---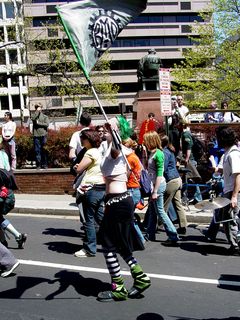 The Rude Mechanical Orchestra's standard bearer waves her flag high, and mightily!
---
Other participants in the march waved their own banners in tune with the Rude Mechanical Orchestra's sound.
---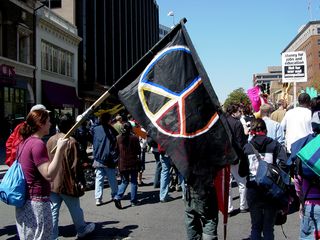 One woman carried a flag with a large peace sign emblazoned on it.
---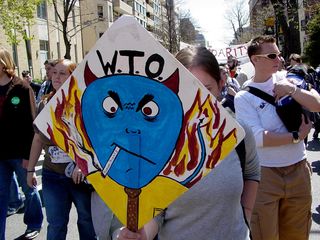 This sign portrays the World Trade Organization (WTO) as a devil, smoking a cigarette labeled "human rights".
---
Dancing in the street, while shouting, "Drop the debt!"
---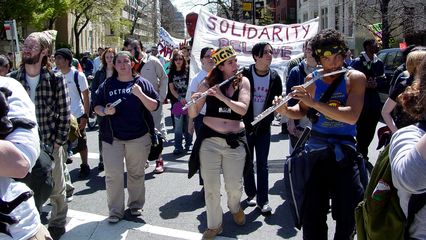 A group plays flutes while marching, providing a different style of music.  They can he heard in the above movie clip.
---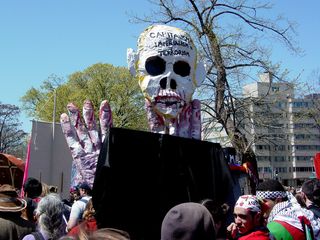 The George W. Bush/skull street puppet rises high above the crowd.
---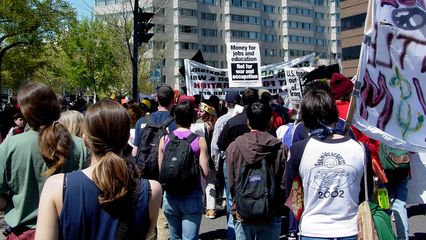 As we approach Dupont Circle, the march is still full of energy!
---
"What do we want?  Cancel the debt!  When do we want it?  Now!"
---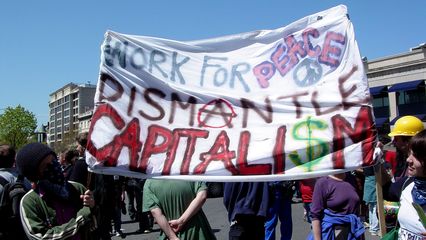 The sign seen from behind in the previous movie reads, "Work for peace, dismantle capitalism".
---
During a pause in the march, people dance in the street while the Rude Mechanical Orchestra continues to play.
---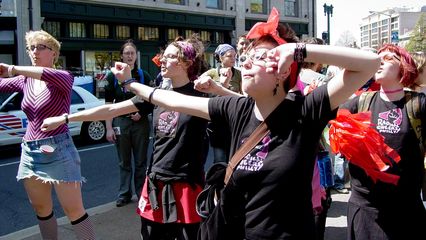 A group of radical cheerleaders does a cheer in the street at Dupont Circle.
---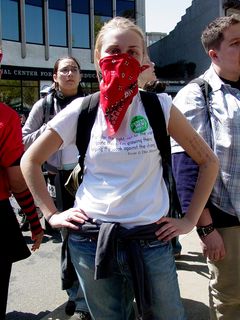 A masked woman wears a shirt saying "Fight for the right, not for the wrong/Going there, I'm growing there/Helping the weak against the strong."
Also note the phone numbers written on her left arm, which many activists do in the event that they get into trouble, so they can still contact their support network.  At demonstrations, anything can happen, and in confrontations with police, people's belongings can get scattered, which has happened to people at past demonstrations.
---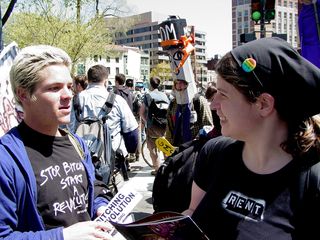 A gentleman approaches Sis asking for donations.
---
At Dupont Circle, another rally took place.  This one was more light-hearted, with topical poetry and song being the main focus, rather than speeches.  I also ran into a group of radical cheerleaders doing a cheer. I love watching radical cheerleaders in action.  Such enthusiasm and such talent.
After they finished, I waited to see if they would do another.  After waiting a bit, I asked if they would do another one, and they did.  Awesome!  I got the whole thing on film, too, with Big Mavica.
---
The radical cheerleaders do a cheer!  "But what is terror anyway?  Nuclear destruction, genetically modified foods, the IMF, the World Bank, it's all bad news…"
This and other cheers can be found at nycradicalcheerleaders.org.
---
And who chimed in at the end of the cheer from behind?  None other than Jess, who had completed her bike ride out in front and made it to Dupont Circle.  Jess had done her ride with the police taunting her, with them telling her to take off her mask, because people would mistake her for being a guy, and that she would get a funky sun tan.  Jess and I also discussed about how loud we can get at these things.  I admitted that while I thought I had a big, loud mouth, Jess definitely has got me beaten.
---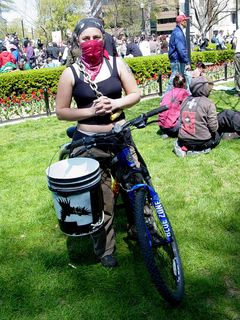 Jess picked up a well-painted bucket on the way up to Dupont Circle!  That's a keeper if I've ever seen one.
---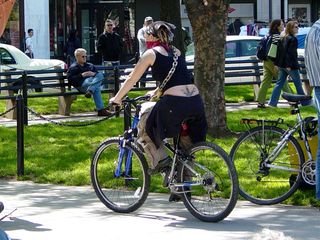 Jess and I parted company, and she rode off on her bike into the sunset.  Perhaps we'll run into each other once again…
---
Sis and I then walked around and photographed more signs, banners, and interesting outfits.  We also saw that same police officer from before, now at Dupont Circle, filming everyone and everything.  As I said, that really irks me.
---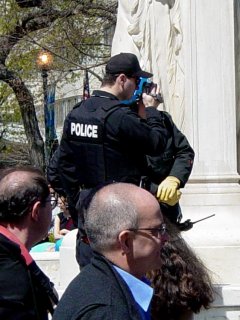 The police officer films demonstrators from the center of Dupont Circle.  I remember that on J20, the black bloc had the center of the park, since we got there first.  The police set up around the perimeter.  This time, since Dupont Circle was part of a predetermined permitted march, the police got dibs on the center.  Still, with the officer filming using his Canon camcorder, that just irritated me…
---
Our friend with the huge, somewhat uncouth, but definitely noticeable sign poses with his sign once again, and also gives a "salute" for the camera.
---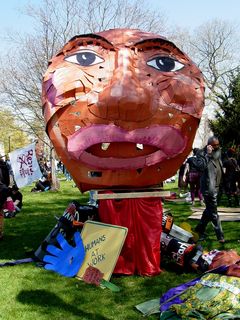 The largest of the street puppets by far, wheeled near the front of the march, made it in one piece.  Other props used in the march lay on the ground around it.
---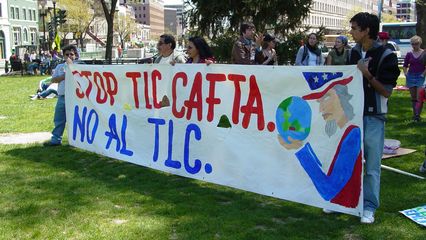 The CAFTA banner made it as well.  I always consider closing rallies like a bit of a "reunion" of sorts, since after the opening rally, everyone goes on the march, and then at the closing rally location, everyone meets back together and you can share experiences from your little corner of the march.
---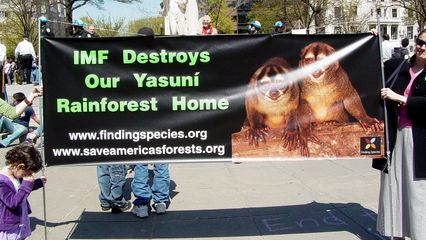 A printed banner discussing the environmental policies of the IMF.
---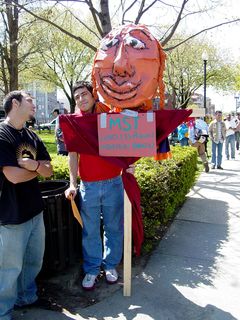 Another street puppet, with this one mentioning Brazil's MST – the landless peasant movement.
---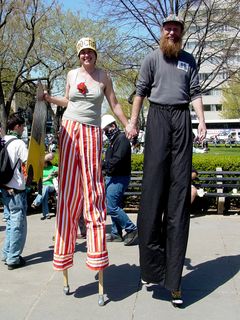 These two people wore stilts, complete with little shoes on the ends!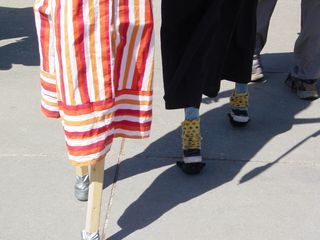 ---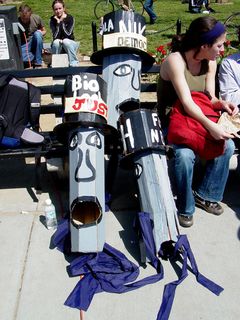 Some of the top hats were leaning against a bench, their purpose having been fulfilled.
---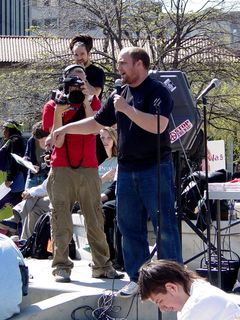 From the stage, people sang, and people read poetry.
---
A speaker shares a poem with the crowd.
---
I also ran into the girl on the right in this picture, whom I remembered from the Million Worker March.  We talked for a moment, and I shared my URL with her, as a photo of her was used in the set, and she also shows up in the video of the feeder march.
Then, after she and I parted company, Sis and I both agreed we'd had quite a time, and so we sat down on a bench and rested.  There, we decided that we'd seen it, and we were ready to go.  So I undid all my black bloc finery, and we proceeded to find somewhere to use the restroom.  We ended up going to a nearby Subway, where I could change into something else and use the restroom (I had perspired a bit during the march).
After that, we discussed where to go to get something to eat, and we headed over to the Dupont Circle Metro station, since we decided to go to L'Enfant Deli, a local deli outside the L'Enfant Plaza station.  It kind of reminded me of the time at the Million Worker March when Jess, the other guy, and I stopped at the street vendor near the Hotel Washington for drinks.  So Sis and I followed that same line of thought when we supported another small business.
---
We entered Dupont Circle station via the Q Street entrance.
---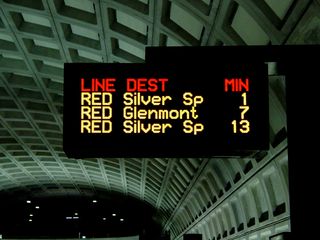 Remembering my mistake from J20, where I inadvertently got on a train going in the wrong direction, I made doubly sure to catch a train going to Glenmont or Silver Spring.  As fun as a ride out to Shady Grove or Grosvenor would be, it wasn't on our itinerary today.
---
So we took the Red Line to Gallery Place-Chinatown, and then the Green Line to L'Enfant Plaza.  There we got food at L'Enfant Deli, and ate outside.
---
Sis provides her thoughts on the A16 demonstration while we ride a CAF train on the Green Line from Gallery Place-Chinatown to L'Enfant Plaza.
---
Coming back in, I decided to walk the escalator rather than ride it.  This is why the unwritten rule of the escalator is "Stand to the right".  This way, people can walk to the left.  A gentleman was standing on the left side of the escalator, while the rest of his group was standing to the right.  I said, "Sir, please stand to the right."  The gentleman moved right over, and I didn't even have to stop walking.  Sis apologized to the person for me, since she thought what I did was rude.  I thought I was being quite polite, using "Sir" and "Please".  I think my tone was misinterpreted, but it still worked.
---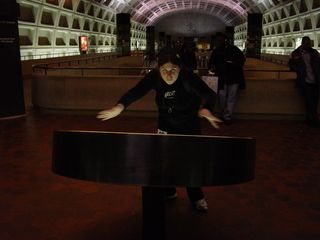 The Amazing Ann Schumin (a good magician name, don't you think?) pretends to cast a spell over the lighted map of the station on the Greenbelt platform at L'Enfant Plaza.
---
After this, we headed up to the Mt. Vernon Square/7th Street-Convention Center station, and headed over to the Infoshop.  I wasn't sure what Sis would think of the Infoshop, but she ended up liking it!  We shared our own stories about the A16 demonstration, checked DC Indymedia to see if anything was up yet, and also talked with others who had come over after the demonstration.  The report that I had was a relief to many – the Black Bloc (which we were part of) did not engage in any direct actions.  No busted windows or other property destruction.  We also talked to a gentleman there about various stuff related to politics and such, and then headed on out.
---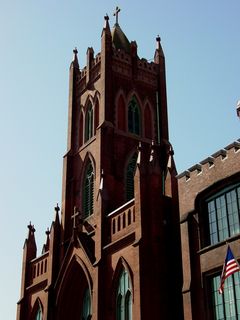 On the way to the Infoshop, Sis and I took a moment to marvel at the architecture of the Immaculate Conception Church, at the corner of N and 8th Streets NW.  I also finally got a couple of decent broad-daylight photos of this church, which I'd been wanting to get for a while.
---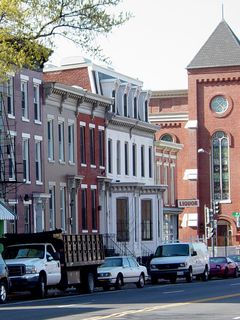 The Infoshop is very inconspicuous from the street.  You really have to be looking for it in order to find it.  It's located in the basement of the Arthur Flemming Center, which is that white building near the center of the photo.
---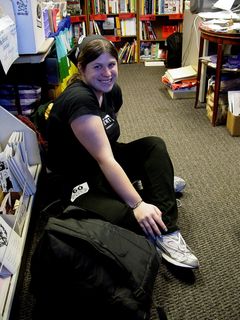 Sis poses for a photo at the Infoshop.
---
We headed back to the Mt. Vernon Square station, and then determined that we might as well go visit Freedom Plaza again in Northwest DC.  We figured it would be a nice, quiet place to take a few moments in the middle of a busy city.  Surprise!
---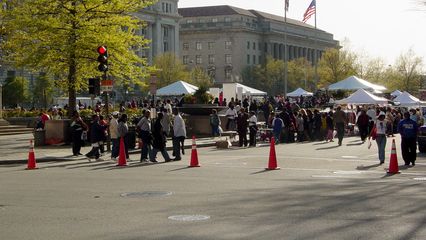 Freedom Plaza was hopping!  Turns out that it was a festival celebrating DC Emancipation Day.
---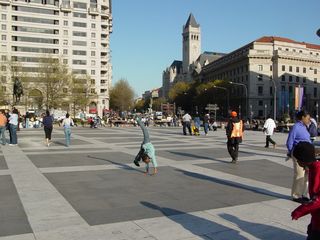 For those of you who aren't aware, DC Emancipation Day commemorates Abraham Lincoln's freeing the slaves in the District of Columbia on April 16, 1862.  Mayor Anthony Williams signed legislation making DC Emancipation Day an official holiday in the District on January 4, 2005.  More information available on the DC Government Web site.
---
After taking a quick look-see, Sis and I then headed across the street to the plaza right outside the Federal Triangle Metro station, next to the Ronald Reagan Building.  There, a bunch of Mickey Mouse sculptures were on display, similar to the pandas that were on display all over town in 2004.  However, these Mickey Mouse sculptures were all right here in one place, and were commissioned by celebrities for the charities of their choice.  The pandas, on the other hand, were done by local artists in the Washington DC area.  Still, that didn't stop us from looking, and Sis got her picture taken with the Elton John-themed Mickey.
---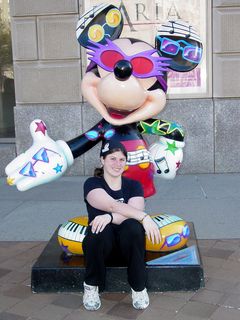 Sis poses with the Elton John-themed Mickey outside the Reagan Building.
---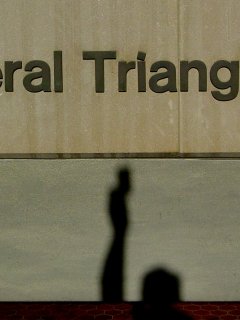 I hold up my farecard as I descend the escalator into the Federal Triangle station.
---
From there, we got an eight-car Orange Line train at Federal Triangle and rode to L'Enfant Plaza, where we transferred to Yellow to ride to Pentagon City.  There, we headed through the mall, and went over to Pentagon Row, where we were supposed to meet a friend of mine whom I'd been trying to call all day to confirm plans.  My friend was for some reason unreachable all day, and so after 20 minutes of trying and killing time, we cancelled that and went back into the mall.
At the mall, Sis and I determined that we might as well split up for a bit, after she said to me, "So do you want to go shopping, or are you just going to be a MAN?"  I was not particularly in the mood for shopping, since I'd been running around all day, and wasn't planning on spending much at the mall.  Plus I'd been dragging her around all day anyway.  Truth be told, I spend most of my Pentagon City time outside at some tables near the parking garage, while my brain devours an entire Washington Post.  So I showed Sis where I would be, said I'd call if I was moving elsewhere in the mall, and then got a paper and a smoothie and enjoyed my newspaper.  So this worked out really well for both of us.  I got my normal Washington Post time, and she got a chance to shop and kind of do her own thing for a while.
---
While Sis shopped, not only did I read my newspaper, but I also took some long-exposure photos of the fountain next to where I sit with my newspaper.  This was the first time I'd seen it running since last fall.
---
When Sis came back, we were ready to leave Pentagon City, and I still wanted to show Sis the Exeloo at Huntington.  So we took the Yellow Line out to Huntington, where she got to see the Exeloo, and also posed for a shot in front of it.  I'm such a nerd for getting this one…
---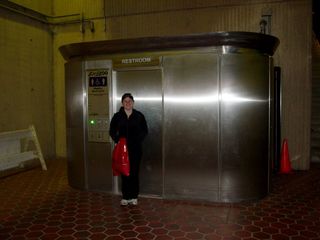 Sis poses with the Exeloo at Huntington.  This also marks another milestone in Sis's Metro experience.  She has now ridden the entire length of the Yellow Line, though not in one trip.
---
From there, we took the Yellow Line to King Street to transfer to the Blue Line.  There, I pointed out things to do in Alexandria, such as visiting Old Town, or going to the top of the George Washington Masonic Memorial.  Then we caught our Blue Line train to Rosslyn, and transferred to the Orange Line.  We ended up catching another eight-car train there to ride out to Vienna.  Metro was running some eight-car trains on the Orange Line on this particular evening due to the Washington Nationals game that was happening that evening.
---
An eight-car train at Rosslyn.  You can tell it's eight cars by the fact that it's pulled all the way up to the tunnel portal.  Normally, four-car and six-car trains center themselves on the platform, leaving space at both ends.  Eight-car trains fill the entire length of the platform.
(This is no longer true.  Since 2009, all Metro trains now stop at the end of the platform, regardless of length.)
---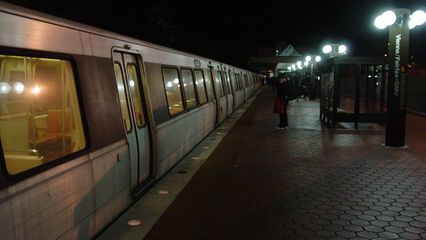 Our eight-car train once again, this time at Vienna, where it went out of service.
---
And then upon arriving at Vienna, we headed back home!  What a day it was, too.  I was sore from it, but we had so much fun, and Sis also had her first big demonstration in Washington.  And she took a nap for half the trip.  All in all, though, I'd do the whole day again in a heartbeat.
Part 2