And the outer walls begin to fall…
November 3, 2022, 8:09 AM
On October 26, Elyse and I took a one-day trip down to Augusta County in order to change to the "permanent temporary solution" for my car problem, i.e. Mom's Scion xB, following the HR-V's untimely demise in an accident two and a half weeks prior.  I don't necessarily like doing these sorts of trips in a single day because it's a lot of driving and I'm not 25 anymore, but that's all I had time for based on my schedule.  I also couldn't really postpone this trip, because things were going to get a bit more expensive for me if I didn't do this trip when I did.  For those not familiar, when you have Progressive for your insurance and your car is totaled, your rental coverage ends three days after you are notified of your car's total loss.  That notification occurred while Elyse and I were on a weeklong trip to Tennessee, and so Progressive, taking my length of time as a customer (18 years!) into consideration, they extended my coverage until the day after we got back from our trip.  Then Enterprise Rent-A-Car would let me pay the insurance rate for my rental for another week beyond that, after which I would have to pay the (much higher) retail rate.  My original plan was to switch cars on the way back home, returning the rental car in Staunton, and then doing the last leg of the return trip in Mom's car.  As the trip continued on, though, I soon realized that we would be cutting it far too close with that plan, considering that it was also our Roanoke day, so I opted to postpone the car swap by a week and do the visit with my parents on the way home as we had planned to do it prior to the accident, i.e. it would just be a visit.  So the primary focus of this trip was just to swap cars, on the day that the retail rate would have gone into effect, i.e. if you don't return this car right now, you will be paying a lot more for it going forward.  The addition of this new trip down also changed the plans for the last day of the Tennessee trip.  Since there would now be an extra trip down to Staunton, I skipped a Staunton Mall update that I had planned for the return trip to save time, since I would be going right there the following week.
For this particular Staunton Mall visit, noting the pace of the progress that I had observed in June, August, and September, I already had a decent idea about what to expect.  I figured that by my next visit, the remainder of the mall's interior would be gone, and they would probably then start working on demolishing the exterior walls, which had remained mostly intact up to this point, which meant that Staunton Mall still largely looked like Staunton Mall from the road during most of the demolition up to that point.  I also knew that I didn't have much time on site this time around, and that the demolition crew would more than likely be on the property.  Therefore, this was to be a high-level visit solely by drone, flown from well above the property where I could see my vehicle around the entire mall without having to reposition myself, and staying well clear of the demolition crew, since I didn't want to get in their way at all, and I also didn't have any time to discuss any special access with them, as I did in September to photograph what remained of the mall's interior.  All of that said, I made a quick ten-minute flight where I flew from the Orchard Hill Square shopping center across the street, and made a pass across the front of the mall, looped around the entire property, and then dipped down near the Belk entrance where there were no workers present for a momentary peek at that area before returning to the launch site.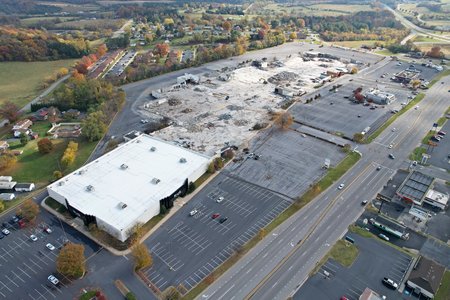 The former Staunton Mall, facing southeast.  Belk remains open for business.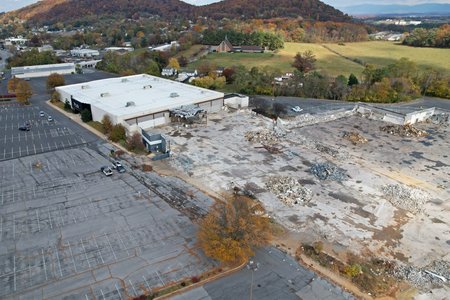 View facing northeast from about halfway down the mall, showing the former Belk wing and the former Wards building.  Only the back wall of Wards and a small section of wall from Books-A-Million to Belk remains.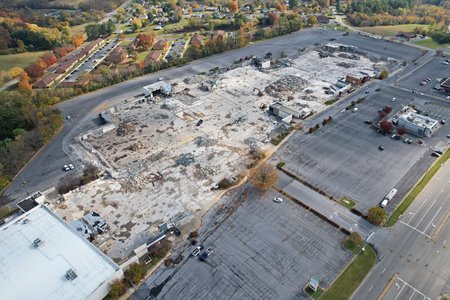 Another view of the mall, facing southeast.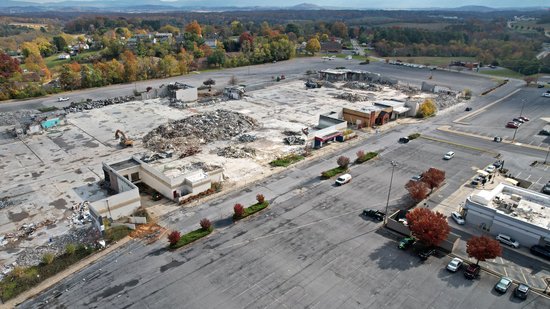 View facing southeast, from just north of the center entrance.  That loading dock area that remains was just north of the former Country Cookin/Hot Wok space.  Additionally, the south wall of Peebles remains standing for now, while the remainder of the Peebles building is gone.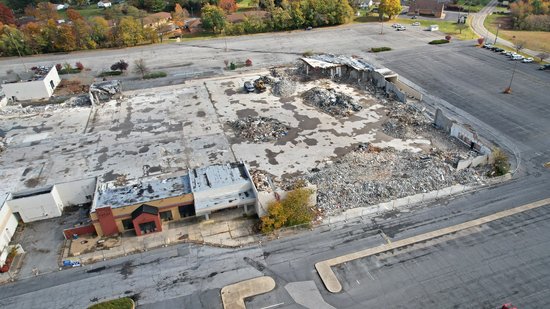 The far south end of the mall.  The front facade of JCPenney has been demolished, while most of JCPenney's south wall, as well as the southeast corner of the building, remains.  Meanwhile, the mall's facade from the north end of JCPenney to the north end of CVS, including the Piece Goods Shop and Boston Beanery facades, remains intact for now.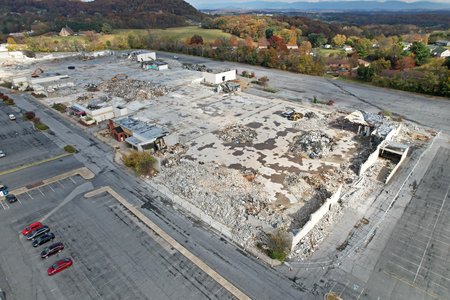 The remains of the former JCPenney building, facing northeast.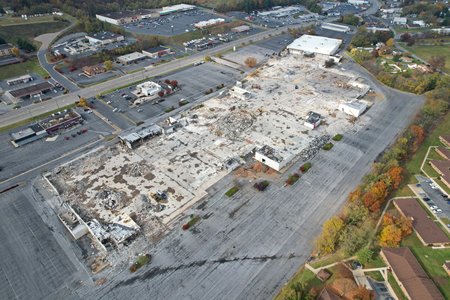 The whole mall, facing northwest.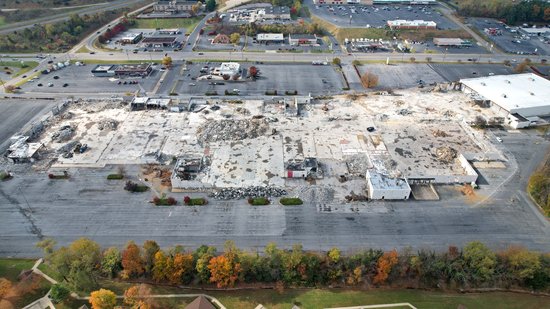 The back side of the mall, facing west.  On the back side of the mall, only the southeast corner of JCPenney, a small bump-out on Peebles, a little section near Fashion Bug, part of the movie theater building, and the back wall of Wards remains.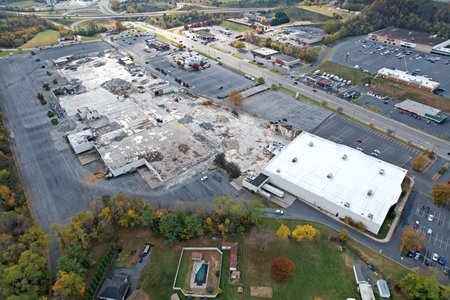 The entire mall, facing southwest.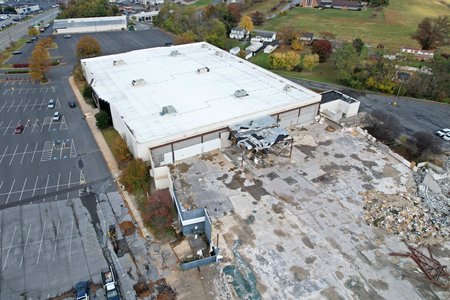 A tiny bit of roof still remains, over Belk's former mall entrance.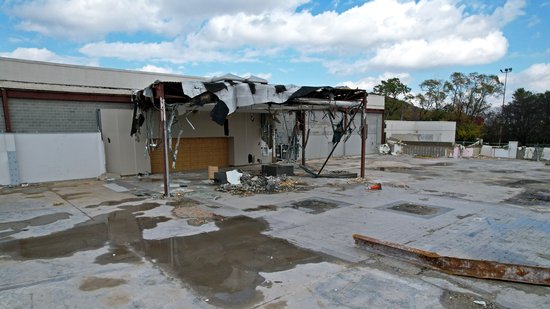 And this is where I dipped down to get a closer look.  Note that Belk's mall-facing facade is still largely intact, though the Belk sign has finally been removed.  Additionally, the ceiling is still intact on what roof remains.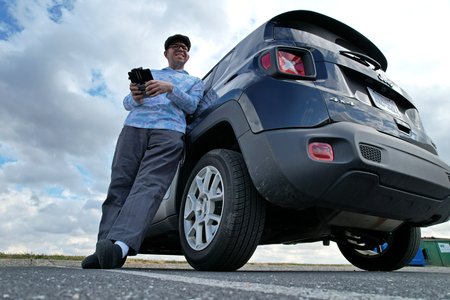 Selfie after landing, showing me standing with the rental car, a 2019 Jeep Renegade, in a similar manner to a pose that I did with the HR-V near Three Mile Island nearly a year prior.  I would return the Renegade to Enterprise about ten minutes after taking this photo.
So there's Staunton Mall for you.  My next visit to Staunton will likely be in mid December for the usual weekend visit.  I would not be surprised if the demolition was complete by then, and we're looking at an empty slab plus Belk at that time.  I suppose that we'll all find out together whether I'm right or not.
Meanwhile, I'm now driving Mom's car around and being a very good steward of it while I have it.  It's no HR-V by any means, but it will serve me well until the new HR-V arrives.