A trip to the Midwest…
November 11, 2023, 10:17 AM
From November 2-9, Elyse, our friend Kyle, and I took a road trip out to the Midwest.  We went to Austintown, Windsor, Detroit, Dearborn, Chicago, Sheboygan, Gary, Elkhart, Cleveland, and lots of places in between over the span of eight days.  The genesis of this trip was a desire to visit Chicago to see my sister and do stuff there, and then it expanded a bit into a much larger adventure.  This was always intended to be a road trip, and we put quite a few miles on the HR-V over the course of the trip.  It also means that the new HR-V has traveled further in its first year than any of my other vehicles ever did over their entire careers.  The new HR-V has gone as far north as Ottawa, as far south as Charleston, as far east as Brooklyn, and as far west as Chicago.  The only vehicle of mine that has gone further in any of those directions is the Sable, which traveled as far east as Quincy, Massachusetts in 2010.  The highlights were a visit to The Henry Ford, where we not only saw the exhibits, but I also viewed a photo of mine that the museum licensed from me a long time ago, doing my own version of a walk through a Chicago neighborhood that SpinnWebe did as a spoof of a photo set of mine, a visit to the Kohler factory up in Sheboygan, Wisconsin, a siren test in Niles, some drone flights around Gary, Indiana, a visit to Garfield Heights, Ohio to see the former City View Center shopping facility that was later successfully repositioned as an industrial park, a visit to the Kent State University May 4 Visitor Center, a small museum about the Kent State shootings, to see a photo of mine that was used there, and finally, a ride on Cleveland's RTA system.  Unfortunately, my DJI Air 2S drone did not survive the week, as a stronger-than-anticipated wind caused it to run out of battery power on the way back from a flight in Sheboygan, which caused it to force-land into Lake Michigan, taking all of my drone shots from that day with it.  However, I had my original drone, the DJI Mavic Mini, on hand in case Elyse had wanted to fly, so it was quickly pressed into service to complete the trip.
I'm going to do a full photo set about this trip for Life and Times, so right now, I'm just going to share a few photos of the highlights.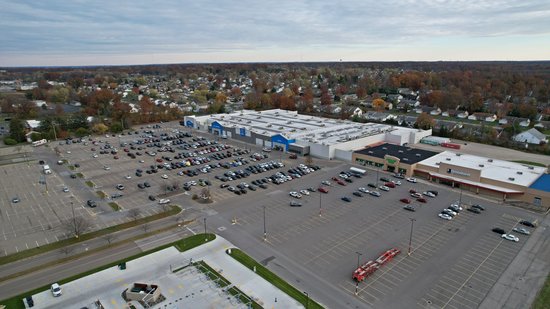 Austintown was primarily a pit stop.  We had been driving continuously since Breezewood, having traveled 188 miles over about two hours and 45 minutes.  As such, we went to Walmart, with the intention of getting up and walking around.  I also took a few minutes to fly the drone around the Walmart store and the rest of the shopping center.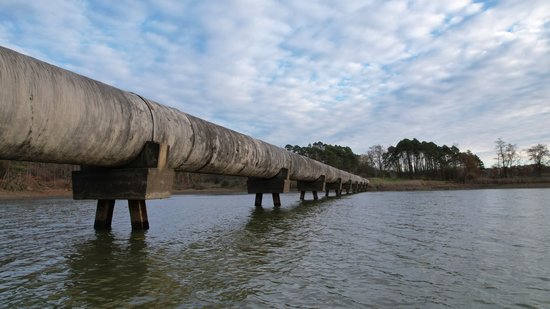 I also took a moment to fly around the nearby Meander Creek Reservoir.  I was intrigued by the large pipeline running across the lake, so I sent the drone out to investigate it.  Based on some quick research, I believe that this pipeline runs between the reservoir and the Berlin Pumping Station, carrying water.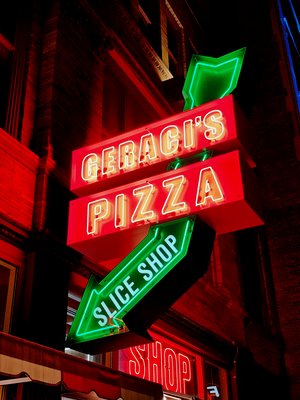 Sign over the entrance to Geraci's Slice Shop, a pizza restaurant in downtown Cleveland.  This was another pit stop on the way to Windsor.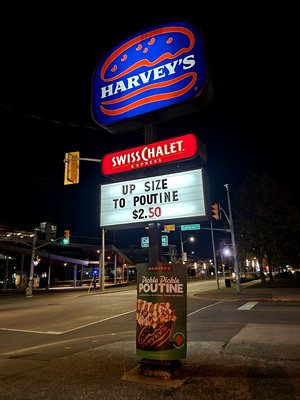 After we cleared Canadian customs, the first thing that we did was hit up a Harvey's.  For those not familiar, Harvey's is a Canadian burger restaurant chain, which Elyse and I had previously visited in Gatineau while on the Ottawa trip.  This time, however, all of the employees spoke English, which I appreciated.  I got a burger and some poutine.  This also marked the third time that I have been to Canada in six months' time.  However, this was just an overnight stay, since it was cheaper to stay in Windsor than it was to stay in Detroit.  This was also my first time going to Canada where I had no goals related to Today's Special.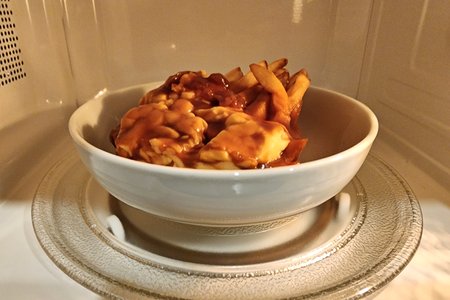 The burger from Harvey's filled me up on its own, so I saved the poutine and had it in the morning.  Elyse and Kyle both took issue with my reheating the poutine from the night before, but, you know, they weren't eating it, and I didn't want to eat cold fries, so…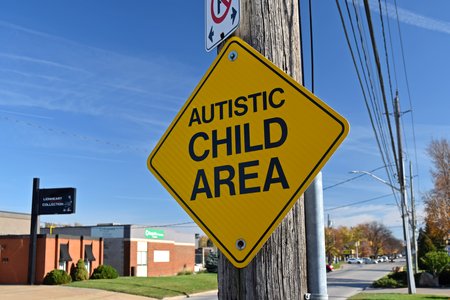 I spotted this "Autistic Child Area" sign on Edinborough Street in Windsor, in front of Bertoni Chairs and Things.  Google Street View indicates that this sign was posted some time between June 2014 and October 2016.  Upon thinking about it, I realized that have many conflicting views about this sort of sign, but it overall made me a bit uncomfortable, because it feels like infantilization of autistic people.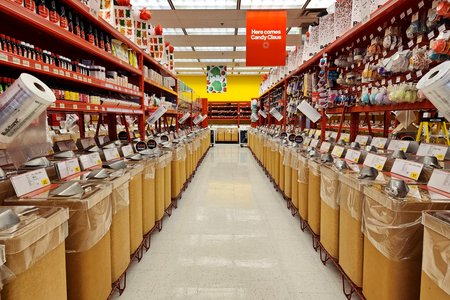 The Windsor location of Bulk Barn.  Elyse and I discovered Bulk Barn in July on our Toronto trip, and now that we had the HR-V with us, and therefore much more carrying capacity than we did in July, we intended to shop at Bulk Barn like we meant it.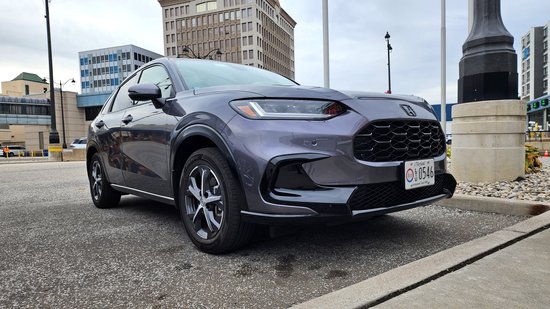 The HR-V at the duty-free store just before I returned to the States via the Detroit-Windsor tunnel.  Interestingly enough, we all returned to the US side separately.  I drove in the HR-V, and then Elyse and Kyle both took a bus across, albeit at different times.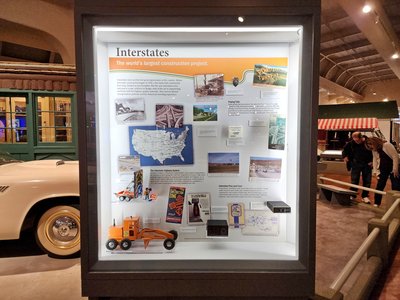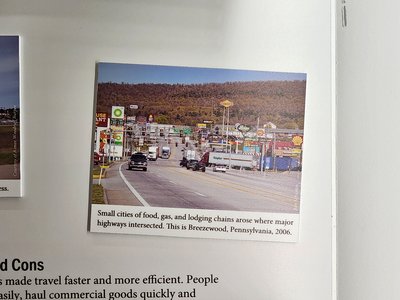 My photo of Breezewood at The Henry Ford, part of a larger display about the Interstate system.  The museum had contacted me more than a decade ago about using the photo, and now I finally got a chance to see it in person.  Definitely a proud moment.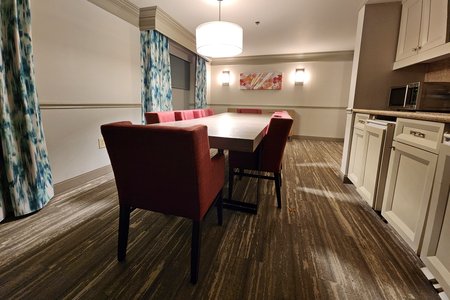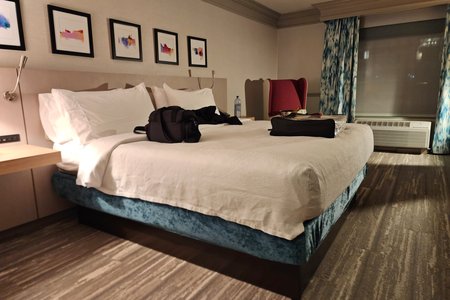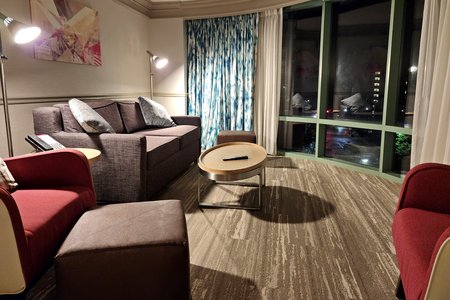 The biggest surprise of the night, however, was our room at the hotel.  We were staying at the Hilton Garden Inn in Evanston, which I had stayed at three times before.  Because it was three of us staying this time, I had booked a junior suite for all of us.  Imagine my surprise when, upon checking in at 12:30 AM, the gentleman at the front desk told me that we had been given a free upgrade, and would be staying in room 625, which was the hotel's "presidential suite".  I was floored by this, because we had been upgraded to the best room in the place.  As it turned out, we were upgraded because we were staying for five nights, and this allowed them to sell an additional suite space.  I also found out that the presidential suite cannot be booked through the normal process (one must go through the sales office to book it), and that it is given as an upgrade far more often than it is sold directly.  The room served us well, as that big table with seating for eight became the social hub of our visit, as we would visit with Sis and Chris there, plus we had pizza from Giordano's there one night.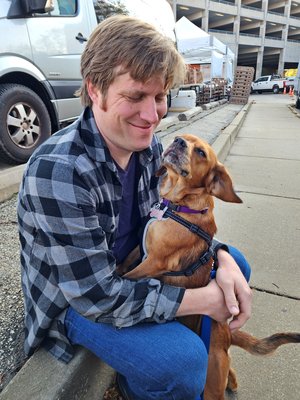 Chris holds Juni, a dog that he and Sis adopted a few months ago.  It made me so happy seeing them interact with Juni, because you could totally feel the love between all of them.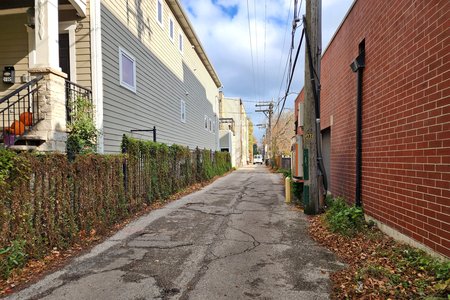 Beginning my own version of the SpinnWebe photo walk, in an alley off of North Claremont Avenue, just north of West Lawrence Avenue.  I researched the route based on the old photos, and then walked it, photographing whatever I found interesting.  The photo set that I intend to produce from it has a working title of "Walking to Starbucks", though that may change before the final set publishes.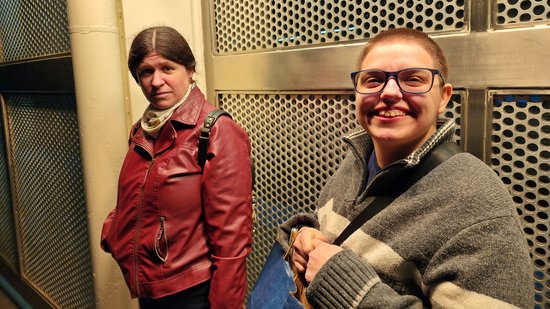 Elyse thoroughly enjoys the heat lamps at Howard station, while Sis looks on.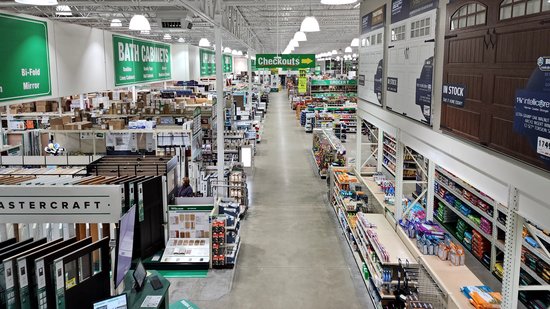 This was my first time going to a Menards store.  Menards is a delightful store, with elements of Lowe's, Canadian Tire, and a non-Supercenter Walmart food section all rolled up in one.  This location is in Niles, while the nearest Menards to us is in Morgantown, West Virginia.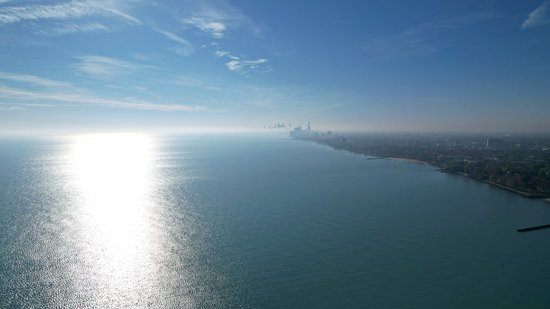 On the morning of the 5th, I took the drone out for a flight over Clark Beach in Evanston.  This view shows the lake shore facing south.  The skyline of Chicago is visible in the distance.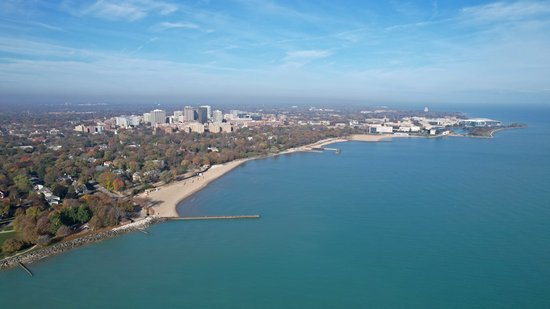 Facing approximately north, looking towards Evanston.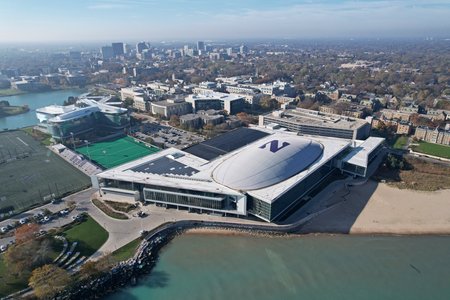 The campus of Northwestern University.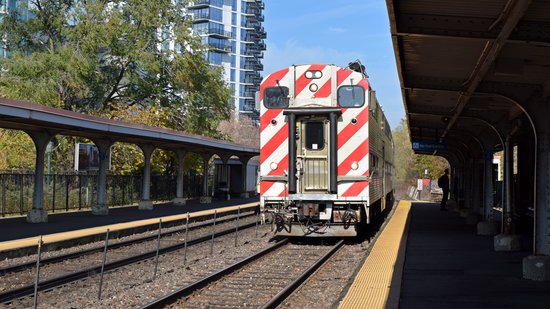 Going into Chicago on Sunday, we took Metra in.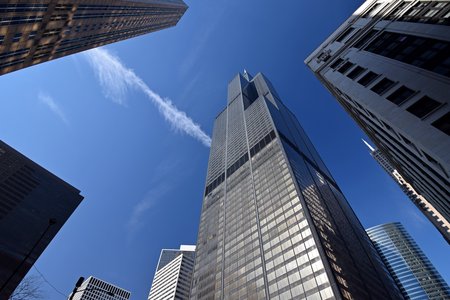 View of the Willis Tower from street level.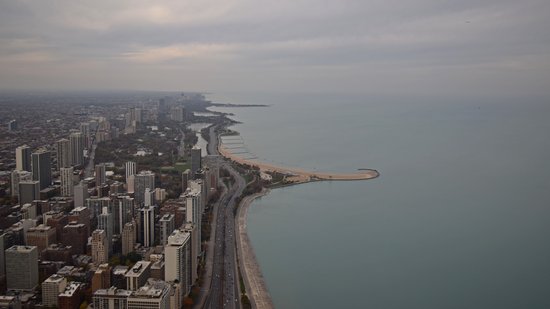 View from the John Hancock Center, facing north.  We had originally intended to go to the observation deck at the Willis Tower, however, due to a very long wait to visit the Willis Tower, we ended up going up the Hancock Center instead.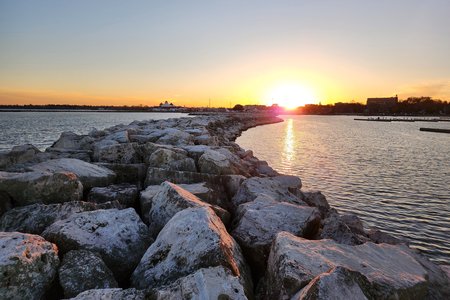 After visiting the Kohler factory and going on their tour, we visited Sheboygan.  Sheboygan is a really cute town about an hour north of Milwaukee, and I would love to visit it again.  I took this photo of a rock jetty protecting a small marina, because this is where I lost the drone.  I had been flying around a small lighthouse at the end of the breakwater, as well as photographing the waves on the lake.  When it was time to bring it back, I encountered higher winds than expected, which slowed the drone's forward progress.  Unfortunately, this caused the drone to run out of battery power before it got back to shore, and it went into a forced landing, i.e. it's coming down whether you want it to or not, but you can still guide it to the location of your choice.  I thought that I had set it down on a solid surface on the jetty, and the GPS indicated that I had landed it on the jetty, about three-quarters of the way down this jetty.  I walked all the way down to the drone's final reported location, climbing over who knows how many rocks, and unfortunately, after looking all around, I came back empty handed, as the drone was nowhere to be found.  So not only did I drop about $1300 worth of equipment into Lake Michigan, but my SD card went down with it as well, meaning that I had lost all of my drone work from that day, consisting not only of the photos of the lake, but also aerials of the Kohler facility, as well as some sirens on the roof of a building in downtown Sheboygan.  It's nothing that I can't redo in the future, but who knows when I'll be in Sheboygan again.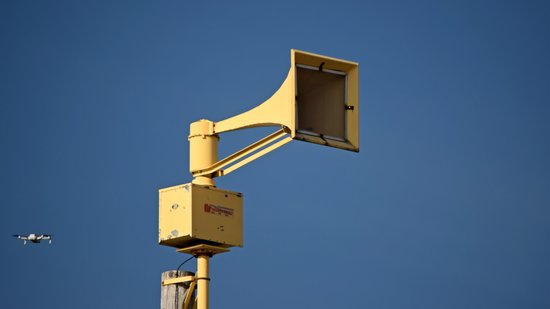 On Tuesday, November 7, the first thing on the agenda was to go to Niles to record a siren test.  This was a statewide test, and Elyse chose this location specifically because it was a Federal Signal Thunderbolt siren.  My plan was to get up close to the siren with the Mavic Mini (note that it is hovering nearby), in order to get video of it spinning around when it activated.  Unfortunately, while we heard sirens going off in the distance for the test, this one did not operate.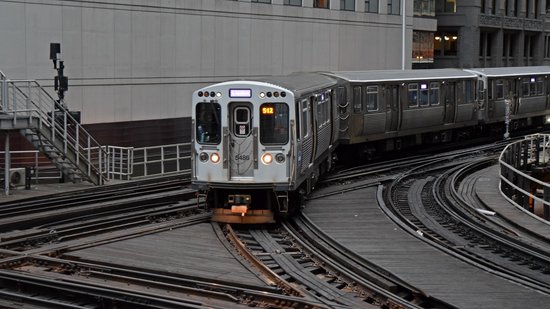 After the siren test, I headed down to the Loop, and Elyse, Kyle, and I found a place to photograph CTA trains going through the big junction in the Loop.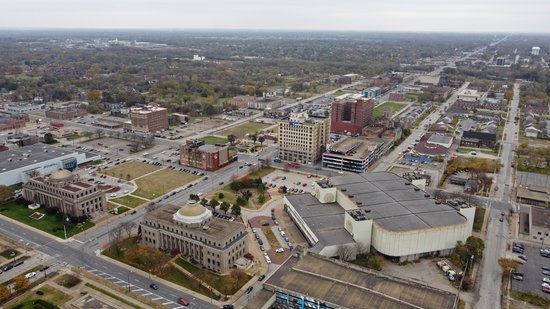 Beginning the trip home, we stopped to check out Gary, Indiana.  I flew the Mini around a bit, and had a difficult time with it due to interference.  The Mini uses wi-fi as a communications protocol, and presumably there was enough other wi-fi around that it interfered with my communication.  Couple that with the Mini's relatively slow air speed and low ability to resist wind, and it made for a frustrating flight.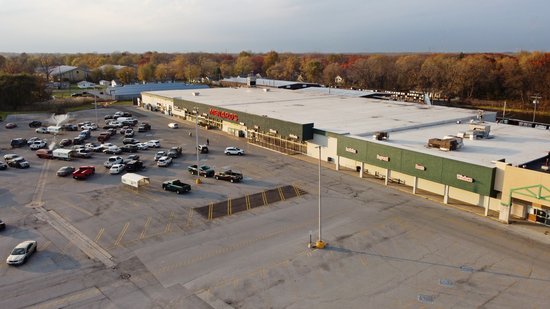 Menards location in Gary, Indiana.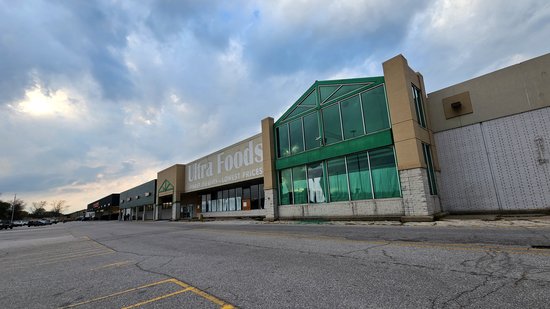 Former Ultra Foods location next to Menards, now abandoned.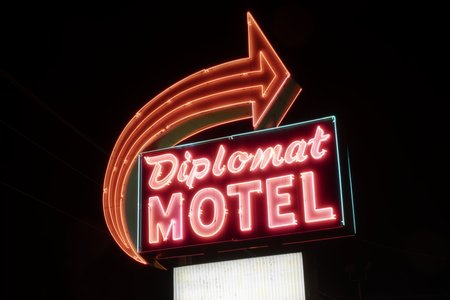 Vintage sign for the Diplomat Motel in Elkhart.  This was a surprise find when we got off of the highway for a meal break, and so Kyle and I stopped to photograph it.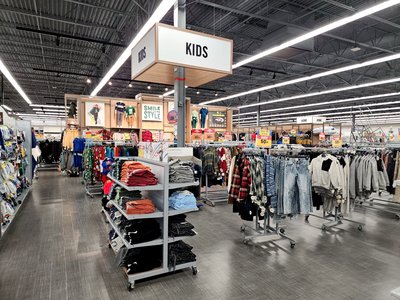 Checking out a Meijer store in Maumee, Ohio.  For those not familiar, Meijer operates large stores similar to Walmart Supercenters, in that they sell general merchandise, and also offer a full grocery line.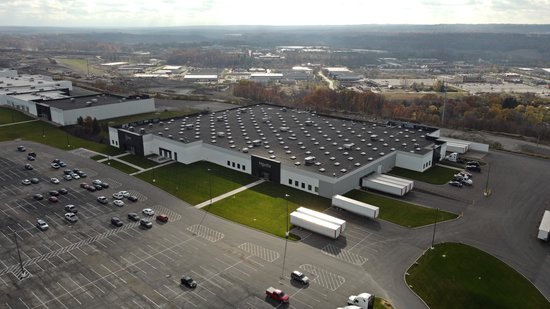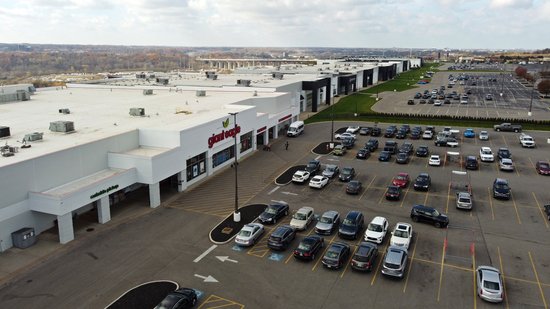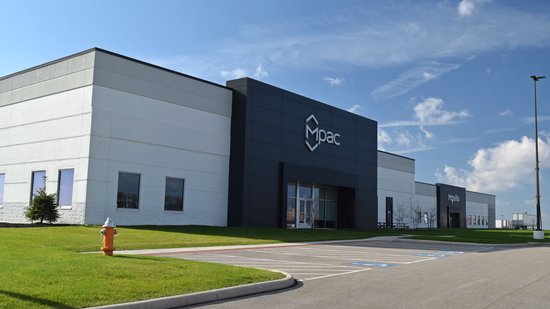 One of my goals on the last day of the trip was to visit the former City View Center, now Highland Park, in Garfield Heights.  This was a shopping center that was built on top of a former landfill site, which failed quickly following Walmart's abrupt closure of the store in 2008, citing safety concerns with the building.  The shopping center was repositioned and remarketed for light industrial uses in the last few years, and that usage appears to have been successful, as the buildings now house industrial tenants rather than retail tenants.  The Walmart building has been fully renovated to house two industrial tenants.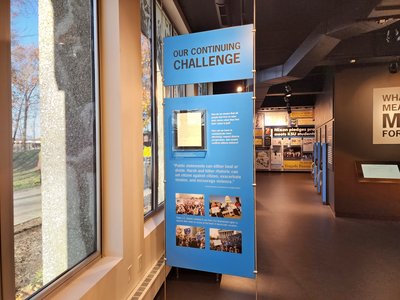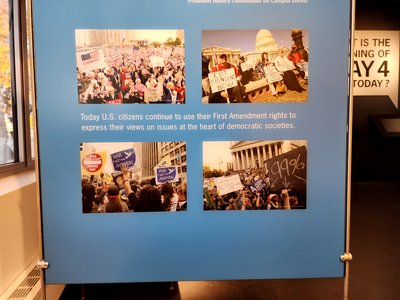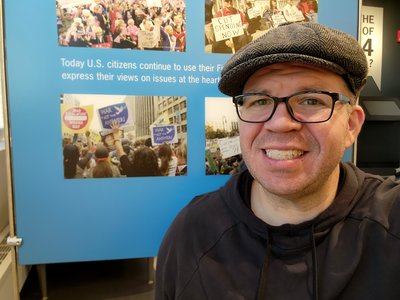 At Kent State, I not only looked at the exhibit, about the antiwar movement in general leading up to the Kent State shootings, the event itself, and the aftermath of the event, but I also caught up with a photo of mine that was part of the exhibit.  The photo in question was taken on March 19, 2008 at the Funk the War 3 anti-war demonstration in DC, which I remember mostly for wrecking Big Mavica in the rain.  The university contacted me about it when they were doing the planning for the exhibit, and now I finally had an opportunity to see it in person.  Just like at The Henry Ford, this was certainly a proud moment.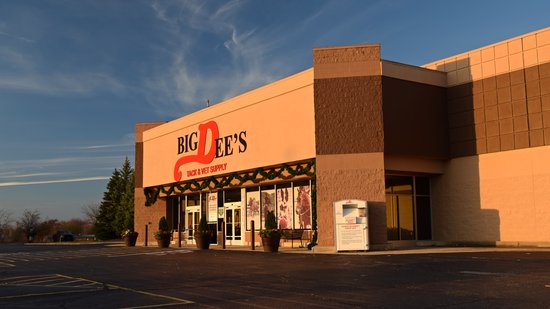 On the way back from Kent State, I spotted Big Dee's Tack & Vet Supplies in Streetsboro, which is housed in a former Walmart building.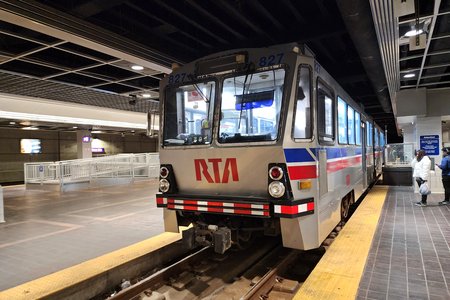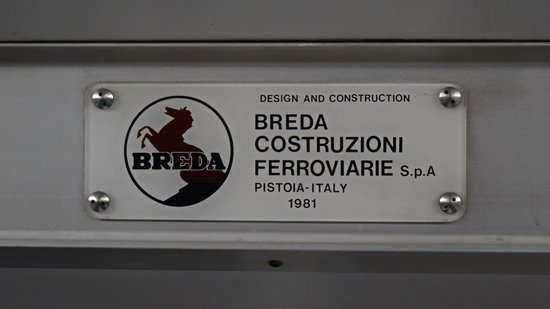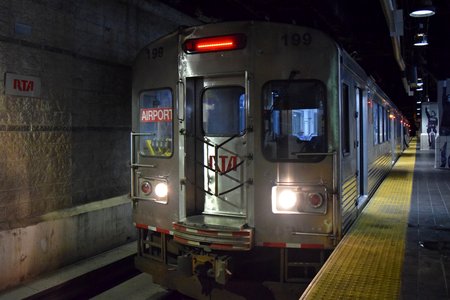 Cleveland RTA was interesting, as their entire system ran on overhead catenary, and services that ran very different vehicles operated over the same tracks in parts of the system.  I was quite tickled to learn that the Green Line's LRVs were manufactured by Breda, and still had their original builder's plates.
And that's the trip, at least at a very high level.  I'm working on a full treatment of it all for Life and Times, but don't expect to see that for a while.