I can't believe that we went to South Carolina…
October 13, 2023, 5:51 PM
First of all, I have some news for you: I bought a bus.  Elyse had been trying to talk me into buying a bus for a while, and I had consistently said no.  But then one came up on GovDeals, which is a website where public agencies sell surplus property, that had promise, and I said okay.  This unit was a New Flyer D35HF from CARTA, which is the transit agency serving Charleston, South Carolina.  If this sounds familiar, "Biscuit" at Commonwealth Coach is another unit from the same agency, and is the same model of bus.  I won the auction for a surprisingly low amount, as we paid nearly twice as much to get "Biscuit" for Commonwealth Coach.  We then immediately made a deal with Trevor Logan, a fellow transit enthusiast in the DC area who runs the TTMG website, to trade this bus for an Orion V that he owns after he expressed his thoughts about the significance of the unit.  It worked out quite well, because while Elyse and I simply wanted a bus to have as a fun vehicle of sorts to take places and show off, Trevor wanted to fully restore and preserve the bus for sentimental reasons, as he had a close relative who worked for CARTA some years ago, and that relative had operated this specific unit.  So swapping made everyone happy, as Elyse and I would get a bus to have fun with, and Trevor got something of great personal significance that he would restore.
With that said, buying a bus from a transit agency in South Carolina meant going down to South Carolina to retrieve it, because these auctions are typically as-is-where-is, i.e. the agency provides little to no assistance with the removal of the item.  I wanted to line this pickup trip with a three-day weekend that I had later in the month, but unfortunately, with deadlines for removal and such, it couldn't wait.  So I would spend October 5-6 traveling down to Charleston and back with Elyse and our friend Montigue to retrieve this vintage bus.  The whole week prior to our heading down, I was saying to myself, "I can't believe that I'm going to South Carolina."  Then on the way down, I was like, "I can't believe that we're on our way to South Carolina."  And then once we were there, I was saying, "I can't believe that we're in South Carolina."  Seriously.  This was not something that I had anticipated doing this year.
This was an unusual road trip for me, in that most of this trip was spent driving in the car with relatively little site time.  My usual rule is to spend as much time at the destination as it takes to get there and back, so eight hours down and eight hours back would have meant spending at least sixteen hours on site.  Due to time constraints, that wasn't possible on this trip.  The idea was for the three of us to go down to Charleston in the HR-V and stay overnight in Charleston.  Then the next day, we would go down to CARTA and get the bus early the next morning, and Montigue and Elyse would ride back home in the bus, while I would drive the HR-V as a chase vehicle.  I had lined up a few folks to talk to on the phone on the way home, and also had a number of podcasts ready to go.  Doing it this way was insurance that if something went wrong with the bus, we would still have a ride back home, and additionally, Montigue is far more mechanically inclined than I am, and he, along with Elyse, are far more capable of detecting and diagnosing a mechanical problem than I am.  My reaction would be closer to, "oh, crap," and not much more.  Additionally, when I was still driving a bus for work, my only responsibility as far as maintenance went was to call Central, and then they would send help and/or another bus.
With Charleston's being eight hours' driving time from home, and with only two days to play with, we had to stay on task.  That said, for an eight-hour drive, we made relatively few stops.  On the down trip, we picked up Montigue at his place, we stopped at a Sheetz near the Nice Bridge to eat, then we didn't stop again until we got to the last exit in Virginia, where we hit up a Pilot truck stop in Skippers in order to fill up the HR-V and use the restroom.  We then drove all 181.36 miles of Interstate 95 in North Carolina without stopping.  That was a marathon session right there, driving for two hours and 41 minutes continuously, according to my Google timeline.  I've never cleared a state like that before.  We usually break up the trip a bit more than that, but I suppose that shows how serious we were about making time.
Our next stop was at South of the Border, a cheesy little tourist trap on the South Carolina line.  We stopped here because it's the quintessential roadside attraction, plus, realistically, how often are we going to have the opportunity to go by here?  The place was pretty quiet, as it was clearly their off-season, but we enjoyed ourselves all the same.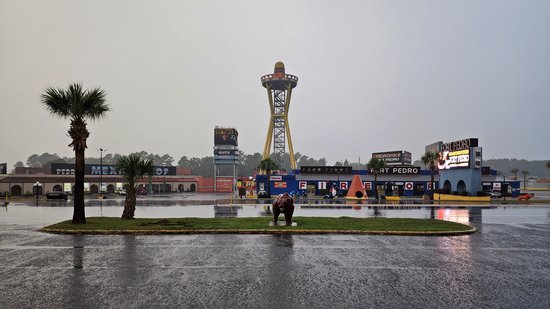 South of the Border.  Yeah, it's as cheesy as it sounds.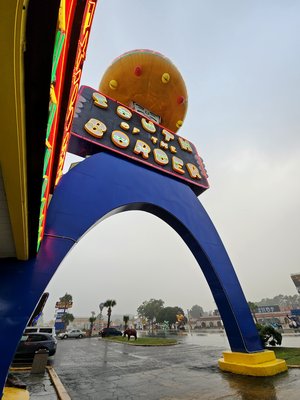 Big "South of the Border" sign where you drive under the man's crotch.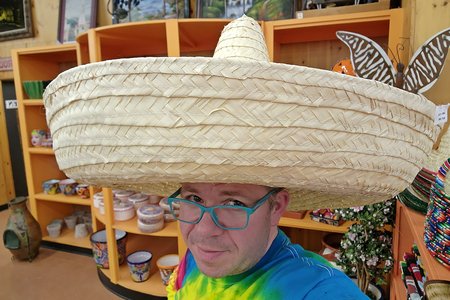 Trying on a giant sombrero in a gift shop.  My exact words when posting this on Facebook were, "I look ridiculous in this, don't I?"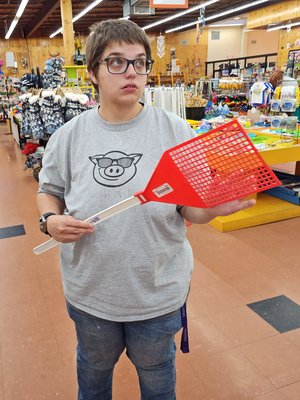 Elyse holds a giant novelty fly swatter.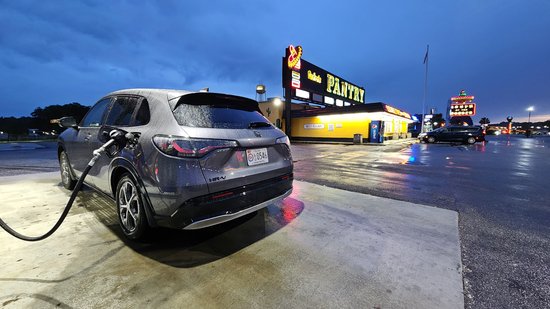 Filling up the HR-V at the gas station.  The prices there were about the same as everywhere else, which surprised me.  I expected that they would have been somewhat inflated due to its being a big tourist trap.
The only place to eat at South of the Border that we could see was a sit-down restaurant, and none of us wanted to deal with that, since we wanted to eat fairly quickly and then hit the road again, since we still had two hours' worth of driving to do before getting to our destination.  As we went down the road, I remarked to Elyse and Montigue that if they saw anything interesting, to let me know.  Then we saw a billboard for a Buc-ee's that wasn't too much further down the road.  That took care of that.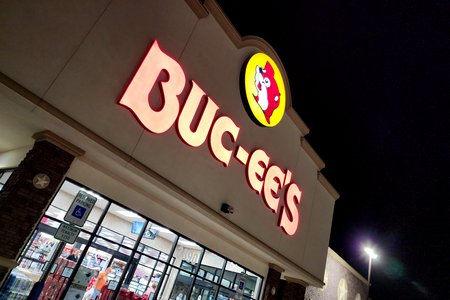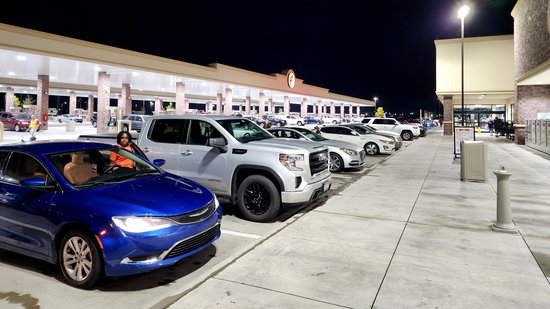 Yeah, didn't expect to be at a Buc-ee's on this trip, but I also didn't mind.
At Buc-ee's, we all got food, and I also did some other shopping.  I got a red shirt with the beaver logo on it: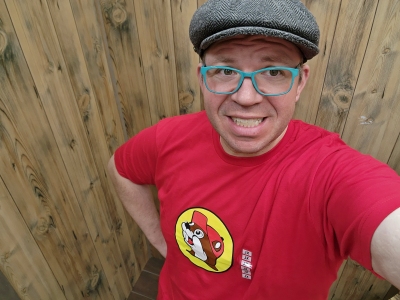 Then Elyse found a pair of Buc-ee's tights: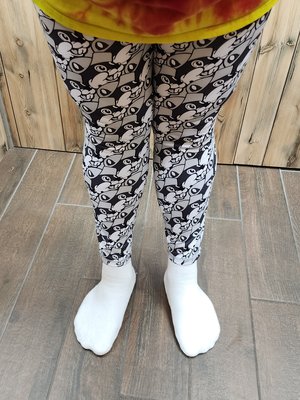 Yep, those were coming home.
Then as far as food goes, Montigue got some barbecue, I got a pulled pork sandwich, and Elyse got the brisket sandwich.  And just like the last time I had food from Buc-ee's on the Tennessee trip, we ate it in the car, and the shirt came off so that I wouldn't get it messed up.  Interestingly, I was wearing the same shirt as I was the last time I went to Buc-ee's.  Interesting coincidence.  Must be my Buc-ee's shirt.
From there, we did the last two hours in the car, and arrived at our hotel, the Hampton Inn on Citadel Haven Drive in Charleston.  I enjoyed the architecture of the place, with what felt like a southern coastal style, i.e. something that you would expect to see in the Deep South.  I especially appreciated these slatted awnings over a lot of the upper windows.  They were kind of neat.
Getting to the hotel, we got into our room, and then went to bed.  We had a big day ahead of us.
The next morning, we got up, got breakfast in the lobby, and then headed out.  After all, we had a bus to pick up.  But first, here's a photo of the HR-V with some palmettos, as proof that we were actually there: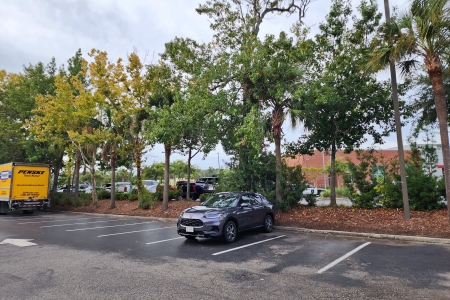 Heading over to CARTA, we said hello and then found our bus: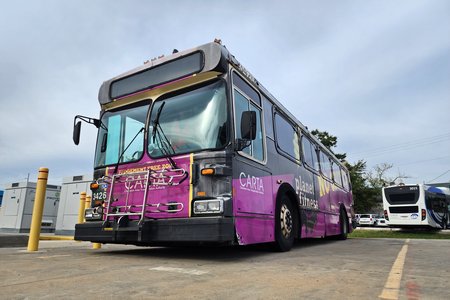 There she is, Planet Fitness wrap and all.  With the wrap still applied, at least we knew that they hadn't painted out or otherwise changed the original livery in any way.  We had dubbed her "Biscuit 2.0" after the other unit that we had acquired for Commonwealth Coach.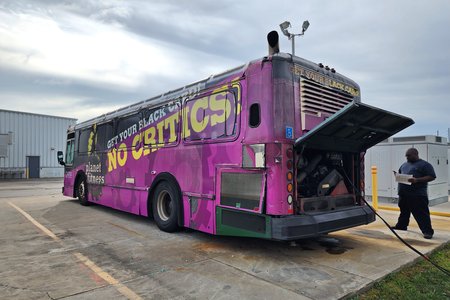 Montigue stands by while the CARTA folks hook our bus up to another bus to give it a jumpstart.  If Biscuit 2.0 was anything like the original Biscuit, those batteries were probably very close to end of life.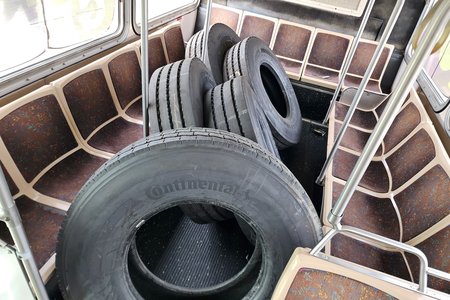 We were all a bit surprised to find that CARTA had left five good bus tires on the bus.  They didn't say anything and neither did we, so they were ours now.
Before we left CARTA, Elyse wanted photos with some palmettos: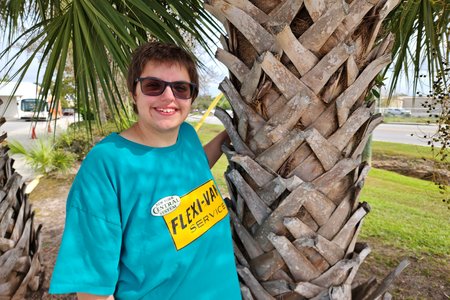 Then we hit the road, with Elyse and Montigue on the bus, while I drove the HR-V.  The plan for bringing this bus home was to step things up gradually to ensure that the bus was going to be okay before taking it up to the next step.  After all, this was an auction bus, sold as-is where-is.  We didn't know how it would do, and would need to sound things out.  First, we would take it around town a little bit.  Then, providing it did well, we would start making headway towards home, taking local roads (largely US 17) northward.  The purpose of this was to open the bus up a bit more, but still be close to services should we need to stop and address something.  Then, once we felt confident about the bus on local roads, we would transition to the Interstate and make our way home like we meant it.
One thing that we spotted right out of the gate, though, was a noticeable list to one side: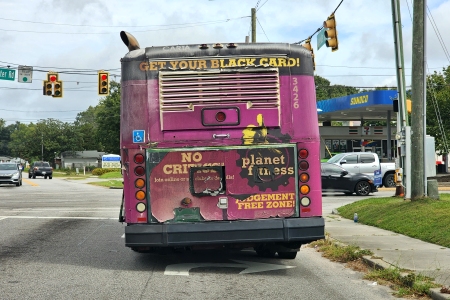 That was concerning, but everything else seemed okay, so we continued.  Going through parts of Charleston, Montigue put the bus through its paces, and it handled well enough, though due to the list, it bottomed out once on the left side while making a turn coming out of a parking lot, though I wasn't inclined to completely blame that on the list due to the terrain.  We then stopped in at a Harris Teeter at a shopping center in Mount Pleasant in order to take a quick restroom break.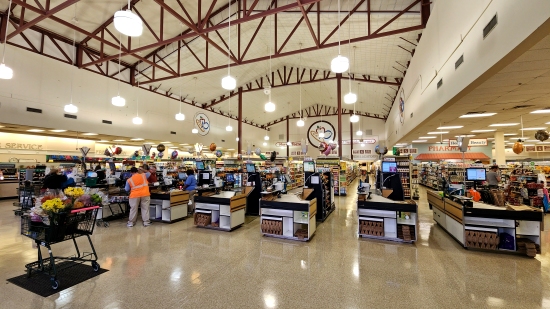 This was a very unorthodox Harris Teeter, with a different appearance than most, and an unusual layout.  I figured that it was an older store, this was not like the Harris Teeter that I remembered from the nineties, either.  I had never seen a Harris Teeter with a drop ceiling, plus the whole design with exposed trusses with the drop ceiling around them was a bit weird.  We asked our cashier about it, and as it turns out, this location began life as a Piggly Wiggly, and then it was later acquired by Harris Teeter and converted to their format.  That made sense.
I also got some bus photos while we were stopped: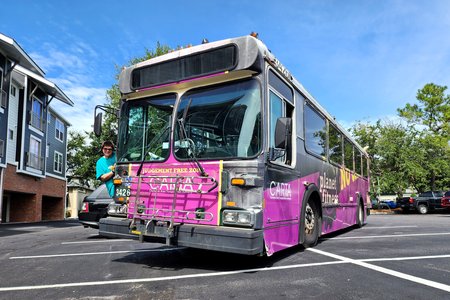 Elyse leans out of the door for a photo with the bus.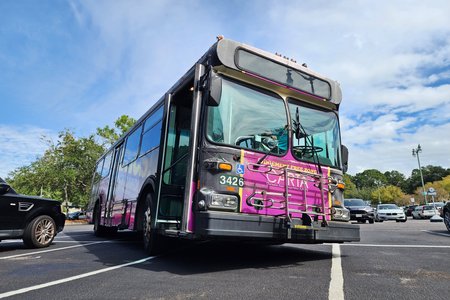 A nice, low angle of Biscuit 2.0 in the Harris Teeter parking lot.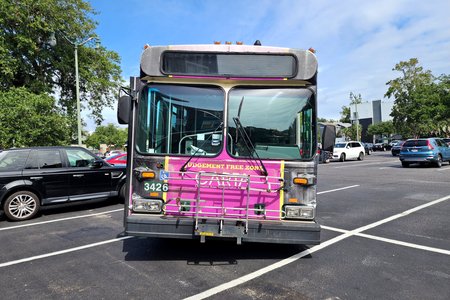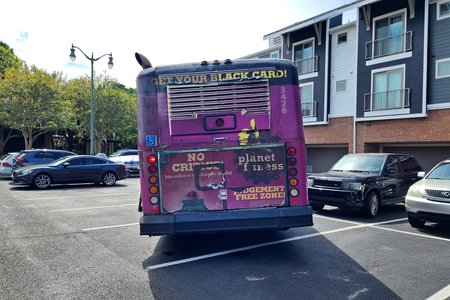 The list.  When she was fully aired up, she listed quite noticeably to the left, which made for a big first step into the bus.
From here, we started making our way up Route 17.  The plan was to take 17 past Myrtle Beach, making a brief detour into Myrtle Beach just to see it, and then resume our journey north as far as Wilmington, North Carolina.  There, if everything went as hoped, we would get on Interstate 40, take that to I-95, and then take that the rest of the way home, perhaps detouring onto US 301 further up to avoid traffic.  We considered it to be a pretty solid plan overall.
Then while we were on Route 17, things started to go bad, as the transmission started slipping and making some other undesired noises, and the bus went into limp mode.  For those not familiar, "limp mode" is something akin to safe mode on a computer, where a vehicle will operate only the essential functions and shut down the rest, while providing limited power to get the vehicle to a safe location at a reduced speed.  I had this happen to me once with an articulated bus on the Capital Beltway, and also, unbeknownst to me at the time, the bus that I had when I broke my foot was in limp mode when I took it out.  Basically, limp mode exists to give you enough power to get to a shop, and not much more.  That said, we limped the bus into The Market at Oakland, which was a shopping center off of Route 17 with a Walmart, a Kohl's, and a bunch of restaurants and other smaller tenants.  There, we stopped the bus in the parking lot in front of Kohl's.  Montigue initially suspected that the list was causing the transmission issues because fluids weren't necessarily getting where they needed to because of the list, and suspected a bad airbag as the culprit.  We immediately got on Google and located a road mechanic to come out to us and give the bus a quick once-over to help diagnose what was wrong.  The road mechanic would be there in an hour or so.
Meanwhile, Elyse and I occupied ourselves by peeling off as much of that Planet Fitness wrap as we could.  The way we figured, Planet Fitness wasn't paying for the ad space anymore (and they certainly hadn't paid us), Planet Fitness is an absolutely garbage gym chain, plus the wrap would have to come off regardless, so we got to work on it, removing as much of it as we could right on the spot.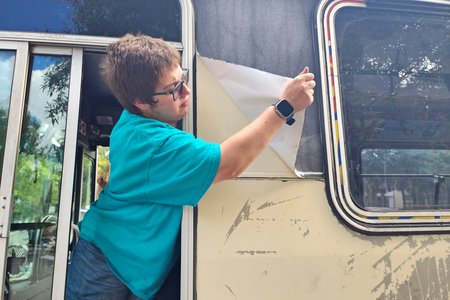 Elyse peels the wrap off of a panel behind the driver's window.  We were surprised to learn that this bus actually had two wraps on it.  There was the Planet Fitness wrap, which we knew about from the auction photos, but then there was another ad wrap underneath it for Church's Chicken, which we did not know about beforehand.  Note the blue and yellow in the window frame from the Church's wrap.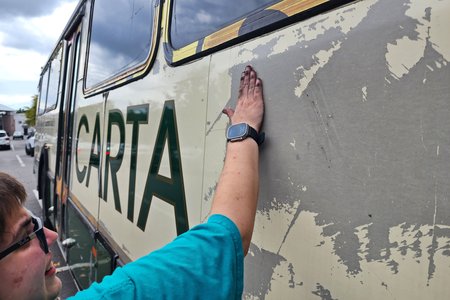 Elyse tries to work off some of the adhesive residue on the right side of the bus after we removed the vinyl.  We had little success with that, mainly because we lacked the necessary chemicals and tools for that.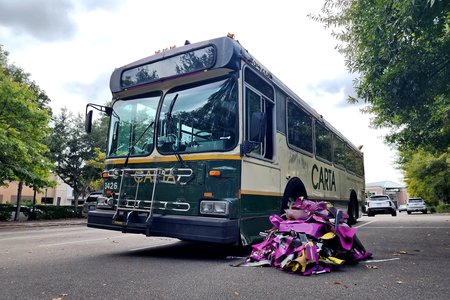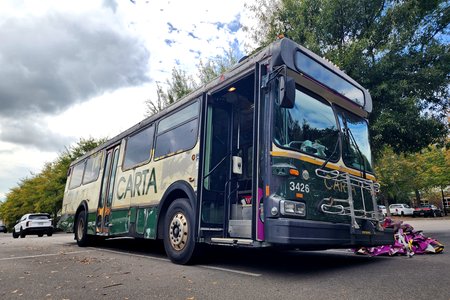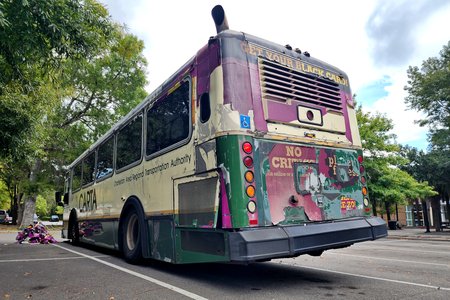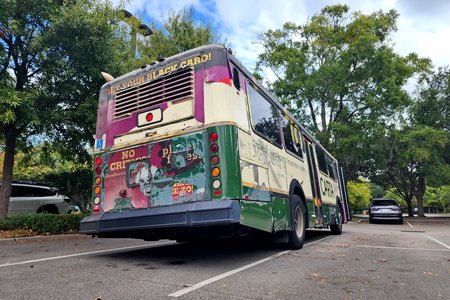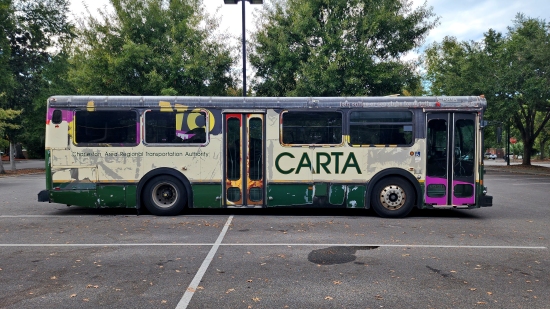 We made quick work out of that wrap, getting it mostly back to its original livery in no time.  The parts that still had the wrap on them were instances where the wrap was either (A) more tightly stuck onto the bus than we could remove with our hands, (B) dried out to the point of being flaky, or (C) in a place where neither one of us could reach.  The back of the bus was largely the former two, where the wrap was practically seared onto the vehicle and required more effort to remove than we could do at the time, while the latter applied to the higher parts of the bus, as we didn't have a ladder to get up to those areas.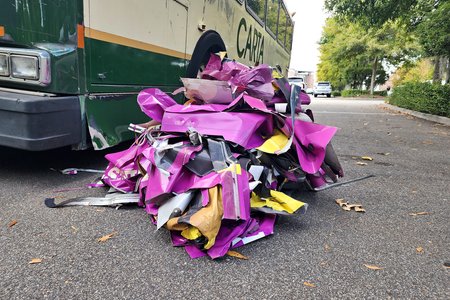 Our pile of vinyl when we were done unwrapping the bus.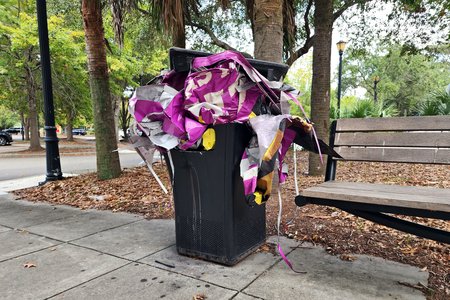 Properly disposing of the wrap material in a trash can in front of Kohl's.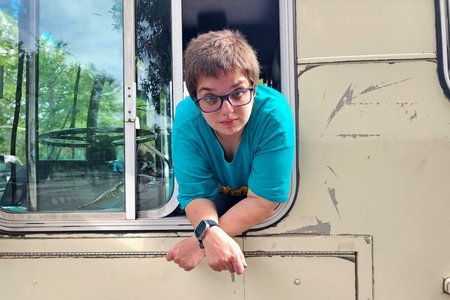 Elyse leans out of the driver's window for a photo after we finished unwrapping about two-thirds of the bus.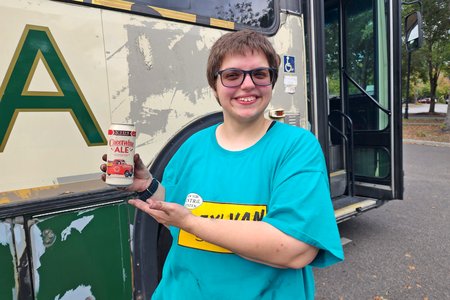 Elyse rewards herself with a can of Cheerwine Ale, i.e. a Cheerwine-flavored beer.  You know that you're in the south when you see Cheerwine on the shelves, and so I suppose that it only made sense that there would be an alcoholic version of it.
After finishing her beer, Elyse went over to the nearby Walmart, while I stayed with Montigue on the bus, waiting for the mechanic.  While we were together, a couple came up to the door of the bus and the wife asked Montigue, who was sitting in the driver's seat, a question.  Montigue was caught a little bit off guard by their question, and based on his response, I sensed that he wasn't entirely clear about what they were asking.  I soon realized that they were asking about CARTA service, and so I stepped in (I was previously somewhat out of sight), explaining that we weren't from the area and don't work for CARTA, and that we had bought the bus from CARTA at auction and were bringing it up to Washington, DC.  They understood, thanked us, and continued on.  Montigue later explained that it hadn't clicked with him right away that they were asking a service question, because he thought that we were already out of CARTA's service area.  Fair enough.  As it turned out, we were still within the service area, but no worries – they got as much information as they could get out of us, which, unfortunately for them, was that we didn't know.
Elyse later called me to retrieve her from the Walmart in the HR-V, and so I went over to do that.  We came back over to the bus, and waited some more for the mechanic.  Then Elyse wanted to go to a nearby Target store in order to buy clothes for a new job that she was starting soon.  Montigue was fine with our leaving, so off we went.  The trip to Target was uneventful enough, but one person pointed at my license plate and stared at it as we were leaving, which surprised me.  I suppose that a Maryland license plate is quite an unusual sight down in South Carolina.  Meanwhile, just as we finished up and were getting ready to leave, Montigue messaged us to let us know that the mechanic was there.
When we got back, we soon learned that the diagnosis was not good.  There were a lot of issues with the bus, though it was nothing that couldn't be fixed.  Apparently, CARTA, through their contractor, Transdev, didn't do a good job maintaining the bus, as several different kinds of fluids were not as they should have been, and a few other issues were revealed.  At the end of the day, the bus wasn't going to make it home, that it was not roadworthy in its current state, and that we should have it towed to a repair shop or sent to scrap.  Considering that this bus wasn't going to be mine at the end of the day, I wasn't willing to put in funds to repair it, so we got Trevor on the phone to see what he wanted to do.  We gave him the diagnosis, and his response was something along the lines of, "If that's what needs to happen, then that's what needs to happen."  We found a diesel shop in the Charleston area that we could have the bus towed to based on the recommendations of the road mechanic, and let Trevor know what shop it was going to.  We also took the recommendation of the mechanic for a tow company, and made the towing arrangements, making sure that they knew that the bus would be unattended, since we all had to get back home to DC in order to go to our various jobs the next day.  We also let the management at Kohl's know about the bus, i.e. that we would be leaving it unattended in their parking lot, but that we had made arrangements to have it towed.  In other words, we're on top of it, so please don't tow it before we do.
And with that done, I paid the mechanic, and also paid the towing company, which left nothing else for us to do in Charleston.  Before we left, Elyse gave the bus a hug: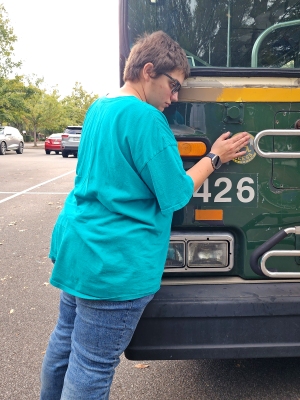 I felt that all too much.  It was our intention to bring the bus to its new home tonight, but clearly, that wasn't happening.  That was disappointing, but we did everything that we needed to do, and all stakeholders were kept in the loop.  We then went to eat at the Mount Pleasant location of East Bay Deli, which is a small local chain of sandwich shops, before hitting the road.  Elyse had their "Chicken Charleston", and I had the "Charleston Philly".  That experience was surprisingly long, as it took 40 minutes for them to get our orders out, and I had to prod them twice about it.  The first time, about 20 minutes in, they reassured us that our order was up next, and the second time, they explained that their printer was down, and took down what we ordered again and got it out in another few minutes.  All I know is that I enjoyed my time chatting with Montigue while Elyse went out and did her thing, so while the wait wasn't unpleasant, it was still a bit concerning, since you knew that they weren't slaughtering a chicken and a cow specifically for us.  Though they did comp us a cookie for our wait, which was their way of acknowledging that the wait was not correct, as well as a way of apologizing for the wait.
After that, we headed home, going a bunch of back roads through rural South Carolina, before joining I-95 in Latta (exit 181).  While we were traveling on these roads, the tow company arrived at the bus, and we soon got the sense that they had come out completely unprepared to tow us.  They had been made aware that the bus had mechanical issues, and that it would also be unattended, but the guy kept hemming and hawing on the phone with us about whether or not he would be able to make the tow because of whatever.  Then he said that it was too dark, and that he would need to come back in the morning to tow it when it was light out, and that coming out again in the morning would incur another fee.  I was none too happy about this, because when I paid them, I had paid for the tow job – the whole tow job – and not just a visit.  I could have stood there for an hour and bumbled around the bus myself for free, after all.  We called professionals to do it, and he was being super unprofessional about it, whining and complaining about the bus and how he knows cars really well because he once built a race car from scratch as a way of showing his legitimacy with all things automotive.  Being able to build a race car from scratch doesn't mean much to me when it was clear that he had arrived unprepared and had no clue what he was doing around our vehicle, and that his main goal, at least from where we were sitting, seemed to be to extract an additional fee from us for a second visit.  After we got tired of listening to him whine, we told him that we would call him back, and then got Trevor on the phone, explaining what was going on to him.  The conclusion was to tell the tow guy to come back in the morning, and deal with it then, and if we incurred an additional fee, then so be it.  We called the tow guy back, and we told him to come back in the morning, and to invoice me for the additional charge.  As of this writing about a week later, we have not been invoiced for the second visit, though the guy did call me back the next morning, which I let go to voicemail and notified Trevor about.  So if Trevor took care of something else to do with it, fine, but I was out of it.
Being done with the tow guy, we continued on.  Our next stop was at a Walmart in Lumberton, North Carolina.  This was to be a restroom and drink stop.  Elyse and Montigue both hit the restroom and got drinks up front, and were done fairly quickly.  Me, on the other hand, I went to the restroom up in the front of the store, but then the drink that I wanted, either a Gatorade or a Powerade, was in the back of the store.  Then after I got it, I saw some other stuff that I needed, and picked it up.  Then I thought, I'm in North Carolina, so I might as well stock up on Carolina-style barbecue sauce."  So I ended up buying seven bottles of various Carolina-style sauces while I was there, and my total was $62.88.  When I got up to the cashier, I remarked, "You all got me again," as I put all of that stuff on the counter to be scanned.  But I did get what I came for.  But I also got a whole bunch of stuff that I wasn't planning to get, though I will use all of it.
And then from there, it was a long ride back home.  Aside from that stop in Lumberton, we plowed through North Carolina and didn't stop again until we got to Petersburg, when we stopped at a Sheetz to give the HR-V a drink.  We detoured onto 301 again north of Richmond in order to access the Nice Bridge in order to drop Montigue off, and then we finally got home around 6:00 AM.
All I can say about this trip is that while it was disappointing that we encountered issues significant enough that we couldn't get the bus home, we had a good time all the same, and I am extremely grateful for Montigue's assistance through his knowledge of the mechanical side of buses, which is an area where I know that I lack, plus he's fun to be with in general.  I also got to add a new state to the list of places that I have visited, which was my first in about twelve years (the last one was New Hampshire back in 2011).  However, I am never doing an overnight trip by car that far ever again, even if there was a very legitimate reason for doing so.  If I go that far by car again, it will be longer than a single overnight stay.  However, from what I saw of Charleston, I definitely want to visit again some time.  Elyse and I both saw a lot of stuff that we would love to photograph on a future visit, though I don't know when a future trip to South Carolina would be.  I'm also excited to get my Orion V in a month or so.  Stay tuned for that.