Quote Archives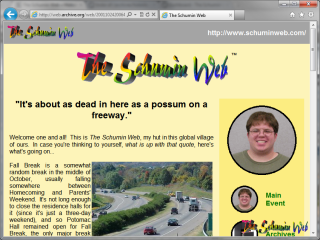 From October 1998 to March 2005, the main page of The Schumin Web featured an article of varying length, often accompanied by a photo.  A survey question was added in April 2001.  The picture at right illustrates the site's 2002 design, which contained this main page configuration.  Unfortunately, the first year's worth of quote articles were mostly lost, as archiving did not begin until November 1999.  The first two quotes listed were done before formal archiving began, and were recovered using the Internet Archive and their Wayback Machine.
The quote article was discontinued in March 2005 due to its similarity to the Journal, and my inability to maintain them both as I soon realized that after having emptied my brain out into the Journal, I had nothing left to say when it came time to write a quote article.  Thus the Journal is sort of a spiritual successor to these quote articles, though the two areas overlapped from August 2003, when the Journal was introduced, to March 2005, when the quote article was discontinued and replaced by the Photo Feature.
In this section, the various quote articles that ran on the main page are laid out in chronological order, with the oldest listed first.  The full article is linked on the title.
---
October 12, 1999 – "And today, I'm running on only three hours of sleep, no thanks to the alarm system!"
November 7, 1999 – "I'll take some desert without any sand…"
November 28, 1999 – "It's not Starbucks, but still…"
December 3, 1999 – "It's only appropriate that the name's not the same…"
December 6, 1999 – "Just hand it over, nice and slow…"
December 12, 1999 – "It's dark under here!"
December 16, 1999 – "And for every Y2K doomsayer I see, I'm just going to point and laugh."
January 1, 2000 – "See? I told you so!"
January 9, 2000 – "If the bookstore squeezed me a little harder, I'd be totally dry…"
January 20, 2000 – "Life is sweet and spicy (with milk)."
January 27, 2000 – "If elected, I will raise your taxes!"
January 29, 2000 – "What is a killfile?"
February 3, 2000 – "Do I really need three square meals a day?"
February 6, 2000 – "Please place your seat backs in the upright position."
February 10, 2000 – "I'm afraid that your evil plot has failed, elevator man!"
February 26, 2000 – "Out of order? . . . Even in the future, nothing works!"
February 27, 2000 – "Memories, memories, memories…"
March 3, 2000 – "SPRING BREAK!!!"
March 12, 2000 – "Doesn't anybody call it 'the head' anymore?"
March 16, 2000 – "DUCK SEASON!" "WABBIT SEASON!"
March 18, 2000 – "And this is the living room, recently renovated."
March 20, 2000 – "Four years ago, I nervously took my first steps…"
March 27, 2000 – "Spring is here!"
March 31, 2000 – "Come to Hall Council… or Schumin gets it!"
April 4, 2000 – "If The Schumin Web were an ocean liner, how many stacks would it have?"
April 7, 2000 – "Ah, springtime! That time of year when I want nothing more than to shut the windows, shut the door, and turn on the air-conditioning…"
April 12, 2000 – "If you turn me on my side and paint my nose yellow, I'd make a perfect traffic light!"
April 16, 2000 –

April 24, 2000 – "And now I enter into the 21st Century…"
April 26, 2000 – "We all need to get together and force AOL to change!"
April 30, 2000 – "There's something new in the future…"
May 13, 2000 – "Iceberg right ahead!"
May 18, 2000 – "You said 'Rahoul's Diner'?"
May 22, 2000 – "I would like to announce the mission of the Web site…"
May 31, 2000 – "Napster: Whose side are you on?"
June 10, 2000 – "I don't think you've met Greta before…"
June 21, 2000 – "I went and shot the maximum the game laws would allow… two game wardens, seven hunters, and a cow."
June 29, 2000 – "All those dirty patients!"
July 7, 2000 – "11880 – Da Werden Sie Geholfen."
July 23, 2000 – "Let us mourn the passing of the old signs…"
July 26, 2000 – "FREEZE! DON'T MOVE A MUSCLE OR SAY A WORD!"
August 2, 2000 – "McGraw-Long… it will never be the same again."
August 10, 2000 – "Do you kiss your mother with that mouth?"
August 20, 2000 – "Am I trying to kill myself or something?"
August 24, 2000 – "Congrats to Richard, the sole Survivor!"
August 30, 2000 – "FOR ASSISTANCE PUSH 3 INCH HELP BUTTON"
September 3, 2000 – "AOL Instant Messenger: Why won't you stay connected?"
September 11, 2000 – "If it's audible, then it's not silence."
September 16, 2000 – "The Web Cam: the site of some of The Schumin Web's craziest activities at times…"
September 23, 2000 – "It's a new day, a new Schumin Web."
September 30, 2000 – "Is blue the color of good fortune?"
October 11, 2000 – "Zane is back! Zane is back!"
October 15, 2000 – "They must keep an entire warehouse full of signs preprinted with 'Eagle Hall' on them…"
October 22, 2000 – "And we have now lost another one of this world's few remaining classic liners…"
October 28, 2000 – "There's no candy in hell! That's why it's hell!"
November 2, 2000 – "I encourage everyone to go out and choose!"
November 12, 2000 – "Ben: The anti-ape drugs don't work."
November 19, 2000 –

November 26, 2000 – "Oh, that's a good word! A nice round word!"
December 3, 2000 – "Where does your tuition money go? I'll tell you where your tuition money goes!"
December 9, 2000 – "Without ever leaving, I've been everywhere…"
December 14, 2000 – "The fabled year 2000 – a thing of the past?"
January 7, 2001 – "Is it true that people with glasses are more worldly than people without?"
January 14, 2001 – "And where do you test out glow-in-the-dark wheels? In the dark, of course!"
January 21, 2001 – "They have to do WHAT to get this elevator running again?"
January 27, 2001 – "After an entire semester's worth of waiting, I have finally caught the object of my desires!"
February 4, 2001 – "It's February. It's cold. The days are short. Where would you like to be?"
February 12, 2001 – "THIS is what The Schumin Web once looked like?"
February 19, 2001 – "It's like he's staring into my soul…"
February 25, 2001 – "Not all caffeine is created equal!"
March 3, 2001 – "I tried to but every time I put in a dime and dial a condom popped out. Here, want one?"
March 18, 2001 – "Half a decade!"
March 25, 2001 – "Come on down to the chuckwagon and get yourself some grub!"
April 1, 2001 – "When you think of JMU, is a three-eyed antlered pig what you think of?"
April 8, 2001 – "Spring is officially upon us!"
April 15, 2001 – "I am freezing my butt off just because I can!"
April 30, 2001 – "Now it's time to say goodbye to all of Potomac…"
May 13, 2001 – "Boy, oh boy, am I glad to be home!"
June 3, 2001 – "You'd better be careful or you know what happens!"
June 11, 2001 – "It's becoming a Gateway in name only!"
June 17, 2001 – "After months in the thinking, and two weeks in the making, here it is!"
June 24, 2001 – "Wish? Did somebody say wish?"
July 2, 2001 – "On the Fourth of July, we blow up many things – just don't blow yourself up!"
July 8, 2001 – "I know what your problem is! The Lincoln Memorial was too crowded!"
July 16, 2001 – "It all comes out of the same ground, so what's the difference?"
July 23, 2001 – "It's kind of like it hit puberty…"
August 6, 2001 – "Rogers… how I miss you sometimes…"
August 11, 2001 – "It's back to Potomac Hall, both feet first!"
August 19, 2001 – "Welcome aboard!"
August 24, 2001 – "In A.D. 2101, war was beginning."
September 1, 2001 – "Hello? I told you never to call me here!"
September 9, 2001 – "…and say hello to Fresh Food Company!"
September 16, 2001 – "What words cannot express…"
September 24, 2001 – "What other campus besides JMU would have this?"
October 2, 2001 – "Hang your worries, trash your… 'sraef'?"
October 13, 2001 – "Perhaps you're having too much fun in the bedroom of the WRONG kind!"
October 21, 2001 – "It's about as dead in here as a possum on a freeway."
October 28, 2001 – "Dress like a fairy, a ghost, or a witch, with a hook… an evil pirate!"
November 6, 2001 – "Disenfranchised by the state!"
November 12, 2001 – "And now, let's salute America, everyone!"
November 17, 2001 – "What exit?"
November 25, 2001 – "Now I've seen it all…"
December 3, 2001 – "It's moving day, it's moving day, hey, baby, hey!"
December 11, 2001 – "Snow? Flurries? Sleet? Freezing rain? Anything?"
December 14, 2001 – "You don't have to go home, but you gotta get up outta here!"
December 17, 2001 – "We're sorry, you do not trust the Wal-Mart inventory control system. Please step back, and an associate will slap you around until you do."
December 21, 2001 – "To Ben, from Santa… I wonder what it is?"
December 26, 2001 – "How do you get traffic? Good question…"
January 1, 2002 – "2002 already…"
January 6, 2002 – "It's snowing, it's snowing, it's snowing, it's snowing…"
January 13, 2002 – "Give a JMU student a paintbrush, and watch magic appear…"
January 22, 2002 – "Hi, two-leggers, how would you like to enjoy a dog's life?"
January 27, 2002 – "8 out of 10 Dukes don't smoke… interesting…"
February 10, 2002 – "Betelgeuse, Betelgeuse, Betelgeuse!"
February 17, 2002 – "Seems that people do some very strange things…"
February 24, 2002 – "What better to wake up to…"
March 1, 2002 – "It's once again that magical week…"
March 10, 2002 – "No job is completely glory…"
March 17, 2002 – "So if you were five yesterday and six today, does that mean you'll be seven tomorrow?"
March 24, 2002 – "You may complain, but how many times has that little blue-and-white bus saved your butt?"
March 31, 2002 – "And I'm not exactly Halle Berry…"
"I'm Barry Bostwick!"
"Who's Barry Bostwick?"
April 7, 2002 – "So exactly how far can your Mavica grab an image?"
April 14, 2002 – "Well, if they ever closed this place down, they could always turn it into a meat locker."
April 28, 2002 – "Whenever you need a lift, it's like a gift that never goes away… remember the good times, and yesterday's good times… they'll bring you a brand new smile today!"
May 8, 2002 – "Who's one spin short of a winner?"
May 12, 2002 – "Nature to Schumin: This is how you're supposed to feel during allergy season!"
May 20, 2002 – "And if nothing else, remember that the biggest, ugliest vehicle ALWAYS has the right of way!"
May 27, 2002 – "Am I ready for the last big birthday of my youth?"
June 3, 2002 – "Go to sleep, say good night…"
June 10, 2002 – "The nice thing about having a friend living on campus during May Session…"
June 17, 2002 – "You ever wonder what it would really be like to have drops of Jupiter in your hair?"
June 24, 2002 – "Don't forget to dot the 'I'!"
July 7, 2002 – "The mid-summer blahs have officially arrived…"
July 15, 2002 – "Elementary school PE class… wasn't that just the best?"
July 22, 2002 – "Three more weeks, and I can't wait…"
July 27, 2002 – "Now that deserves an Arbor Mist!"
August 4, 2002 – "If only I could afford it…"
August 11, 2002 – "Um, sir… no one force-fed you that fast food…"
August 20, 2002 – "Oh, the changes you'll see!"
August 27, 2002 – "I'm now one of those old fossils on the campus now…"
September 9, 2002 – "September 11, a year later. What have we learned?"
September 15, 2002 – "Just look around and you can tell you're wrong…"
September 23, 2002 – "Unit on and functioning! Do not hit. I am delicate."
October 7, 2002 – "It's amazing what you can do with what you've got…"
October 14, 2002 – "MASTODON! PTERODACTYL! TRICERATOPS! SABER-TOOTHED TIGER! TYRANNOSAURUS!"
October 21, 2002 – "It's starting to smell like winter again…"
October 26, 2002 – "Somehow, I think it's that time of year again…"
October 31, 2002 – "On November 5, 2002, vote YES for higher education!"
November 10, 2002 – "Aren't you supposed to RELAX when you relax?"
November 17, 2002 – "Since when was 7-Up green?"
November 24, 2002 – "Nice days make great fire drill weather, don't you think?"
December 8, 2002 – "I like it the old fashioned way, before political correctness made 'Christmas' into a dirty word."
December 17, 2002 – "Looking back, I'm surprised I fell for this…"
December 22, 2002 – "Tripod! And I don't mean the free hosting provider!"
January 5, 2003 – "Amazing what a snowfall can do…"
January 21, 2003 – "And to think I thought it was a kind of tool…"
January 29, 2003 – "There's more than meets the eye, don't you know!"
February 3, 2003 – "I don't know if you've noticed, but it seems that James Madison University has no real traditions."
February 17, 2003 – "We're snowed in! AAAAAAAA!!!"
March 3, 2003 – "The idea here is to learn from the mistakes we made in dreamland…"
March 7, 2003 – "Around and around the Commonwealth we go, and where we end up, nobody knows!"
March 18, 2003 – "A week of photographs, and I think Big Mavica and I now need a vacation from each other."
March 23, 2003 – "Seven years later, the wheels continue to turn, and turn they will!"
March 31, 2003 – "Vote for me! I'll make your whites whiter and your brights brighter!"
April 7, 2003 – "Another Burruss Hall in the family…"
April 13, 2003 – "It's like a big, giant beach!"
April 27, 2003 – "They say that people's number one fear is public speaking, and so guess what I get to do this week!"
May 5, 2003 – "Timber!"
May 19, 2003 – "Tell them they can kiss my bumper! Just kiss it!"
May 26, 2003 – "Sometimes the best thing you can do for yourself is to take a moment and do nothing."
June 3, 2003 – "Valet parking?"
June 16, 2003 – "Another one graduates high school!"
June 23, 2003 – "I love my Mr. Mousters!"
July 1, 2003 – "Be proud of your country! Wave your flag! Come back with all your extremities where they belong!"
July 13, 2003 – "And now we pass through the gates…"
July 22, 2003 – "This is but a taste of the real world…"
July 27, 2003 – "They say time waits for no man…"
August 5, 2003 – "When the water fills the clouds, then they call on lightning!"
August 17, 2003 – "A home furnishings hub… that might just work!"
August 24, 2003 – "It's time for a new car…"
September 8, 2003 – "It's been two years since it happened, and I think we can say that we're now much better prepared than before."
September 15, 2003 – "What part of 'fourth middle school' do you not understand?"
September 21, 2003 – "Blackboard: Another well-intentioned but remarkably poor education fad."
September 28, 2003 – *ring ring ring*
"Hi, remember me? I've been standing here next to you for the last twenty minutes. Remember how we went shopping together because we enjoy each other's company?"
October 12, 2003 –

October 21, 2003 – "It really is interesting when you compare one city to another!"
October 27, 2003 – "Alas, this is not a leaf-looker's year…"
November 11, 2003 – "If you think I'm busy now…"
November 16, 2003 – "I am yule log! I am egg nog! I am fake snow!"
November 23, 2003 – "For this holiday of Thanksgiving, remember that you really do have something to be thankful for, and don't you forget it."
December 1, 2003 – "She'll be driving six wide horses when she comes!"
December 9, 2003 – "I'm always amazed when people learn how anti-ceremony I can be…"
December 14, 2003 – "No wonder little children scream when you put them on Santa's lap!"
December 26, 2003 – "And we once again send another year up the road to retirement…"
January 1, 2004 – "Let me tell you about yo mama and yo daddy and their trip to Target where they met a metro…"
January 6, 2004 – "What has propelled them back into the spotlight?"
January 19, 2004 – "There's nothing worse to encounter when you're more than two hours from home than winter firing a warning shot…"
February 2, 2004 – "That's it! No more JMU. I have graduated!"
February 29, 2004 – "Funny what the road scene looks like when people make mistakes…"
March 17, 2004 – "The road to eight years is a long path, with the occasional curve and the occasional dark spot."
March 27, 2004 – "There's just something about the nighttime…"
April 6, 2004 – "Spring has sprung!"
May 3, 2004 – "Hey! Who turned the heat up?"
May 11, 2004 – "The question we have to ask is, 'What in the heck?'"
June 9, 2004 – "Water… what doesn't it do?"
June 26, 2004 – "The Palace may soon be gone, but Tillie still lives."
July 3, 2004 – "With Independence Day right around the corner…"
July 14, 2004 – "What Waynesboro needs now is a star!"
August 27, 2004 – "What have you done for your country?"
October 1, 2004 – "This time of year, keep an eye on the skies!"
October 26, 2004 – "As the days grow colder and shorter…"
December 14, 2004 – "The mission is Christmas. We shall take no prisoners. Ready? Set? SPEND!"
January 7, 2005 – "Even in the future, nothing works!"