"And now, let's salute America, everyone!"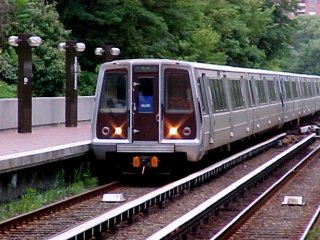 Those of you who are familiar with this site may remember when I did my "The Schumin Web Salutes America" photo essay last July. I did an overview look at some of the big attractions in Washington, DC, including the Vietnam Memorial, the Capitol, the Lincoln Memorial, and others. Now, on November 10, I did it again, though this time incorporating an unintentional theme for the trip, which I will put down as "Noteworthy Americans", or something like that. I haven't determined what it will be at the time of this writing. This time, I hit Arlington National Cemetery (Metro station seen here in this file photo of mine from August), the Korean War Memorial, the DC War Memorial, the FDR Memorial, and the Jefferson Memorial. When I was planning this trip about a month ago, there were a few smart-behind comments about recent events. Questions and comments ranged from being advised not to catch anthrax, to whether I was going to see how the Pentagon looked, to general comments about DC now being a security compound. All I have to say is that this photo essay was conducted in the same manner as the July version, correcting one oversight from before – I wore something Schumin Web this time around. DC was just as it always has been, though the day was notably cooler weather-wise than before (it was the middle of July before!).
---
Date posted: November 12, 2001
Notes: "The Schumin Web Salutes America II" Photography set, which is what resulted from this trip, was retired at the time of the site's conversion to WordPress.
---