"…and say hello to Fresh Food Company!"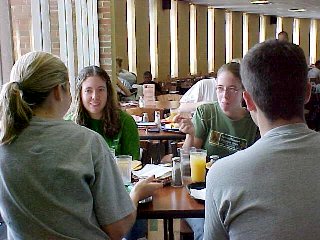 Welcome to Fresh Food Company! This is D-Hall in the 21st Century. Now, instead of the three buffet lines of the past, there's lots of different stations, with names like "Madison Sizzles", "Southern Bistro", "Vegan Corner", "Cafe Roma", "Accents", "D-Hall Deli", "The Produce Market", and "Sweets". This new D-Hall takes much of what we loved in the old D-Hall and puts it into a more coherent form with no serving locations off in left field like Pan Geos of last year, and lends more of a restaurant-style atmosphere, with booths as well as fancier furniture, retaining walls, and hanging-down lamps, among other things. It's also been funny reading The Breeze, where in the first issue of the year, there were three separate articles on D-Hall. And they were all, for the most part, giving a big thumbs-down on the dining hall's new groove. I find it somewhat ironic that many college students will throw themselves on making someone else doing something that doesn't affect them change, but when something that many had complained about before got changed, so many people screamed bloody murder. Personally, I love the new style. The plates are bright, shiny, and multicolored, the food is much cooler, and the atmosphere is one that can't be beaten on campus. Now I must admit that I've had somewhat of a head start on the new D-Hall, with myself and all the other RAs having it to ourselves for two weeks prior to the start of classes. My only complaint is that I can't figure out how to get the elevated seats positioned properly without making my drinks wiggle. Still, I love the new D-Hall, and wish that more people would share my enthusiasm for this revamped venue.
---
Date posted: September 9, 2001
Notes: This quote was repeated on the main page November 5-10, 2002.
---