"It's time for a new car…"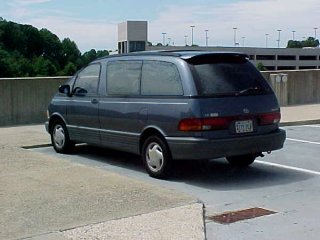 Let me tell you… I so need a new car. The car you see at right is the 1991 Toyota Previa that I currently drive every day. And let me tell you… it's about ready to give out. Currently, it's due for a lot of different repairs. Major overhauls are due for the exhaust system and the transmission, the air conditioning and the radio both are totally out of service, the driver's side window sticks in the open position sometimes, and the interior is starting to fall apart. Add to that the fact that it has more than 200,000 miles on it and has been involved in three accidents, and I'd say that this thing has seen quite a life. And all while under our ownership, which has been the case since July 1990. In thirteen years, it was the official "family car" from 1990 to 1997, and it's been in my control since then, with my sister taking it on an as-needed basis. And with this thing giving out as much as it is, I'm ready for a new car, and one that is actually mine at that (it's still my parents' car). Lately, I've been figuring out what I want in a car, how much it will cost for me to get what I want, what I can afford, and then of course what I need to give up in order to bridge the gap between what I want and what I can afford. All very interesting, but in the end, hopefully I'll have a car that actually will be "all systems go".
---
Date posted: August 24, 2003
Notes: Car articles on here have got to be bad luck or something. During the time that this quote was up, I got rear-ended on my way up to Harrisonburg while sitting at a traffic light in Fishersville. No injuries to me, and the car damage was minor (the bumper was detached on one side), but I think I'm going to lay off the car quotes for a while.
---