"What part of 'fourth middle school' do you not understand?"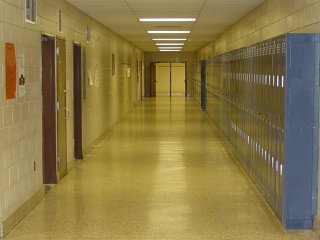 Picture it if you will. It's Friday. It's 3:00 in the afternoon. A high-pitched tone pierces the quiet of the corridor, announcing the end of the day. With that, you have a stampede of nearly 1,000 students in a school designed for less than that heading for the exits, to board buses to head home. This situation plays itself out so much, as Augusta County, where I live, deals with the problems of middle schools that are overcrowded, and two high schools that are in need of renovations. The situation is that Stuarts Draft Middle School (a corridor of which is pictured at left after hours) is practically bursting at its seams, now and back when I went there, with eight classrooms added to it in 1993, and former locker spaces converted into four more classrooms in 1997 (the lockers you see here were installed at that time), and now two trailers out front. They also have to run FIVE lunch periods in order to handle all the students. There has been a need for a fourth middle school almost as long as we've lived in the area (11 years now). The idea is to build a new middle school in Fishersville, which would split Stuarts Draft Middle's service area in half. However, there's been an issue with the funding and priorities. The school board wants a new middle school built and to renovate the two high schools. The board of supervisors wants to renovate the high schools and build a new middle school. Everyone's also had various proposals to alleviate overcrowding without building a new school. One suggestion made a few years ago was to house Wilson Memorial High School-bound eighth graders in Wilson Memorial High School instead of at Stuarts Draft Middle School. Ultimately rejected because it would have deprived some students of the middle school experience, plus splintered the eighth grade. Plus, while it's true that Wilson Memorial High School is less populated than Stuarts Draft High School, it would still be a bit of a pinch to do. Another proposal was to put sixth-grade students in elementary schools. In what space? The elementary schools weren't designed to hold seven grades, and most are already full as it is. Stuarts Draft has two elementary schools now as a result of crowding. My favorite "tip-toe" proposal comes from Pastures District Supervisor Tracy Pyles (seen at right). Mr. Pyles, in a letter to the editor at the Daily News Leader in Staunton, raises questions of parity. Here, he compares the service area of Beverley Manor Middle School, which serves a majority of the land area of the county, some 600 square miles. He notes that if a Wilson Middle School is built in Fishersville, this would leave less than 400 square miles for the other three middle schools, not including Beverley Manor.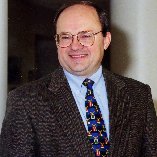 Interestingly, Mr. Pyles conveniently forgets that Beverley Manor serves a highly-rural area, where the population is quite sparse. On the other hand, Stuarts Draft, S. Gordon Stewart, and a future Wilson Middle School serve a much more densely-populated area along a number of major north-south and east-west corridors. Thus with more kids in the area, you of course need more school coverage. If he wanted to have geographic parity, you'd have Beverley Manor Middle School practically empty, while students in Stewart, Stuarts Draft, and a future Wilson Middle School piled in VERY tightly, in violation of fire codes, I'm sure. Mr. Pyles's main proposal, however, makes little sense to me as far as what-does-this-accomplish thinking. His proposal is to build a new Wilson Memorial HIGH SCHOOL, and convert the existing high school into a middle school. How does this differ from the plan to build a new middle school and renovate the high school? First of all, it can be argued that Stuarts Draft and Wilson Memorial High Schools, built on late 1960s and early 1970s floor plans (the two schools are identical architecturally), are barely suited for the purposes that they were designed and built for in the first place. So to convert a building that's barely suitable for its intended purpose into something it was not intended for is a little strange to me. So we would have a building being used for something it was not intended for originally, and a shiny new high school. And we'd still have Stuarts Draft High School and the existing Wilson Memorial building (as a middle school) still loaded with asbestos and other hazardous materials and falling apart. The original plans call for building one school designed as a middle school and renovating two high schools. Mr. Pyles's plans call for building one high school and renovating two high schools, one into a middle school that it was not designed for. What does Mr. Pyles's plan accomplish? Not a whole lot. Augusta County needs to get with it already and build that fourth middle school, to finally take care of the overcrowding issue once and for all. Now as for the high schools, don't even get me started on the proposed "improvements" to those schools…
---
Date posted: September 15, 2003
Notes: Wilson Middle School, a new building, opened in fall 2006. The existing Stuarts Draft and Wilson Memorial High School buildings were both renovated, with renovations to both facilities completed by the fall of 2007.
---