"Welcome aboard!"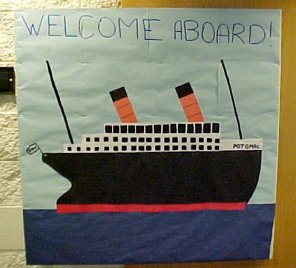 It's the beginning of a new year, and let the S.S. Potomac set sail! After a week of training, it's time to get ready to hit the books, specifically on the 27th of this month. Time to visit all the campus hot spots… the Festival, Taylor Down Under, D-Hall (now officially called "Fresh Food Company"), the convenience store at the Festival, and of course Potomac Hall, where I live. So to everyone who is visiting The Schumin Web for the first time, welcome, and bookmark me for future reference. And speaking of JMU, what you see at left is one of the bulletin boards that will greet my residents on the 22nd. We take the "S.S. Potomac" theme literally here, as I "christened" (I hit a bottle of Deer Park water against the board), and then launched this bulletin board as the S.S. Potomac. Painted in Cunard line red-and-black colors, this two-stacked vessel is ready to take my residents on the first leg of the voyage of their lifetimes – college. This board, which previously held the Power Outage Poetry as seen in College Life, now is ready and willing to sail. And going with the nautical theme, all doors have "Welcome Aboard" on them, and also pictures of a ship's wheel and a life-ring. So it's time to get back into full swing for the year, and let's make it a good one.
---
Date posted: August 19, 2001
Notes: Looking back on this quote article at the time of its conversion to WordPress (September 2011), I still find it interesting that I went with Cunard red-and-black on the funnels. While a gold-and-purple scheme would have suited JMU better, as those are the school colors, I felt like it wouldn't look right. So as something of a tribute to classic ocean liners as well as a better color choice, I did the ship up as a Cunarder. However, the little flag at the stern says "JMU" on it.
---