"And we have now lost another one of this world's few remaining classic liners…"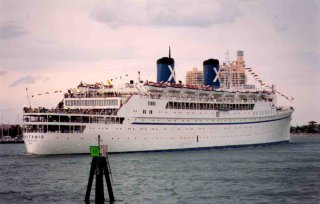 She started her life out as the Monterey for the Matson Line. She served brilliantly in World War II and in peace time. Later, she was sold to the Chandris Line and was renamed their Britanis. She ended her Chandris service when they were phasing out their "Fantasy" division (in favor of Celebrity Cruises). With that, she was laid up in Tampa. In January 1998, she was sold to AG Belofin Investments of Liechtenstein. They renamed her Belofin-1, and their plan was to sell her to scrappers in either India or Pakistan. However, it was not to be. In July 2000, being towed by the tug Irbis, she was taken under tow intended for scrapping. However, after a stop in South America for repairs, she was off to Cape Town, South Africa, where she was to finally be sold to scrappers. But she would never make it to Cape Town. Due to leaking in her stern, she developed a list, and it became more serious and more serious until she finally sank fifty nautical miles from Cape Town, on October 21, 2000. This is a sad time for ocean liner buffs everywhere.
Photo courtesy of Maritimematters.com.
---
Date posted: October 22, 2000
---