And now, new toilets…
November 23, 2018, 2:16 PM
A year after buying the place, I'm still working hard to make it my own.  First it was the new furniture from IKEA.  Then I painted Elyse's bathroom.  Then I finished the chairs in the kitchen.  Then I painted Elyse's bedroom.  Then it was the area rugs.  And now, it's new toilets.  I suppose that this is what happens when you become mature, that buying and installing new toilets becomes exciting.
In any case, Elyse and I had both been less than enthused about our respective toilets from the moment that we moved in.  The ones in Elyse's bathroom and mine were both fairly old, and both had problems.  Mine leaked water from the tank into the bowl, which was a waste of water, and it also splashed me in certain places, which was quite annoying.  Then parts of Elyse's didn't work, which reduced its effectiveness, which also ultimately wasted water.  So they were both quickly marked for replacement.  The toilet in the half bath is in good shape, and is not slated to be replaced, though we are planning to do a small refurbushment project on it, likely coupled with a repainting project in that room.
On September 29, Elyse and I finally took the plunge.  While we were out in Hagerstown, after looking at a store called CoinOpWarehouse, we went over to Lowe's and looked at the different toilets that they had.  She got the Ove Beverly, which had a very modern design. I got the American Standard Champion 4, which is an ADA height toilet of more traditional design.  This is what the Champion 4 looked like in the store: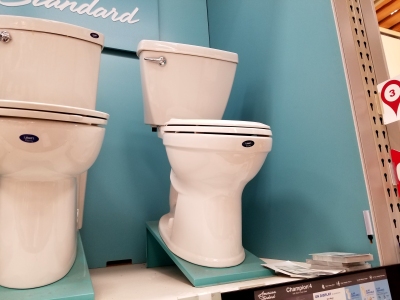 And here they are on the cart: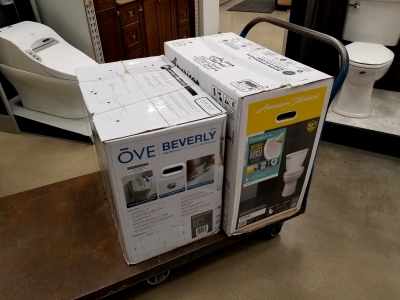 Getting them home, Elyse's toilet was the first one to go in.  She was the one who knew a thing or two about plumbing and was doing most of the work, and so doing her toilet first was her prerogative.  We ended up referring to Elyse's toilet as "Bev" during the installation work, almost instantly giving it personality.  Bev went in pretty easily, but we found some issues when we went to do mine.  On mine, the flange had previously been repaired, and the repair job was a little questionable, according to Elyse, which put her beyond her level of comfort.  So we called in Len the Plumber, and got the new toilet put on without issue.
I suppose that knowing when to stop and call in the professionals is a mark of wisdom.  After all, I am paying a lot of money for this house, and I intend to take good care of my investment.  I also won't necessarily live in this house forever, and so I want to make sure that I am a good steward of it while it is in my care, so that I can get a good price for it when I eventually sell it (though not for quite some time, mind you).
All in all, the new toilets look good and work well.  Here is Bev in her new home: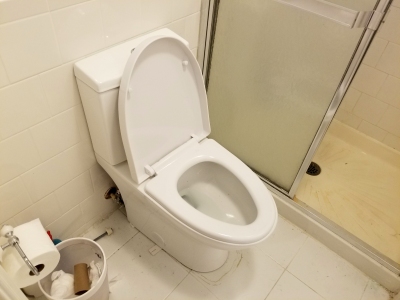 And here's my commode in its new home: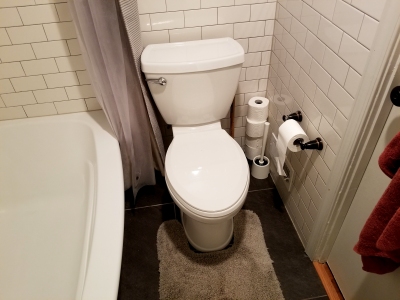 Not bad, if you ask me.  And then here's Elyse working on dismantling the old toilet in her bathroom: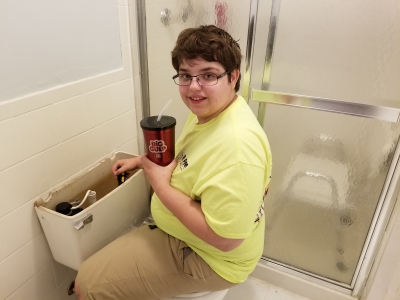 Then here's Elyse getting rid of her old toilet (Len the Plumber got rid of mine) at the Shady Grove Transfer Station: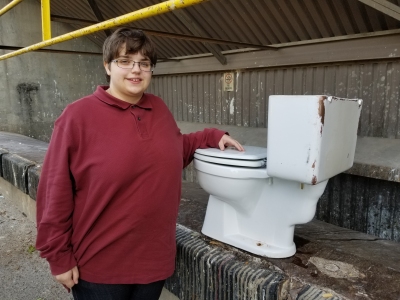 And finally, the toilet in the dumpster: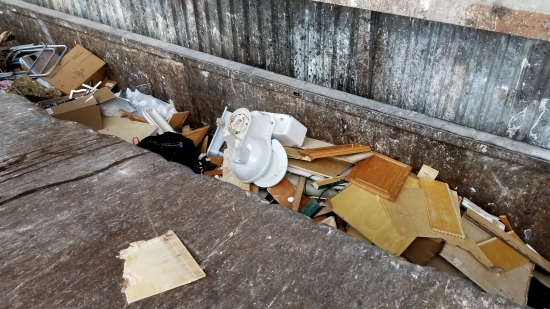 Not bad, if you ask me.  These new toilets are definitely an improvement over the old ones.  I'm pretty sure that Elyse's old toilet was original to the house (it looked the same as others in the same neighborhood when we went house hunting), while my old one dated to the early 2000s.
Then I also did one other bathroom renovation project: removal of the doors on Elyse's shower.  That all came together pretty quickly.  I have never been a big fan of shower doors, but since it wasn't in my bathroom, I was content to let it be.  Then Elyse fell in the shower, and her only (minor) injuries were caused by the track beneath the doors.  She wanted them gone, and I was quick to oblige.  I had all of the tools necessary to take them out, and so I made quick work out of them.
Now you see them: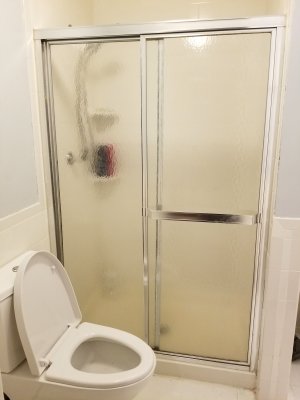 And now you don't: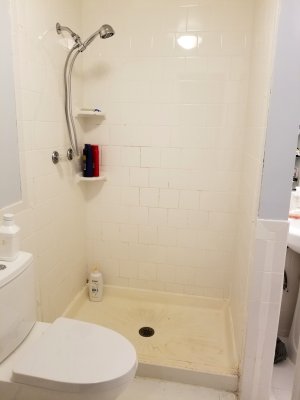 And the hardware went out in the hallway, ready to be hauled away: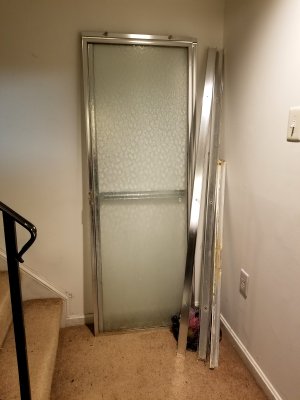 Meanwhile, getting rid of them says something about how resilient those shower doors were.  When we got them to the Shady Grove Transfer Station, we deliberately tried to smash the glass.  Try as we might, we couldn't get them to break, which was a bit disappointing.  But I suppose that was a good thing during their service life.
And then this is the new look of Elyse's shower: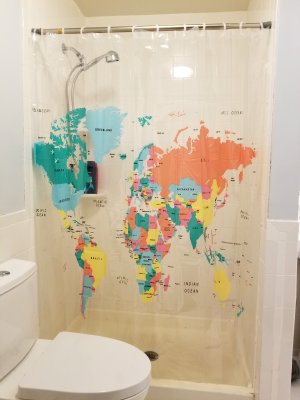 Elyse went for a world map design, and it appears to be the current map (note presence of South Sudan).  And Russia is orange, as it should be, though Canada is not pink.  I've always said that the "proper" map colors include a pink Canada and an orange Russia, and no one is going to convince me otherwise.
So all in all, Elyse's bathroom is much changed from the bathroom that the previous owner knew.  New paint, new shower head, new toilet, and now a new shower door.  I want to eventually pull out the sink and put in something with a proper vanity, but that's more of a wish-list thing for much further down the road.