Adventures up north…
November 21, 2018, 1:48 PM
Back in the middle of October, as part of a weeklong vacation from work, Elyse and I took a trip to upstate New York and northeastern Pennsylvania.  The first day took us up to Cortland, New York.  The second day, we explored Scranton, Pennsylvania.  The third day, we briefly explored Wilkes-Barre, and then went down to Centralia before heading home.
Our route on the first day took us from home up I-270 to Frederick, and then US 15 to Harrisburg.  We had planned a stop around Harrisburg in order to photograph Three Mile Island from across the river, but scrapped it due to bad weather (clouds).  We can day-trip it to Harrisburg any time, and traveling to the spot for Three Mile Island would have been a significant detour.  We both agreed that we weren't going to make a long detour for bad photos.  Once we got to Harrisburg, we joined Interstate 81 for our travels north.
I definitely got to know I-81 a whole lot better than I did before taking this trip.  Previously, I had traveled on I-81 from its southern terminus near Knoxville as far as exit 116 in Pennsylvania, from my Centralia trip in May (prior to that, I had only traveled as far as the I-78 split).  Now, I've traveled the entire length of I-81 in Pennsylvania, and also 52 miles in upstate New York.  If there's one thing to be said about I-81 north of Harrisburg, it's that the views are outstanding.  I-81 runs through the mountains, and it's quite a sight.  And just like it does in Virginia, it skirts around every single city, which doesn't make for the most interesting trip.  I prefer when freeways go through the cities like I-95 tends to do, because it gives me something to look forward to, and also keeps me more engaged.
But thankfully, we had this license plate game that Elyse found in a thrift store, so as we spotted different states' license plates, she turned that state over on the board.  The most unusual license plate that we saw was for St. Maarten, at a Sheetz in Dillsburg, Pennsylvania.  Why a vehicle from St. Maarten was in central Pennsylvania, I don't know.
After leaving Dillsburg, and going through Harrisburg and for some ways beyond, Elyse started a livestream on YouTube.  The discussion was about the trip and what we were seeing for the most part, and flipping license plates as we spotted them.  We made our first substantial stop near Hazleton, where we stopped for a potty and elevator break at a Residence Inn off of the "CAN DO Expressway" (a name unique enough to deserve mention), and then had lunch at a nearby fast food restaurant.
Then we made a quick stop in Scranton, where Elyse wanted to see the elevators at Commonwealth Health Regional Hospital.  This wasn't necessarily on the schedule (Scranton was planned for Sunday), but Elyse promised to make it quick.  Sometimes it's easier to indulge than it is to argue.  This was an older hospital that had been updated in a few places.  She filmed two sets of elevators: the main elevators, as well as the service elevators.
I also got a few photos while we were there: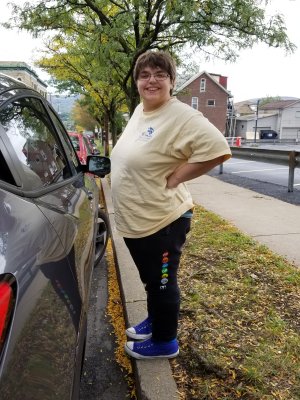 Elyse is all smiles in her Metro sweatpants as we prepare to do some elevator sightseeing.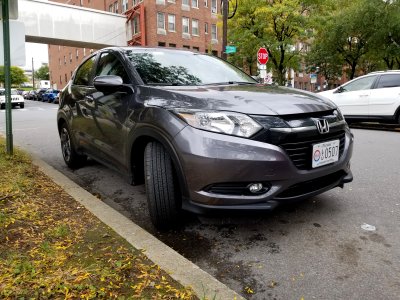 The HR-V, parked on Gibson Street.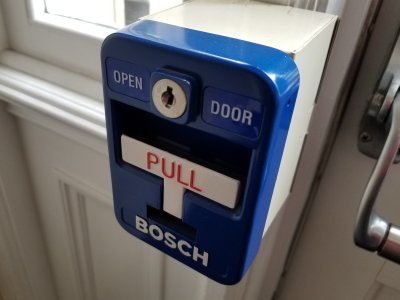 Bosch door release pull station.  This is a variation on a fire alarm pull station.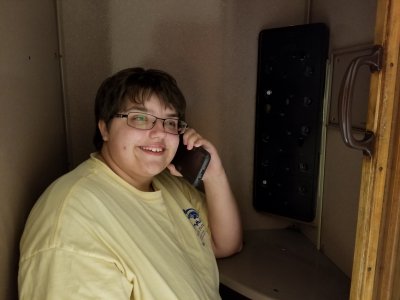 Elyse sits in a now-obsolete phone booth with her cell phone.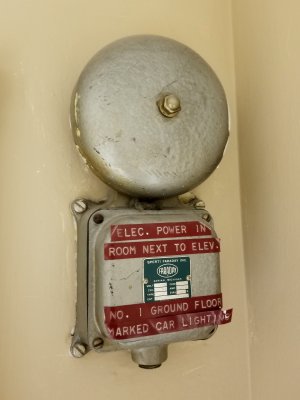 Vintage Faraday bell next to the main elevators.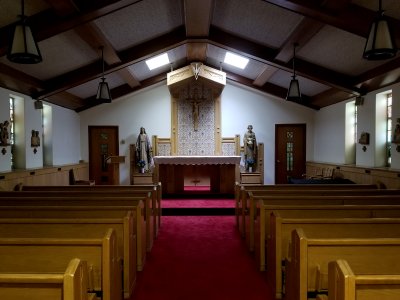 The hospital chapel.  With the crucifix on the wall and other imagery throughout, there was no doubt about it: this is a Catholic hospital.
And then after we finished up there, we kept it moving, seeing more beautiful mountain views as we traveled I-81.  We soon reached the New York state line, and I soon discovered something annoying: New York still uses sequentially-numbered exit numbers rather than mileage-based exit numbers like most states do.  This is annoying because, dealing with mileage-based numbers all the way up, I figured upon crossing into New York that I was almost there.  Exit 11 must mean eleven miles from the state line.  Almost there!  Nope – it was the eleventh exit, which was actually 52 miles from the state line.
We made a quick pit stop at exit 9, which serves Marathon.  While Elyse used the restroom at a nearby convenience store, I wandered around and photographed a bit.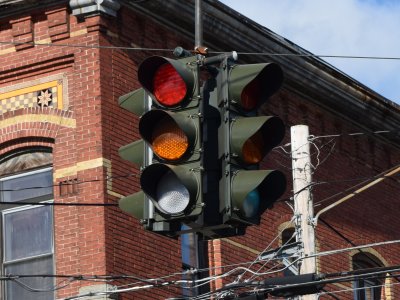 Four-way traffic light at the intersection of US 11 and NY 221 in Marathon.  It's very rare to see a traffic light as a single unit anymore, and it appears that this one is still being actively maintained.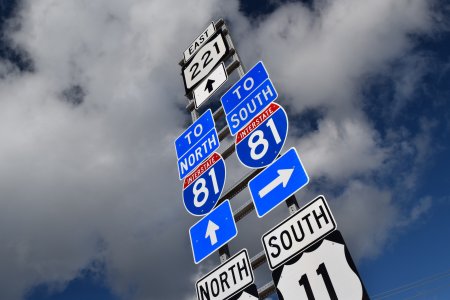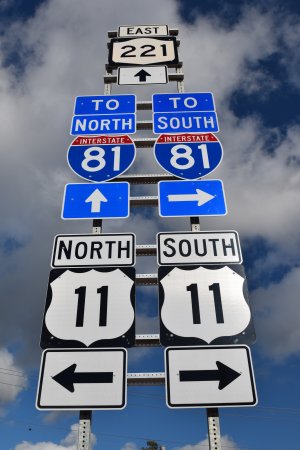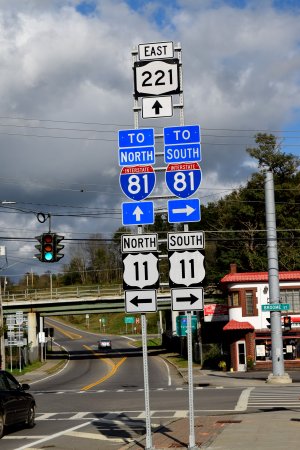 For some reason, this sign assembly captured my interest in a significant way.  I took a bunch of photos of this from several angles.  One of these was featured on the front of the website shortly after I got home.  I suppose that it was a combination of a few minutes' downtime coupled with having my real camera on hand that brought out a burst of inspiration.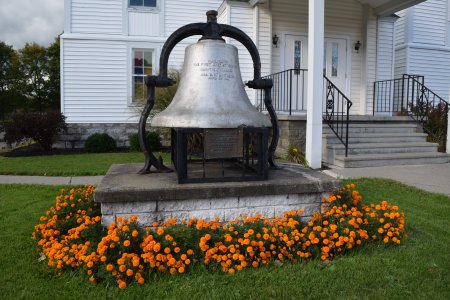 Bell in front of First Baptist Church.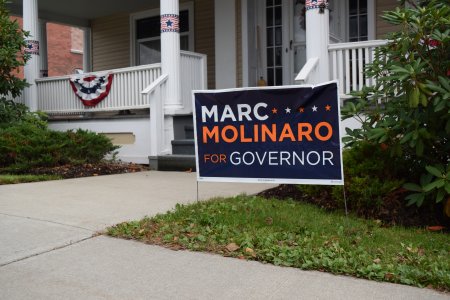 Political sign for Marc Molinaro in front of a nearby house (spoiler: he lost the election to incumbent Andrew Cuomo by a good amount).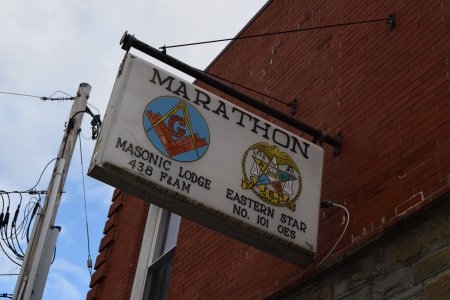 Sign outside Marathon Masonic lodge.
Then from there, it was a short drive to Cortland, and then to our hotel, a Holiday Inn Express.  We got checked in, and went up to our room, which was an accessible room on the fourth (top) floor, right next to the elevator.  This was in the deepest part of the hotel, and so to get past the elevator, we had this hallway: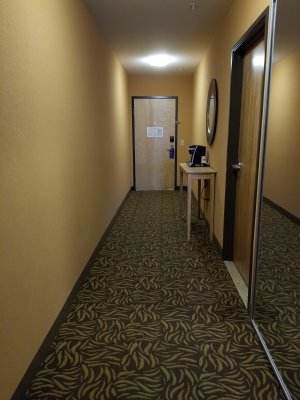 That hallway is probably a good twenty or so feet long.  Other than that, though, it was a pretty standard accessible hotel room.  One would assume that other rooms not next to the elevator would end just past the bathroom door, rather than have all of that extra hallway.
Once we got settled, we headed out again to begin our adventures in Cortland.  Our primary objective was to visit Elyse's Aunt Mary.  I had met Mary once before, when they came down to Maryland last year, and we really hit it off.  So I was excited to see Mary again.  After making contact with her, we headed over to her apartment building.  We got over to what we thought was the right building, and then waited for Mary to come down the elevator.  Instead, I got a phone call: "Where are you all?"  Turns out that Elyse had taken us to the wrong building.  Whoooooops.  Thankfully, the right building was just around the corner from our location.
Once we got over there, we went out to a few places, and ended up at this place called Fat Jack's BBQ for dinner.  I didn't expect to go to a barbecue place on this trip, so that was a pleasant surprise.  Good food, too.
Afterwards, we headed back to the hotel, where we met up with a friend of ours, Dan McCormack.  I've known Dan since around 2001 through various fire alarm-related circles, and this was the first time that we actually met up in person.  First thing that the four of us did was play a few rounds of Uno.  That was a lot of fun.  I had never played Uno before, and that was really fun.  As Mary was explaining how Uno worked, I was trying to take it all in, and then it hit me like a ton of bricks: it's based on Crazy Eights, but with additional cards that provide new twists and turns.  Once that connection was made, then everything made sense, and we had a lot of fun.  We also quickly learned about Elyse's problem with Uno: she is very good at it, and always wins.  Out of however many hands we played, I believe that Elyse won the majority of them.  Later, after I took Mary home, Elyse, Dan, and I spent quite some time up in the room, chatting about anything and everything.  What a wonderful time we had.
And this was the result of the license plate game after the first day was over: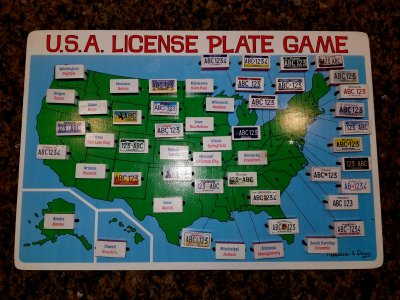 We saw license plates from 32 states, plus Ontario and Quebec license plates, and that St. Maarten plate.  The only rule was that you don't get to turn Maryland until you're out of the neighborhood and actually spot it on the road.
The next morning, our plan was to head down to Scranton.  The main plan was to visit the Steamtown National Historic Site.  Before leaving Cortland, however, we photographed just a little bit.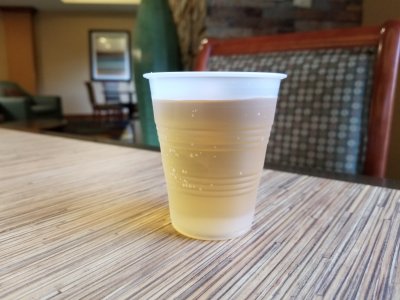 This was the apple juice that was being dispensed at the hotel's breakfast area.  It was weak.  Clearly, something was wrong with the machine, because the ratio of water to juice concentrate was off, making for a very weak product.  I commented that this looked more like a urinalysis sample than apple juice.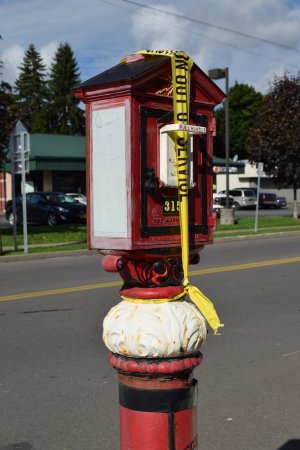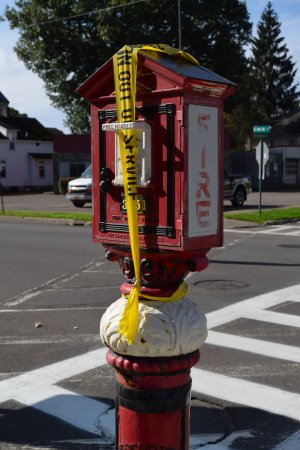 Municipal fire alarm box at North Main and Madison Streets.  Cortland previously had a municipal fire alarm box system, but that system is now in the process of being decommissioned.  Note the "not in service" tape over the handle.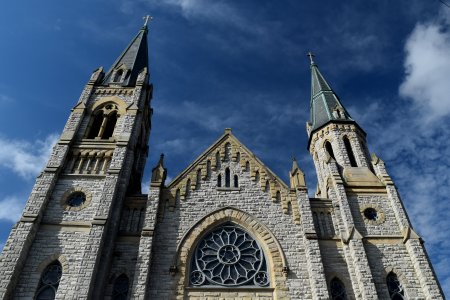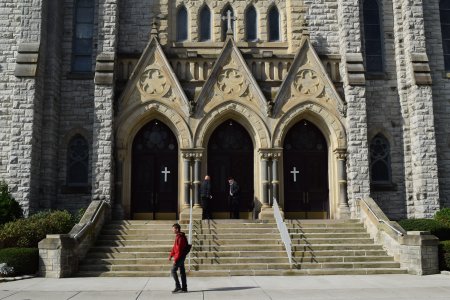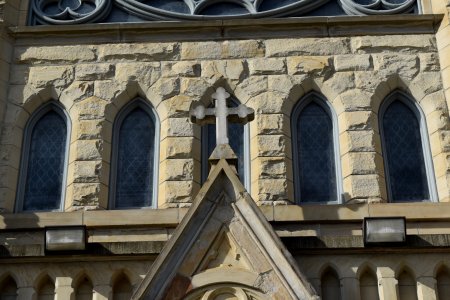 St. Mary's Catholic Church.  It's a nice looking church, but for some reason, I couldn't get the angles right to get really good shots of it.  My photos of it felt a bit uninspired.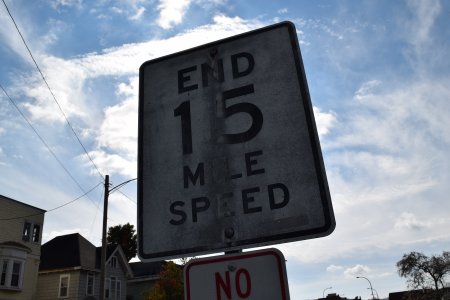 "End 15 mile speed" sign.  In this instance, it's being used to mark the end of a school zone.  This is the first time that I've seen this sign used in this manner.  Typically, whenever I see this sign, it's on back roads, to indicate that the earlier posted speed limit ends, and that the speed limit is unposted, which, at least in Virginia, defaults to 55 mph.
From here, we headed out of Cortland via I-81.  Cortland is a nice little town.  I would definitely like to spend some more time here.
On the way down, we stopped at a rest area, and I was surprised about the restroom configuration.  On most toilets, the material leaves the viewer's sight by going out the back of the bowl.  This one, the pipe went straight down: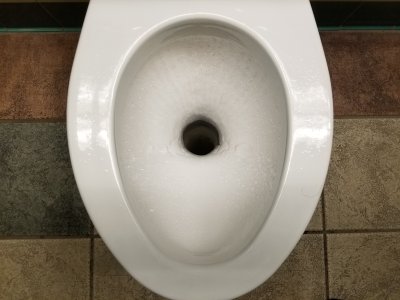 This toilet, unlike most, has a straight pipe leading out of it.  Also, note the foam in the bowl.  Rather than a manual or automatic flush mechanism, this toilet has a continuous flow of foam from the lip under the bowl going down to the pipe.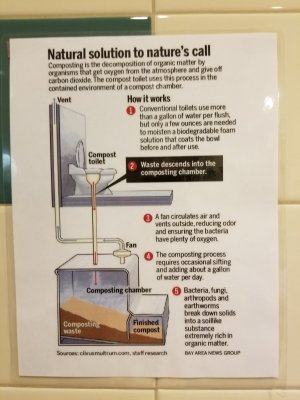 Sign explaining the mechanism at work.  In short, this toilet is attached to a composting system rather than a municipal sewer system.
Then from there, we made it into Scranton, and over to Steamtown.  We arrived there just as the final train ride of the day was about to get started, so we quickly bought our tickets and got going.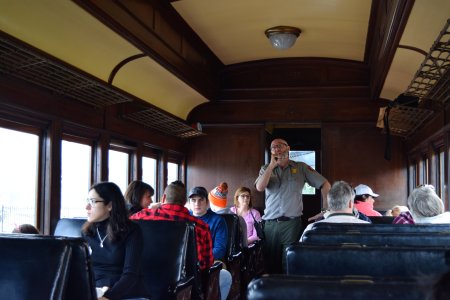 The interior of the vintage railcar that we rode on.
I admit – I was a bit disappointed with the train ride.  I didn't know what to expect, but assumed that we would be riding this train around the area or something – in other words, a proper train ride.  Rather, the train never left the property, mostly going back and forth to reach this natural feature: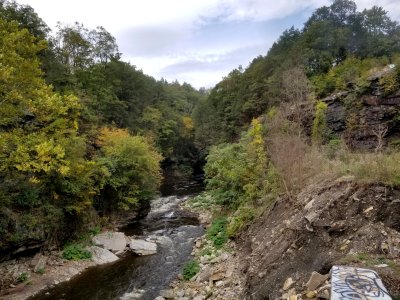 As I understand it, this is a stream that used to be enclosed in a cave, but the roof later collapsed, exposing the stream.  It wasn't necessarily a bad feature, but this was the destination of the train before returning, and it took a long time to get there.  This ride might have been more exciting for someone that doesn't work around trains for a living, but for me, I could have skipped the ride and been just fine.
Afterward, Elyse and I explored around the property, to see what was there.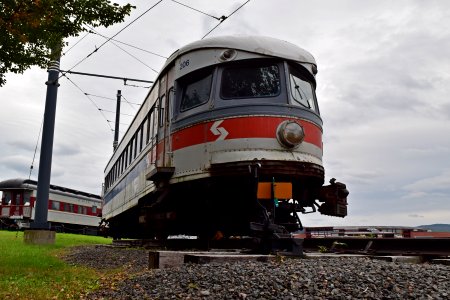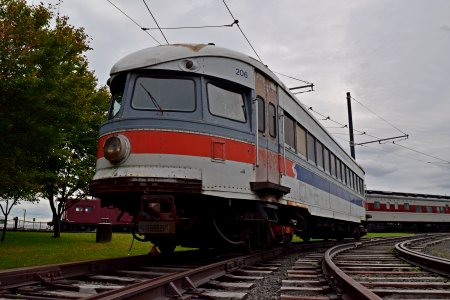 SEPTA Bullet car 206.  This was technically part of the Electric City Trolley Museum, which is on the same property, but which we did not have time to explore fully (something for next time, I suppose).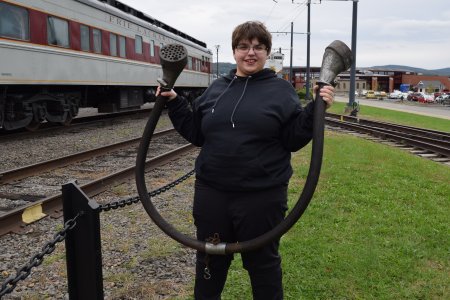 Elyse holds up a communications cable that she found on the ground.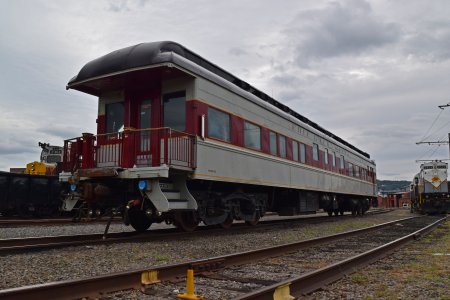 Erie Lackawanna passenger coach.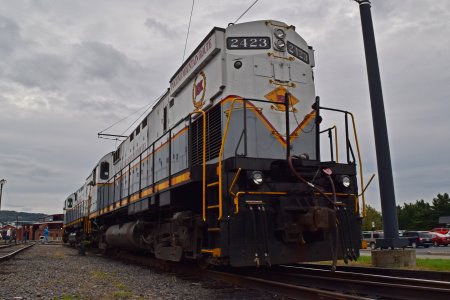 Delaware Lackawanna locomotive 2423.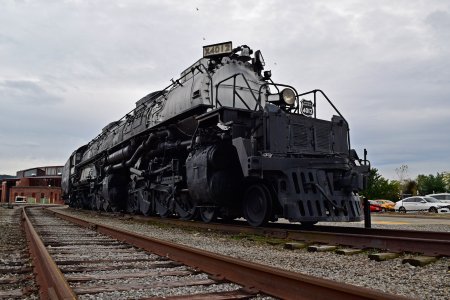 Union Pacific Big Boy locomotive X4012.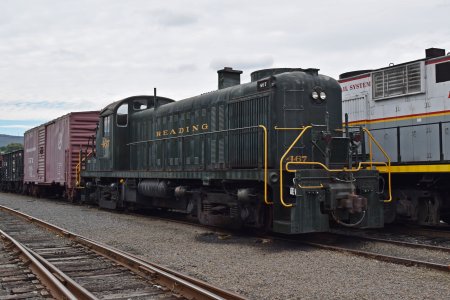 Reading Company 467.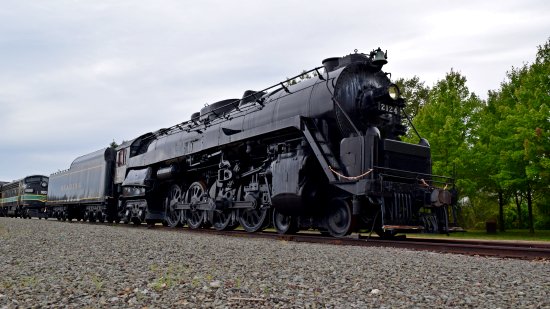 Reading Company 2124.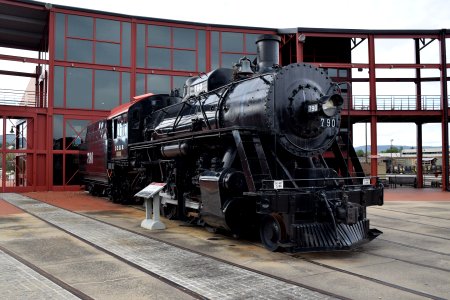 Illinois Central Railroad 790.
It's funny – I was walking around all of these tracks like I knew what I was doing, and I didn't realize that I was doing that until well into this.  The usual advice holds, though.  Stay well clear of switches, look both ways, and then cross, and make sure not to foul the adjacent tracks.  One difference between this and the rail yards that I'm used to walking in, though, is that Steamtown has no third rails, which makes things much easier, since there's nothing carrying 750 volts of direct current ready to zap you that you need to step over.
After exploring all of the trains and such on static display, we headed into the museum part.  We got photos of each other wearing hats: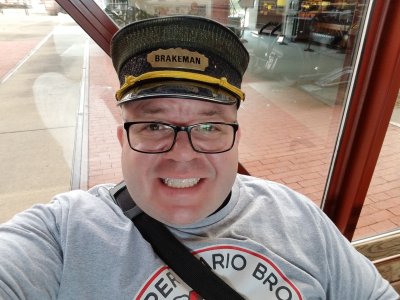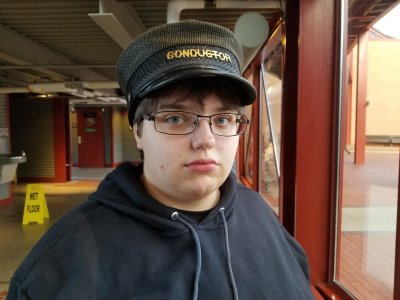 Elyse was amazed that the brakeman hat actually fit my big head.  Its so hard to find a hat that fits me properly.
After this, we headed out to downtown Scranton.  Elyse was in search of elevators, and we found that in the Radisson hotel, which was built inside the old train station:
Around the corner from the hotel, I found a vintage railroad crossbuck: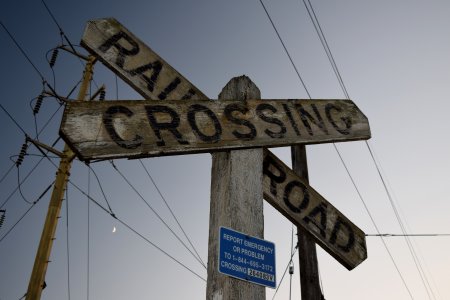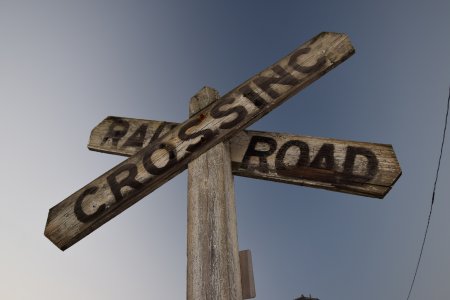 They certainly don't make them like this anymore.  This is made entirely out of wood, and the lettering is painted on.  I can't even begin to imagine how old this thing is.  The one in Sabillasville, Maryland is old, too, but at least it's metal.  This one is wood.  It's in pretty good condition, though.  Meanwhile, the crossbuck on the other side of the crossing is modern, complete with reflectors on the back.
I was a bit disappointed with downtown Scranton in general, though, because there wasn't much to do – the town really rolls up the sidewalks on a Sunday evening.  I imagine that a future visit during the week will be better.
After this, we checked out Geisinger Medical Center, where Elyse wanted to do some elevators.  Before we went in, we got a photo of "Woomy", one of Elyse's "critters" that came along with us for this trip: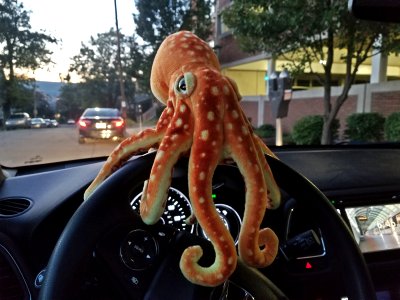 Woomy, whom the Internet had named on an earlier live stream, is perhaps the most curmudgeonly octopus that I've ever met.  Such a contrarian.  The only thing that I've ever heard him say is, "I don't like that!"
Otherwise, Elyse did her thing at Geisinger, getting a video of some urinals in one of the restrooms.  Meanwhile, this piqued my interest: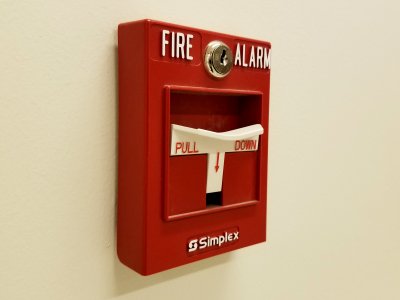 This is the newest iteration of the Simplex pull station, with a redesigned handle.  I had never seen this version before.  I'd be concerned about accidentally getting something hooked on it.
After we finished up here, we headed down to Wilkes-Barre, where we stayed at the Holiday Inn Express on PA 315.  This, unfortunately, was not as nice of a place as the one in Cortland.  I sensed that it was an older building, and may not have always been a Holiday Inn Express.  The rooms were small, and the beds were a bit too large for the rooms.  Additionally, the hotel was in the early stages of a remodel, and wasn't handling it as well as it could have.  The beds were very tall, which, as explained to me by the staff, came from the hotel's having received new, thicker mattresses for the beds, which they placed on the old bed frames, which were designed for a thinner mattress.  As a result, Elyse couldn't get into the bed without assistance.  The front desk staff was very apologetic about it all, because in all fairness, this wasn't a problem that they had any control over.  They just react to what they are given by their bosses, and it was clear based on their responses, that they thought it was a boneheaded move, too.  They ended up giving us a chair for Elyse to use to get in the bed, and that worked well enough.  However, I'm still not inclined to stay there again, and the next time I stay up that way, I'll probably go somewhere else.
And then this is the result of the license plate game from Sunday: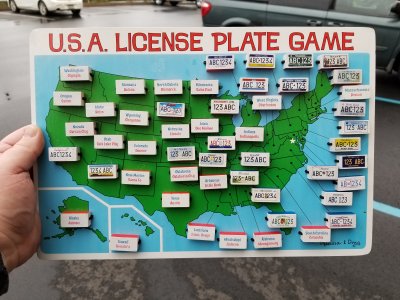 Not bad.  26 states, plus a few Canadian provinces that aren't on here, including an Alberta license plate.
The next morning, we got checked out of our hotel, and we were off again.  The goal was to do a little bit of exploring in Wilkes-Barre and then hit up Centralia before going home.  Wilkes-Barre wasn't really on our itinerary, so I did my best to keep things moving through it, in order to get to Centralia.  First stop was the VA Hospital, where Elyse did a little bit of elevator sightseeing.  Then we went over to the Wilkes-Barre school district office to see a vintage elevator, after Elyse was tipped off to it by some Schindler elevator techs at the hospital.  This was the building: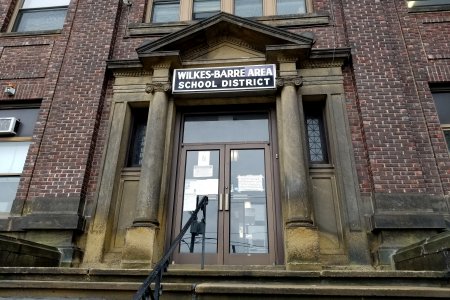 I was surprised to learn that this was not built as a former school, but rather, it began life as a railroad company office.  In any case it could certainly use a power washing now.
And here's Elyse with the elevator: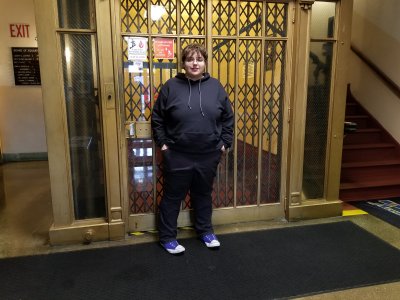 Elyse also got a video of it:
Not bad.  From there, we found I-81 and we were on our way to Centralia.  Coming from the north, Google Maps sent us off of I-81 at Hazleton and down a whole bunch of back roads, but not before putting us on the entire length of the aforementioned CAN DO Expressway.  One surprise find on our way was this gas station sign: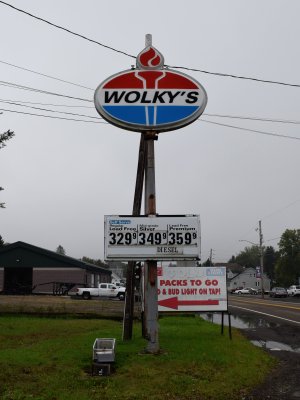 This is Wolky's, a gas station in East Union Township.  That is an Amoco torch-and-oval sign, with "Wolky's" on the sign instead of "Amoco".  The pumps still have Amoco-style striping on them as well.  I have no idea what brought this sign about.  My guess is that this was an Amoco station that went independent before all Amoco stations were converted to BP in the early 2000s, and they just changed the sign.  But I very well could be wrong.
Continuing, we eventually made our way to Centralia.  Unlike last time, I parked on the roadside, out in the open.  I realized last time that hiding the car was unnecessary, plus, unlike when I started back in May, we weren't alone this time, as there were others on site.
We each had our goals on this visit.  Elyse's goal was to explore the Graffiti Highway, and add a few tags of her own.  My goal was to shoot a photo set with a working title of "The Wasteland".  The idea for the photo set was to photograph Elyse in black and white around Centralia while wearing a gas mask.  We would shoot on the Graffiti Highway, at the various cemeteries, and perhaps also at the Ukrainian Orthodox church.  I went in with the idea that even if it was cloudy, it wouldn't matter, because it was going to be black and white.
But then it started to rain, which put a damper on our plans in Centralia.  Elyse was concerned about being able to tag in the rain, plus, considering that she had some difficulty entering the Graffiti Highway due to a combination of muddy surfaces and her own mobility issues, she was concerned about being able to exit safely if it really started to rain.  So our visit was fairly short.  "The Wasteland" went right out the window, but considering that I can day-trip it to Centralia, I can always go back again to do that project.
However, we did get a good amount of photos in the relatively short time that we spent on site.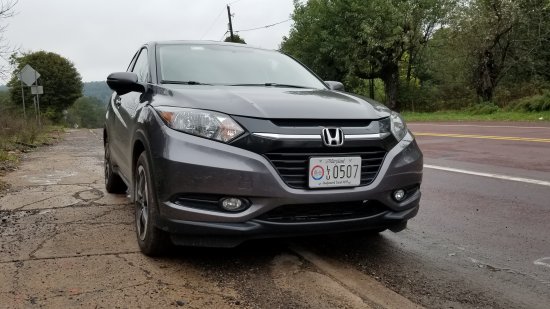 The HR-V parked on the side of Route 61.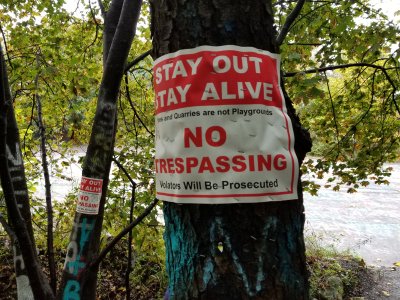 These signs were new since my visit in May.  They read, "Stay out, stay alive.  Mines and quarries are not playgrounds.  No trespassing.  Violators will be prosecuted."  Who knows who put the signs up, but considering that there were quite a few people visiting, those signs weren't stopping anyone.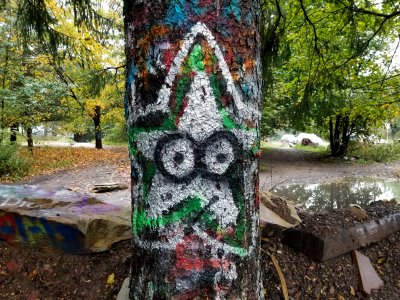 Star graffiti that we found on a tree near the top of the Graffiti Highway.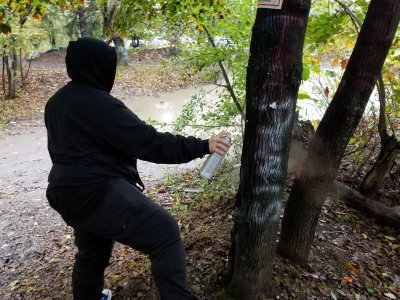 Elyse tags a tree.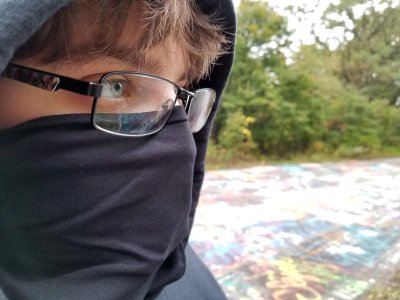 Elyse wears a black bandanna as a filter for spray paint fumes while she was tagging.  I put her in all black for the planned photo set, but the bandanna was her own idea.  I laughed, because Elyse was dressed in "full black bloc" for the purpose of tagging the abandoned road.

One of Elyse's tags: "Take Transit".  I found it somewhat amusing, considering that we were many miles from the nearest town with transit service.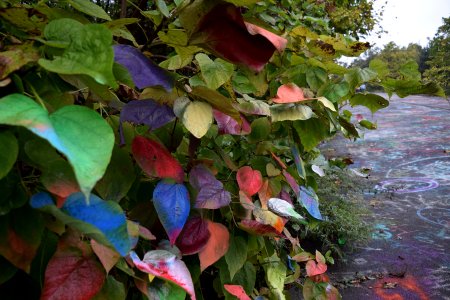 Lots of leaves, colorfully painted.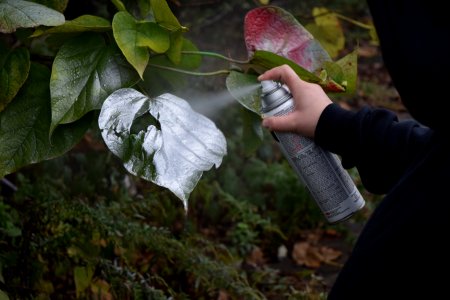 Seeing this, Elyse sprayed a few leaves with her silver paint.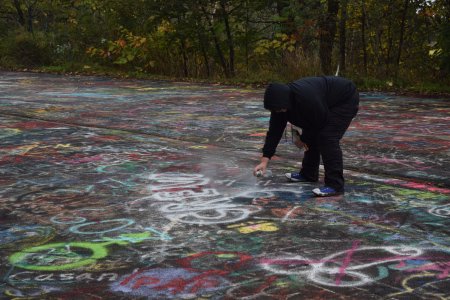 Elyse tags the road again.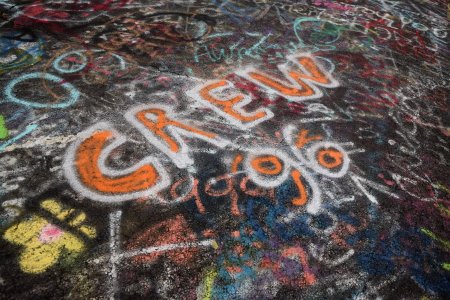 Her completed tag reads "CREW 96", with 96 referring to 1996, which is the year that she was born.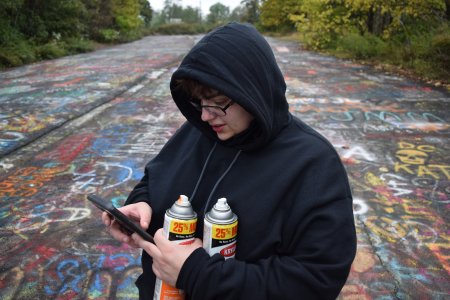 Elyse holds her spray paint cans while checking her phone.
After this, we returned to the car, and I gave Elyse the driving tour of Centralia.  I showed her the Saints Peter and Paul Orthodox Cemetery, Odd Fellows Cemetery, and took her around a bunch of the abandoned streets, and pointed out where people still lived in the town.  We even inadvertently found our way into an active mine site: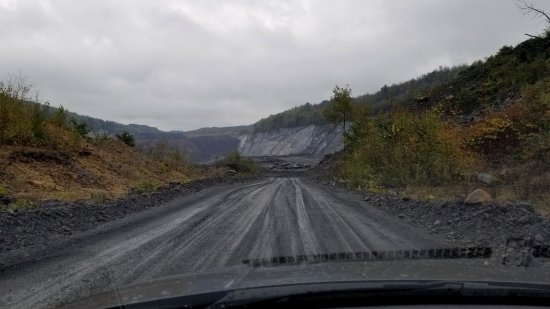 The active mine site.  I would have loved to photograph in here, but I imagine that I would get chased out pretty quickly if I dared to try.
Then we went out in search of the entrance to the wind farm that I spotted last time but didn't have time to explore.  But we soon got distracted, as Elyse found signs for a mining museum, and so we pursued that.  That led us over to Ashland.  The museum was closed when we went by, but I noted the hours and dates for a future visit, because it looks like fun.
We also had lunch in Ashland, going to M&M Sandwich Shop.  There, we each had this mac and cheese with barbecue dish, as well as flitch, which is a potato, powdered sugar, and peanut butter thing for dessert.  Check it out: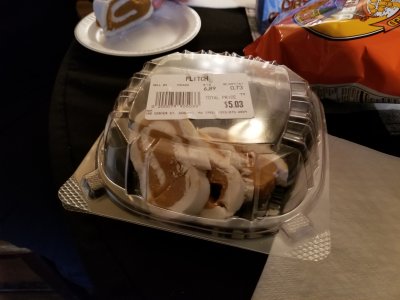 Overall, the food was excellent.  We are definitely coming back here next time.
Then we returned to our original mission, to find the wind farm.  We found the entrance, and went for a drive through it to see how it looked.  A wind farm has been on my wish list for a while, and so even though the weather wasn't favorable, this appeared to be a good site for it for a future visit.  I think that I could get away with photographing some of these turbines from on-site.  Could make for some gorgeous shots.
From there, we headed through Centralia one more time before heading out.  Elyse wanted to see the siren next to the municipal building (sirens are an interest of hers), and I wanted to check out The Byrnesville Shrine of the Blessed Mother, which is an Orthodox(?) Christian religious shrine on the roadside: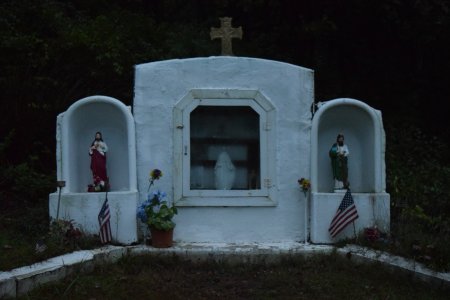 The Byrnesville Shrine of the Blessed Mother, constructed from a fireplace and two bathtubs.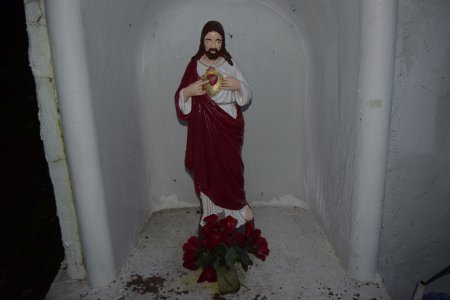 Statue of Jesus.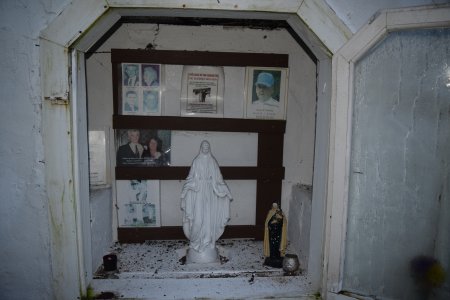 Inside the center section of the shrine.  Surprisingly, the contents are more of a tribute to the people who have maintained the shrine rather than anything religious.
At this point, it was starting to get dark, so we headed out.  This visit to Centralia was kind of a mixed bag overall.  We accomplished very few of our planned goals, but we had a good time nonetheless, and we laid a lot of groundwork for whatever next visit we make, most likely in the early to mid spring, before the leaves come back.
Meanwhile, all of that driving that we did on dirt roads and such around Centralia meant that we really slimed the outside of the car.  Here are some photos that we took of it at a gas station in nearby Ashland: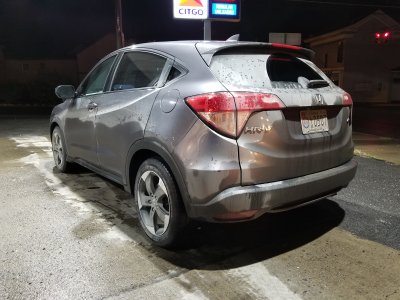 Dirty car, rear view.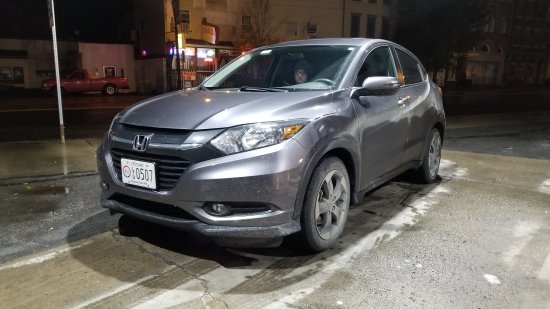 Front view of the dirty car.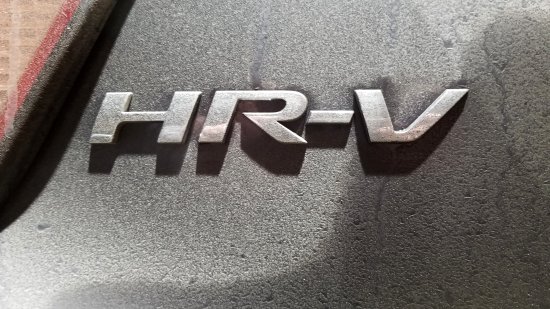 HR-V badging on the back hatch, encrusted with all kinds of dirt.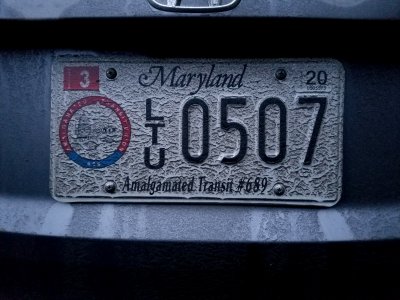 My rear license plate, covered in dirt.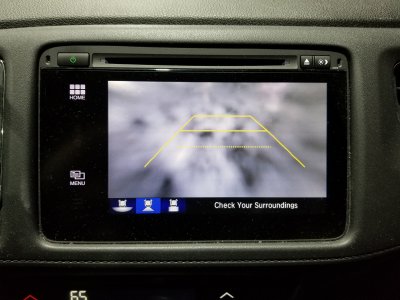 The backup camera, completely obscured.
Then I got this photo further on down the road after it all dried a bit: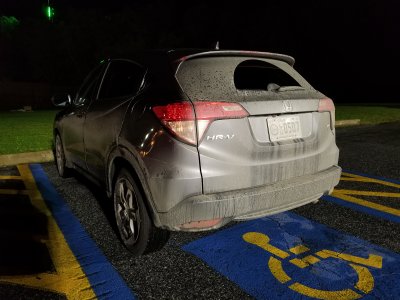 Yeah, I really messed it up.  But fun was had, so it's okay.  We also stopped at a car wash in Dillsburg, and Elyse blew all of that gunk off, so we were good again, as seen when we stopped for gas later: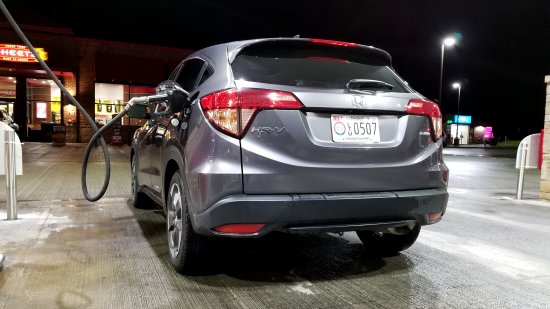 And then this was what the license plate board looked like at the end of our final day: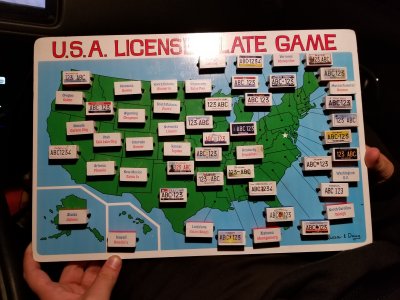 License plates from 28 states seen on the last day of the trip.  Not bad.
And that's that.  All in all, a fun time was had by all, and all of these various destinations deserve further exploration in the future.