Remembering the Soul
Part 3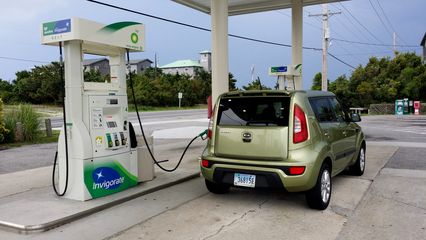 The Soul made her first trip to the Outer Banks on June 27, 2014.  I went with my friend Pete, and we had a fun little weekend trip.  Here, she's getting a drink at the Askins Creek BP in Avon.
---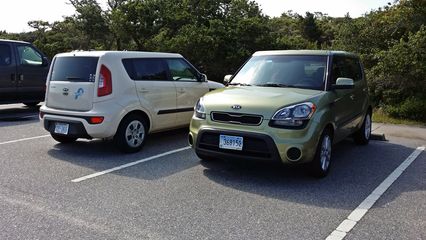 Soul next to Soul at Cape Hatteras Lighthouse.
---
View from the Cape Hatteras Lighthouse.  The Soul is in the middle of the frame.
---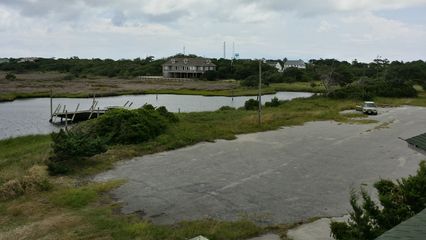 My friend Pete waits in the Soul while I photograph the abandoned Pilot House restaurant.  This photo was taken from one of the decks outside the building.
---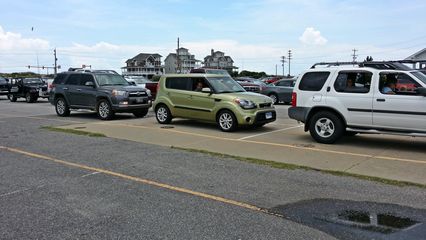 Waiting in line to board the ferry at Hatteras.
---
The Soul's first ferry ride, on the W. Stanford White.  Being right next to the edge, she definitely got her fair share of salt spray on this ride.
---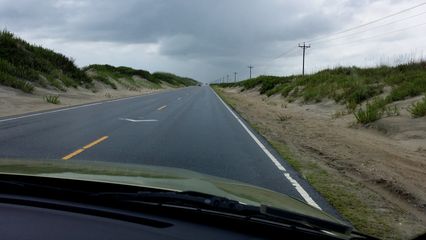 Driving down Ocracoke Island towards the village of Ocracoke.
---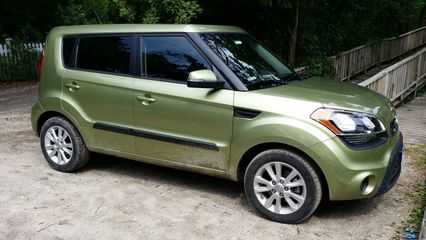 Parked at Village Craftsmen, and slimed a little bit from having to navigate a muddy road to get there.  I wasn't mad, because she was already dirty from the ferry ride over.
---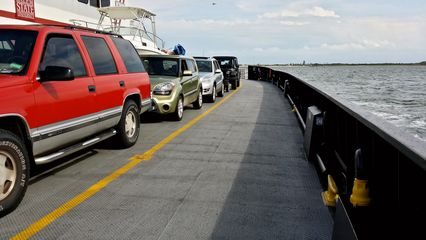 Back on the W. Stanford White for the return trip from Ocracoke.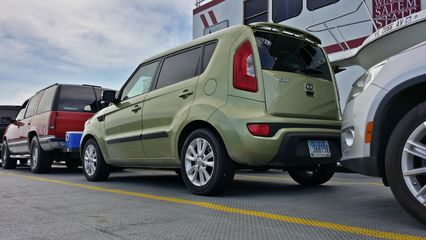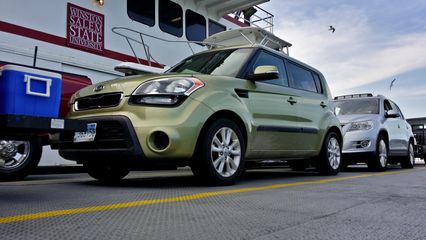 ---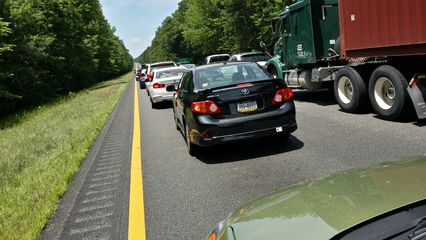 Stuck in traffic on Interstate 64 in Virginia, near West Point.
---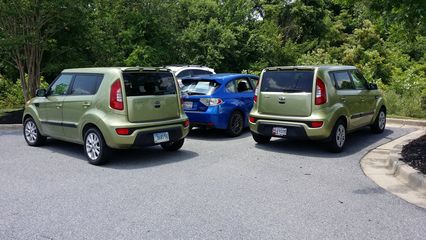 On June 30, I made a rare find near Arundel Mills – a car identical to mine in every way.  My particular car was somewhat uncommon due to the spoiler on the back, which most Souls didn't have.  My car is on the left, and the one on the right is the found car.  Same color, same taillight design, same spoiler, same everything.
---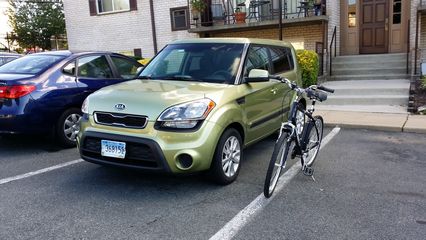 On July 4, 2014, I went for a bike ride, going six miles to Olney Swim Center as a proof of concept to see if it was feasible to bike to the pool, and snapped this photo of the bike and the Soul together before I left.  That bike ride taught me a lot.  I learned that I wasn't ready for that yet, as my knees were killing me at the end of this ride.  I ended up taking the bus back home.  I also ground up the chain in the process of this trip, so I still had a bit to learn about shifting.
---
On July 16, I had gotten a new 3D camera app, and was playing with it while I was out that day.  Of course, I photographed the Soul as part of that process.  To view these stereo images, you're supposed to slightly cross your eyes until you see a third image in between the original two.  That middle image is in 3D.
---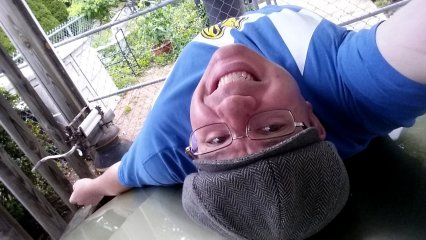 On July 18, I day-tripped it down to Stuarts Draft.  Among other things, I got some selfies with the Soul, both on the hood and in back.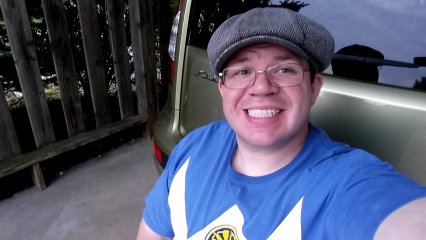 ---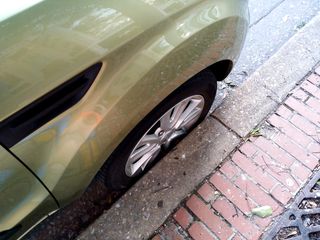 On July 25, I went up to Westminster again for some photography.  This was my parking job downtown.  Right up against the curb.  Can't do any better than that.
---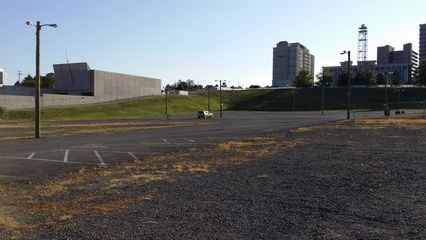 On July 26, my friend Matthew and I attended the opening of the Silver Line.  My car was the last one to leave the special VIP parking area outside Tysons Corner station after we had ridden all over the new line.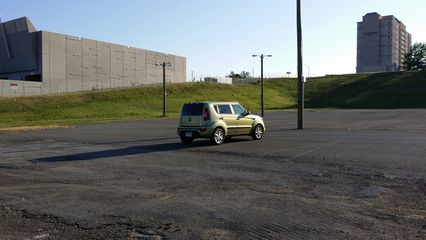 ---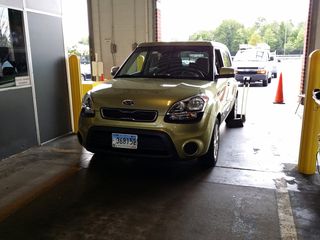 On August 4, the Soul had her first emissions test.  As expected, she passed.  I did, however, discover in this encounter that Maryland made a mistake when entering the VIN on the various documents for the Soul.  Maryland listed the fourth character as an "H" when it should have been a "J".  I finally got this error on MVA's part fixed in December 2017, when I was already going to MVA for other business.
---
On August 6, I picked up a piece of road debris with my right rear tire.  I had come off of the Intercounty Connector near Laurel, and noticed that my tire light had come on.  When I pulled into a shopping center to investigate, I heard a hissing sound.  There was a tire place across the street, and I managed to get over there before the tire went completely flat.  I was on my way again in less than an hour, after they had extracted the piece of metal seen below, and patched the hole.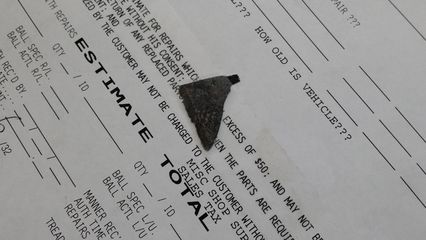 ---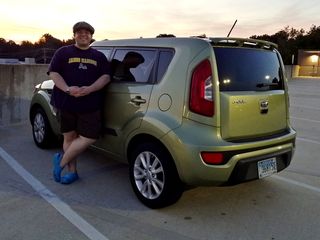 On August 24, Elyse and I were out and about north of Baltimore.  While we were out, she got a photo of me with the Soul on the roof of the parking garage at Towson University.
---
On September 1, 2014, I made a trip to Roanoke via the Blue Ridge Parkway.  I made a stop at the House Mountain and Otter Lake overlooks in order to get some photos of the Soul in the same way that I did with the Sable eight years prior.  Perhaps I need to get up there again with the HR-V?
---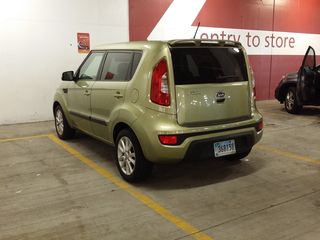 This is me being a bit of a smartass.  On September 7, while parking in the garage at the Safeway in Olney, I spotted this sign that says "preferred parking for green vehicles".  Don't mind if I do.  I know what they intended, but that's not what they said.
---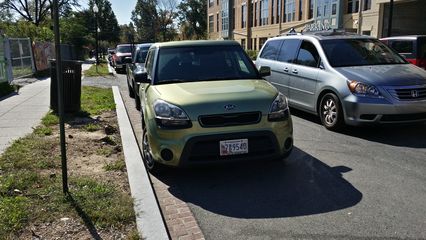 On October 25, I was out photographing converted buildings.  Here, the Soul waits on a side street off of Michigan Avenue in Brookland, while I photographed Bennett Babies, which began life as a Pizza Hut.
---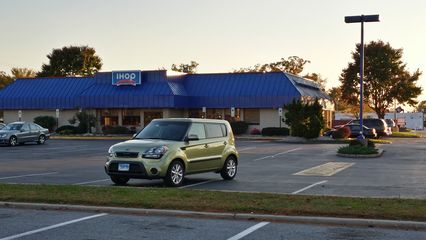 After I finished up in DC, I made my way down to Waldorf.  While there, I posed the Soul like the "lumber car" from the Internet, which was spotted at the IHOP there so many years ago.
---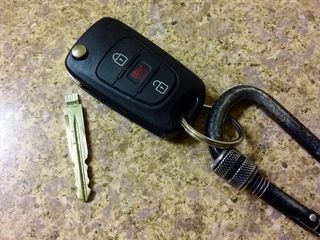 This was a recurring problem with the Soul's keys.  The blade had a tendency to break off from the fob.  It happened to me twice.  This was the first time, on November 26, 2014, and it happened again in 2017.  I got a replacement fob for this break, but I never repaired it the second time.
---
On December 13, I was out with Elyse practicing a few bus routes in the car.  I got a few silly photos of her wearing a baseball cap while we were out.
---
In February 2015, I had some very minor accident damage.  I inadvertently backed into a pole, and separated the rear bumper.  My father and I snapped it all back together while I was down visiting, and all was well again.
---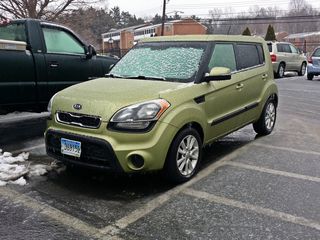 March 1, 2015, the Soul was covered in ice following some freezing rain.  That was not fun to clear off.
---
On March 5, it snowed while I was out driving the bus.  When I came back, my car was covered in snow.
---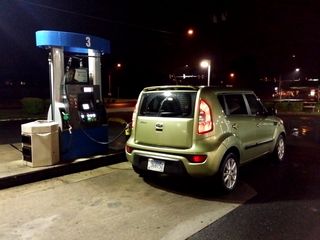 Fueling at Aspen Hill Gas on Georgia Avenue, up the street from where I lived at that time, on May 19, 2015.
---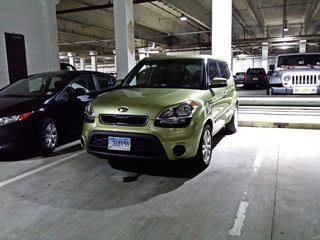 The Soul's first trip to New York City, June 9, 2015.  In this case, I parked the Soul in a parking garage at Journal Square station in Jersey City, and Doreen and I took the PATH train the rest of the way into the city.
---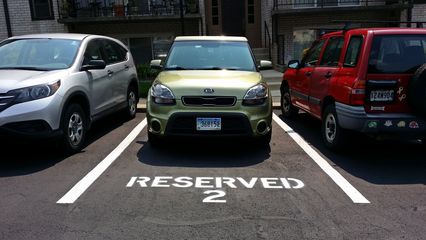 On July 7, I finally got a reserved parking space.  I now had my own spot directly in front of the door, and no longer had to hunt to find a parking space when I came home late at night.  This would be my space for a little more than two years.
---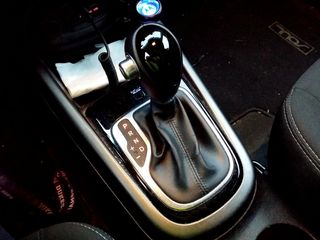 The gear selector, photographed on July 13.
---
Speaking of the gear selector, the Soul was my first car to have a sport mode.  When the selector was in drive, one could then slide the selector handle to the left to enter a quasi-manual shifting mode.  While in this mode, momentarily moving the selector to the plus or minus positions would shift up or down, respectively, within predetermined limits based on how fast you were going.  It wouldn't let you start up in more than second gear for instance, or allow you to drop down so far as to destroy the engine.  In any case, it was a fun feature to play with, though I didn't use it all that often (but it did have its place).
---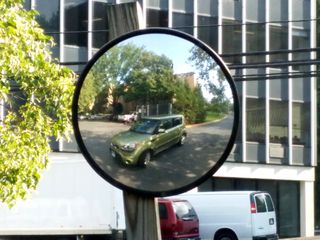 On July 15, I took a selfie from the car while I was out in Rockville.
---
August 2015 was a challenging month.  I broke a bone in my right foot on August 6, and that put me out of commission for much of that month.  Since it was my right foot, it also meant that I couldn't drive.  As it was, I had to leave the Soul at the bus division overnight, and my mother had to retrieve it when she came up to help me out.  Mom also drove me around in my car, and I took the bus to get around when she wasn't visiting.
---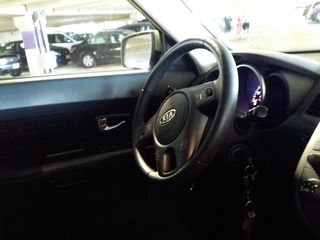 Going out for the first time after breaking my foot, on August 8.  This was a weird feeling, being a passenger in my own car when I'm so used to driving it.
---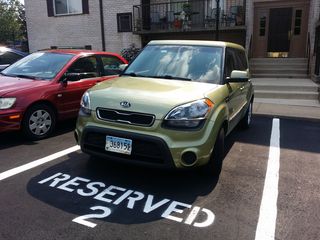 The Soul sits in my reserved parking space, grounded for two weeks while I was wearing the boot full time.
---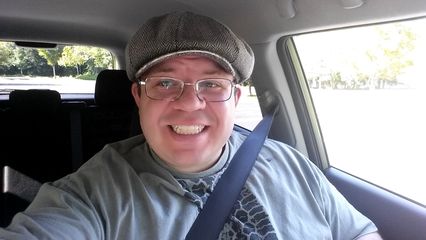 Selfie from the car on August 25, when the doctor said that I could drive again.  This was a test drive around the Matthew Henson Trail parking lot.  The plan was to get up to a reasonable speed and then slam on the brakes in order to gauge how much pain there was in doing so.  If it didn't hurt, I could drive, because the doctor didn't want me to hesitate to do a hard stop for fear of pain if it came to that.  Thankfully, it didn't hurt at all, and so I was on my way.
---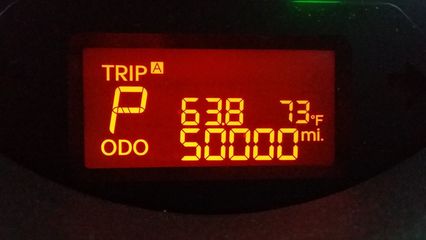 On August 27, the Soul turned her 50,000th mile.
---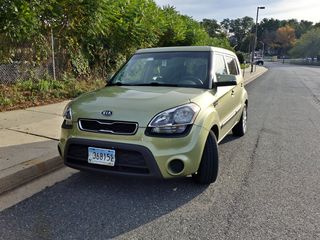 On October 10, I parked on the street in front of the bus division while I was at work.  I was being such a bus driver, cocking the wheels on the car to point them at the curb while parked on a grade just like I would do on the bus.
---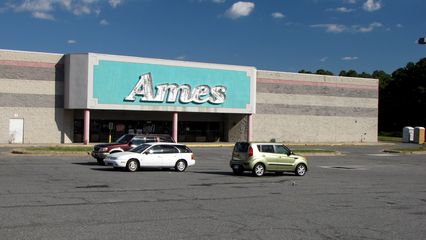 On October 15, I photographed Diamond Point Plaza in Baltimore with Elyse.  The Soul appeared in plenty of those photos.  I usually try not to show my own car when I'm doing photo shoots, in order to keep the scene authentic by showing no trace of my own presence, and will sometimes deliberately put the car out of sight for that purpose.  In this case, there were other cars in the shopping center, and thus my car blended in with the scene.
Part 3