My first true railfan trip…
August 22, 2021, 10:14 AM
I recently came to the realization that it has been a little more than twenty years since my first true railfan trip on the DC Metro system, on July 28, 2001.  Mind you, I had ridden the system plenty of times before that, and I had photographed the system a few times prior to this, but this was my first time going in with the rail system itself as the destination, rather than as the means to an end.  I explored around in DC and Virginia, photographing stations, making recordings of the door chimes, and exploring new areas of the system that I had never been to before.  Back then, there was no Silver Line, the trains were still orange and ran in four and six-car consists, and they stopped in the center of the platforms rather than at the end like they do today.  I was using my original Mavica for the photos, which saved photos at 640×480 resolution onto 3½" floppy disks.  To record the door chimes, I used a boombox-style tape recorder and recorded it to a cassette.
As I recall, I started at Vienna, stopped off at Virginia Square, went down to L'Enfant Plaza, took the Yellow Line over the bridge to Virginia, got out at Pentagon, checked out the bus bays at Pentagon, briefly took an escalator up into the Pentagon from the station (and then turned around because I didn't want to visit the Pentagon), went to Pentagon City, visited Pentagon City Mall, then headed to National Airport and Franconia-Springfield.  I stopped at Arlington Cemetery station, and then headed towards Vienna, stopping at East Falls Church and West Falls Church along the way.  Then I got back in the car and headed down to Woodbridge to visit Potomac Mills, where I was trying to get a new optical drive for my computer.  I didn't find anything at Potomac Mills, but I did remember an optical drive that I had passed up earlier at the Babbage's store at Pentagon City.  So after leaving Potomac Mills, I drove over to Franconia-Springfield and got back on the Metro, riding back up to Pentagon City and buying that optical drive.  I then stopped at Crystal City and King Street stations on the way back to Franconia-Springfield.
I had a number of firsts on that trip.  I rode between Pentagon City and Franconia-Springfield for the first time, and logged my first visits to Franconia-Springfield, King Street, Crystal City, Pentagon, Arlington Cemetery, Virginia Square, East Falls Church, and West Falls Church.  I consider that a pretty good amount of new territory covered.
And, of course, I took lots of photographs while I was out.  I admit that it's odd to look at these now, for two reasons.  First, my photography skills have improved considerably in the intervening two decades, and my style has also changed.  Additionally, my original camera, a Sony Mavica FD73, was practically a potato compared to modern cameras, so these photos look a bit primitive because I was using what would now be considered highly outdated technology.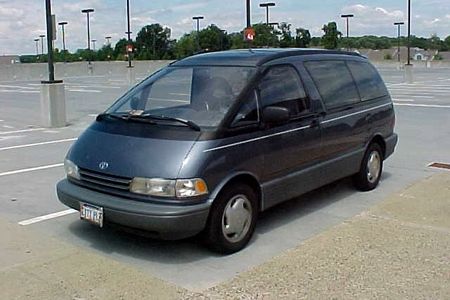 I started out with some photos of my car at the time, a 1991 Toyota Previa LE.  It's parked on the roof of the north garage at Vienna, right next to the elevator.  Whenever I go to Vienna, I always like to park here if I can get the space.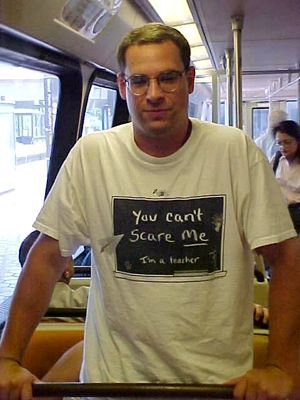 I got a photo of this guy on the train because I liked his shirt: "You can't scare me.  I'm a teacher."  I got the photo to show to Mom, who, at the time, worked as a middle school teacher.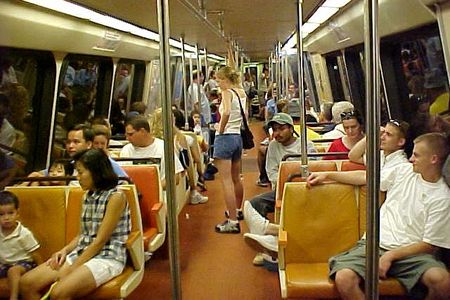 Riding on an Orange Line train from Vienna, on a Breda railcar.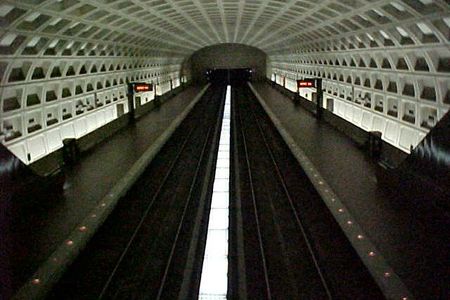 Virginia Square-GMU station, viewed from the mezzanine.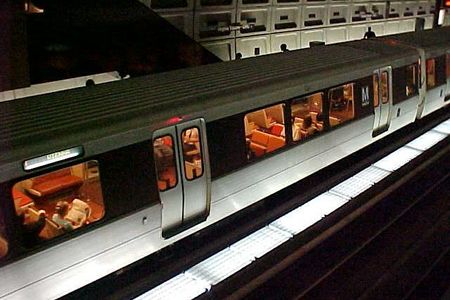 An Orange Line train to Vienna services Virginia Square-GMU station.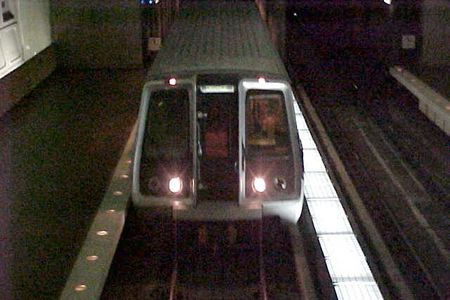 An Orange Line train to Vienna arrives at Virginia Square station.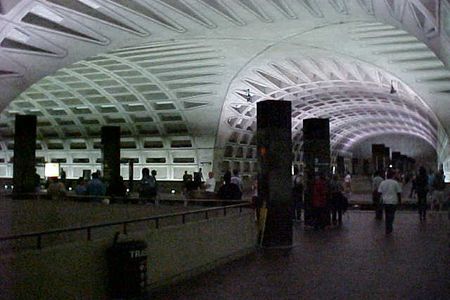 Crossvault at L'Enfant Plaza station.  This was only my second time visiting L'Enfant Plaza (my first time was during a visit earlier that month, on a photography adventure that focused on the National Mall and such).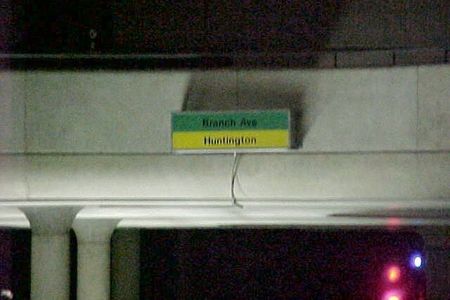 Destination sign at L'Enfant Plaza for southbound trains, indicating whether the train is a Green Line train traveling towards Branch Avenue, or a Yellow Line train traveling towards Huntington.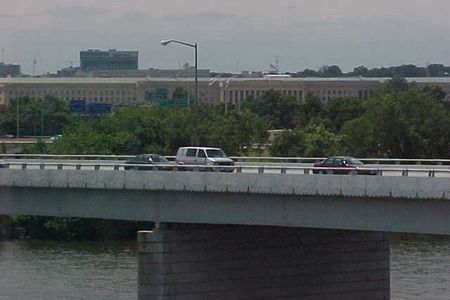 View from the Yellow Line bridge over the Potomac River.  The Pentagon is visible in the background.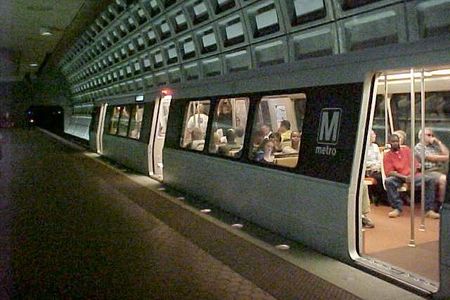 A Yellow Line train services Pentagon station lower level.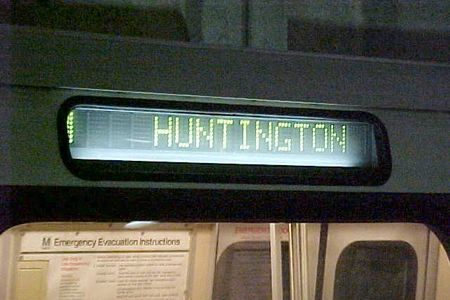 "HUNTINGTON" destination sign on a Breda 3000-Series car.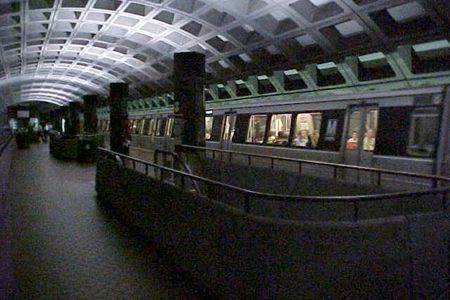 Upper level at Pentagon station.  The kiosk at Pentagon is directly on the platform, unlike the architecturally similar Rosslyn station, where the kiosk was at street level.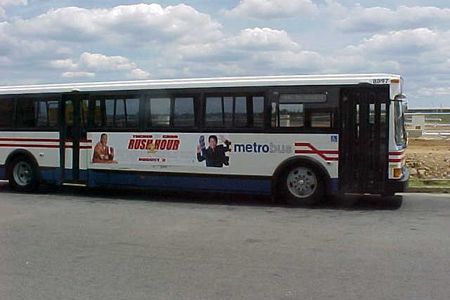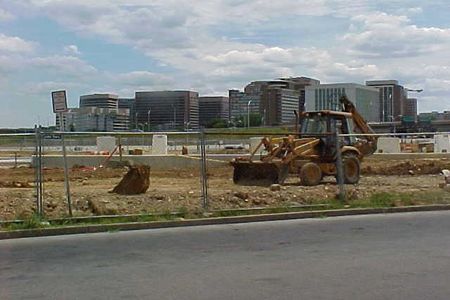 The original bus facility at Pentagon.  This facility closed on 9/11, and never reopened, as it was seen as a security risk after that event, as it was right next to the Pentagon building itself.  A replacement facility was already under construction at the time as part of the Pentagon Renovation Program, and so from September 11 until the new facility opened on December 8, all bus service that would have normally gone to the Pentagon was diverted to Pentagon City.
(And by the way, don't photograph at Pentagon station.  It's illegal on account of its being within the Pentagon Reservation, but I didn't know it at the time, and nobody said anything to me about it.)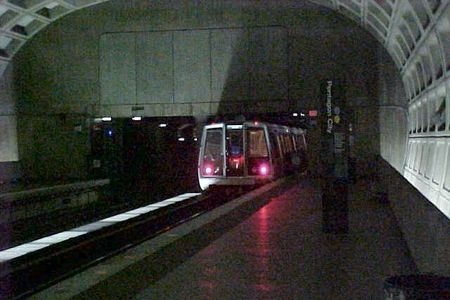 A Blue Line train traveling towards Franconia-Springfield departs Pentagon City station.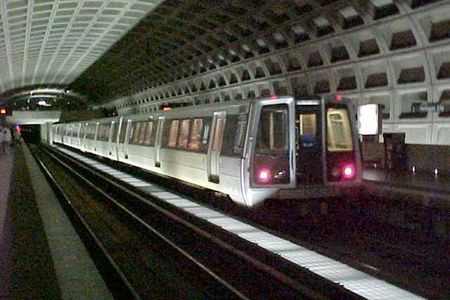 A Blue Line train traveling towards Addison Road departs Pentagon City station.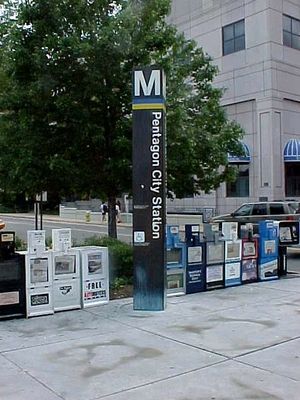 Pentagon City station entrance pylon.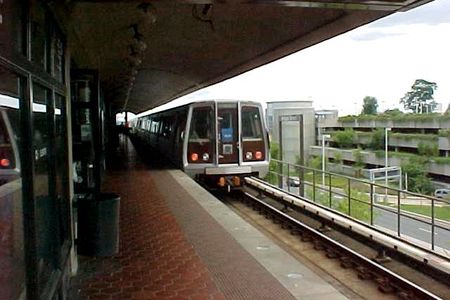 A Blue Line train traveling towards Franconia-Springfield departs National Airport station.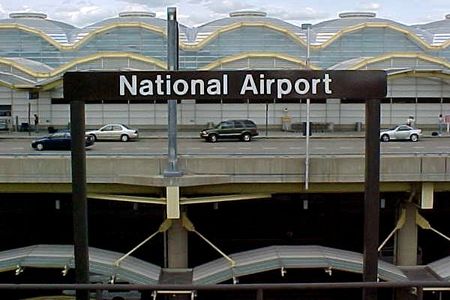 Trackside signage at National Airport station.  The station's name would be changed to the much longer "Ronald Reagan Washington National Airport" about nine months later.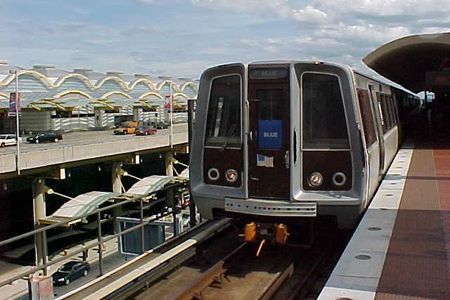 A Blue Line train to Addison Road arrives at National Airport station.  Note the 1000-Series (Rohr) car in the lead position.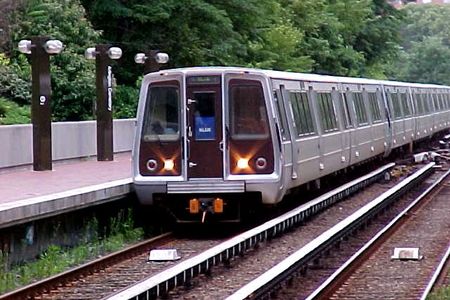 A Blue Line train arrives at Arlington Cemetery station on its way to Franconia-Springfield.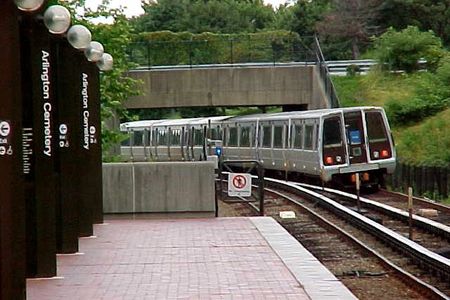 A Blue Line train departs Arlington Cemetery station on its way to Franconia-Springfield.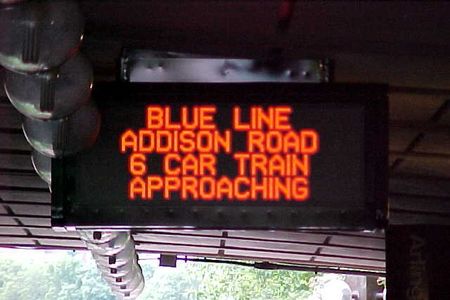 Old-style PIDS display before the current three-line style was introduced in 2005.  The way that these would work was that the signs would count down as far as three minutes, and then two minutes or less, it would say "APPROACHING".  That would become "ARRIVING" as the train pulled into the station, and then it would just show the line color and destination while the train was dwelling in the station.  If a station was served by multiple lines, the screens would alternate between the next trains for each line.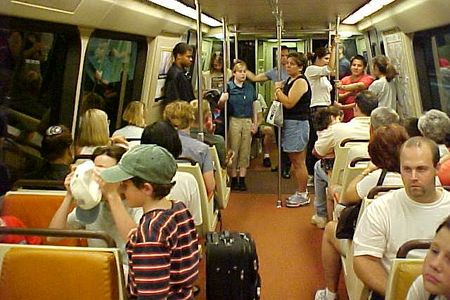 Riding another Breda car on the Orange Line.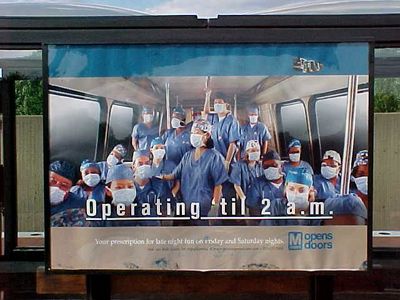 Advertisement at East Falls Church advertising Metro's then-new extension of service hours to 2:00 AM on Friday and Saturday nights.  This was later extended to 3:00 AM, and cut back to midnight in 2016.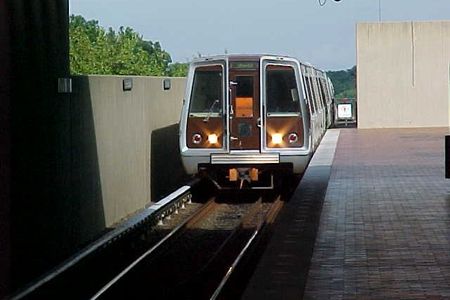 Orange Line train to Vienna arriving at East Falls Church station.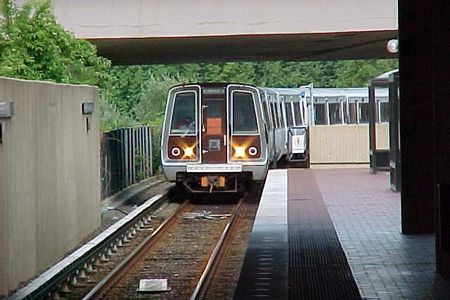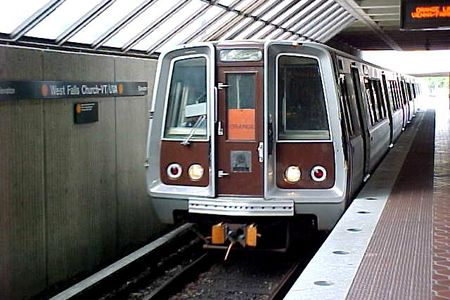 A Vienna-bound Orange Line train arrives at West Falls Church station.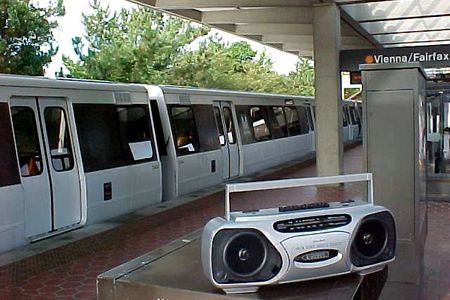 At Vienna, with my boombox on a newspaper recycling box.  Yes, I carried that clunky thing with me all day, but I still have the recordings, as well as the original tape.  Here are the "doors opening", "doors closing", and "please stand clear of the doors" messages as recorded that day on Breda cars.  That was Sandy Carroll's voice on the cars back then, and they were much simpler than today's announcements.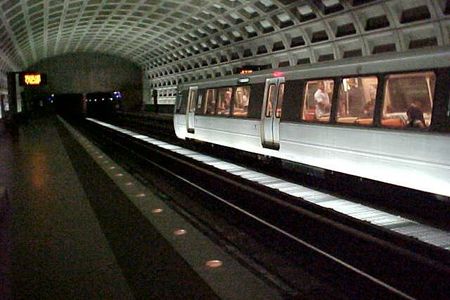 A train services Crystal City station.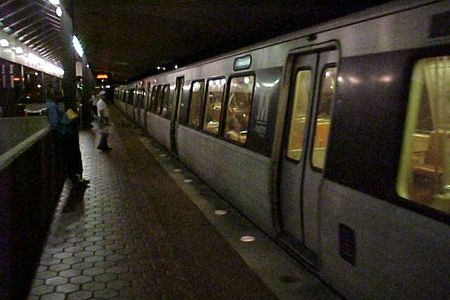 A train arrives at King Street station.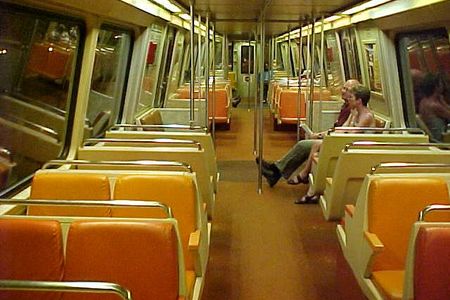 Interior of car 1241 on the Blue Line somewhere between King Street and Franconia-Springfield.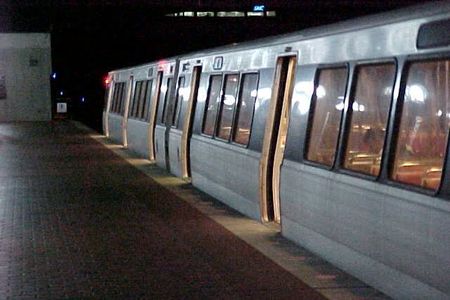 A train dwells on the platform at Franconia-Springfield before beginning a trip back to Addison Road station.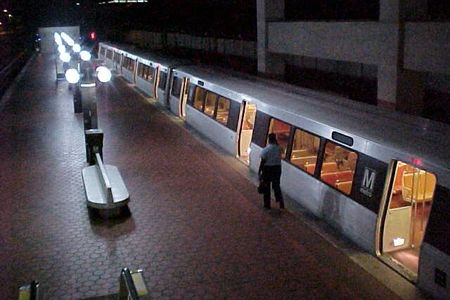 View of the platform at Franconia-Springfield, viewed from the escalator.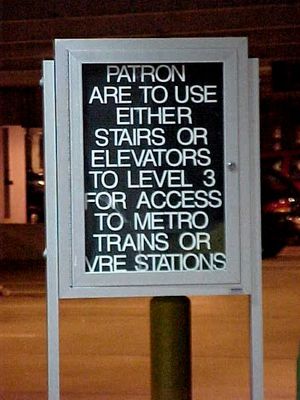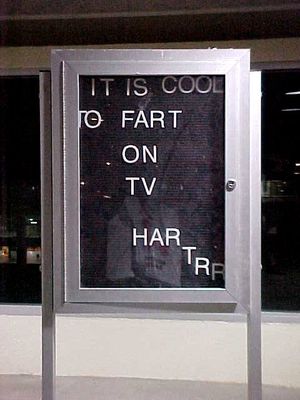 Signs in the parking garage at Franconia-Springfield.  One sign explains how to get to the station from the garage, and the other has been modified by a prankster to endorse the passing of gas while on television.
All in all, I had a pretty good time fanning the system that day.  I look back fondly on this trip, as it harkens back to a time when I was exploring new territory via public transit, adding new places to my world that I had never experienced before.  I now live in the DC region, and as such, it is very familiar to me, and I've now ridden Metro in its entirety, so I don't get that sense of conquering new territory in this area like I used to.  I miss that feeling sometimes.  My next visit to the DC area would be in November 2001, focusing mostly on the National Mall and West Potomac Park at that time.  I wouldn't get to do another "exploration" trip again until March 2002, when I explored around Arlington and Alexandria.