Hello… Roanoke?
September 16, 2015, 5:46 PM
This past Friday, I was out with my friend Elyse checking out a few interesting shopping centers in the Baltimore area.  We weren't so much interested in shopping as we were in seeing the centers themselves, and their various eccentricities.  We first visited Owings Mills Mall, which is a large. two-story facility in Owings Mills, Maryland that contains only six tenants: Bath & Body Works, DTLR, Gymboree, JCPenney, Macy's, and Victoria's Secret.  Needless to say, this was a dead mall.  Then we visited the Centre at Glen Burnie, which is a small and well-hidden single-level indoor mall off of Route 2 in Glen Burnie.  This was no dead mall by any means, but its being an enclosed mall surprised me.  I'd been by this shopping center many times in the past, and shopped at the Target store there, and never would have guessed that this was an enclosed mall.  Then our third and final mall was Security Square, a mid-sized single-level mall in Woodlawn.  Security Square was interesting for its former JCPenney building, which, after Penney's closed, was converted to "Seoul Plaza", a mall-within-a-mall consisting mostly of Korean businesses, though now approaching dead mall status (though the rest of the mall is doing well).
However, the biggest surprise of the day came as Elyse and I were walking through the Sears wing of Security Square.  Does this remind you of anywhere in particular?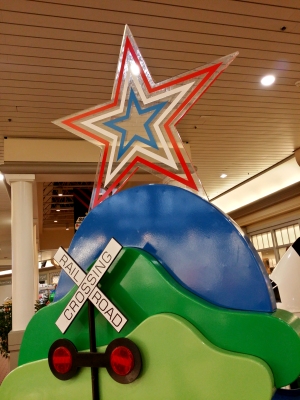 I knew that star, attached to a raised island full of kiddie rides, from somewhere.  It clearly resembled the Roanoke Star, with the red, white, and blue lighting that it sported from 2001 to 2011.  I was initially inclined to think of it as a weird coincidence, and so Elyse and I continued to check out the mall, spending most of our time in the Seoul Plaza area.  Coming back through here on our way out, walking towards it and facing it, it really struck us that this was Roanoke, Virginia.  Check out the full view: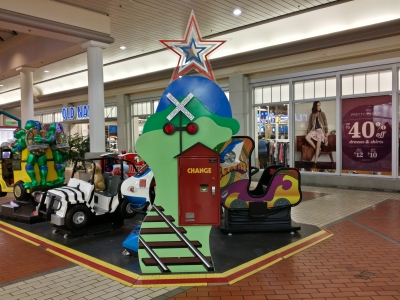 The whole display really struck me at that time.  The mountains.  The railroad track and signal.  The star with the red, white, and blue lighting.  It had to be referring to Roanoke, a railroad town in the mountains of Virginia, with a large, neon star on one of the mountains.
After we left the mall, I did some digging around to determine if it was, in fact, supposed to be Roanoke.  Back in the summer of 2006, I had taken a few photos of Valley View Mall in Roanoke with my cell phone for use on Wikipedia.  The photos were taken from the upper level, and showed the food court area that's located near the Sears and Belk stores.  Take a look: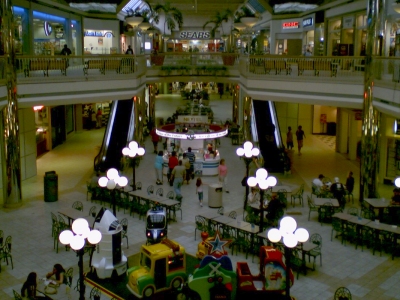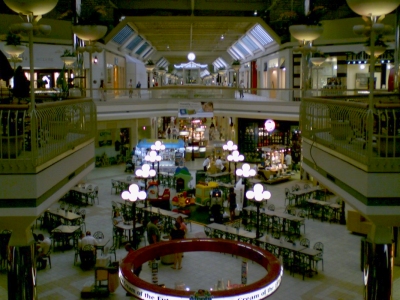 Even though they were taken with a vastly inferior camera compared to what I now use, they contained the information that I needed to confirm my suspicions.  Take a look:


From the top photo.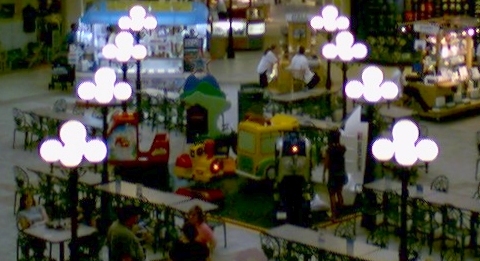 From the bottom photo.
The top blue part has been rounded off and the crossbuck is now slightly up and to the left of where it was before, but enough other details match to make me comfortable in saying that it's the same one.
And, when I was last at Valley View in September 2014, the ride island was gone: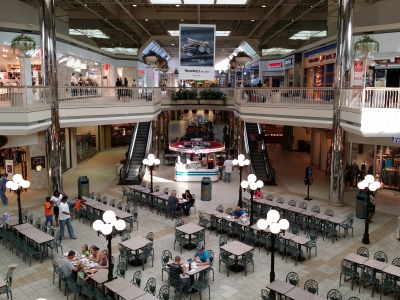 No more rides, as the space has been replaced with additional seating.
Also, interestingly enough, one of the original rides is still there, specifically the space shuttle: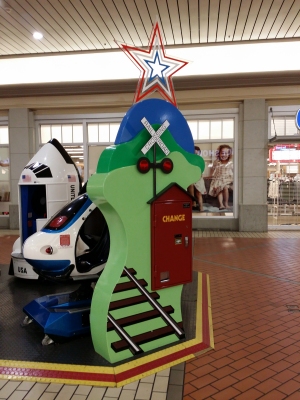 There it is at Security Square.  I commented on the same ride in The Year That Was, a Life and Times photo set from 2006: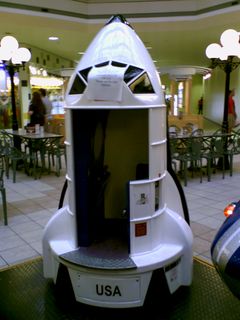 At that time, I commented on the design, saying, "On August 9, while in Roanoke, I noticed this ride, designed to resemble the Space Shuttle.  Upon closer inspection, it appears that it was based specifically on Columbia, based on the black 'chines' on the wings, and the 'USA' marking."
So I guess we now know what happens to things at shopping malls when they're removed.  They get sold and end up at another mall, even if certain details made specifically for the original location no longer make sense.