Everything Else
Part 2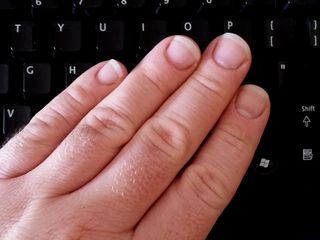 I like to think that I keep nice nails.  However, there comes a point where they get a tad too long.  This is typically the extent of my nail growth before I trim them.  I took this photo on August 29, and tagged a friend and former coworker from my Walmart days, since she didn't like it when guys grew their nails out.  The caption that I included was, "Sporting that 'guys with nails' look that @smilesrcontagious loves so much."
---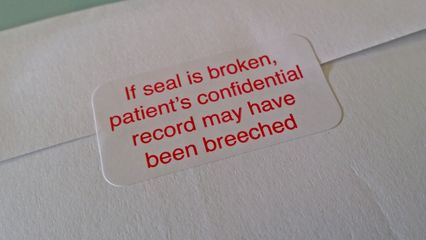 On September 4, Mom came back up for another visit, this time to go to the National Book Festival.  She also brought up a CD of x-ray and MRI images to see if we could see what the doctor was referring to in her wrist (we could see it on the x-rays, but I was lost on the MRI images).  This label, however, amused me.  I'm sure that they meant "breached" with an "A", but they said "breeched".  As a verb, according to Google, "breech" means, "To put (a boy) into breeches after being in petticoats since birth."  I want to see someone's confidential record in breeches.  That might be amusing.
---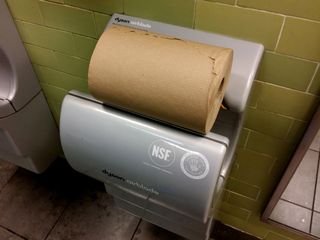 Mom and I later went to Whole Foods in Rockville, where, in the men's restroom, I found the perfect use for one of those Dyson Airblade hand dryers: a paper towel holder.  Beats the manufacturer's intended use, hands down.
---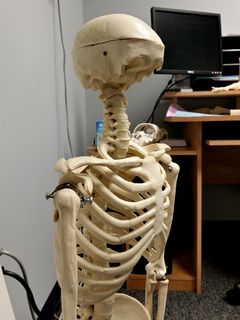 On September 8, I encountered another mangled skeleton at Capitol Orthopedics – this one missing its face.  Just like the first one, I also asked what happened to him.  Turns out that he didn't pay his bill, either.
---
My best line at the orthopedist's office was when they asked if I was taking any medication for my foot.  I told them that they had given me some ibuprofen in the emergency room, and that they gave me a prescription for some stronger pain medication that I never filled.  After that, I said, "If I fill that, I could get some decent money for it on the street, right?"  The folks in the office got a kick out of that one, because I suppose someone who would really do that wouldn't discuss it openly with the doctor's office, right?
---
On September 11, Elyse and I visited Owings Mills Mall, a large two-story mall outside Baltimore.  The mall was a "dead mall" in just about every way.  At the time of our visit, the mall only had six stores remaining: Bath & Body Works, DTLR, Gymboree, JCPenney, Macy's, and Victoria's Secret.  The interior of the mall would close before the month was over.
---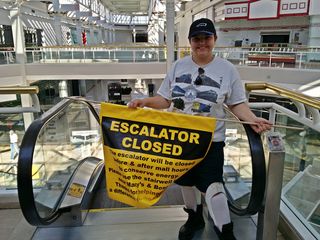 Elyse poses for a photo with the "Escalator Closed" sign.
---
It was very strange walking through this empty mall.  It really causes you to notice how much stores use standardized architecture and designs to define their brands, and how much we associate such standardized features with the stores.  The former tenants of many of these spaces were still readily recognizable, despite the removal of the merchandise, fixtures, and signage.
---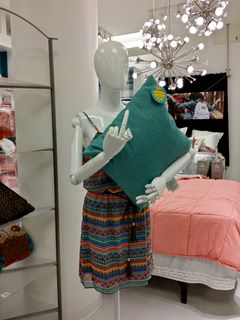 On September 12, I had a moment of great immaturity with a mannequin at the JCPenney in Wheaton.  Yes, that mannequin is doing exactly what you think it's doing, and it serves them right for getting mannequins with articulated, posable fingers in the first place.  I caption this photo, "F— you, this is my pillow."  The simple gesture reminded me of that cartoon that goes, "Everyone just wants to be liked and accepted.  Except for Tim."
---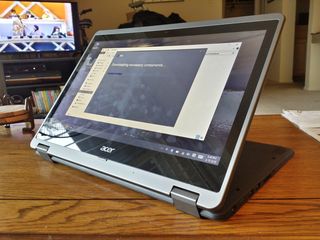 On September 15, I got a new toy, finally replacing my old laptop after almost five years with an Acer touchscreen laptop.  My old laptop, an HP Mini 210, finally reached the point where I was ready to give it up, as the battery stopped holding a charge.  I decided that for something that old, it wasn't worthwhile to replace the battery, instead taking the opportunity to get a new laptop.  I had long assumed that my next laptop would be a Windows tablet, but the prices and the "meh" specifications on most of them kind of turned me off.  However, a convertible/fliparound laptop fit the bill quite well, since it's more powerful than dedicated tablets, plus it can be a computer when I want it to be, and a tablet when I want it to be that.  And I talked the Micro Center people down to the mid-$300s for it.
---
I went to Wheaton later in the day, and I spotted this truck parked in front of the CVS.  Someone needs to tell the driver of this truck that even if he doesn't have a trailer attached, he's still not a car, and shouldn't try to park in car parking spaces.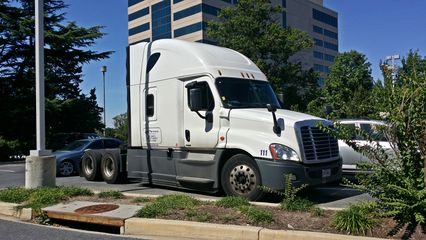 ---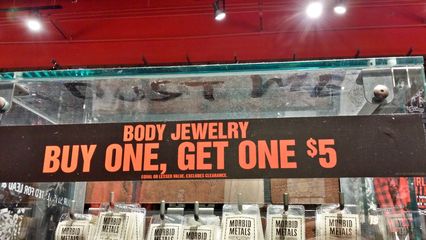 On September 21, at the Hot Topic in Wheaton, I was surprised to see how dusty this cabinet was, especially when this would literally take seconds to fix.  So I wrote a message in it: DUST ME.  I have a feeling that they probably cleaned it pretty quickly after that.
---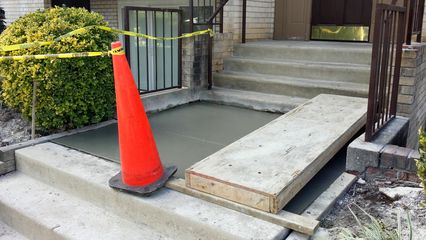 This was the way we accessed my apartment building on October 7.  They replaced one of the concrete landings leading to the entrance due to cracking, and we walked over this little bridge.  Funny thing was that for all of the work, the contractors that put it in did a terrible job, causing water to pool in the location.  So they had to redo it again, but the fix worked.
---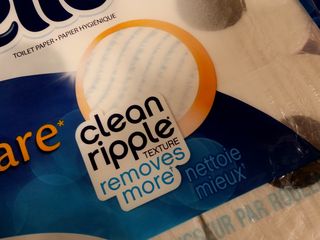 When I went shopping on October 10, this little bit on a package of Cottonelle toilet paper thoroughly amused me.  I posted it to Instagram with the caption, "Removes more what, I wonder. Hmmmm…"  The official Cottonelle account chimed in and said, "We're sure you can figure it out, Ben! #GoCommando"  We all know what it removes, but just like the Charmin bears-in-the-woods commercial, no one is going to go right out and say it.  Except maybe McLean Stevenson.
---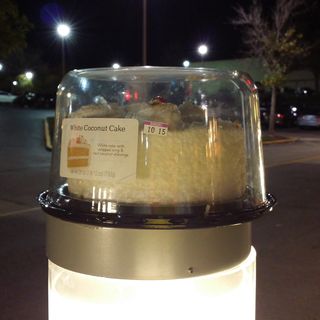 On October 12, I spotted a cake sitting abandoned on top of a light at Montgomery Mall in front of Cheesecake Factory.  Bet someone set it down for a moment and then walked away, forgetting it.
---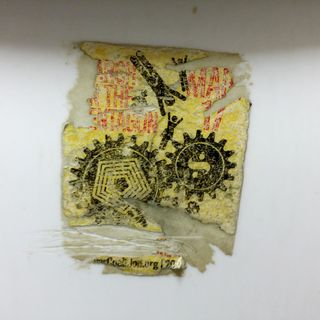 On the way up to do the High Rock photo set on October 22, I stopped in at the Sheetz on Route 85 for a pit stop and some grub.  I was so tickled to see this sticker in the restroom.  This demonstration was from almost nine years ago, and I attended it.  I first spotted this sticker at the end of 2008, on a visit to Frederick that I made after cleaning the carpets.  I was amazed that the sticker had survived into late 2008, so imagine my surprise to see that it continued to survive in 2015.
---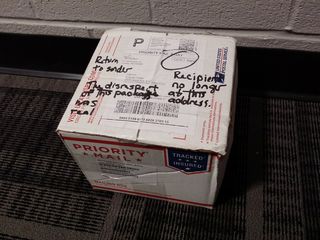 Found this on the floor in the vestibule of my apartment building.  "The disrespect of this package was real."  I'm sure I wasn't the only one who found that comment on the package to be in somewhat poor taste.
---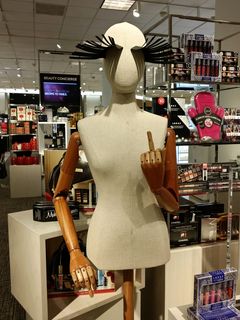 Another day, another mannequin finger, this time at the Nordstrom in Columbia Mall.  With the eyebrows like that, I would caption this, "F— you, I am fabulous!"
---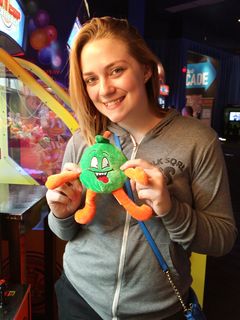 On November 11, I got together with Melissa, and we went up to Dave and Buster's at Arundel Mills.  She won this little apple plush in a claw machine.  She ended up giving it to Elyse.
---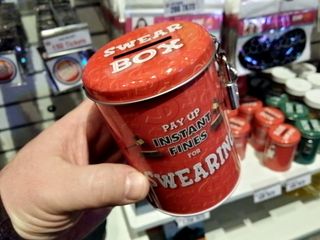 In the prize area of Dave and Buster's, Melissa and I saw this.  I couldn't help but think that with my commode mouth, you would need a much bigger container.
---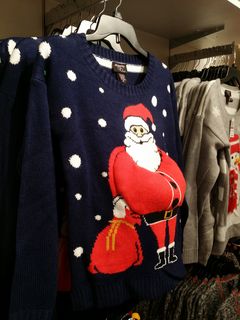 Melissa and I also spotted this sweater while we were out.  No one can say that Santa Claus is a flat character here.  Yes, Santa is stuffed on the front of this sweater…
---
On November 15, Elyse and I went to an antique store in Ellicott City.  This was an interesting find: a matchbook from a Howard Johnson's in Canada.
---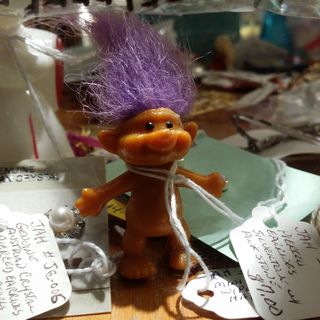 We also spotted a troll at the same store.  I used to be big into those little troll dolls back in the early 1990s.
---
At Time Warp Media in Ellicott City, Elyse and I spotted a Nintendo rarity: R.O.B.!
---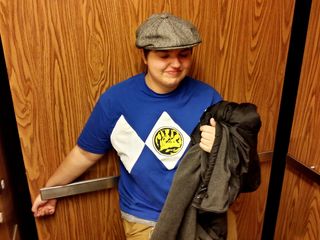 Later on, Elyse and I visited Columbia Mall.  While in the elevator at Macy's, Elyse accidentally got her arm stuck behind a railing.  So what did I do?  I took a photo of her predicament before freeing her.  After all, what are friends for, right?
---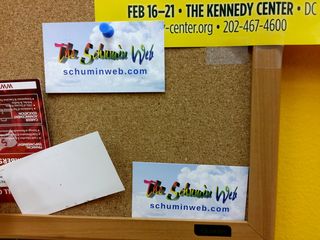 On November 22, while I was visiting America's Best (Mediocre) Wings in White Oak, I finally decided to do it, and stuck some Schumin Web business cards on the bulletin board.  If everyone else is using the board to advertise, I might as well, too, right?
---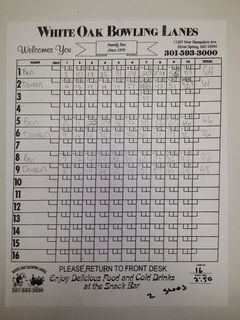 On November 23, I got together with my friend Doreen, and we went duckpin bowling at White Oak Lanes.  We were quite evenly matched, skills-wise (i.e. neither one of us is DPBA material).  I won, 222 to 215, across all three games.
---
I was quite amused, however, to see Doreen's form of "trash talk" on the how-to-do-duckpins page that they give you.  Always interesting to get a glimpse into the mind of your competition, even for a casual game.
---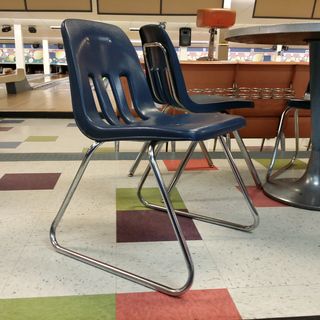 While at the bowling alley, one of the things that I noticed was the Virco sled-base chairs.  Those brought me back to my middle school days, as they ordered a bunch of these when they enlarged the building in 1993.  However, unlike these, which use the sled base directly on the floor, the chairs at my old middle school were retrofitted with floor runners to prevent tile damage.
---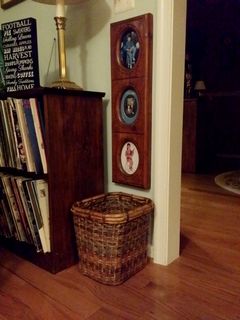 On Thanksgiving, November 26, I headed down to visit my parents.  While there, I was amused by the placement of this picture frame.  We've had this frame for many years, with these same photos in them, all from the 1990s.  However, since my last visit, it moved from the dining room to the family room, right over the trash can.  I commented that whenever you throw something away, you can bank it off of my sister's face.
---
On December 2, after a swimming session, my friend Suzie and I went to the Target in Rockville.  Here, Suzie is posing with a Grinch sleep mask – first making a grinchlike face, and then making a happier face.
---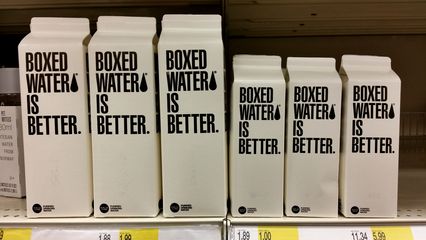 I saw this, and the first thing that I thought of was, and you thought that bottled water was bad.  Boxed water?  Seriously, people?
---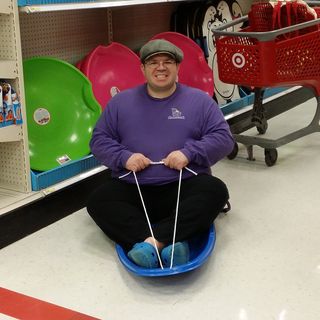 Pretending to go sledding in Target.  We used to have one just like this when I was a child, but in orange.
---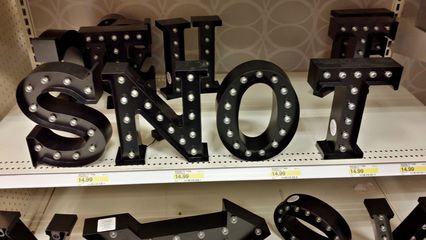 Unlike many places that sell letters, Target doesn't sell all of the letters in the alphabet, which means that the potential for crude words is somewhat limited.  Suzie and I came up with a few words, despite this limited selection.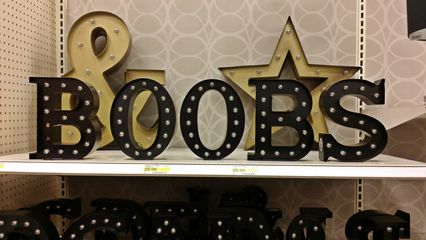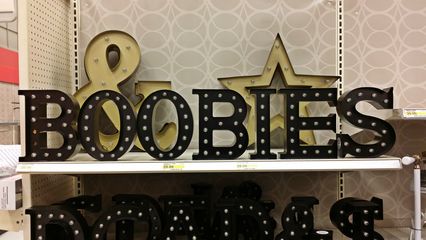 ---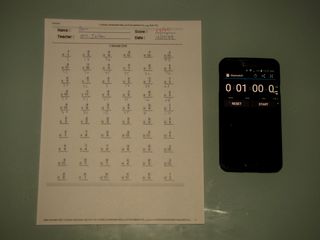 On the night of December 4, I found this "math minute" thing on Facebook.  So I decided to see if I could still do it.  I had a little fun with the header, putting "1989" in the date field, and putting the name of my third grade teacher, Lois Jordan, in the teacher field.  How did I do?  28 out of 60.  Ouch.  Apparently, I can't blast through these as quickly as I used to.  Calculators must have dulled my math speed.
---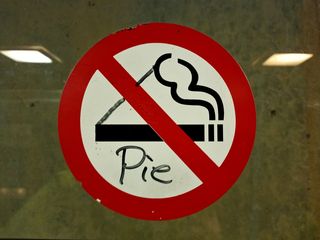 On December 6, in the elevator at the Rockville Metro station, I spotted this.  "No smoking" is transformed to "no pie".
---
On December 10, Elyse and I made a road trip down to Lorton Reformatory, a former District of Columbia correctional facility.  The facility is now owned by Fairfax County, and is partly abandoned, and partly renovated for other uses.  We explored the abandoned section, and Elyse, who is more experienced with this than I am, went about doing her thing.
---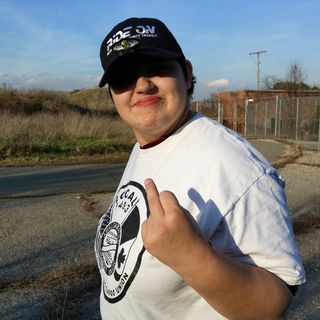 And then this is the response that I got from Elyse when I offered my "help" for getting off of a wooden platform.  She climbed up on this wooden platform in order to get a photo, and then needed some help getting down from there.  My response was to offer to shove her off.  Big middle finger for that.  Totally worth it.  I then helped her down like an adult.
---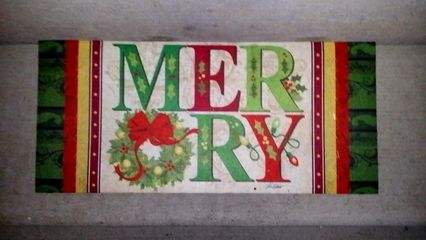 Finishing up at Lorton, we went down to Fredericksburg to see some friends.  As soon as I saw the mat in front of their house, I couldn't help but think that it looked like "MER ORY".
---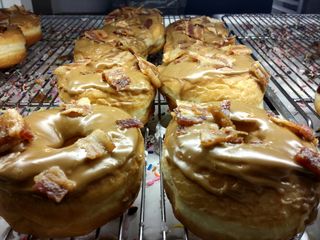 All of us swung by a local donut shop for dessert after dinner, and I was quite surprised to find these in the case.  These are maple and bacon donuts.  I had one of these, and they were actually quite good.
---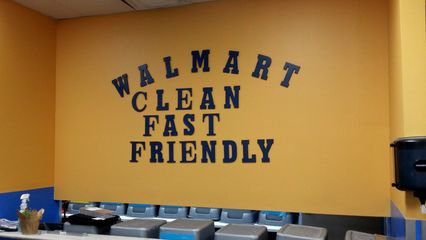 On the way back home, I spotted this at the service desk at the Walmart store in Massaponax, and enjoyed the irony of this sign.  Since when are Walmart stores clean, fast, or friendly?  Aren't there truth-in-advertising laws that prevent falsehoods like this from being advertised?
---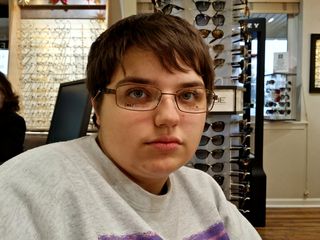 On December 17, before we went to the music store, I went with Elyse so that she could finally get her eye exam.  These were the glasses that she selected.
---
And then these were some of the glasses that Elyse didn't pick.  I think that we picked the right pair, because these weren't quite right.
---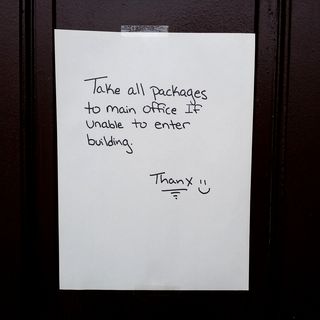 In late 2015, the property management where I live installed an access control system, and I feel like they did a poor job with the implementation.  We have key fobs for building access.  Delivery people and the like are supposed to have codes.  We don't have individual codes that we can give to delivery people for access on our behalf.  We also have no way to buzz people in.  This note appeared on December 18, and is a symptom of the poor implementation, because we have no way to ensure that delivery people and the like can enter and deliver packages.  Some companies would not deliver if they couldn't access the building, and some would leave the packages outside, which was less secure than before the system went in.
---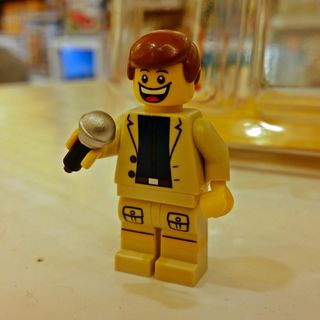 On December 30, I hit up Tysons Corner with Elyse.  At the Lego store, I saw this little minifigure, and said about it on Instagram, "Doesn't he look like one of those awful televangelists or something?  Call now to place your vows.  All major credit cards accepted!"
---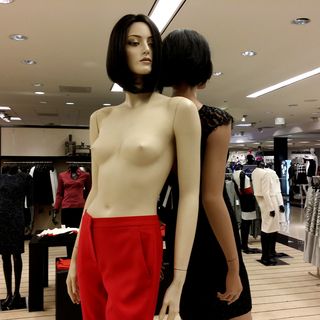 Then I was scandalized when we went to Bloomingdale's.  This mannequin was significantly underdressed.
---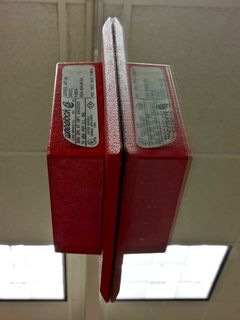 At Tysons II, Elyse and I spotted a Wheelock 34T in the Macy's, complete with visible (but peeling) Wheelock logo.  I have one identical to this in my collection, but it unfortunately does not work.
Part 2