Staunton now has a beltway!
August 11, 2006, 9:53 PM
Yes, you heard it correctly. The city of Staunton, Virginia, with a population of 23,853 according to the 2000 census, has a beltway, or as they call it, a "loop", with the designation as Virginia 262. I'm just amazed to see it complete, though I found it a bit disappointing.
First of all, though, some history. When we first moved to the area in 1992, the only section of 262 that was completed was from its interchange with I-81 at milepost 220 to a partial interchange with US 11 about a mile to the west, near Staunton Mall. And then everyone was just funneled onto Route 11. That whole section was built to interstate standards as far as I can tell. And that section appeared to have been in place for a long time already.
Then fast forward to the late 1990s, and the loop road project had been revived, and construction was underway again. The interchange with Route 11 was completed, the second bridge was constructed, and they extended it out to Middlebrook Avenue (Route 252). This section opened in November 2000. The road was built to interstate standards through the interchange with Old Greenville Road, going until just short of the Middlebrook Avenue interchange. There, it narrowed into two lanes, on a single roadway, separated by a double line. I figured that this was temporary, until the rest of the loop could be built, since provisions were obviously made to build the other roadway in the future, including preparations for building a second bridge over Middlebrook Avenue. At this point, the road again ended at a partial interchange.
Now, fast forward to the present. The complete loop opened on August 10, 2006. In other words, it opened yesterday. The first car on the new section of the loop was President Woodrow Wilson's Pierce-Arrow limousine, no less. That limousine was also recently used in the opening of the first span of the new Woodrow Wilson Bridge near DC, by the way. Since I'd not been on the loop in a while, I took the opportunity today to ride the entire loop to see how it went. The idea was to build the loop to Churchville Avenue (US 250), and then connect it to the existing Woodrow Wilson Parkway (Virginia 275) to meet up with I-81 again at the existing interchange with milepost 225.
So I started at Exit 220, on the oldest part of the loop. Got off, went past the Harley dealership, and then went over the bridge to the part opened in 2000. There, I was surprised and disappointed to see that the road still narrowed into two lanes separated by a double line, and that the Middlebrook Avenue interchange was completed that way. So now instead of being fully up to interstate standards, it's built as a Super 2, being a two-lane road with full freeway-style interchanges with a few different roads, through the interchange with Churchville Avenue. And all through this section, there is a graded section next to the road, intended for a future second roadway. Then after Churchville Avenue, this provision ends when the road joins up with the existing Woodrow Wilson Parkway, which is a two-lane road for the most part, and has always been there since we've lived here. With the completion of the loop road, Virginia 275 was decommissioned, and the Woodrow Wilson Parkway was renumbered 262 to become part of the loop.
So I was a bit disappointed with the final result. I say if you're going to build part of it to interstate standards, you might as well go all the way with it. After all, the initial section and the 2000 section are built to interstate standards, so you might as well. They had the opportunity to do that all the way to the junction with Woodrow Wilson Parkway, which is older, and thus has at-grade intersections, including a big one with Route 11, and also has a railroad crossing. To redo that section would cost some really big bucks to build an elevated section to make a full interchange with Route 11 to eliminate the present at-grade intersection and clear the railroad tracks, plus they would have to make provisions for whatever local roads would be cut off if you upgraded the road to interstate standards.
So they got the loop finished, allowing travel completely around Staunton, though I consider the result to look somewhat half-assed, with part of it up to interstate standards, part of it built as a Super 2, and some of it as a regular road. If they really wanted to do a full job, they'd upgrade the whole thing to interstate standards, and give it an interstate designation. Since the route connects with Interstate 81 at both ends, I propose calling it Interstate 281. This is what such a shield would look like: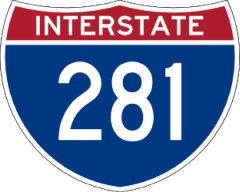 So the question becomes, will my idea eventually bear fruit? I say not bloody likely any time soon. It costs a lot of money, and Staunton hasn't grown out to its beltway yet by any means. The closest that major development gets to it is at its oldest section, from I-81 to Route 11. Even the existing Woodrow Wilson Parkway is largely rural, without much major development alongside, save for three hotels next to its interchange with I-81 at milepost 225. After it reaches I-81, it goes off into obscurity, and terminates at Virginia 254, which is basically out in the middle of nowhere at that point somewhere between Staunton and Waynesboro.
Still, I like to think big, but am still quite surprised that Staunton even has a beltway in the first place…