Out of everything, 2020 was an exceptionally good year for my photography…
December 31, 2020, 2:33 PM
Out of all of the things that occurred in 2020, I think that I could define my year most by my photography work.  I had a very productive year, on a few different fronts.
First of all, I got a new phone in early March, the Samsung Galaxy S20 Ultra, which is a pretty powerful camera in and of itself, with four different lenses built into its design and all sorts of other fun features.  For that, I tend to get the most out of the standard lens and the wide angle lens.  Here's a comparison of two shots taken from the same spot: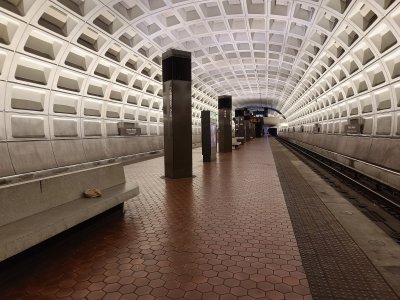 Potomac Avenue station, photographed with the regular lens.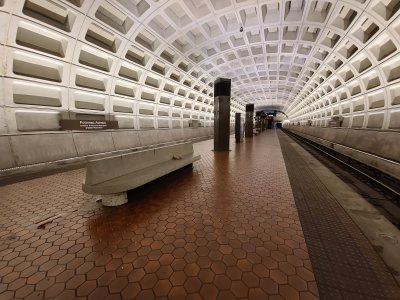 Potomac Avenue station, photographed with the wide-angle lens.
As you can see, it's a much larger shot with the wide-angle lens, though it does come with a little bit of distortion around the edges.  Note the way that the station arch is up on one side in the second shot, as well as the way that the tiles are a little stretched near the bottom.  I view it as "there are worse things", and work with it.  And I've produced plenty of winners with the wide-angle lens.
I also got some new lenses for my real camera, i.e. my Nikon D5300.  One is a portrait lens, and the other is a wide angle lens.  I haven't gotten as much use out of the portrait lens as I've hoped, but I've definitely gotten some use out of the wide angle lens.
The portrait lens has only come out twice, but here are examples from those shoots: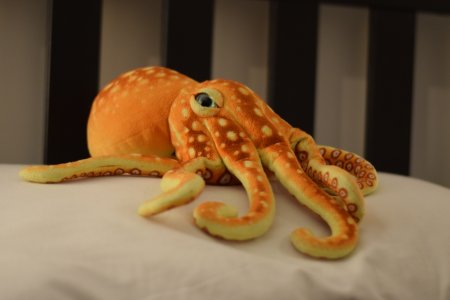 The first use was right after unboxing.  I photographed Woomy, who was a willing subject, even if he was complaining the whole time.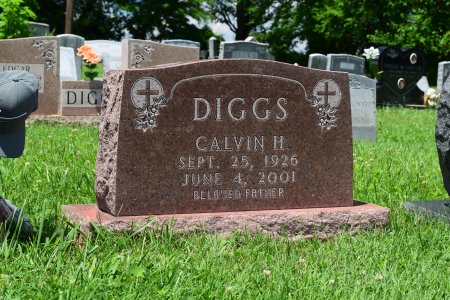 In the other instance, I took it out while Elyse and I photographed a cemetery in Frederick County.  The portrait lens was not ideal for this particular application, mainly for lack of a zoom function in an instance where I was mostly down on my knees, but I wanted to get a handle on how the lens performed in a real situation.  But I was able to put it through its paces enough to see the potential in it.
As far as the wide angle lens goes, I got that in November, but I've already gotten some decent use out of it.  Here are some examples with that: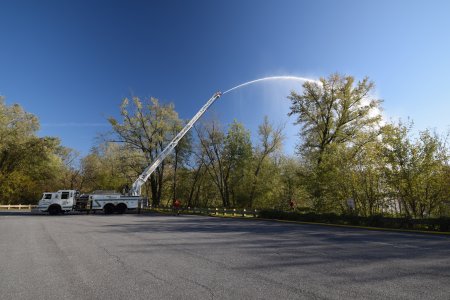 A fire truck sprays some water during a training exercise at Point of Rocks.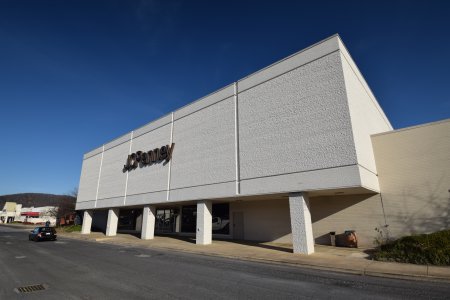 The former JCPenney store at Staunton Mall.
I like this lens a lot.  Unlike the phone's wide angle lens, it has a little bit of optical zoom on it, which makes it easier to line up shots, and there is a lot less distortion around the edges compared to the phone.
Then I also have the Mavic Mini, i.e. a drone, which opens up a lot more possibilities for me, since I now have easy access to aerial photography.  I've found my drone useful for two things: big aerial shots, and also close-ups of things that I couldn't otherwise get up to, mostly infrastructure.  Here are some examples from a recent visit to Waynesboro, Virginia.  First, the big aerial shots: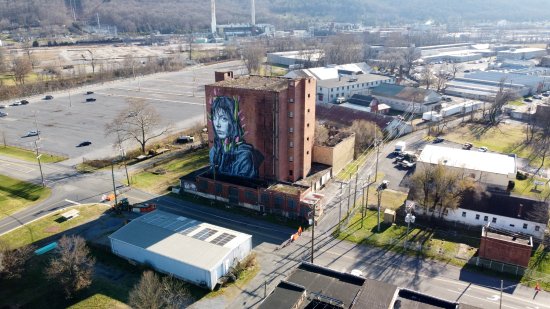 A former ice house in downtown Waynesboro, painted up with a mural.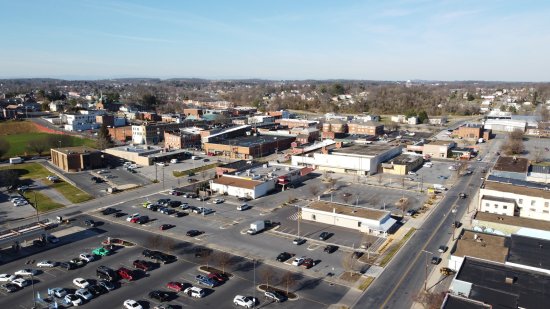 Downtown Waynesboro, photographed from near Kroger.
And here are some examples of detail shots with the drone: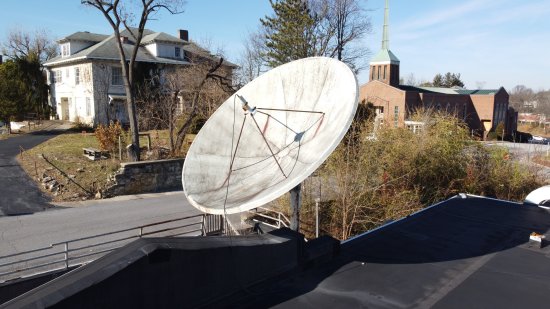 Satellite dish on the former News Virginian building.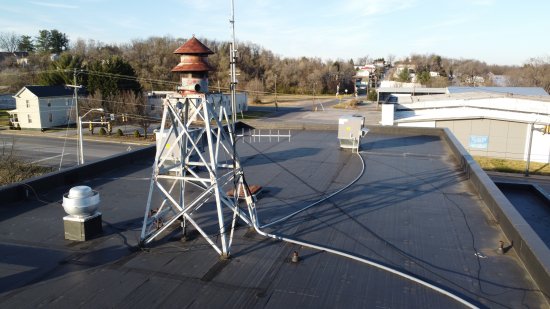 Siren structure on top of the Waynesboro fire department.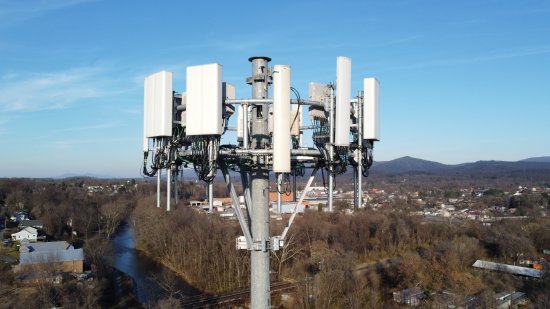 Detail of a cell phone tower.
I don't know which I enjoy more, i.e. the overview stuff or the detailed stuff.  The detailed stuff is more challenging to shoot, since I want to get nice, close, detailed shots, but also have to be careful not to make contact with the subject, because a collision with the subject would likely mean loss of vehicle and contents (i.e. I destroy the drone and also lose the photos) if it lands in a place where I am unable to retrieve it.  But it's still a lot of fun to do.
Otherwise, with a lot of stuff right now either closed or so bogged down with so-called "safety measures" (i.e. security theater) to be more trouble than it's worth, the camera has become what I do for recreation, and I've been doing a lot of shooting lately.  If Elyse and I are out and I have a moment while I'm waiting for her to do something, I will pull out my phone and start lining up shots, typically close ones.  This photo feature is a good example of that, where I was photographing sandwiches at a little convenience store while Elyse was shopping there.  One of the employees asked what I was up to, and I explained that I was waiting for Elyse to finish shopping, and that the sandwiches gave me a bit of artistic inspiration.  They told me to have fun with it.  I've also gone out more with my real camera, making good use of my time off. We've gone out quite a bit, and I've done a good bit of photography throughout the mid-Atlantic region. I've photographed all sorts of things in all kinds of settings.  I've brought my tripod out quite a bit, doing a lot of nighttime photography, and lots of other different things.  I've also been documenting the signs of the current COVID-19 pandemic quite a bit, though admittedly, I haven't photographed people in masks, because that is one aspect that I would rather not remember.  I've been more about changes that I've observed in the physical environment around us rather than the humans themselves.  My Flickr album about the pandemic, which goes through the end of March as of this writing, gives a better idea as to what I mean.  And I admit: I love this photo of Elyse holding a roll of toilet paper in a grocery store, making sport of the panic-induced shortages of toilet paper that we saw this year.
Now, as far as actually getting photos out the door, though, I've not been so good.  The newest stuff on my Flickr feed is from the end of March, and there have been no new photo sets on here for 2020.  There has been very little new material posted up, other than in photo features and Journal entries.  That's for a few reasons.  First of all, considering that I've been photographing more this year (99 events that generated their own folder in my archive this year, vs. 41 in 2018 and 43 in 2019), being out in the field more is time that I might have otherwise spent at my desk doing publications.  So there's that.  As far as photo sets on here go, out of the four things that I've got planned as 2020 sets, three of them span multiple months, and for two of those, I'm deliberately running out the year in order to capture everything at once.  The fourth is about Staunton Mall, and I've already teased you with a Journal entry about that subject.  But that one is going to take a while to do.
However, the largest reason for a backlog is because I've been working on a large project regarding older material.  As of this writing, in order to see the aforementioned photos from this past March, you have to go back to page 17.  That's because I've been going through my archives, preparing and uploading older photos as if they're new material.  I have a lot of good stuff that I've taken over the years that's never been published before, and there's a lot of stuff that's been published in various places over the years, and so I'm trying to get as much of it as possible on my Flickr account so that it's all in one place.  It's been fun revisiting these old photos, and especially so in seeing some of what I never published, mostly because it didn't fit the story that I was trying to tell for whatever reason.  This works to my benefit with Flickr, because photos are published as standalone pieces, and the albums exist to provide that larger context for those photos.  I started back in 1999 with scans from my first trip to Canada, and am done through 2011, and I'm working on the photo prep for 2012 as of this writing.  I'm planning to do through the end of 2013, i.e. the Creative Commons period, plus a little bit from after that.  So I'm well past the halfway point.  Once that's done, I plan on switching to new material, working on the photo sets and then more Flickr.  Once I get to new material on Flickr, the Hampton Roads trip from April will be the first to go out.
So all in all, I'd say that I've had a good year for photography, even if it's not all up yet.  Hopefully 2021 continues to build on this success.