A visit to Morgantown…
October 24, 2018, 10:00 AM
On October 8, I went out to Morgantown for the day with Elyse, Brian, and Trent.  This was a fun little trip, with the intention of exploring the Personal Rapid Transit (PRT) system and also seeing a few elevators, as the three of them are very much into elevators.  I'm not as much into elevators as they are, but I've learned a lot from them.
It's a long drive to Morgantown, that's for sure.  From Montgomery Village to Morgantown took us about four hours, with stops in Frederick, Sideling Hill, Cumberland, and La Vale for various (mostly restroom) needs.  I was amazed about how mountainous Interstate 68 was, particularly west of Cumberland.  It felt like we were constantly going up a mountain, but the HR-V was killing the hills like a champ.  This trip also brought out the roadgeek in all of us.  We took I-68 from its eastern terminus in Hancock, and, since we were practically there already, rode 68 to its western terminus at I-79.
Sideling Hill was known territory to everyone.  We had all been there before, but the view was still worth a look.  However, it was foggy on this particular day: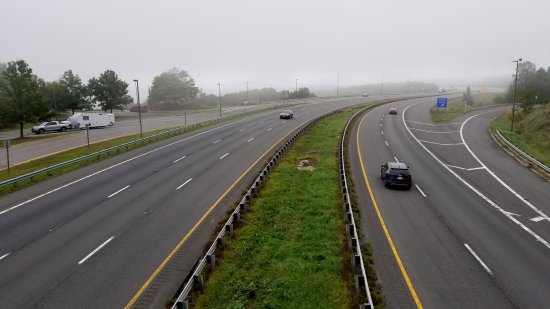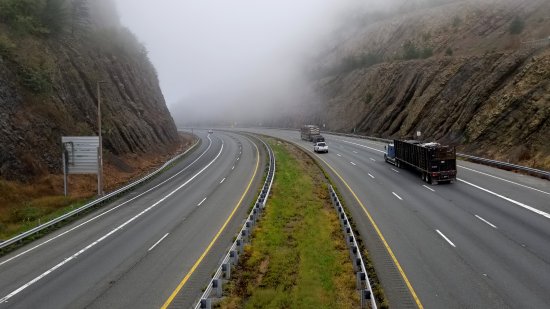 Not a whole lot to see, but you could still make out the various rock formations on the highway cut.  It always brings me back to ninth grade Earth Science class whenever I see that stuff.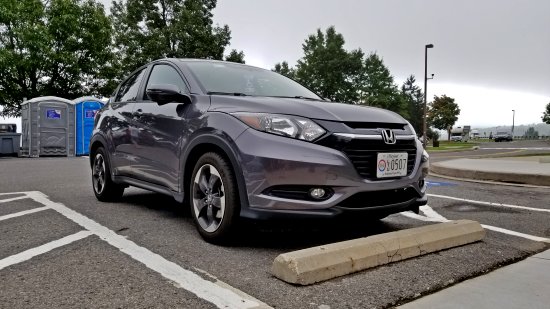 The HR-V at the Sideling Hill overlook after conquering South Mountain and Sideling Hill.
We eventually made it to Morgantown, and parked in the garage near Health Sciences Center station.  I was in "new transit system" mode, and I was thoroughly enjoying myself, looking at everything around.  This system is definitely not like the Metro-type systems that I was used to, since the vehicles were small, and there were no operators on board.  This was also my first time riding a system that used rubber tire wheels.  From what I could tell, the vehicles operated on a fixed guideway, and received all of their power and such from rails along the side of the guideway.  There was a noticeable sideways shift whenever the vehicles switched from the power on one side to the other.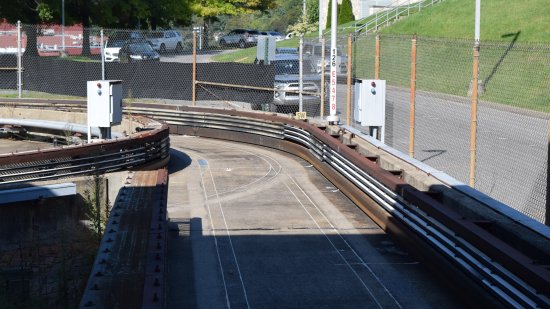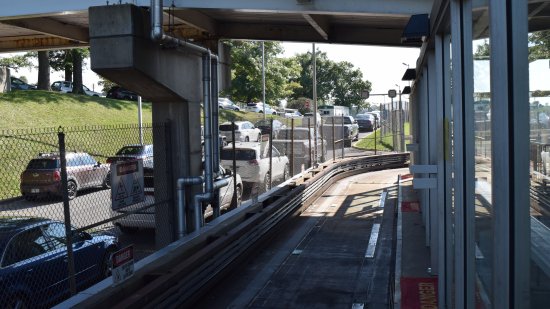 The roadway on the PRT system, at the Health Sciences Center station.  What looks like a guardrail is actually the "third rail".
We rode the whole system from end to end before doing anything else.  The ride is about twenty minutes.  I photographed out the front of the vehicle as we rode.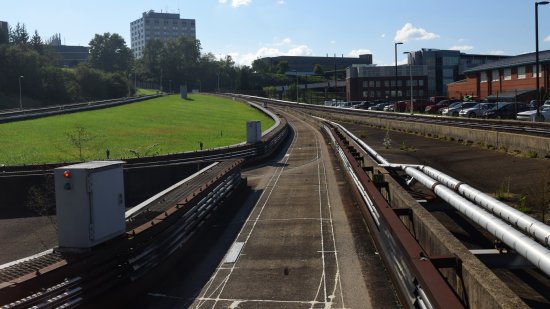 Departing from Towers station.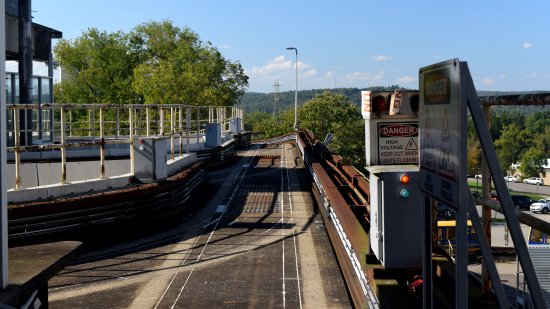 Berthed at Engineering station.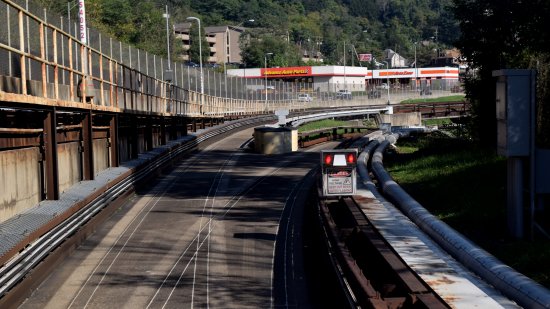 A section where the two directions were at different elevations, approaching the maintenance facility.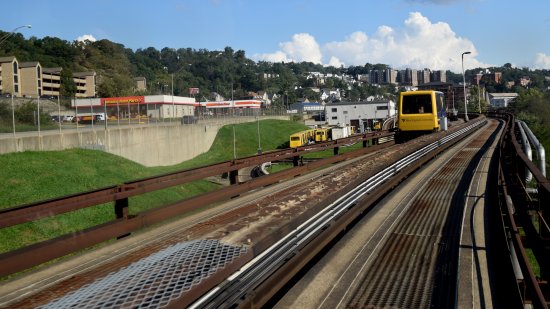 Another vehicle passes us going the other direction.  The maintenance facility is visible in the distance.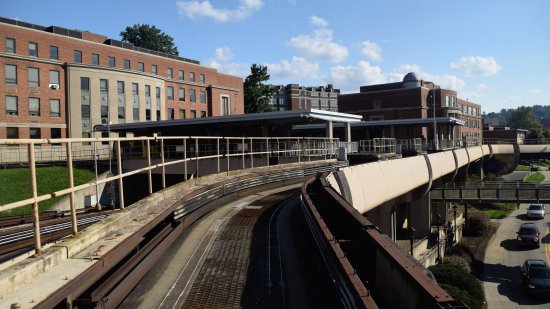 Approaching Beechurst station.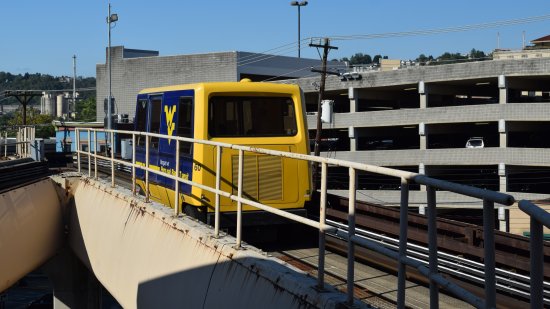 Our vehicle departs after we alighted at Walnut station.
Then we explored downtown Morgantown for a bit.  That area was certainly older, and had a certain level of charm to it, as it still felt vintage, and had not gone through a period of gentrification.
The first thing that caught my eye was this sign: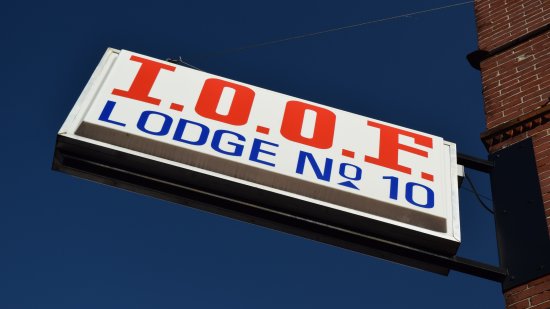 Independent Order of Odd Fellows, lodge number 10.  Kind of neat.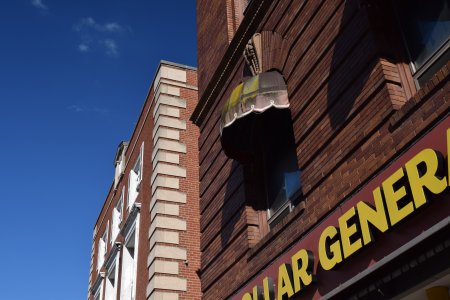 This awning on a window over the Dollar General store demonstrated the vintage quality of downtown.  It was clear, with the green growth on it, that this awning had been there for many years.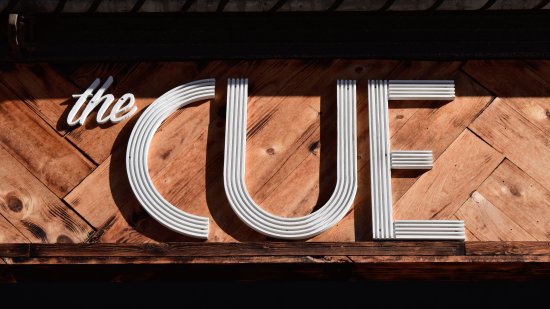 Sign for The Cue, which is a Christianity-focused meeting space.  I don't think that the sign is necessarily vintage, but the wood backdrop and fonts definitely threw back to an older period.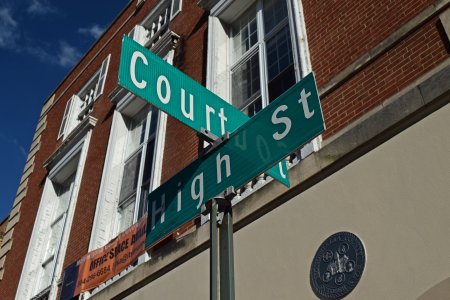 Street sign for Court and High Streets.
At the Citizens Bank building, meanwhile, Elyse, Brian, and Trent all filmed the elevator.  While they were doing that, I found some fire alarms to amuse myself: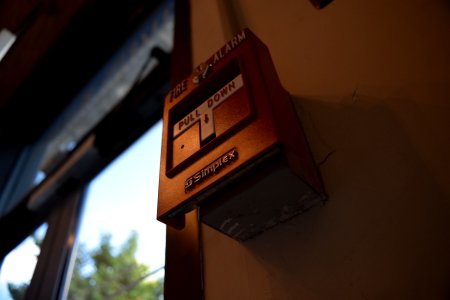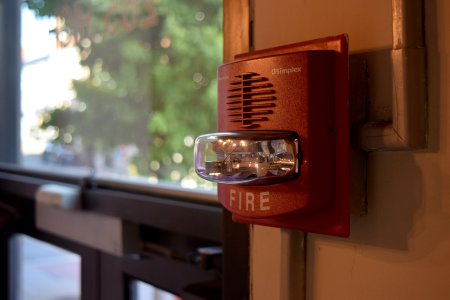 You know, Simplex doesn't usually inspire me to great fire alarm photography, but I think that these came out pretty well.
Then I also photographed this clock: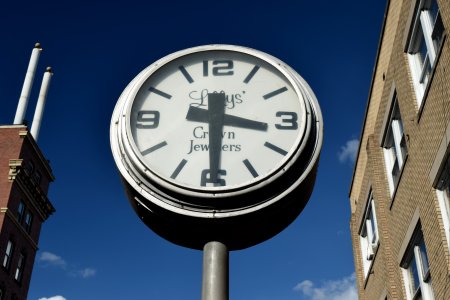 I appreciated the vintage quality of this clock.  From what I could tell, Lilly's Crown Jewelers was a business that was once in Morgantown, but no longer is.
Later, we rode the PRT to campus, and explored over there.  One thing that Elyse was excited to show me was the foot-activated toilets and urinals in Armstrong Hall.  Check these out: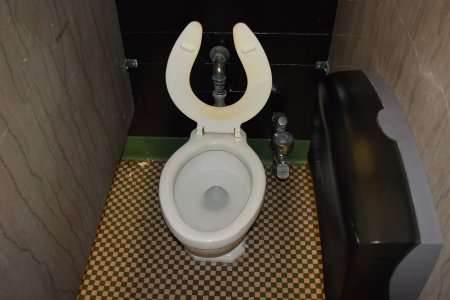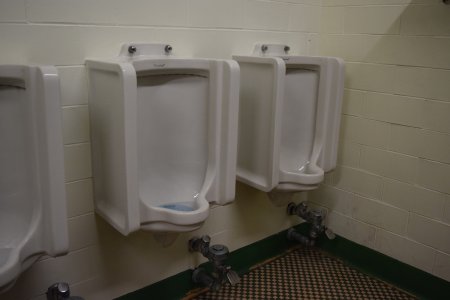 It's interesting what you sometimes find in pre-ADA fixtures.  This was that case with the floor flushers.  It's the same flush mechanism as on a modern toilet, but it's mounted at foot height, and the flush bar is designed to be stepped on.  You wouldn't find this today, of course, because a person who couldn't use their legs would be unable to flush.  I wonder how difficult it would be to flush that toilet from a seated position, though.  Who knows.
Then my favorite thing at WVU was the Mountainlair, which is the student union on campus.  They have a bowling alley, pool tables, and this: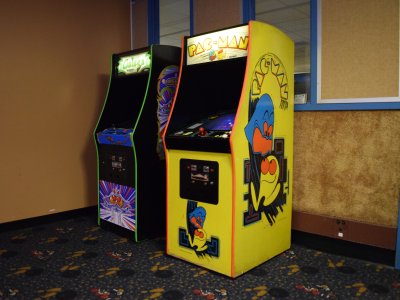 They had me at "hello".  When it comes to Namco games, Elyse and I have it cornered.  She's good at Galaga, while I can kill it with Pac-Man.  We pumped a few quarters into both machines.  Brian and Elyse also played H2Overdrive, and Elyse apparently played so well that she killed her side of the game.  It crashed, and had to restart: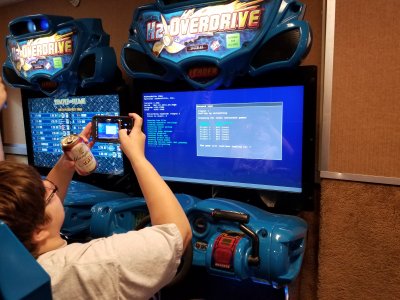 And in case anyone was wondering, that game runs on Windows XP.
Then from there, we headed back to the PRT to return to our car.  As we got back to the PRT, we saw this spider web in a lamppost: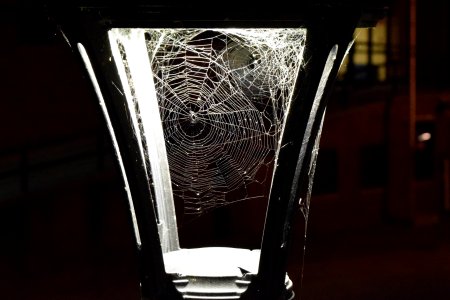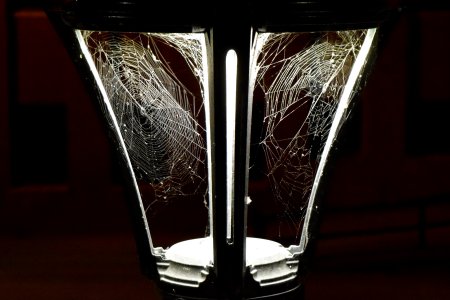 Kind of cool, if you ask me.
We learned a bit about how the PRT communicates with riders as we headed back to the car.  Because Elyse has somewhat limited use of her legs, we took the elevator up to the platform.  You have to call to the dispatchers for the elevator via a courtesy phone located near the elevator.  There is no call button for the elevators outside of fare control (even though there is no fare).  The elevator bypasses the turnstiles, which is where you tell the system what station you're going to.  Elyse, recognizing this, went over to the turnstiles, selected a selection, and then spun a turnstile.  She did this multiple times – once for each of us – in order to register the ridership.  A voice came over the PA system telling us that turning the turnstiles will not make a vehicle come any faster.  Elyse started looking up at the speakers and said something to us out of frustration, and the voice came back saying that they can't hear us, but if we wanted to talk to them, to pick up one of the courtesy phones on the platform.  I understand where they were coming from, in that the dispatchers were trying to be helpful, but the whole thing came off as a bit creepy, since they were watching our every move, and then talking to us from afar via loudspeaker.  I don't like being micromanaged by remote.  But other than that, a fun time was had by all.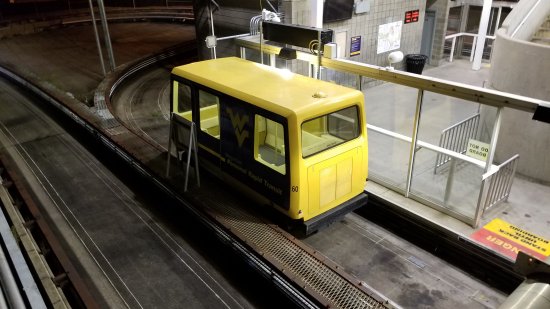 Our vehicle as we left the system at Health Sciences Center station.
Returning to the car, we started making moves towards home.  The first stop, however, was at a Tim Hortons: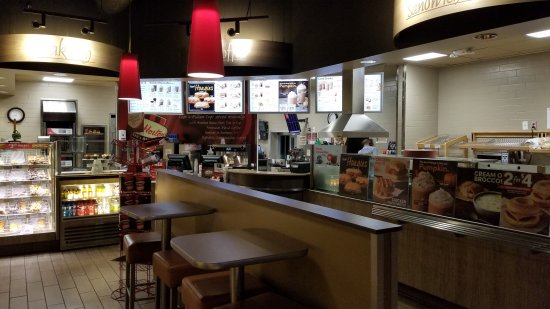 I think that we were all a bit surprised to see a Tim Hortons this far south.  I knew that they were in more northern states, but I didn't expect one in West Virginia.  My first Tim Hortons experience was definitely a good one, though.
Then we got gas, and we were off, killing those hills once again.  We stopped for dinner at Sheetz in Cumberland, and then made a restroom stop at a Pennsylvania welcome center on I-70.  Why Pennsylvania?  Because we wanted to touch Pennsylvania, and we knew that the welcome center was there and easy to turn around at.  So we did.  And then from there, we deadheaded it back to Montgomery Village, and that was that.
All in all, a fun time was had by all.  I definitely want to explore Morgantown further in the future.