Remembering that your phone's camera is still ultimately a phone camera…
February 20, 2023, 12:21 PM
Recently, I was reminded that my phone camera will only get me so far.  Don't get me wrong: it's a great camera, with all sorts of functionality built in that creates some downright stunning shots.  But it is still ultimately just a phone camera.  When I really need to go the distance, my real camera, a Nikon D5300 DSLR, will do that.  I got this reminder during two visits to the Old Town section of Alexandria, Virginia, when I photographed the Wilkes Street Tunnel on November 23, 2022, and on a return visit on February 15, 2023.
The first visit, which was part of a much larger adventure with Elyse, as well as our friends Aaron and Evan Stone, was one that I was somewhat unprepared for.  I had known about the tunnel for a while, and it had a place on my "photo shoot ideas" list (which I jokingly refer to as "the place where photo ideas go to die" considering how many things I add to it, but how little I cross things off of it), but visiting it was not part of the plan.  I didn't necessarily plan for the day to be a big photography day, but I had made allowances for it nonetheless.  I brought my DSLR along, but I didn't really intend to do much with it, and certainly didn't bring the tripod along.  When we ended up at the Wilkes Street Tunnel, more or less by chance, I was kicking myself for not having brought the tripod along.  So I just used my phone, and shot it with handheld phone shots.  The results were okay, but not great.  Specifically, I didn't like the way that the lighting along the ceiling looked in my shots, with lens flares around the lights.  Other than that, the shots were fine.  Besides the lights, my biggest annoyance was that it was early evening, and people were frequently moving through the tunnel and getting in the way of my shots.  My rule is that you don't disturb people using a facility as it is intended while you're photographing.  You wait for them to pass and then continue, and if they stop for you, you wave them through.  The idea is that you can't get too upset about them, because they're using the tunnel for what it was intended for, so you just have to work around them.
Here are examples of what I got in about fifteen minutes' time: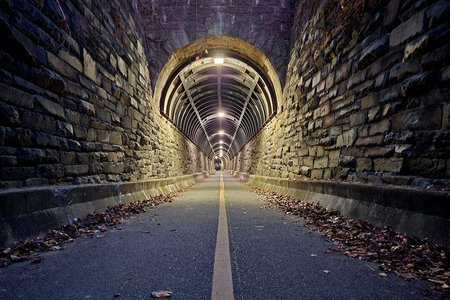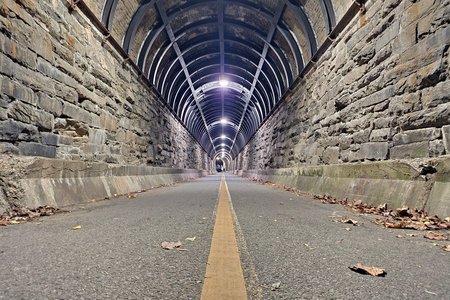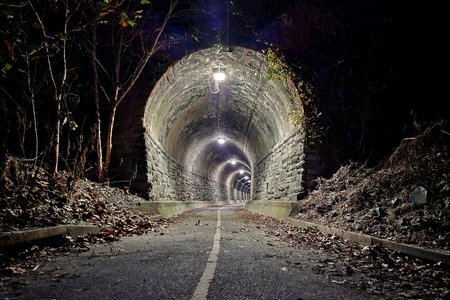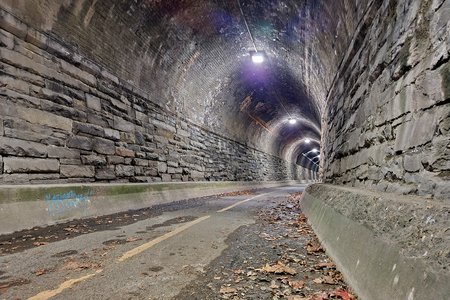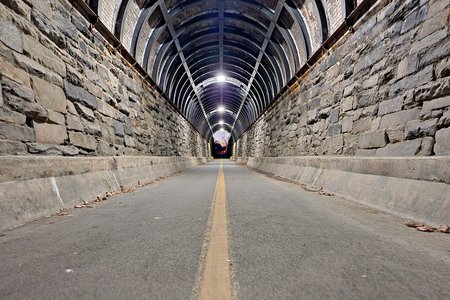 I feel like the technique is where I want it, but those lens flares are no good.  I used one shot from this bunch as the photo feature on November 25, and edited it pretty heavily to get it up there: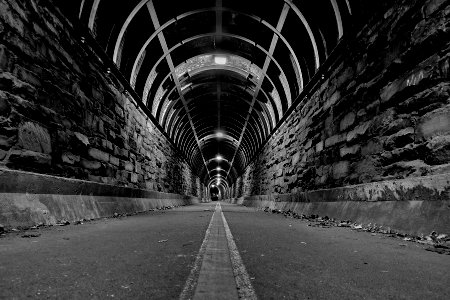 What I did is I converted it to black and white, hiked up the contrast, and then did some spot fixes around the lights.  If you look carefully, you can see where I tried to fix the flare around the first light, and I tried my best to downplay the lens flares on the others.  And for what it's worth, I generally shoot in color (I've only shot directly in black and white on two occasions, one of which is chronicled here), and so if you see a photo of mine in black and white, it typically means that I liked the shot in general, but didn't like the way that the color turned out.  In other words, I'm cheating.
So in the end, from that shot, I liked the Wilkes Street Tunnel, but I wasn't as pleased as I would have liked to have been with the result.  But the tunnel wasn't going away, so, good.
Now fast forward to February 15.  Elyse and I were out in the Alexandria area with our friend Kyle, who was visiting from California.  We had gone planespotting at Gravelly Point, watching planes land at National Airport, where it clouded up just as we got there and led to less than satisfactory results: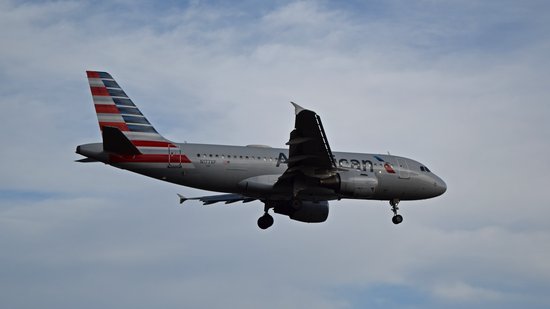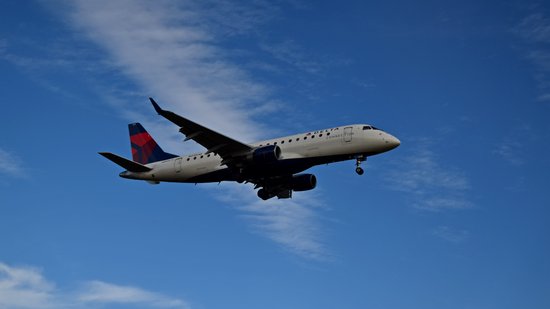 The entire shoot basically looked like this.  I was doing everything right, and the sky that was backdropping the planes was cooperating, but there were some stratus clouds to the west of my location that were blocking out the sun, which meant that everything was shadowed.  All in all, we spent about an hour there, and I was displeased with my results.  We'll see what I end up doing with these.  This might be another one of those instances where I convert them to black and white in order to hide certain elements that I don't like, but we'll see.  Though this probably does mean a return visit to DCA in the relatively near future and hoping that the weather cooperates next time.
Regardless, we then went down to Old Town, where I dropped Elyse and Kyle off at the Amtrak station so that they could then photograph trains, while I went off to complete some errands (but not before photographing the Masonic Memorial from the Amtrak station for a few minutes).  I did bring the tripod along this time, so after I finished my errands, which involved dipping into the Target on Richmond Highway to return something and also pick up some things and then grabbing a bite to eat, I headed back over to the Wilkes Street Tunnel.
This time, the tunnel was practically deserted.  It was after 8 PM, and so there was almost nobody passing through it at that hour.  I counted five people total, and one of them, thankfully, was a jogger, who got past me very quickly.  I spent about two hours at the Wilkes Street Tunnel this time, in full long exposure mode.  This is some of what I got: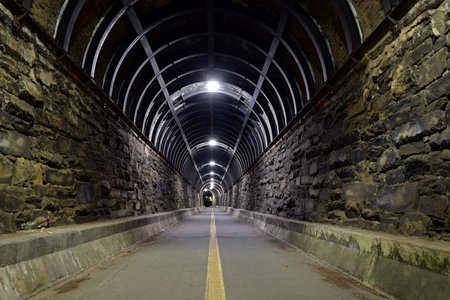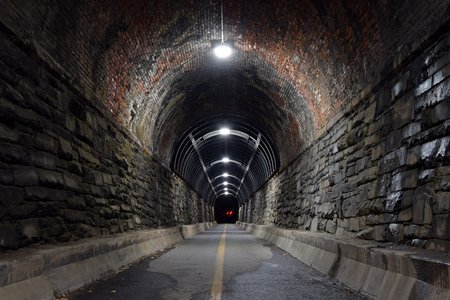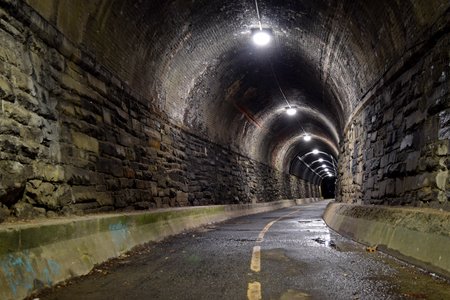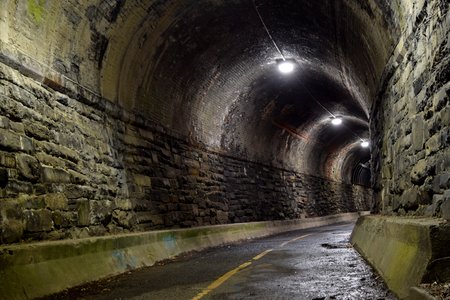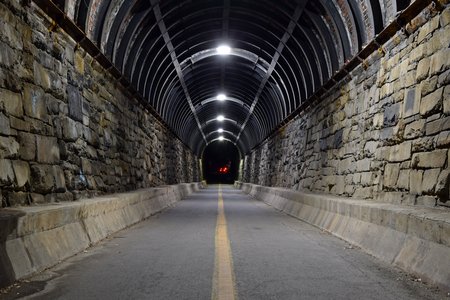 I don't know about you, but I feel like the second visit came out much better.  Much more balanced looking and true to life.  I definitely got in my zone with this one.  Considering that I spent two hours there, you can start to appreciate why Elyse starts to lose patience with me when I pull out the tripod, and why she was more than happy to take Kyle and go do something else while I photographed.  Afterward, I was kicking myself a bit for not getting any photos of the tunnel portals on this shoot.  I had forgotten that I had taken those on the earlier shoot with my phone, and so on this one, all of my shots were taken inside the tunnel, and none outside.  Of course, it's not like the Wilkes Street Tunnel is that hard to get to or that far away, so I could always come back and so that if so inclined in the future.
But in this case, I would say that the DSLR definitely wins out over the phone camera.