I can't believe I set off the DriveCam…
January 28, 2015, 7:57 PM
I had a good bit of fun on Tuesday.  I went down to the Washington Auto Show at the Washington Convention Center with Elyse, and we wandered through, seeing all sorts of interesting things.  We took the Red Line to Gallery Place, then took the 70 bus up to the Convention Center (and we got an artic).
Unlike most car shows that I've been to in my 33 years, this was primarily for auto manufacturers to show off new cars.  As such, it was heavy on the marketing, and you could touch and interact with most of the vehicles that were there.  If you go on a Tuesday, as we did, the place was pretty quiet.  No wait for tickets and security, and no wait to see or do anything, and more time to chat it up with people.
Right off the bat, with its being a slow day, Elyse and I could tell that the people working the event were in a good mood.  When I purchased my ticket, the guy mentioned that admission, normally $12.00, was only $10.00 with a SmarTrip, or $5.00 with a student ID.  My old JAC card from my college days still lives on my keychain over a decade after I graduated college.  I said, "I still have my old student ID from when I was in college."  The guy sold me a ticket at the student rate, and justified it by saying that it just says "a student ID", and not that you had to be a current student.
And here's proof: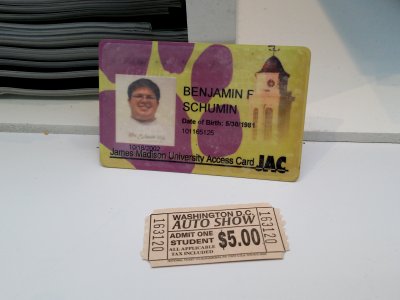 I suppose this is proof that once a JMU Duke, always a JMU Duke.  In any case, I was tickled to have gotten the student discount, even though my JAC card shows a version of me that had hair where there is no hair now.  "Heri yesterday, gone today," and all that (Latin buffs will get that one).
As transit nerds, the first thing that Elyse and I sought out was the bus display.  This was Metrobus, and they had bus 8102, a NABI 42′ BRT hybrid-electric, on display.  This bus was brand new, and had not yet been operated in revenue service.  And here it is: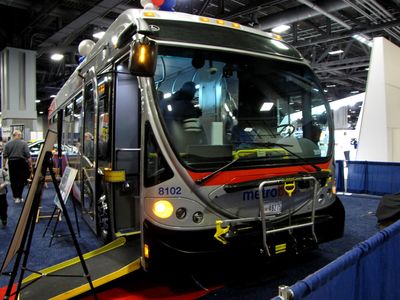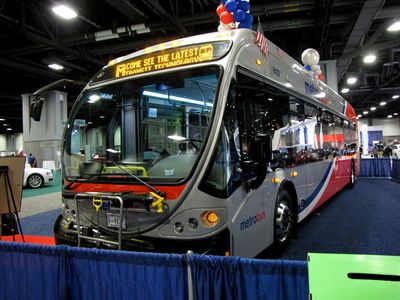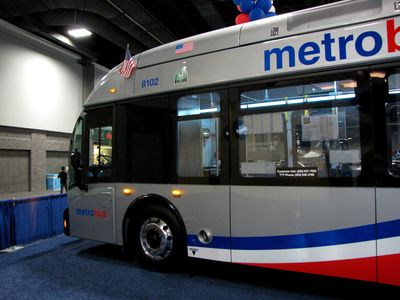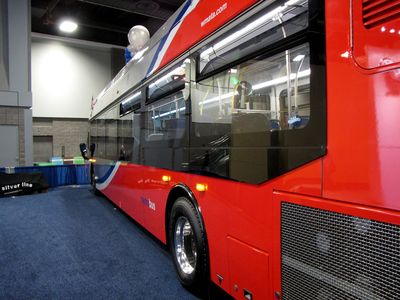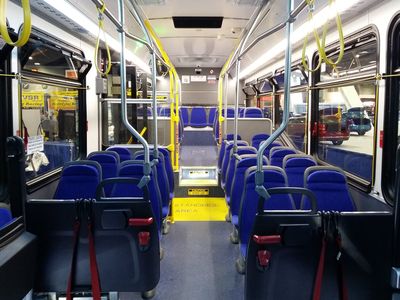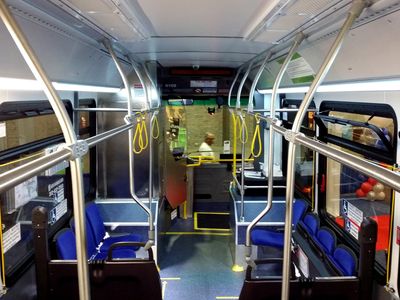 All in all, it's a nice bus.  Now since I also drive a bus for a living, I was showing Elyse about all of the various things on a bus, like the radio, the way that buses turn on, etc.
Then I pointed to the DriveCam.  For those not familiar, DriveCam is a device manufactured by Lytx that's mounted on the windshield of a vehicle.  The way it works is that when the device's accelerometer reaches a certain threshold, usually reached by abrupt changes in speed and/or direction, a 12-second event is recorded.  That event consists of eight seconds' worth of footage prior to the moment that the event was triggered, and four seconds' worth of footage after (in other words, the DriveCam is always recording, but it only saves the footage if an event is triggered).  DriveCam footage comes from two sources: a camera facing forward, and a camera facing the driver.  It's marketed two ways.  One way is aimed at parents, with the intent of using it to monitor their children's driving habits.  The other is aimed toward fleet operators, i.e. it's put on commercial vehicles to look at driving behaviors observed during triggered events.
DriveCam is installed on the buses where I drive, and yes, I've set it off before, including, most notably, an occasion while I was still in training when a person in an SUV ran a stop sign right in front of the bus and I had to jam on the brakes to avoid hitting them.  I was successful, and for my efforts, I got a what's-wrong-with-you look from the other driver (even though they had the stop sign and I didn't), who then went on their way.  The DriveCam's lights flashed green and red for a few seconds and then stayed red, indicating that an event was stored, i.e. I had set off the DriveCam.  No one ever said anything to me about it, which makes me think that I did everything correctly in that instance.
So at the auto show, I tapped on the side of the camera unit twice with my fingernail as I was showing it to Elyse.  Immediately after, I noticed that the green and red lights were both flashing, and then the light stayed red, i.e. this: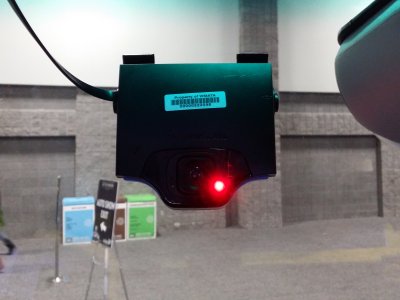 Ooooooops.  Guess who just set off the DriveCam.  On a parked bus.  At the convention center.  Touchy little thing.
After Elyse and I finished laughing our heads off over that, though, we continued.  We spent some time at the Jeep area, where they were demonstrating how tough their Cherokee and Wrangler vehicles were by taking them over a course.  The course included simulated hills and uneven territory.  It was, to put it nicely, a slow thrill ride, as the cars performed admirably over territory much steeper than you would ever want to take your own car on.  Going down a hill with a 35-degree grade was definitely something I don't particularly want to experience again, that's for sure.
In other words, this: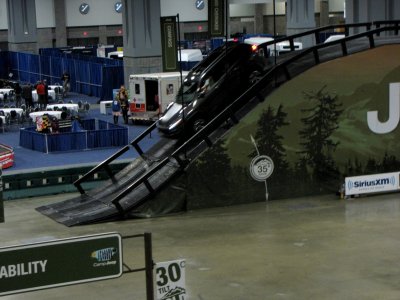 It may look nice and gradual from this angle, but from inside the car, it looks way steeper.
Then there was also a spot where the cars went over some very rough terrain.  Look at the rear wheel up in the air: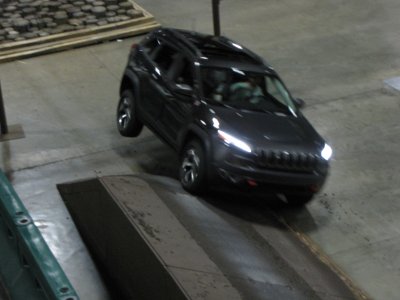 Then there was the Kia area.  This is more my style: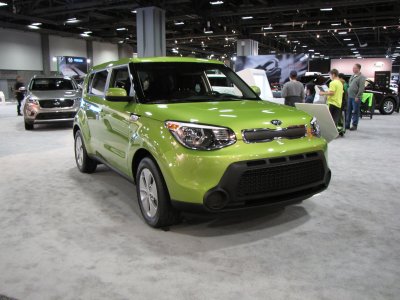 That is the most recent version of the Kia Soul.  Elyse decided to hop in one and pretend to take it for a spin: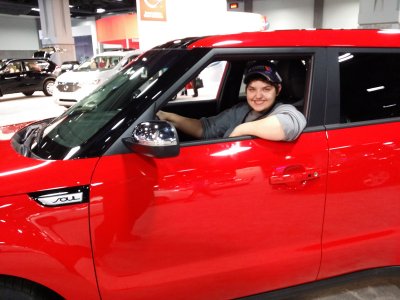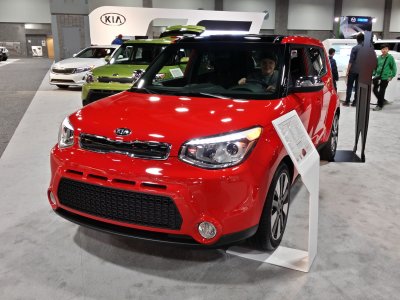 I still say that Kia put too much effort into trying to look "cool" with the redesign in 2014.  One thing I like about my 2012 Soul is that it's not too overly "cool".  Don't get me wrong, now – it's a pretty cool car.  But it feels like just the right amount of "cool" without overdoing it.  This newer version seems a tad over the top.  But I do like this function: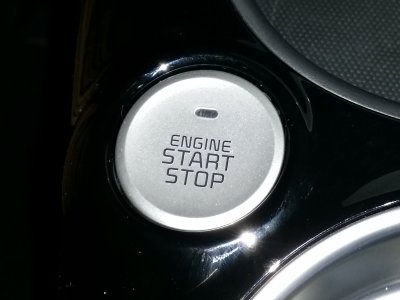 I like the pushbutton start.  All you need is to have your key fob in the car, and the car will fire right up at the touch of a button.  I wish my car had that.  Would save me from those moments when I try to start the car with the house key.  Or when I try to open the front door of the house with the car remote and wonder why the car's lights are flashing.
And quit laughing.  You know you've done it before yourself.
Then lastly, the Mercedes area, where I pretended to recreate a moment from Mrs. Doubtfire: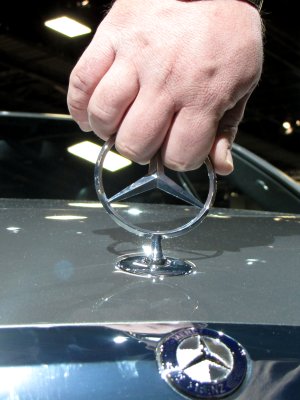 And no, I didn't see how easily the real hood ornament would come off.  But it does make a good photo.  And my the looks of it, I need to use some moisturizer on the back of my hands.
So all in all, I'd say that Elyse and I had a fun time at the Washington Auto Show.