The signs of social distance…
March 28, 2020, 12:40 AM
In the era of social distancing brought on by the novel coronavirus, I have definitely observed some changes in how the world looks.  As a person who works in an essential industry (people still have to go places, yo), I still get out quite a bit.  In my work, service levels have been reduced, and all trains are now eight cars in order to allow people to space themselves out, plus it's strange to go through some stations in the middle of the day and pick up nobody.  It's also strange seeing the message boards on the Beltway advising people in big letters to stay home.  It's also strange to see so many people wearing gloves and surgical masks, even though those don't do anything when the general public wears them as a preventative measure, and may actually be harmful if the person wearing them thinks that it excuses them from things like not touching their face, washing their hands, and so on.
In any case, most of the time when I'm going out, it's to pick up a few things at stores, mostly on my days off of work.  The first thing that I noticed was the panic buying, as seen on March 14 at the Target in Rockville: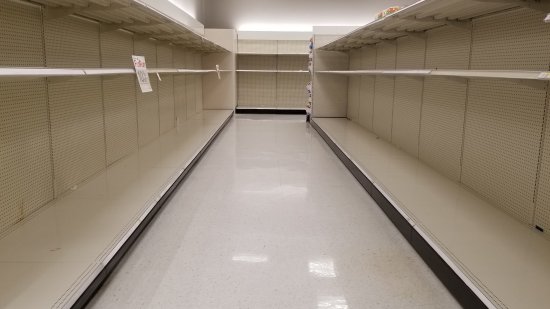 The toilet paper aisle, picked completely bare.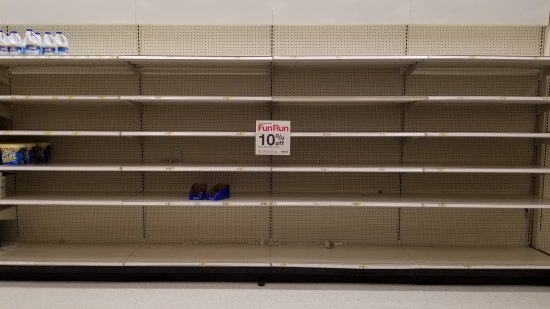 The laundry aisle, also picked nearly clean.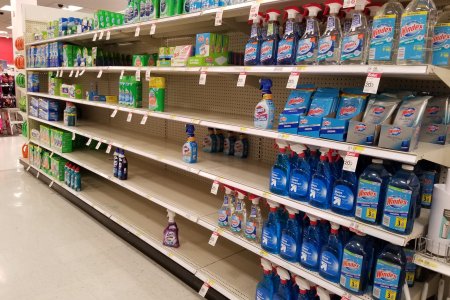 The household cleaning supplies were also pretty well picked over, though there was still a bit of stuff left.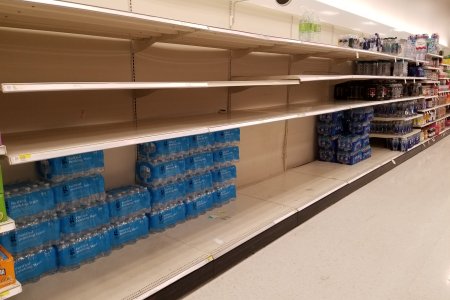 The bottled water was almost completely cleaned out.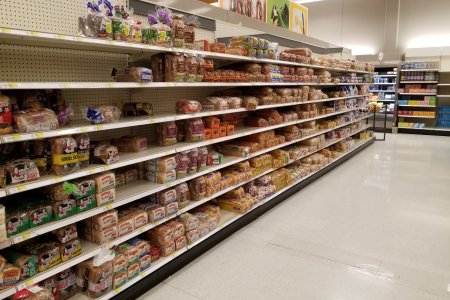 The bread aisle had definitely been hit by the panic buying, but I was surprised that it wasn't emptier.
I also got a few shots of panic buying at other stores: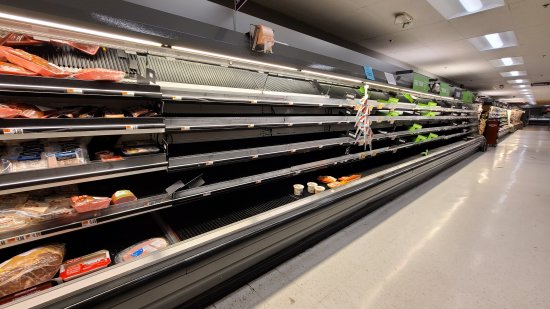 At the Giant on Chain Bridge Road in McLean, the meat department had been mostly cleaned out.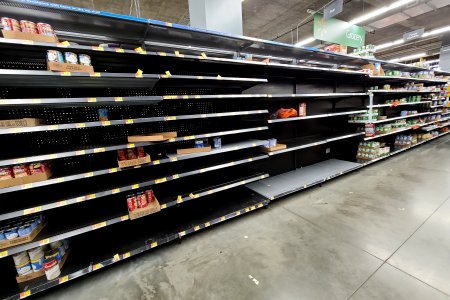 At the Walmart in Tysons Corner, the soup and the canned vegetables had been mostly cleaned out.  You really got a feel for the stuff that nobody liked, because it was the only stuff left.
All of the panic buying surprised me.  It was clear that people had no clue how to prepare for this sort of thing.  The purchasing was similar to the way people panic shop for a natural disaster such as a snowstorm, where they are planning to be stuck in the house for days on end.  This is not that.  Unless you have a natural disaster on top of a pandemic, you're not going to have anything preventing you from going to the grocery store, and there are no disruptions in supply.
Then when social distancing began is when things really started to get real.  This is what my Metro ride on the Orange Line looked like on March 16: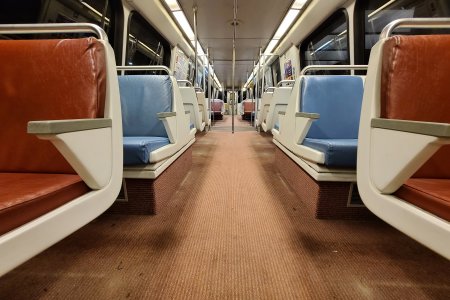 I had the entire car to myself, which is normally unheard of for that time of day.
And then after Maryland governor Larry Hogan closed the restaurants, we had this: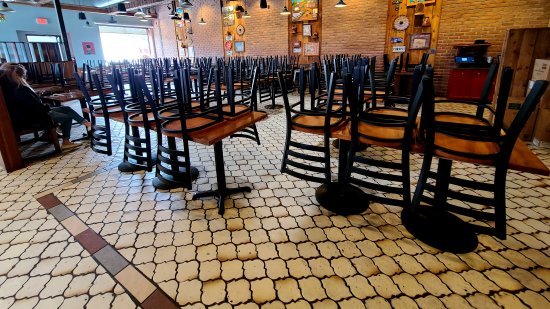 La Casita in Gaithersburg, open for carryout only, with the seating area shut down.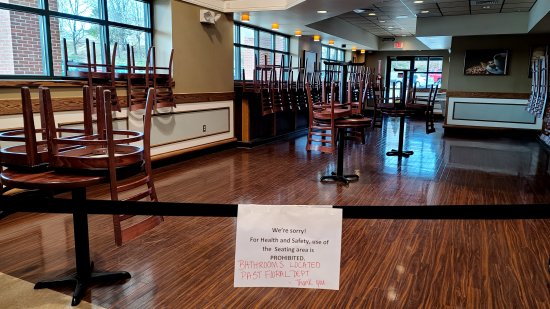 Harris Teeter in Olney, with the seating area closed off.  At this time, however, the salad bar was still operating normally.
And then as time progressed, these signs of the times became more and more numerous: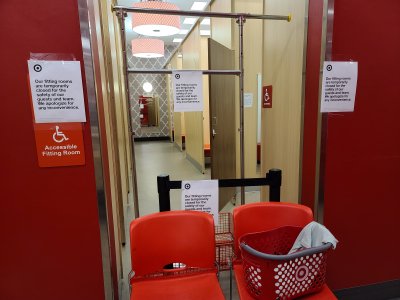 No more fitting rooms at Target.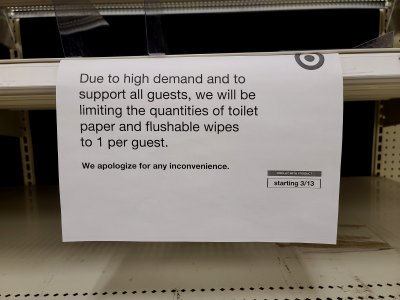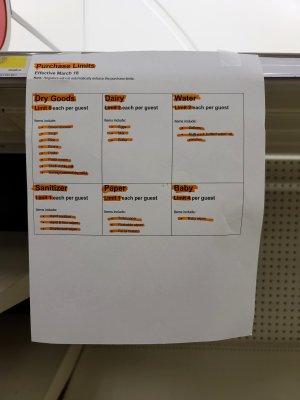 Quantity limits on the items that people have panic bought the most.  (And the toilet paper and paper towel aisles were both completely cleaned out.)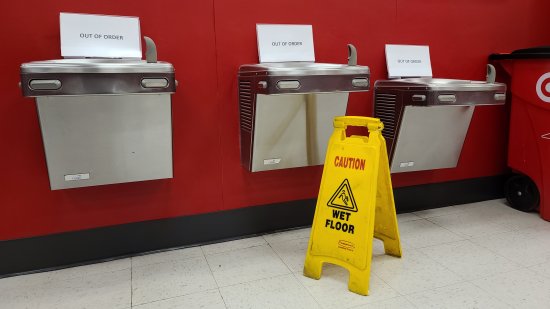 Target even went so far as to shut down the water fountains in the front of the store.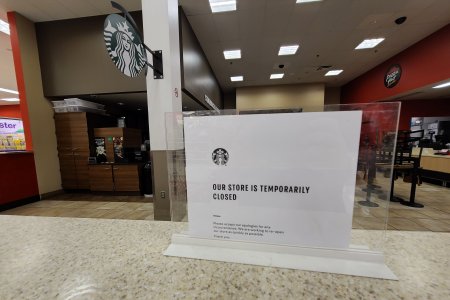 Starbucks at Target is now shut down completely.  Earlier, even with the seating closed down, the counter was still open.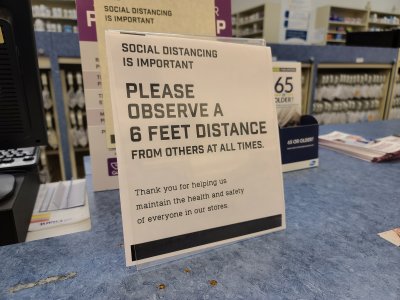 Sign at the pharmacy at Giant Food asking people to be socially distant.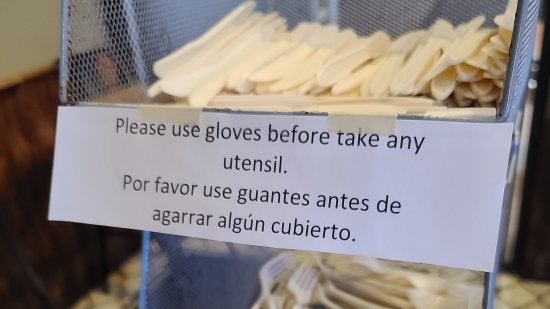 Sign at a restaurant, requesting that people put on the provided gloves before taking a utensil.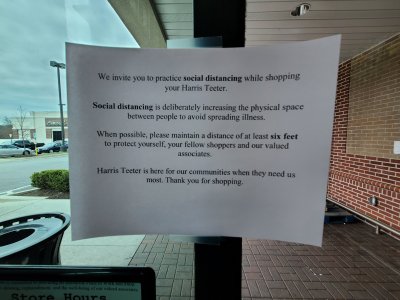 Sign on the door at the Harris Teeter in Ellicott City asking people to practice social distancing.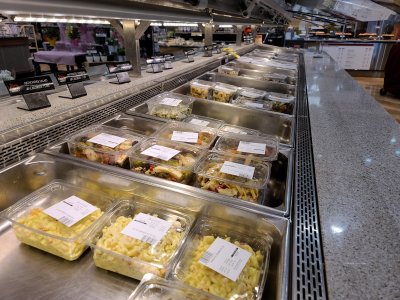 The Harris Teeter salad bar has gone prepackaged.  That made me sad, because now I can't purchase only the quantities that I want, but have to pick a much larger size than I need.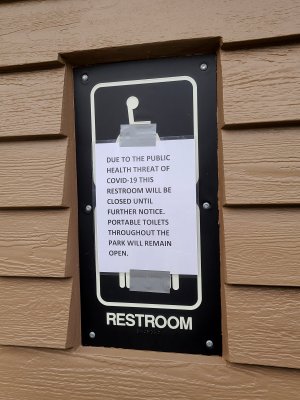 Closed restrooms at a park in Point of Rocks, Maryland.  And for what it's worth, portable toilets were nowhere to be found (I ended up doing my business behind a tree).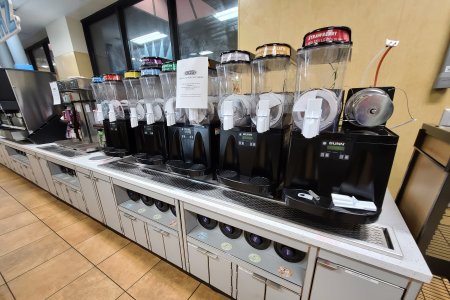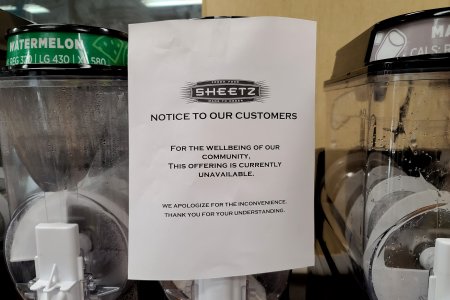 Sheetz took their slush machines out of service, "For the wellbeing of our community."  However, considering how much sugar is in these things, getting rid of them entirely would likely be a net benefit to the well-being of the community.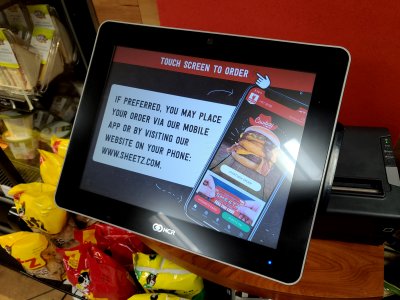 Sheetz started promoting their mobile app on their touchscreens.  I still used the touchscreen, though.  I imagine that the touchscreens are cleaned more often than most people's phones, too.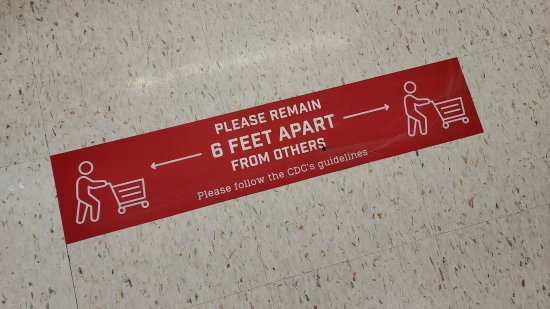 At the 24-hour Giant near Montgomery Mall, I noticed this on the floor near the registers.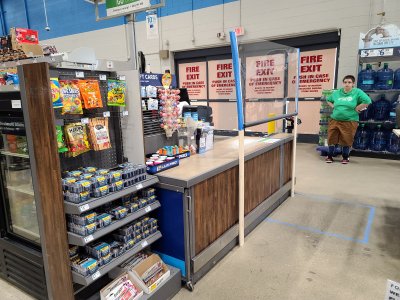 Lowe's, meanwhile, installed plexiglass screens in front of the cash registers as a temporary measure.  I definitely did not like those things, as they were very in-your-face and off-putting.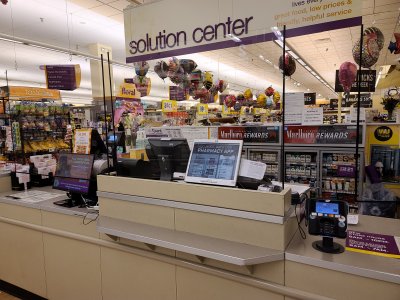 Giant did the screens as a temporary measure as well, suspending these from the ceiling.  I don't know what these are supposed to protect anyone from, but if it makes people feel better…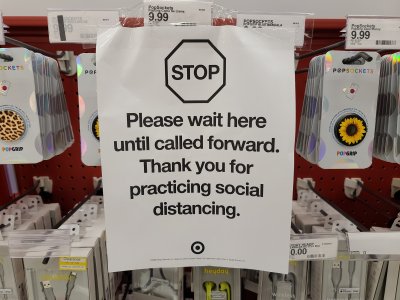 Then at Target, they are enforcing checkout spacing, asking that no one come into the checkout aisles until called up.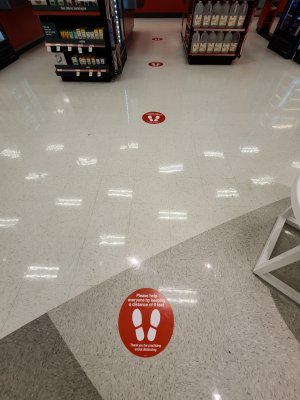 Those signs were supplemented with these cutesy little feet markers, spaced six feet apart from each other.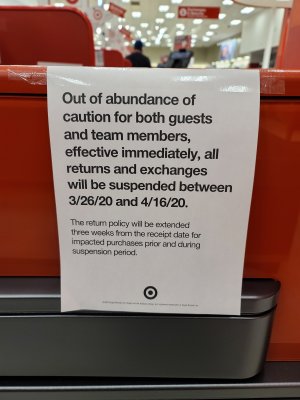 Target also suspended all returns.  I can only assume that the real reason is that they don't want all of the panic shoppers' items back.
However, of all of the places that we saw, CSNY Pizza in Rockville took things a bit too far.  Check this out: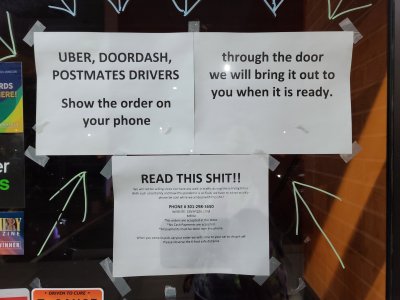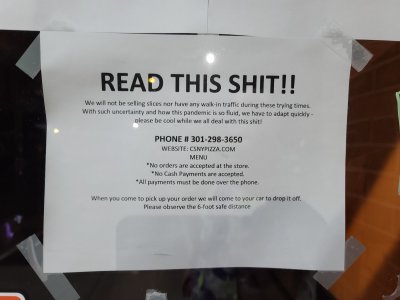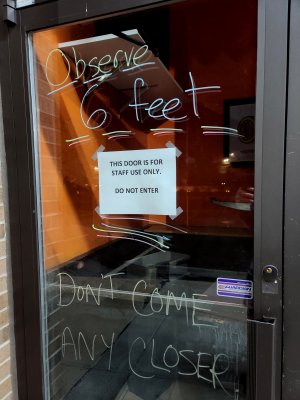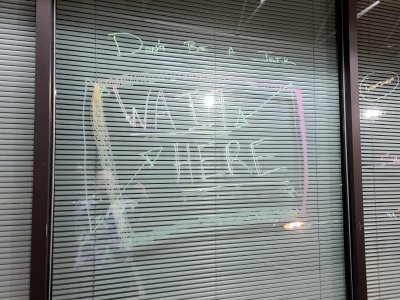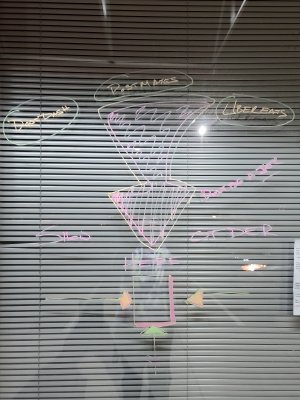 Yes, they actually wrote "READ THIS SHIT!!" in big letters and put it on a sign in their window.  How unprofessional.  In order to comply with the various emergency rules put in force, I can understand closing the interior of the business to the public entirely, but there is a right way and a wrong way to communicate that to the public and to your delivery drivers.  I posted about this on Facebook, and was surprised about how many people defended the restaurant for this sort of obnoxious conduct.  Not only is the signage unprofessional, but the "don't be a jerk" and "don't come any closer" messages are obnoxious, as is the phone box.  As far as I'm concerned, this is showing the owners' true colors, and I don't have to take that from someone I'm giving money to.  It makes me think twice about wanting to patronize this restaurant in the future knowing that this is how they really behave.
In any case, I don't know about you, but I'm looking forward to this whole period's passing, and the return of normalcy.  I'm going to leave it at that for now, because while I do have my opinions about what's going on, my feelings on the matter still feel incomplete, and I'm not quite ready to discuss it just yet.