Digging out of the snow…
February 13, 2014, 6:55 PM
So considering that the pool is closed tonight due to the snow, I still got my exercise today, pool or no pool.  For those not familiar, the east coast of the United States got hit with a pretty significant snowstorm.  This is the biggest snowstorm that I've seen since Snowmageddon in 2010.  And hitting in the same week as Snowmageddon did back in 2010, no less.  However, this snow has mostly been the light, fluffy kind so far, and that's the stuff that you can clear off the car with the brush part of the scraper with little effort (and really get some distance when slinging it).  However, when more than a foot of it falls in a short time, it does start to compress a bit.  But it looked very pretty while coming down last night: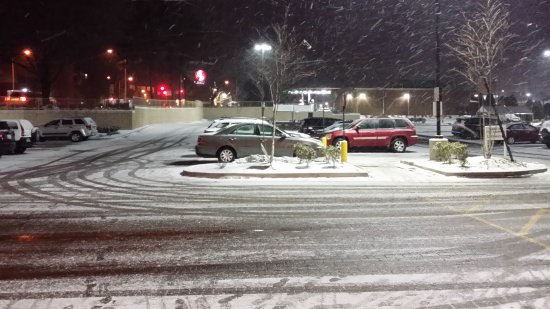 The parking lot at the Safeway in Olney at around 10:00 on Wednesday night.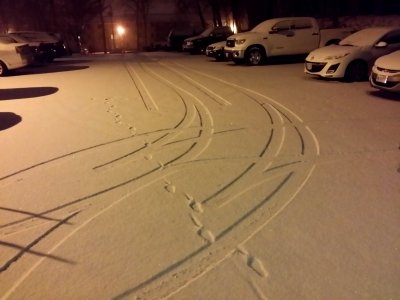 Soul tracks at my friend and swim buddy Suzie's house.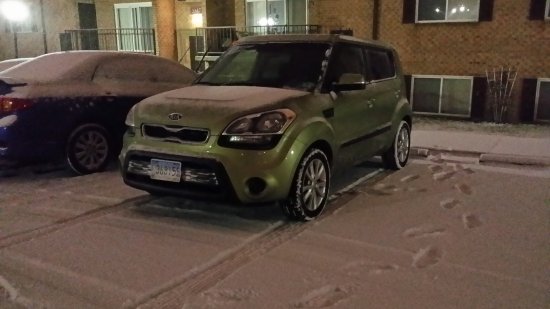 The Soul, parked for the night.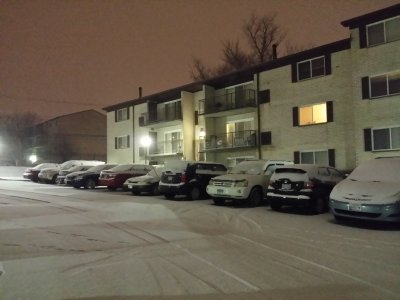 Looking back towards my building as the snow comes down in the evening, just before 11:00 on Wednesday evening.
Then around 5 AM, I was up and out to keep somewhat ahead of the snow clearing business, and cleared my car: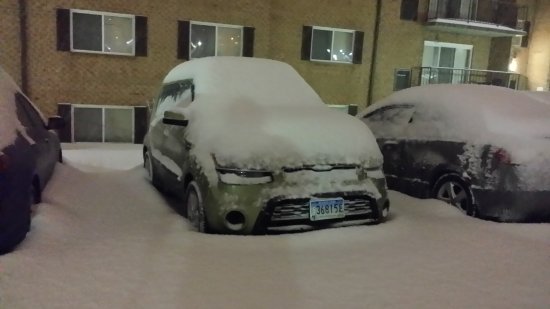 5 AM clearing, before.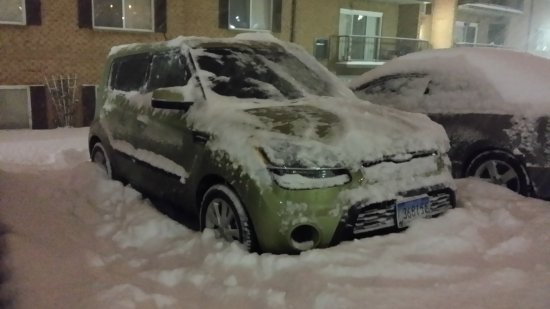 5 AM clearing, after.
To give you an idea of the depth at this point, here's a photo showing tire tracks: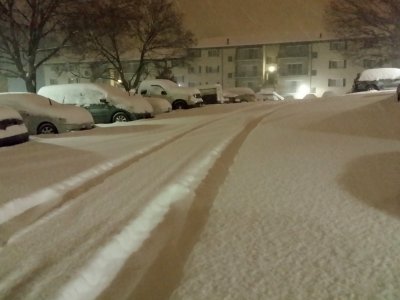 Then this afternoon, I went about digging myself out of the mess of snow.  Here's what I was presented with: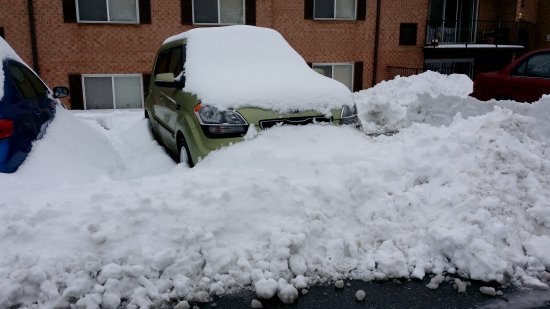 Blocked in with more than a foot of snow, plus a healthy covering on top of the car.
And then I had to remove all of that mess.

Halfway out!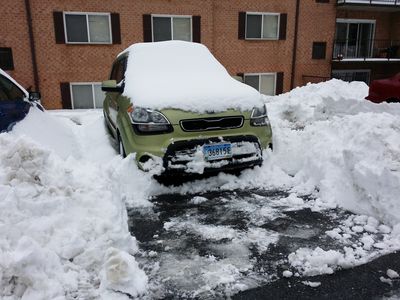 I think that I'm clear enough now to get out?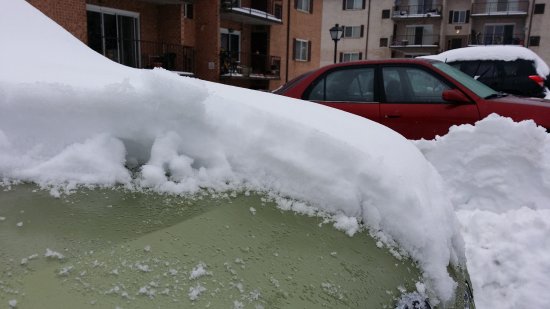 I got this much snow between 5 AM and when the snow stopped.  I guesstimate that this is about five more inches.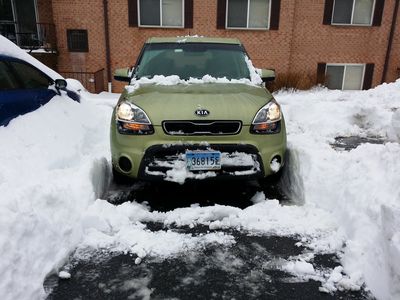 I did not clear enough just yet to escape.  Turns out that the car didn't want to go over that little tiny hump at the bottom, which was under the front of the car when I first cleared it.  So with the car slightly further back now, I scooped up that little hump.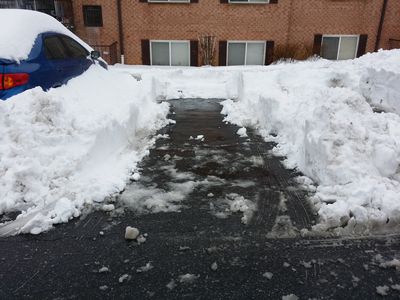 And from there, it was a pretty straightforward matter (literally and figuratively) to escape from the parking space.  Freedom!
Considering that I had to park halfway across the property from my own building last night, I moved the car to a space in front of the building that I actually live in: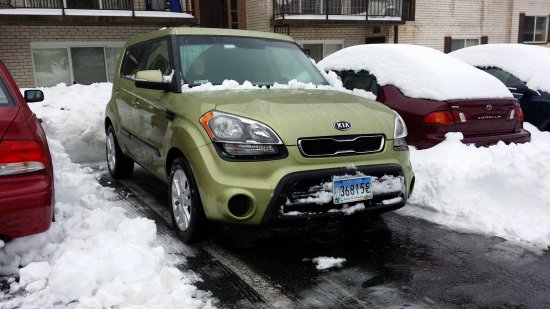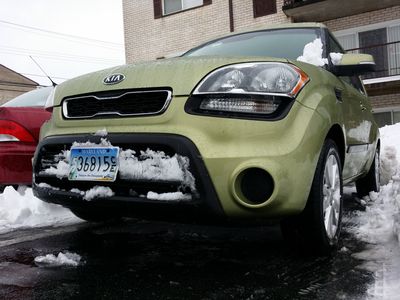 Obligatory "hero shot" of the car after being released from the snow's icy hold.
And by the way, I would just like to point out for a moment how awesome my new boots are.  This is a new pair of Sorel snow boots, which I bought last week on Amazon after my old boots ripped on me due to dry rot.  That was the modern day shoe hunt, buying a ton of shoes online from both Amazon and Zappos, trying them all on at home, and then returning all but one of them.  These are the winners: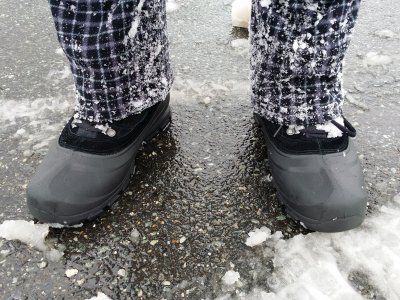 I ended up wearing these around the house for two hours afterwards because they were so comfortable.
Then after taking care of my car, rather than just go in, I decided to be a good neighbor and pitch in a bit.  I helped two of my neighbors dig their cars out after I was free.  That had a few benefits.  First of all, I got to talk to and connect with my neighbors.  After all, digging out of the snow is definitely a community event.  We've all got to do it, and so we might as well talk to each other.  Secondly, I got some extra exercise on a day when the pool was closed.  And also, I just like being nice like that.  Help a neighbor out today, and maybe they'll help you out one day in the future, or pay the kindness forward to someone else.
And now, it's snowing again.  Lovely.  I suppose we'll see how much more snow we get before it stops again.  I just hope that I left myself in a good position to get myself out again when the snow stops.