Childhood Days
Part 2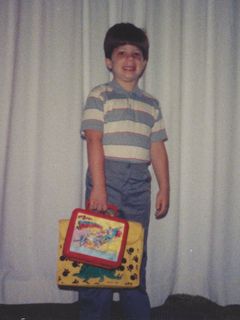 First day of first grade!
---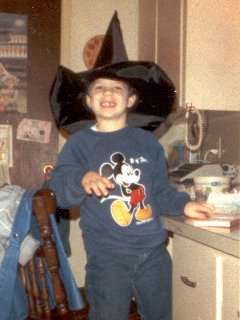 Posing in my Mickey Mouse sweatshirt while wearing a witch's hat, in October 1987.  Note the missing tooth that I am sporting in the photo.
---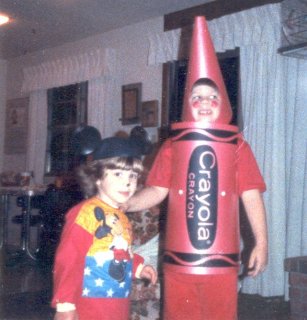 I went as a crayon for Halloween in 1987, and Sis went as Mickey Mouse.  And by the looks of it, I've found something far more interesting to look at than the camera.
---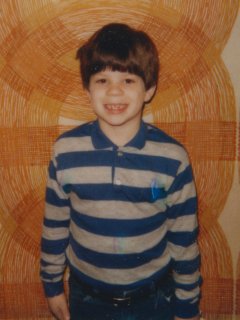 In this photo from Dr. Eckard's office dated February 2, 1988, all I have to say is that I had no cavities… in those teeth that I had left at the time.
---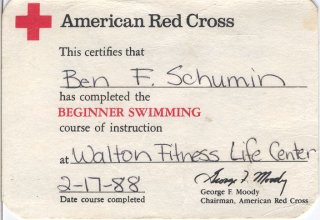 Later that same month, I completed the American Red Cross's beginner swimming course.  That was a very valuable course for me.  I am quite comfortable in the water, and have no fear of it.
---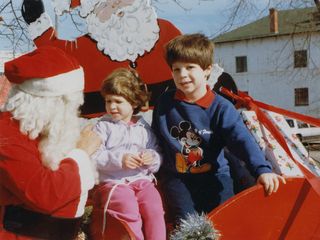 In December 1987, Sis and I took a moment to visit with Santa Claus, here in downtown Rogers.
---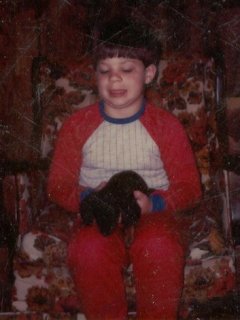 In this October 14, 1988 photo, I'm sitting in a chair holding our first dachshund, named Greta, as a tiny puppy.  Based on the date, we'd had Greta for six days when this photo was taken.  With this first Greta, where we got the name from made a little more sense.  In a book by H.A. Rey called Pretzel, the only dog that didn't find Pretzel to be as awesome as he made himself out to be was a little black-and-brown dachshund named Greta.
---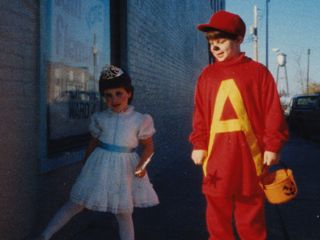 Doing a trick-or-treating event in downtown Rogers in 1988, Sis went as a fairy, and I went as Alvin the Chipmunk.
---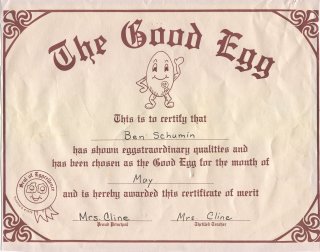 I received Grimes Elementary's "Good Egg" award in second grade, in May 1989. Interestingly enough, my teacher, Mrs. Cline, signed both spots.  Usually, Mrs. Carmical, the principal, signed the left spot.  Good Egg was one of those "good citizenship" awards where there was no defined criteria for the award, and only one student per class per month got the Good Egg award.  Additionally, with no limits on how many times one could get the award in one's school career, the same people would normally get the award year after year.
---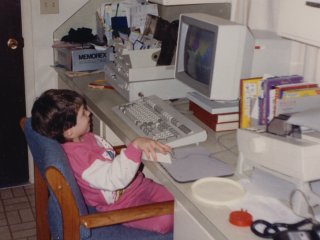 Sis uses our then-new computer, an IBM PS/2, in 1989.
---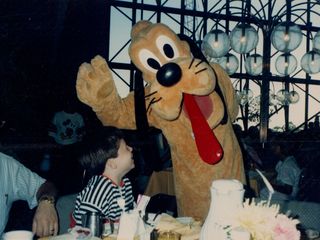 On our 1989 vacation to Florida, while attending the character breakfast at the Contemporary Resort, I spent a moment with Pluto.
---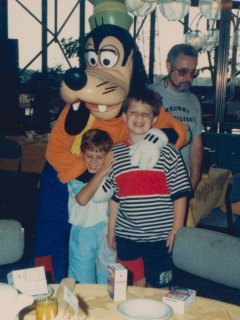 Along with my cousin Mike, I also got to say hello to Goofy.
---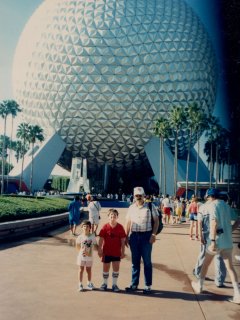 From left to right, Sis, me, and Dad, standing in front of Spaceship Earth at EPCOT Center.
---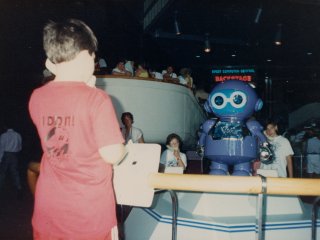 Near Spaceship Earth, at the CommuniCore attraction (which no longer exists), a I take my turn interacting with the robot seen in the distance, using a telephone handset.
---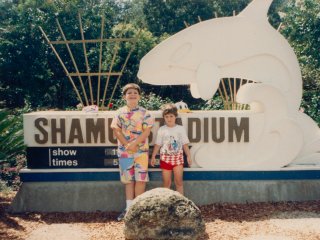 Sis and I stand outside Shamu Stadium at Sea World in Orlando.
---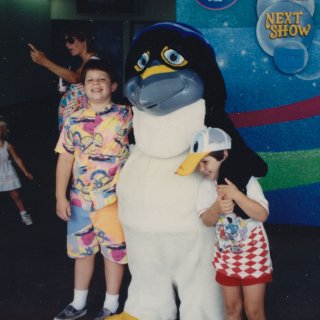 Sis and I pose with a giant penguin.
---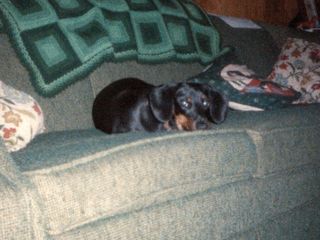 Greta strikes a relaxed pose on the couch in Rogers.
---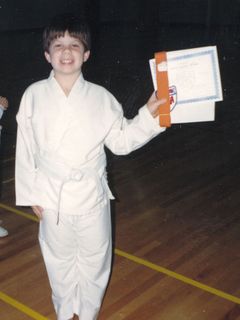 I took a Taekwondo class at the Walton Life Fitness Center from 1989-1992.  This photo is when I was promoted in rank from white belt to orange belt.
---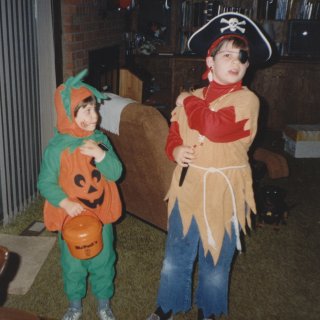 Halloween 1989.  I went as a pirate, and Sis went as a pumpkin.
---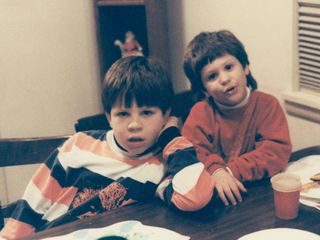 Sis and I at the dinner table.
---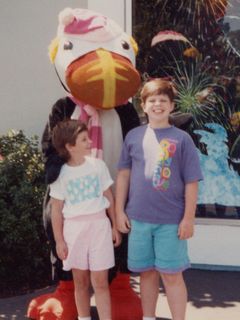 In August 1991, we went on vacation to southern California.  Here, we're in San Diego, at Sea World.  I personally thought that the Sea World in San Diego wasn't as nice as the Sea World in Orlando, but regardless, here we are in front of some costumed critter…
---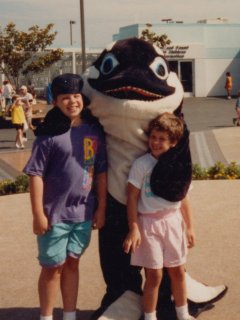 No trip to Sea World is complete without a visit from Shamu the whale…
---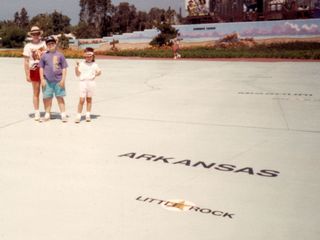 A giant map of the United States is spread out before us… so Mom, Sis, and myself got our picture taken while standing on Rogers, Arkansas.
---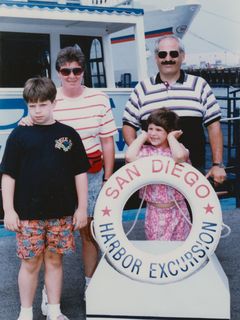 On our last morning in San Diego, we went on a short cruise around the harbor.  I remember that I was unhappy that day, but I don't remember why I was so unhappy.  My being mad at something shows in this photo, with three smiling faces… and my stormy expression.
---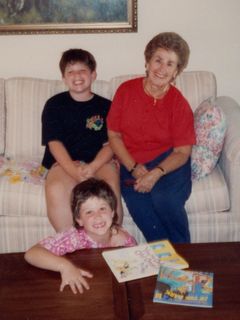 Later in the day, my mood improved as we visited with Aunt Ruth.
---
Similar to Walt Disney World in Orlando, Disneyland also offered a character breakfast.  Sis and I at this time were getting an autograph from Captain Hook.  Note the hats Sis and I have got on, that we got on our Florida trip two years before.  We're so geeky…
---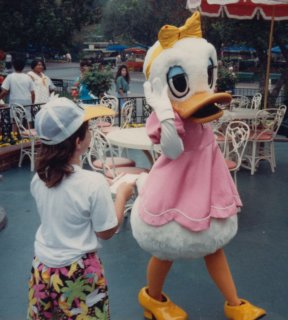 "Daisy, can I have your autogra… Daisy? Daisy, come back!"
---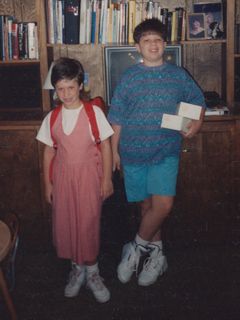 The first day of school… she's starting first, and I'm starting fifth, both at Grimes Elementary school.
---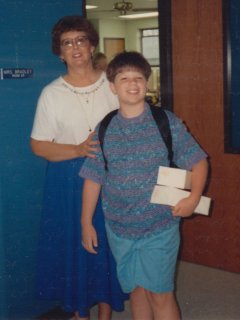 Here I am, posing for a photo with my fifth-grade teacher, Mrs. Bradley, on the first day of school.  Fifth grade was by far my worst experience in school, and this photo marked the beginning of that nightmare.  None of us expected how bad things would get that year, as relations between my family and the school hit rock bottom.
---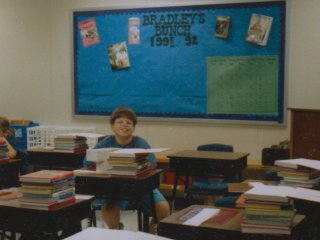 Sitting at my desk in Mrs. Bradley's classroom.
---
Sis and I pose in our star costumes after our performance in the musical Oh My Stars… It's Christmas! through church in 1991.  See this video from another group's performance of the play to get an idea about what this show was about.
---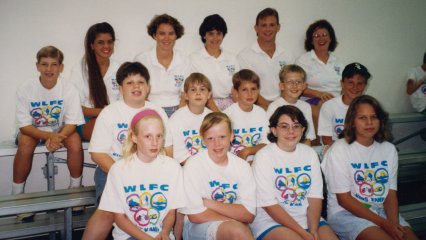 Age 11 at the Walton Life Fitness Center, for "Kids Kamp" in 1992, our last summer in Arkansas.  Aren't we all just so cute in our matching shirts?  Through 1988, the program was called "Walton Sports and Fitness Camp".
---
When we moved from Rogers, Arkansas to Stuarts Draft, Virginia in August 1992, we traveled by car over three days.  We spent the first night in Jackson, Tennessee.  When we arrived, we visited the house of Casey Jones, which was located on the property next to our hotel.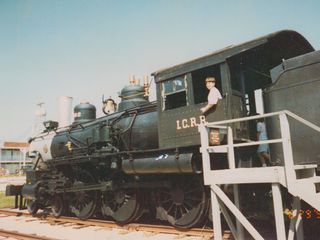 ---
Sadly, in March of 1994, in the face of mounting health problems, our little black dachshund named Greta finally had to be put down, after having only reached five years of age.  However, they say that whenever one door is closed, another is opened.  And as luck would have it, a family in Stuarts Draft recently had a litter of dachshunds born, and they were looking to find good homes for them.  Of the two females in the litter, one of them went to us, and Mom determined that this new puppy would also be named Greta.  And this little puppy grew up into the Greta that we had 1994 to 2008.  Here, Greta is shown as a puppy on her bed.
---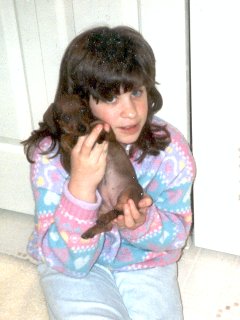 Sis holds Greta for a photo.
---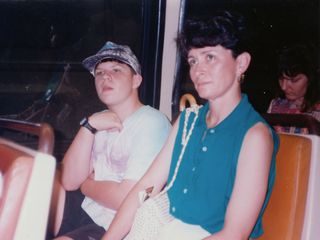 The first time I ever rode the Washington Metro was on June 21, 1994.  We rode twice, between Pentagon City and McPherson Square, and then between Smithsonian and Pentagon City.  This photo shows the ride back to Pentagon City.  I discuss this photo in the Journal.
---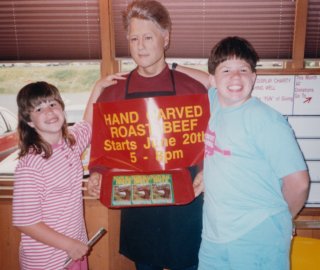 Sis and I pose with a wax sculpture of Bill Clinton at Western Sizzlin in Staunton, on loan from the Natural Bridge Wax Museum, in 1994.
---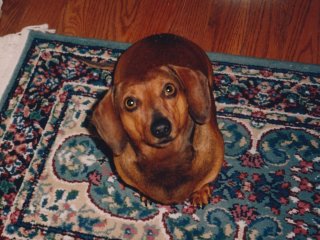 Greta stares up at the camera around 1997.
---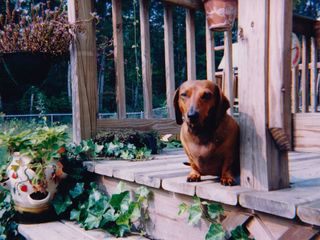 Greta poses for the camera on the deck, likely taken around the same time as the earlier photo.
---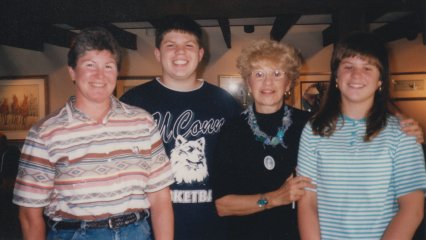 One thing that all of us would often do was to visit the P. Buckley Moss barn in Waynesboro when there were signings going on.  Here, Mom, Sis, and I pose with the artist after getting a print signed.
---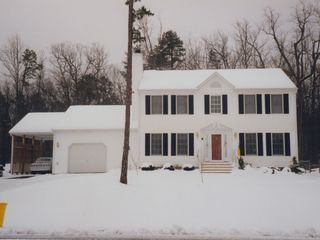 Snowfall at the house in Stuarts Draft.
---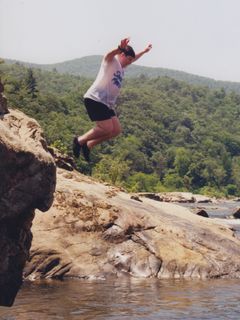 On a church tubing trip on the James River around 1998, I am shown here jumping off a rock into the water.
---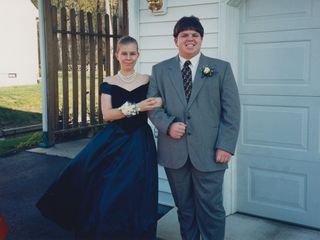 For my senior prom, I went with a coworker, Heather Leeson.  Here, we're posing for a photo before we headed off.
---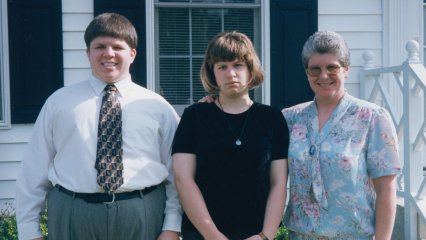 Just before leaving for my high school graduation, Mom, Sis, and I pose for a photo.  Sis's expression is priceless, as if to say, get me out of here.
Part 2