Road trip to New Jersey…
October 30, 2013, 9:45 PM
Last Thursday, October 24, was a fun day.  I took a one-day road trip to Monmouth County, New Jersey.  The inspiration was my needing a change of scenery for a day, and seeing this as an opportunity to do a few things I'd wanted to do for a while now.
As with any trip, they say that getting there is half the fun, but I was quickly struck by how much it cost to get to New Jersey.  Let's just say that officials in northeastern states, New Jersey in particular, never met a road or a bridge that they couldn't slap a toll on.  And tolls have gone up.  The Baltimore tunnels in Maryland (Fort McHenry and Harbor) are now four bucks each way (up from $2), and the Millard E. Tydings Memorial Bridge is now eight bucks(!) for its northbound-only toll (up from $5).  Otherwise, the Intercounty Connector near me was $2.05 from Layhill Road to I-95 (it's a variable toll depending on time of day – your results may vary), Delaware was still four dollars, the New Jersey Turnpike was $3.50 to Exit 7A, and then the Garden State Parkway wanted fifty cents from me for going one exit.  Kind of surprisingly, New Jersey didn't want anything for my ride on I-195.  Altogether, it cost $22.05 in tolls alone to get to my first destination.  And that's just getting there.  I had to run that gauntlet of tolls coming back, too.
The first stop was a very personal one for me.  I went to Temple Beth-El Cemetery in Neptune, where my grandparents on my father's side, Ruth and Seymour ("Pop") Schumin, are buried.  I also didn't realize before I arrived that Aunt Ruth and Uncle Seymour were buried in the same location.  Uncle Seymour died in April 1981, a little less than two months before I was born.  Pop and Grandma died within a month and a half of each other in the spring of 1988, when I was in first grade.  Aunt Ruth died in November 2003, right around Thanksgiving.  Therefore, I never got to know Uncle Seymour, it's been 25 years since Pop and Grandma died, and it's been almost ten years since Aunt Ruth died.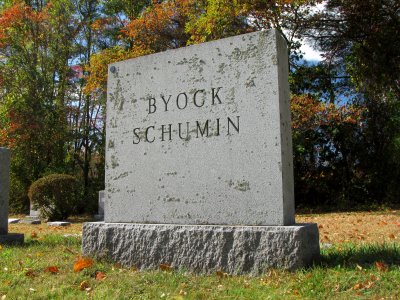 The main memorial, inscribed with the names Byock and Schumin.  Byock was Uncle Seymour's last name, Aunt Ruth's married name, and Grandma's maiden name.  Schumin was Pop's last name, and Grandma's married name.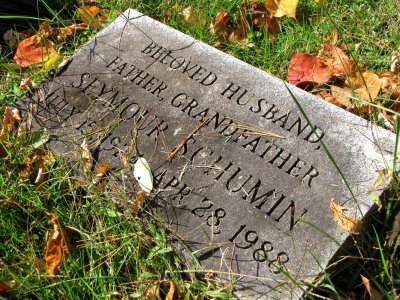 Pop's marker.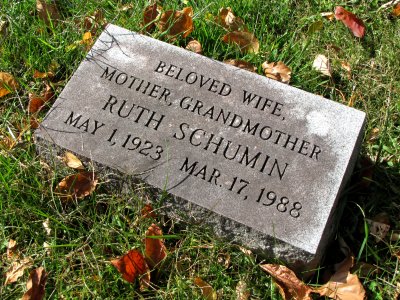 Grandma's marker.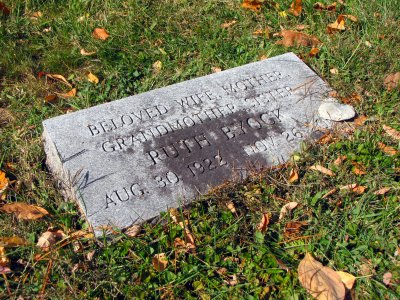 Aunt Ruth's marker.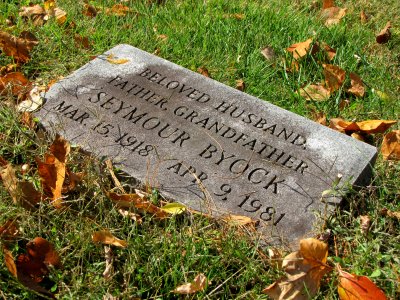 Uncle Seymour's marker.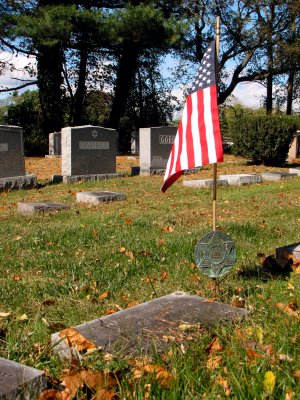 Since Pop served during World War II, his grave is also marked with a Jewish War Veterans marker and a small US flag.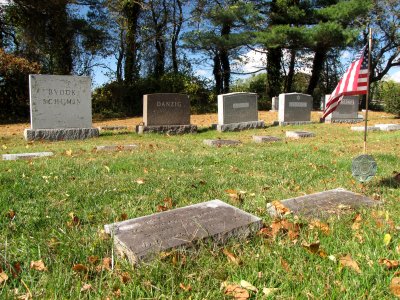 The complete setting.  Grandma is closest to the camera, at the center of the photo near the bottom.  Pop is to her right, with flag.  Aunt Ruth is at extreme left, next to the main memorial.  Uncle Seymour is to her right.
This was my first time visiting the cemetery.  It was good to reconnect with relatives whom I had not seen in many years.  They all loved me very much, and I love them all very much as well.  Hopefully I'll be less of a stranger there in the future, and come back to visit more often.
After leaving the cemetery, I headed over to Wanamassa to do a quick drive by Pop and Grandma's old house.  Considering that the nearby city of Asbury Park had fallen on hard times in the years after Pop and Grandma died, I was curious to see what the house and the neighborhood looked like.  My expectation was that the neighborhood would look somewhat run down, similar to the way that our old house in Glassboro looked when I went past there in 2009.  I was pleasantly surprised that the neighborhood looked awesome.  The houses were all very well-kept, and Pop and Grandma's house looked great: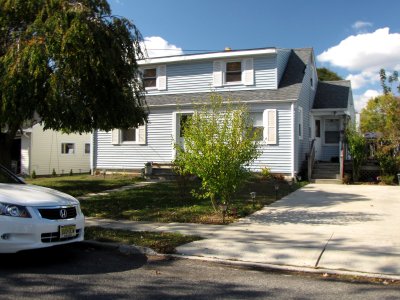 You would never know that the house was built in 1948.  I don't know how the house looks inside, but the outside looked really awesome.  Of course, it's not like the interior would be recognizable anyway.  As I understand it, the house was extensively renovated after Pop and Grandma died, which included an entirely new floorplan.
After that, I headed over to Asbury Park.  I've followed the progress on the redevelopment activity in Asbury Park over the last ten years or so, and so I wanted to see it for myself.  I also had lunch on the boardwalk, enjoying a sandwich that I had bought at a Wawa store in Neptune on the way over.  I used to go to Asbury Park quite a bit as a child, as we would go over there whenever we visited Pop and Grandma.  We'd usually go to the Casino, where there was a carousel that I would always ride.  The last time that I had been to Asbury Park was in 1987.  I have a photo from that visit posted on the website.
Since then, a lot had changed.  Palace Amusements, home of Tillie, abandoned for more than a decade, is gone.  The Casino has been somewhat neutered, as everything east of the boardwalk was too far deteriorated to be salvaged, and was therefore demolished.  The remainder of the Casino has gotten a new roof, and the section in line with the boardwalk is open and can be walked through.  The carousel house is empty, and the section between these two areas is being used for storage.  The old Howard Johnson's is now a McLoone's restaurant.  Convention Hall is fully intact, has active shops in it, and restoration work on the exterior was underway while I was there.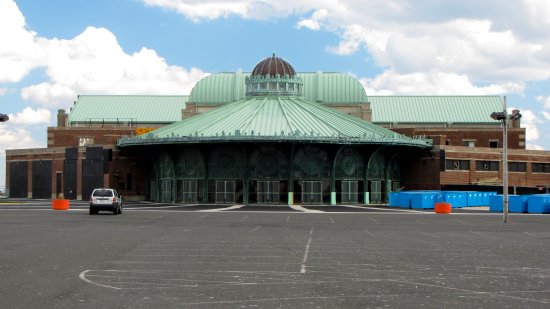 The Casino.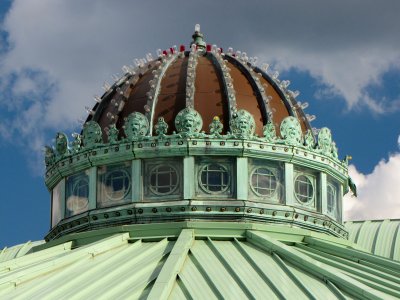 Detail of the dome on the roof of the carousel house.  Not sure if these lights on top of the dome are still functional, but I would love it if they are.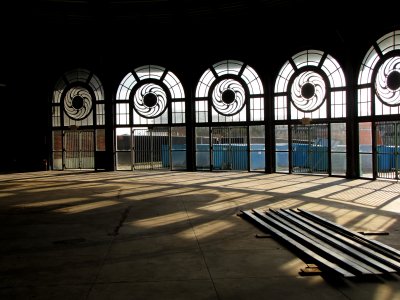 Empty interior of the Casino's carousel house.  A photo of me on the old Casino carousel is posted on Schumin Web in a 2004 Journal entry titled "Greetings from Asbury Park!"  The interior of the carousel house is now painted black, and a wall has been built at the east end of the carousel house.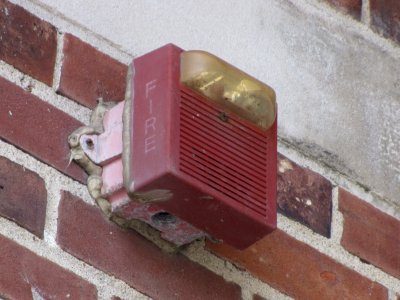 Surprise: I spotted a Wheelock AS (likely the weatherproof version) on the north side of the carousel house.  Considering that the Casino has been kinda sorta renovated but not really, I was not at all expecting to see a fire alarm system.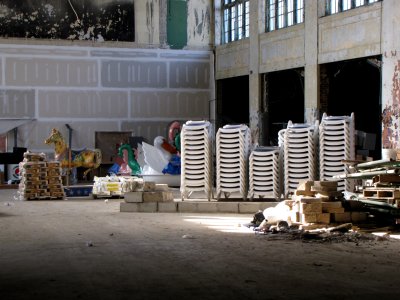 The section behind the carousel at the Casino, now being used for storage.  The Mad-O-Rama dark ride used to be located in the space behind those piles of chairs in the right of the photo.  I only rode Mad-O-Rama once (likely that 1987 trip), and it scared the heck out of me.  After all, I was only six years old.  But I don't regret doing that.  After all, Mad-O-Rama is completely gone now.  I think I would have regretted it if I hadn't ever ridden, now that it is gone.  So I'm glad I did.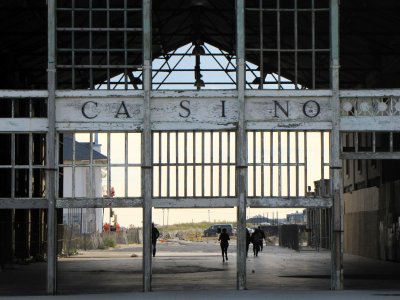 Boardwalk-facing facade of the Casino.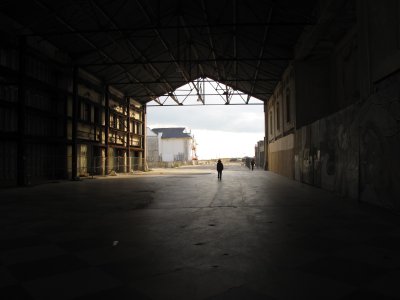 The middle section of the Casino, behind the facade shown in the previous photo.  The remainder of the Casino east of this area (the wall on the left side in this photo) has been completely demolished.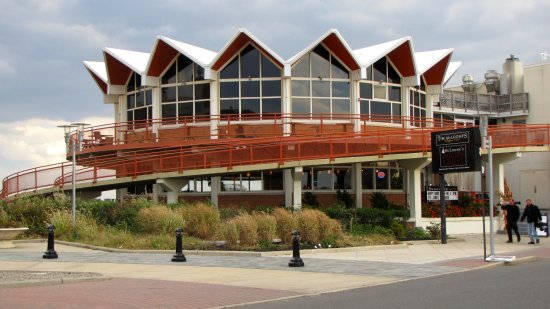 The former Howard Johnson's, now McLoone's Asbury Grille and Tim McLoone's Supper Club.  I've been to McLoone's Pier House at National Harbor before, and I remember it as being good food, but a bit more expensive than I would otherwise prefer.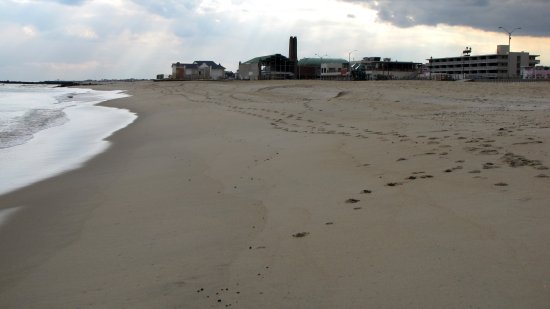 I also took a moment to take a new version of an old photo that Mom took of Dad, Sis, and me on our last visit in 1987.  In the old photo, the middle section of the Casino is behind Sis's head, and the Empress Hotel is in the background to the right, behind that other family.  Now, the most visible part of the Casino in the old photo is gone, and the Empress is still going strong.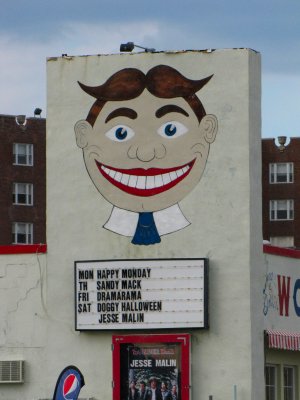 Tillie has now taken up residence at the Wonder Bar.  This is not the original Tillie that was removed from the Palace in 2004.  As far as I know, that Tillie is still in storage for eventual reuse.  Rather, this Tillie is a reproduction, which has been on the Wonder Bar since around the time that the Palace was demolished.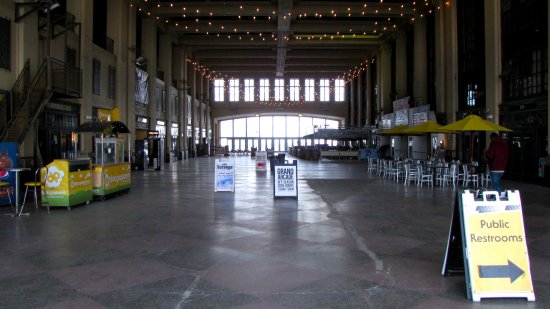 Arcade at Convention Hall.  Owing to the fact that this was off-season, Convention Hall was pretty quiet.  I have very few memories of Convention Hall, but I do remember going in one time, and seeing a sign with a yellow background with a message on it with the word "COLD" on it in big letters in the distance.  I don't remember much else about it, but I do remember the word "COLD" on it, and that the sign was big and yellow.  I couldn't figure out where that had been when I went through and investigated.  Does anyone remember this from the mid 1980s?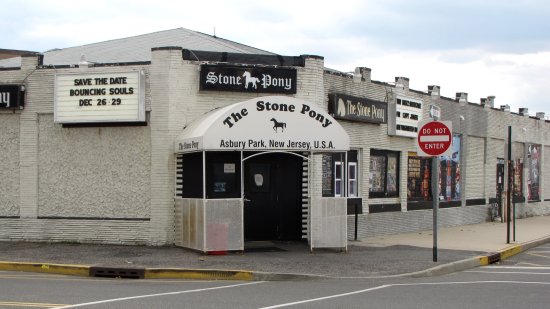 And this is The Stone Pony.
All in all, I thought that the Asbury Park boardwalk area looked pretty nice.  The Casino was probably the roughest looking building of the bunch, but even that has seen maintenance in recent years (note the new roof).  Hopefully they can restore the Casino to something fun again one day, and not just more shops and restaurants, because trust me – there are enough of those already.  Seriously, though, a modern take on the Casino's indoor amusement park concept could probably make a killing.
As I finished up in Asbury Park, remembering that unexpected fire alarm on the Casino, I had an "aha" moment: Wheelock is located in Long Branch.  Where was that in relation to my current location?  A quick Google search on my phone revealed the answer: six miles.  In other words, very close.  I'd always wanted to see what Wheelock's factory looked like in real life, so I drove over.  I had no intention of seeing if I could tour the place.  This was unscheduled.  If I wanted a tour, I would make arrangements for that ahead of time.  This was just a drive over to see what the building looked like and to get a photo with the sign.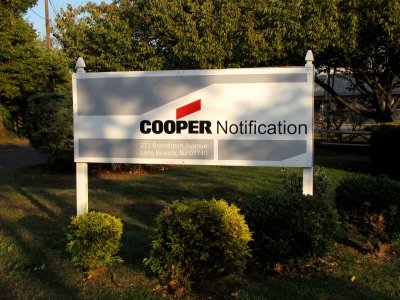 The sign, visible from the street.  I was disappointed that the word "Wheelock" was nowhere to be found, but apparently, from what I can tell, the Wheelock name is now only being used as a brand name for products.  The company is now Cooper Notification.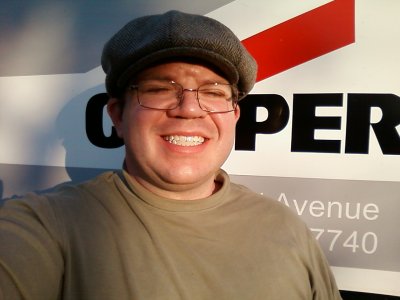 Taking a selfie with the sign.  Owing to that this was taken late in the day, the sun was very low in the sky – thus why I'm squinting.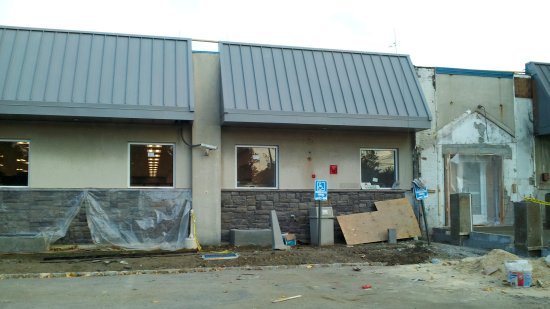 The west end of the Wheelock factory, currently under renovation.  I'm guessing that the door to the right on this photo is the normal main entrance.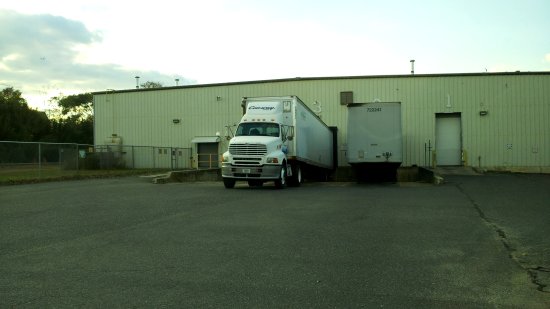 Shipping and receiving, at the east end of the Wheelock factory.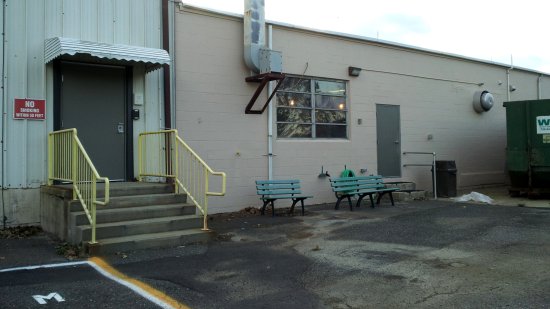 Entrance on the north side of the building.
So that's what Wheelock looks like, at least from outside.  It's at the north end of Long Branch, and most surprisingly, it's in an area that is mostly residential.  The building is set back from the street quite a bit, and it's the only industrial building in the immediate vicinity.  Most of the buildings on Branchport Avenue are houses.
From there, I started thinking about heading back home.  Considering it was not long after 5:00, I figured that the drive would be unpleasant no matter how I went owing to rush hour, so let's just get this over with.  I was pleasantly surprised when this ended up not being the case.  Traffic on the Garden State Parkway was heavier than when I went through earlier, but it was moving at full speed.  I-195 was pretty quiet, and then I skipped the turnpike and took I-295 south, saving a few bucks on tolls in the process.
I ended up taking a quick stop-and-stretch break at a place where I visited when we lived in New Jersey: Deptford Mall.  I'm pretty sure that the last time I was at Deptford Mall was in 1985, the day before we left for Arkansas.  That visit was quite memorable.  Mom and I had gone to Deptford Mall in order to get me a Phillies jacket.  We were in this sports apparel store in the mall, and the store employees had left a glass display case open.  So according to Mom (I remember the incident, but less clearly than Mom does), I got hold of the door of the display case with my little three-year-old hands, and closed it.  Hard.  That caused the glass to shatter and go everywhere.  As Mom tells it, she was concerned that we would have to pay for the damage to the case.  Then she found out that the store was concerned because they had been the ones to leave the case open in the first place.  End result: we bought the jacket, and the store fixed its display case on its own dime.  Walking through Deptford Mall, I was kind of wondering where the store, probably long gone by now, was.  No idea.  But I did get a photo of the Boscov's end of Deptford Mall: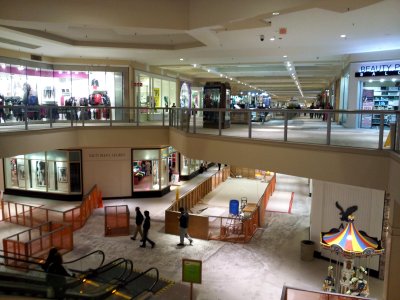 By the way, does anyone know where they used to set up the Santa photos at Deptford Mall back in the early 1980s?  I have no idea, but I figure it had to be at either the Sears end, the Boscov's end, or the center court.
And of course, leaving Deptford Mall, my phone decided that it wanted to freeze up and not feed me driving directions.  Lovely.  So while it was rebooting, I decided to wing it.  I figured, I got in from southbound 295, so I can get myself back out to southbound 295, right?  Big "no" on that one.  I definitely made a couple of wrong turns there, and had to backtrack my way back to the mall.  I managed to find my way back onto 295, but going northbound.  But no worries – all I had to do was get off at a relatively simple exit, and I could turn around.  Just as I found my way onto northbound 295, Dad called me, and I told him about my trip to New Jersey, and how I had gotten a bit turned around.  Turned out Dad knew exactly where I was (at the 295/76 express-local split northbound at that point).  We both agreed, though, that this was not the time for him to feed me directions, and I needed to fully concentrate on where I was going.
This is also when I rediscovered something else about New Jersey: the drivers are psycho.  I was driving about eight miles over the speed limit, and there were people zinging past me left and right, going so quickly that I could feel their wake in my car.  Those kinds of drivers make me nervous.  Even Fairfax County drivers aren't as nutty as New Jersey drivers.  All I ask of these drivers is that if you decide to take your own life in your hands behind the wheel, that's your business, but please don't take mine in your hands, too.
And then from there, it was smooth sailing all the way home.  Someone explain to me, though, why someone thought it was be a good idea to close all of the restaurants at Chesapeake House at 8:00 PM.  I made it there at 8:30, and was hungry, and all of the restaurants were closed.  Normal people would expect that fast food joints, especially in the median of one of the country's busiest highway corridors, would be open later than 8:00.  But that is not the case.  Perhaps this is a temporary thing until the new Chesapeake House opens, but I was feeling peckish, and there was no grub to be had.
So all in all, I had a good time in New Jersey.  I got out of the house for a while, I got to visit with Pop, Grandma, Aunt Ruth, and Uncle Seymour, and I got a chance to revisit some childhood memories of my own.  I unfortunately couldn't visit with other family members in New Jersey on this trip due to the last-minute planning of it all (I decided to go literally the night before, and didn't want to abruptly spring a potential visit on anyone), but New Jersey is closer than you might think, and I definitely want to get up there more often, and see everyone up there soon.