Greetings from Asbury Park!
July 20, 2004, 9:11 PM
Mom found the most awesome picture ever today while I was at work. Look: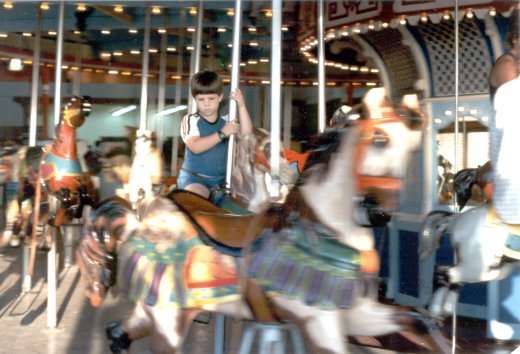 As you probably gathered, that's me in that picture, at the tender age of six, in July 1987, according to the date on the photo. We're at the Casino at Asbury Park, New Jersey, where we used to go with my grandfather (Dad's side), who we called "Pop". This would have had to be the last time we visited the Casino, since after this visit, Pop died within the year, and then the Casino closed not long after that. The hand-carved horses were all sold off, and the carousel itself was taken to the Family Kingdom Park in Myrtle Beach, South Carolina, where it still operates today, albeit with new fiberglass horses.
I tell you, those days were good days, going up to Asbury Park with the parents and the sister (who, on this particular visit, was only two). Going to Pop and Grandma Schumin's house, and then going over to the Asbury Park boardwalk and riding the rides, both outdoors and at the Casino, as well as doing the beach thing a bit.
Most of my memories of Asbury Park are going with Pop to the Casino, where I rode the merry go round, waving to everyone each time I rode past. I think on this visit, I also rode Mad-O-Rama. I'd been building up the nerve to ride that one for a few visits to the Casino (it looked a little scary to my little self), and I finally rode it. Scared the living daylights out of me. Seriously, I was in tears at the end of it. But you know what? I don't regret doing it. It was a good experience in the long run, especially since the ride is gutted now.
Still, I thought I'd post that, since the Casino in Asbury Park has great sentimental value to me, and I hope that it's properly restored in the end, with a grand new carousel (or a return of the original one, though I don't see that as being likely), and restoring the fun house and Mad-O-Rama.
Web site: Tunnel of Laffs site about the Casino
Song: Theme for The Daily Show
Quote: "I just hope we can restore the Casino to its proper self again. You may recall that I did a quote a few weeks ago about the rescue of Tillie at Palace Amusements, formerly located across the street." (I have no memories of Palace Amusements, but if you're interested about its story, I recommend visiting Save Tillie)