Drive carefully, everyone…
May 17, 2020, 12:21 AM
You may have noticed the photo feature that is currently running on the front of the site depicts a vehicle on its side following its being involved in an accident.  First of all, before you ask: we were not involved in this accident.  Elyse and I saw a car with a bashed in front in the middle of the road and a second car on its side at the intersection of Montgomery Village Avenue and Lost Knife Road while we were on the way home from dropping off a package at a UPS locker, and, seeing no emergency vehicles around, stopped and called it into 911.  Thankfully, no one appeared to be seriously hurt, as both drivers were able to walk away from their respective vehicles.  However, I suspect that the driver of the smashed car hit her head on the windshield, as there was damage to the windshield consistent with that sort of impact.  Additionally, both drivers did ultimately leave the scene in ambulances, presumably to get checked out.
Once we were finished talking with 911, we got some photos of the scene.  Here are some of mine: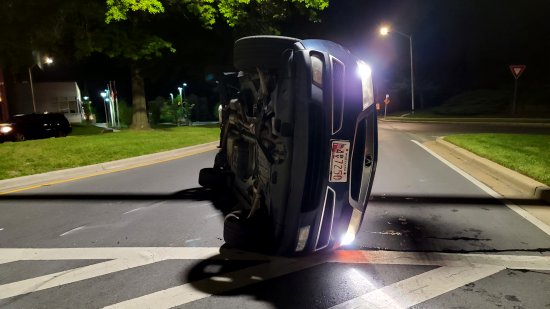 The overturned vehicle, an Acura MDX.  The driver had not yet turned the car off when this photo was taken.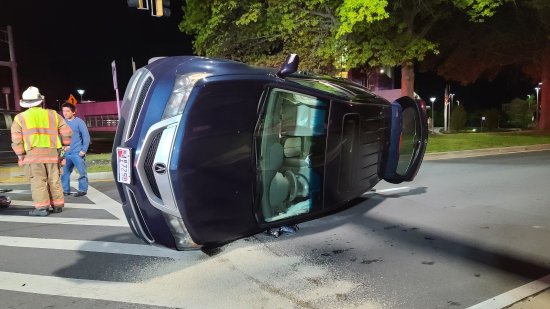 The Acura, on its side, after the driver crawled out through the back hatch.  The man in the blue is not the driver, but rather, he is an off-duty firefighter who happened to pass by and rendered some assistance, particularly in helping the driver get out.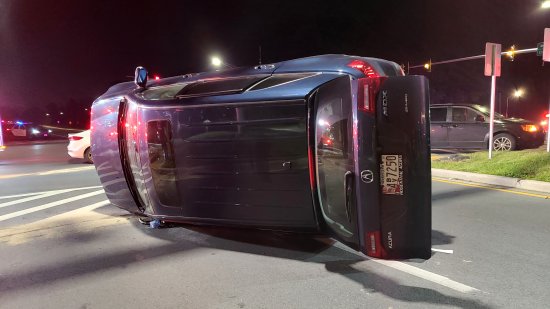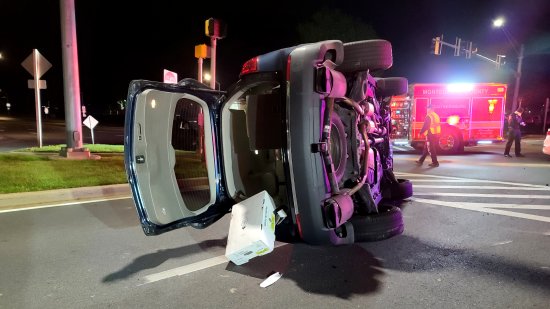 The Acura, on its side.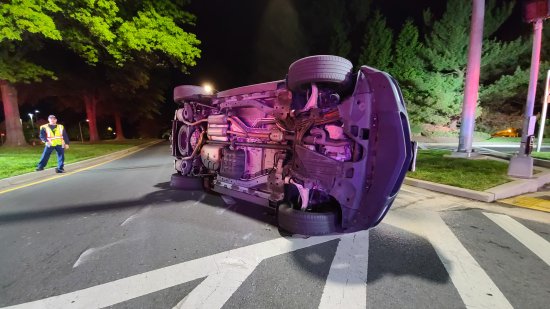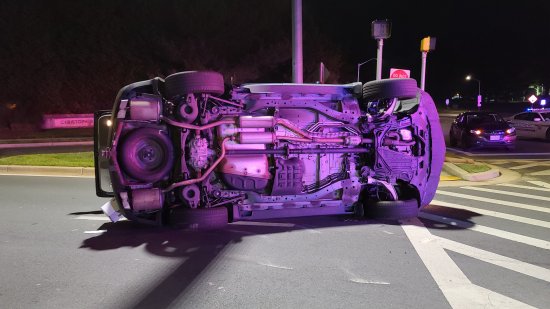 Undercarriage of the Acura MDX.  I never gave much thought to what it looked like underneath, but there it is.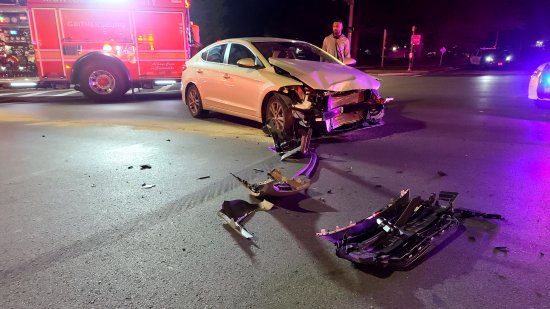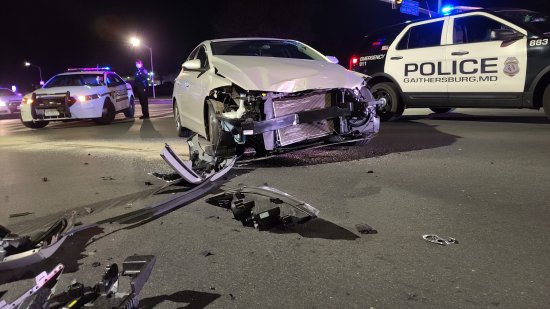 The other vehicle, a Hyundai Elantra, in the middle of Montgomery Village Avenue, with its front smashed in, and debris scattered in front of it.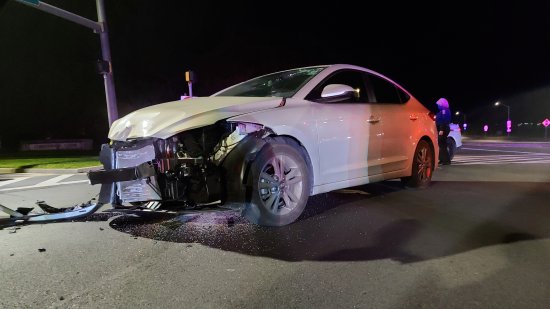 In this photo, note the damage to the windshield consistent with a head impact.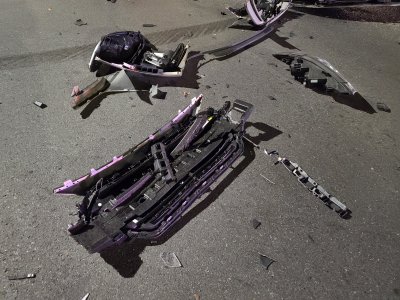 Close-up of the debris from the Hyundai.
As far as what happened, I'm not sure.  The accident happened around 12:30 AM, which is the time that many traffic lights in Montgomery County switch from normal operation to flash mode.  This intersection is one that switches at that time.  Clearly, one or both drivers made an error in judgment somewhere, but I couldn't tell you who hit who or how the Acura ended up on its side.  In any case, I imagine that both vehicles are totaled.  The Hyundai is pretty obviously destroyed, having had a front-end impact.  The Acura may look relatively undamaged, save for the left side mirror, but enough airbags went off that it's likely done for as well.
In the end, I suppose that the usual advice applies: pay very close attention while you are driving, because your mistake could cost you your life, or could cost someone else theirs.