So Christmas in Montgomery Village was a tad underwhelming…
December 27, 2018, 2:44 PM
Elyse and I drove around our immediate area in Montgomery Village looking at lights after I got home from work on Christmas Eve.  The sense that we got from driving around was that this wasn't a big year for decorating.  There were some houses that were decorated, but on the whole, there was not a whole lot going on.  Last Christmas was definitely better, though admittedly, it is more of a challenge to successfully decorate townhouses than single-family houses.  Nonetheless, I have a few highlights to share: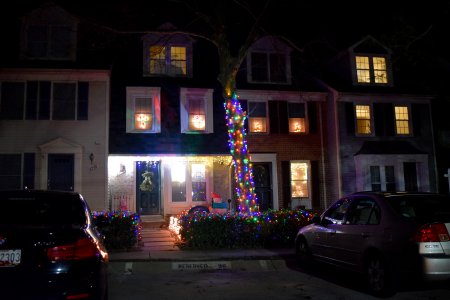 These were the only decorations of note on my street.  It appears that these two houses coordinated their efforts, as the decorations in the second-floor windows match, and the lighting on the hedges on both properties also matches.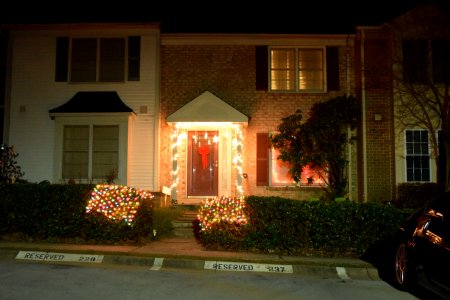 On the other side of my neighborhood, some simple white lighting around the door, and what looks like a blanket of lights on the hedges.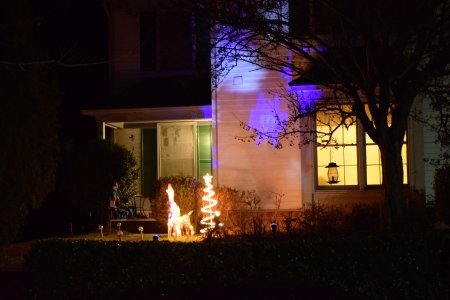 An end unit townhouse.  Lighted Christmas tree and reindeer, and some of those animated projection lights.  In general, I consider the projection lights to be fairly low effort displays.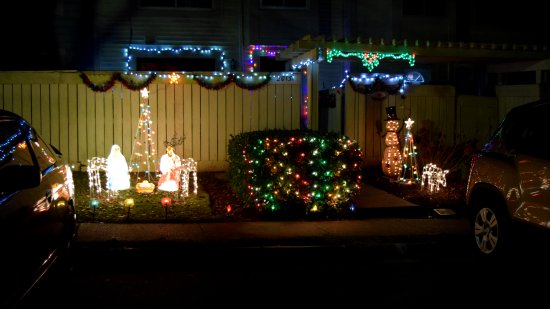 Over in Picton of Birlstone, which has back-to-back townhouses, this was the only display of note, with a manger scene on one side, a more secular display on the other, and some lights to bring it all together.
I admit, though – with back-to-back townhouses, it's probably pretty hard to decorate for Christmas.  Your fenced yard is in front, and thus half of your house's facade is obscured.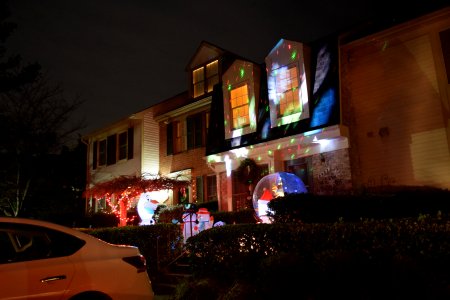 This one is at the entrance to my neighborhood, and was by far the most decorated in the whole bunch.  Lots of inflatables, including a character from Frozen and a snow globe, and lots of projection lights.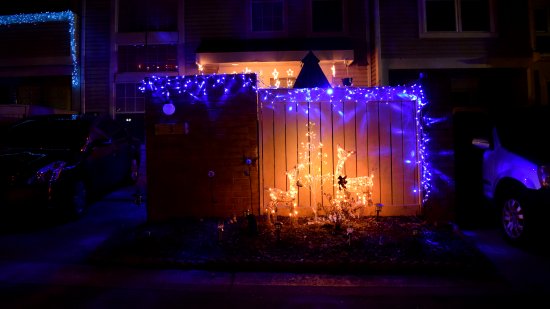 This one is off of Lewisberry, which has more back-to-back townhouses.  These houses have even less area to decorate than Picton, but as seen here, it's possible to do it well.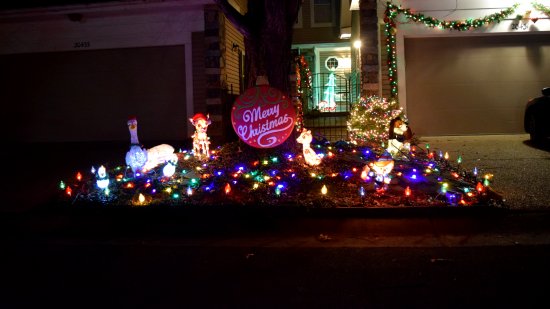 In another neighborhood across East Village Avenue, this was the only house that was decorated.  In this case, they did the space around the entrance.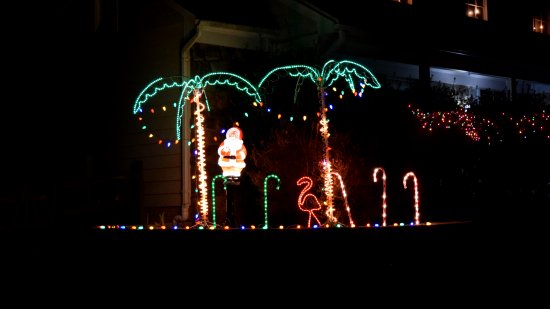 In a neighborhood of single-family houses, this one stuck out due to the more tropical theme.  Palm trees and a flamingo!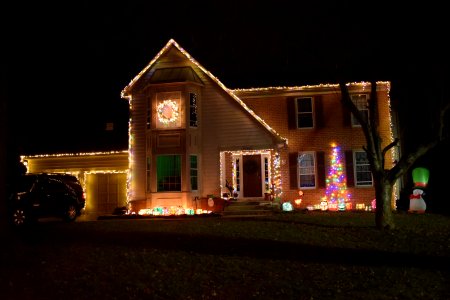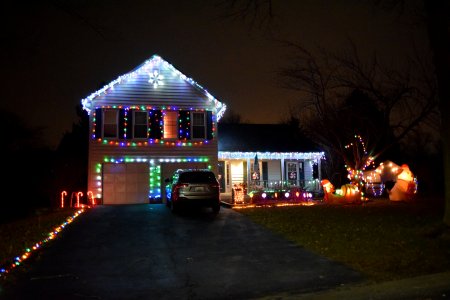 These two houses were the only ones that I found that were really done up for Christmas in a major way.
So all in all, it was kind of a blah year for Christmas decor.  But note that it is, in fact, possible to decorate a back-to-back townhouse in grand fashion, as seen last year: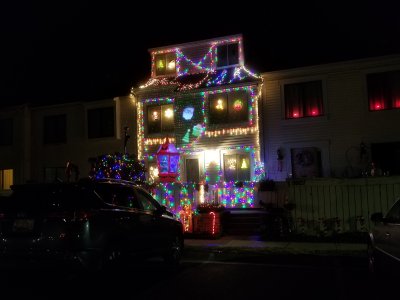 Meanwhile, I am considering doing some simple decorating for next year.  I have always been a fan of simple white light, and so I'm thinking about getting an LED floodlight and lighting the front of the house for December, and then putting a wreath on the door.  Nothing major, but more than nothing.  We'll see if I do it, I suppose.