A weekend trip to Pittsburgh…
June 11, 2023, 2:25 PM
From May 31 to June 2, Elyse and I made a little weekend trip to Pittsburgh, where we explored around a bit, saw some friends, and got lots of photographs.  Pittsburgh was something that we had wanted to do for a while, after our very fun and productive trip in 2016, but I didn't want to do Pittsburgh as a one-day trip ever again.  It's far too much to pull off in one day, even though our 2016 trip was wildly successful as far as accomplishing our objectives.
Our route there was pretty typical for Pittsburgh, going from home to Frederick to Breezewood to the Pennsylvania Turnpike.  We also spotted the point where the turnpike was rerouted in the 1960s to bypass the Laurel Hill Tunnel.  Then we detoured onto I-70 at New Stanton in order to visit Washington, Pennsylvania.  That side trip was for Elyse, as she wanted to visit a hobby shop at the local shopping mall, and she also wanted to visit the George Washington Hotel, where they apparently had a very vintage toilet.  From there, we headed into Pittsburgh.  I photographed in Breezewood and in Washington,
Then the middle day was largely transit-oriented, as we took the buses all over the city to accomplish our objectives.  I wanted to do the inclines during the day, as I had only ever ridden them at night on my previous two visits.  I also wanted to get daytime photos from the overlooks.  We also went back to the Cathedral of Learning at the University of Pittsburgh, meeting up with our friend Patrick Nedz there, and meeting up with our friend Jared Chambers later on.  We saw a few elevators, and rode a lot of buses, and had a good time together overall.  Surprisingly, we never touched the light rail system, aka "The T", on this trip, other than to purchase our SmarTrip cards for Pittsburgh (which are called ConnectCards) at Wood Street station, and then coming right back out.
On the final day, I was going out unsupervised, as Elyse flew back ahead of time on Southern Airways Express in order to go to Roanoke to handle some business for Commonwealth Coach & Trolley, which is a bus museum that we are both involved with.  I spent much of that last day flying the drone around various locations in and around Pittsburgh.  I knew that my ambitions in Pittsburgh were greater than the capacity of my drone batteries, so it was a constant battle all day to keep those batteries charged, i.e. as soon as I depleted one, it went onto the car charger to get juiced back up so that I could keep flying, and I had to pace myself to ensure that I wouldn't be left without a charge.  I flew from the various overlooks along Grandview Avenue, getting photos of downtown from over the river, I did a photo walk along the north shore of the Allegheny River (this was done with the explicit intent of giving the drone batteries time to recharge), I got some aerial shots of the Cathedral of Learning and the Litchfield Towers at Pitt, then I went over to East Liberty to photograph East Liberty Presbyterian Church and the "Joy of Life" statue nearby, which, as it turns out, is part of a fountain.  My last stop was the Century III Mall in West Mifflin, but only if time and daylight permitted.  Fortunately, I got done in East Liberty with enough time to do it, so I finished off my day doing a flyover of Century III (going in and exploring the closed mall was never part of the plan, owing to time, safety, and legal considerations).  Then I went home, taking Pennsylvania Route 51 to I-70 to the Turnpike to Breezewood to Frederick and so on.  Not a bad time.
And then here are the photos…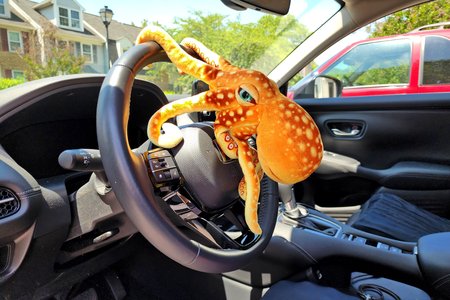 Before we left the house, Woomy tried to take the car out himself.  It was a valiant effort, though not successful.  He didn't like that too much.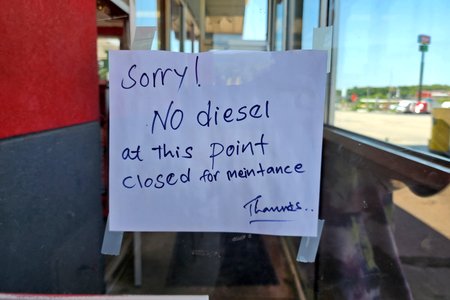 Sign on the door at the Flying J truck stop in Breezewood.  This location was run by an independent operator, and it was just sad.  The fuel pumps were down, and the convenience store had a lot of disused areas.
Most of my photos of Breezewood this time around were from several short drone flights, so here are some: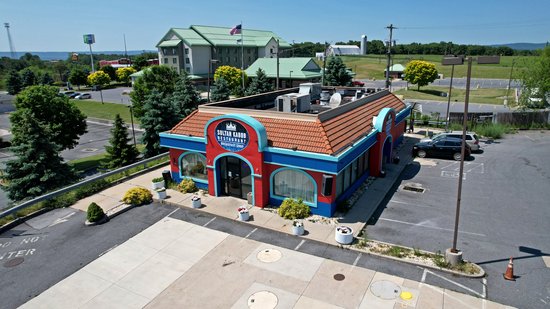 Former Taco Bell in Breezewood.  According to Google Street View, Taco Bell closed here some time between June 2018 and September 2019, and the current tenant, Sultan Kabob Restaurant, opened some time between September 2021 and August 2022.  I really wish them all the best here, because Breezewood, with its primary role as a connection for travelers between I-70 and the turnpike, seems like a hard place to be as an independent restaurant.  I know that when I'm making a road trip, I tend to gravitate towards brands that I'm already familiar with for stops, because I know what to expect as far as quality and length of stay.  I would think that an independent business like this would do better in an actual town, such as nearby Everett, which largely would rely on local patronage, rather than Breezewood, which relies on travelers passing through.  I hope that they're doing well, because this seems like a hard nut to crack.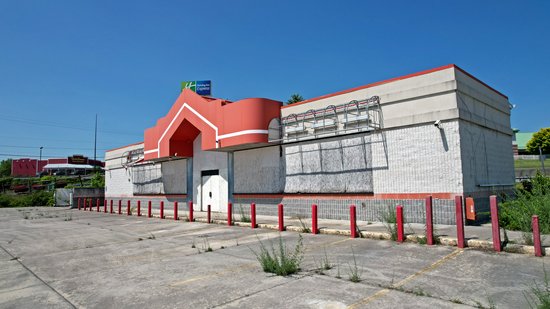 Former Sheetz location in Breezewood.  Sheetz moved to a new facility just down the street about ten or so years ago, and this location has been vacant ever since.  And yes, this photo was taken with a drone, hovering a few feet off of the ground.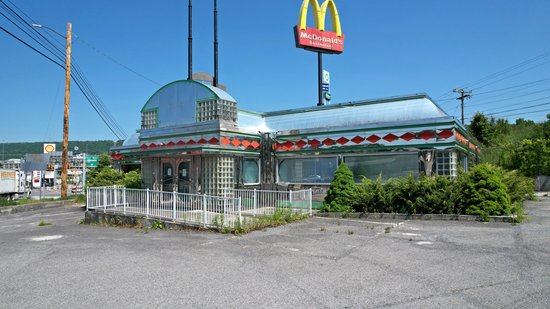 Empty diner building.  This building was a Denny's Classic Diner when I visited Breezewood in 2006, and later went independent before closing.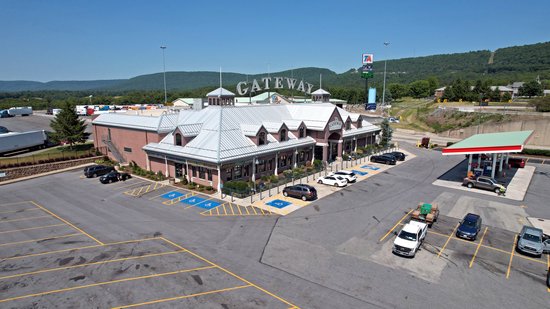 Gateway Travel Plaza.  Not much new here, other than that they absorbed the former KFC property that was adjacent to their facility in order to expand their parking lot.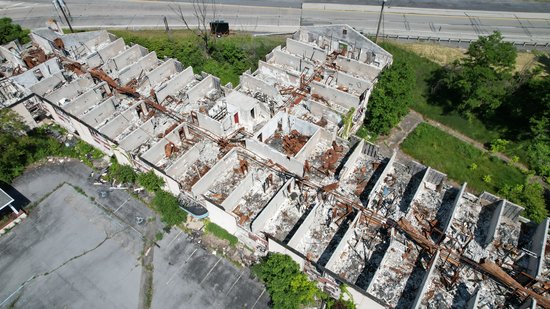 Former Econo Lodge in Breezewood.  This facility was destroyed in a fire in early 2019, and remains in this destroyed condition today.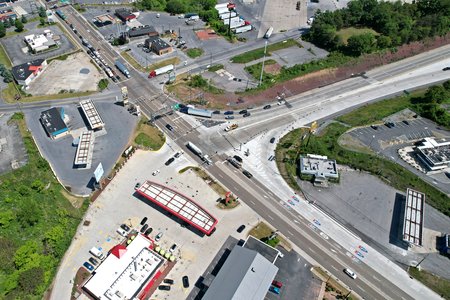 Intersection of I-70 and US 30.  The I-70 freeway really does end at a traffic light, and to continue westbound on I-70 requires going through the Breezewood strip.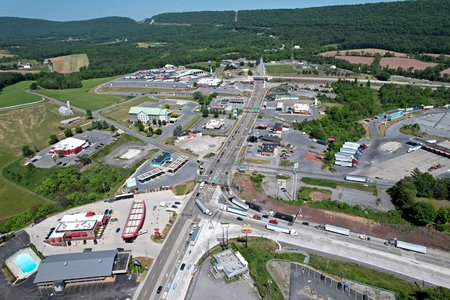 The Breezewood strip.  Westbound traffic on I-70 comes in on the roadway in the lower right of this photo, then makes a right turn to go through Breezewood.  Then they make a right turn onto the Pennsylvania Turnpike ramp near the top of the photo in order to continue on I-70.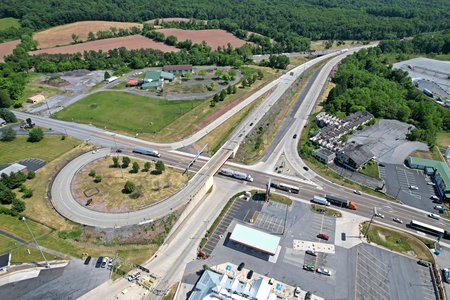 Breezewood interchange.  This interchange largely follows an old alignment of the turnpike mainline, after the road was rerouted in the 1960s to bypass two tunnels in order to eliminate traffic bottlenecks.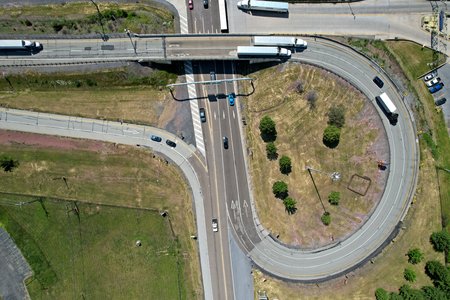 Overhead view of part of the Breezewood interchange.  I never realized how much the interchange looked like a certain body part until I saw it from above…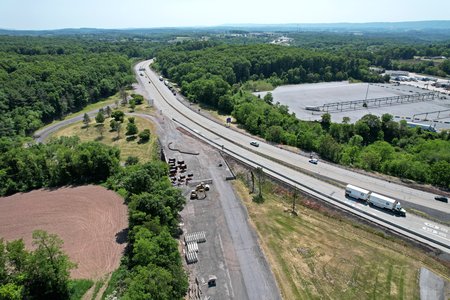 Breezewood interchange.  The road that turns out to the bottom middle is the PTC-owned portion of the abandoned section of the Pennsylvania Turnpike.  The PTC-owned section runs from where it turns out to US 30, where it terminates.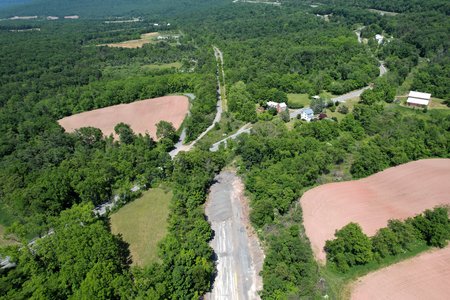 Abandoned Pennsylvania Turnpike, running top to bottom in this photograph.  The PTC-owned section is in the bottom half of the photo, below US 30, and the conservancy-owned section is in the top half.  The conservancy-owned section is open to the public as a hiking/biking trail, while the PTC-owned section is not open to the public.
We then non-stopped it to Washington, where we checked out a few things in the town: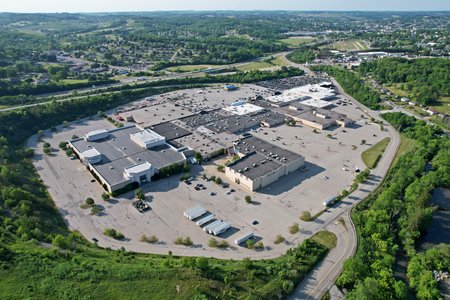 Overview of Washington Crown Center.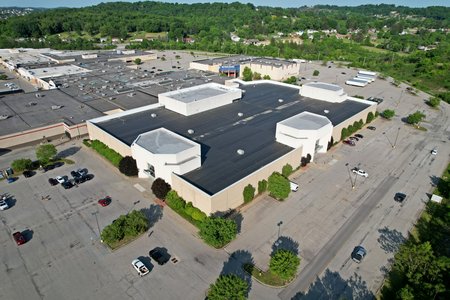 Former Macy's building at Washington Crown Center.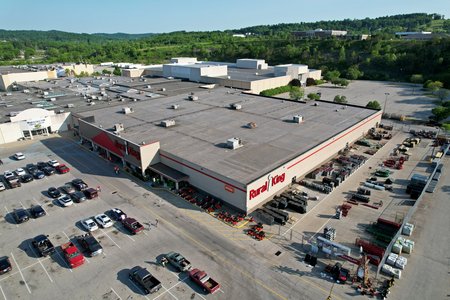 Rural King, in a building that originally housed a Grant's store, and later housed Hills, Ames, and Gander Mountain.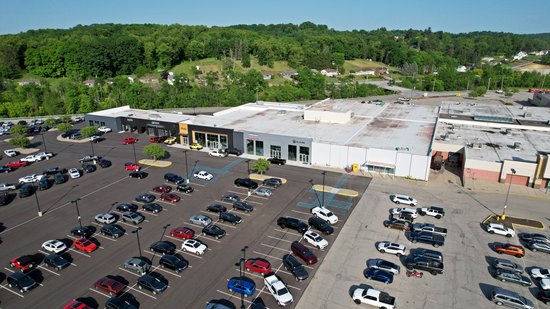 Former Sears building, much of which is now a car dealership.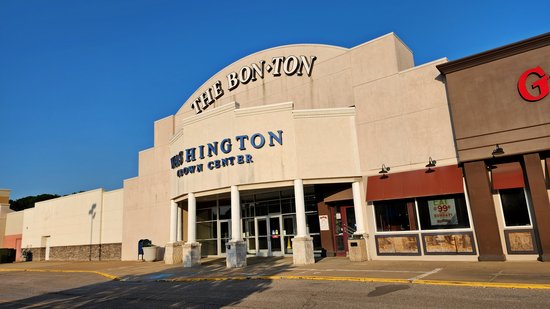 Main entrance to Washington Crown Center.  Note that signage for The Bon-Ton remains on the building, after having closed here about five years ago along with the rest of that chain.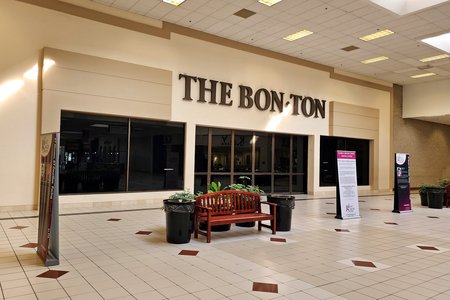 Mall entrance for The Bon-Ton, with signage still in place.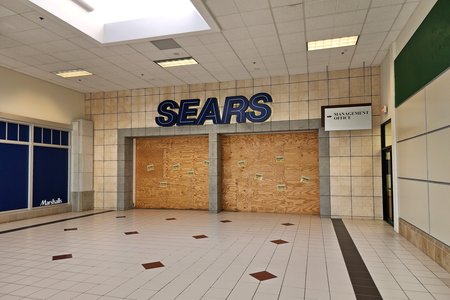 Entrance to the former Sears, with signage still in place.  I remarked about the boarded-up entrance, "You know that your mall is dead when the Sears entrance looks like this."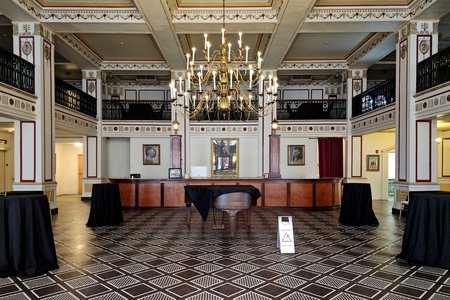 The lobby of the George Washington Hotel.  Unfortunately, the place was closed at the time of our visit, much to our surprise.  I suspect that the facility is only open for events, and that if no events are scheduled, they don't open.  There was no way to book individual rooms on their website, which seems consistent with this idea.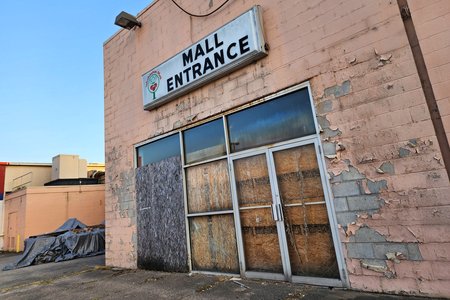 Mall entrance for Washington Mall, which is the other shopping mall in town.  While Washington Crown Center may have had all of the hallmarks of a dead mall, it was at least operational.  Washington Mall was not abandoned, though quite a number of parts of the facility clearly were, and had been abandoned for a very long time.
When we got to Pittsburgh, I got my photos from Grandview Avenue: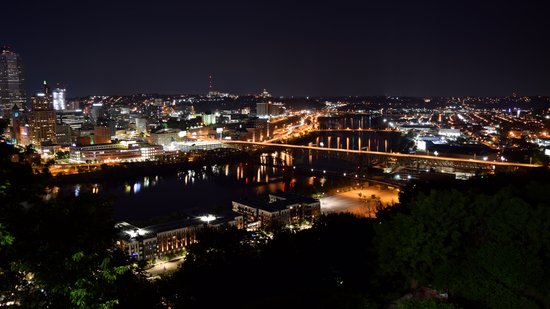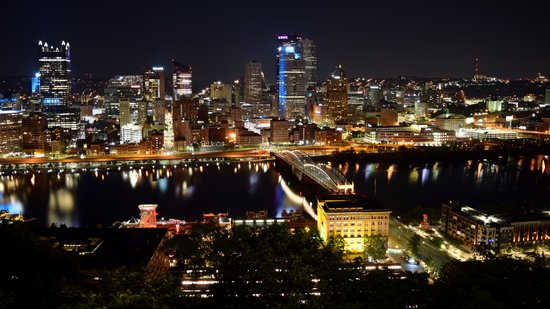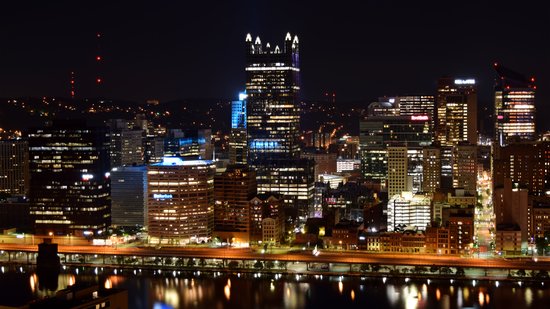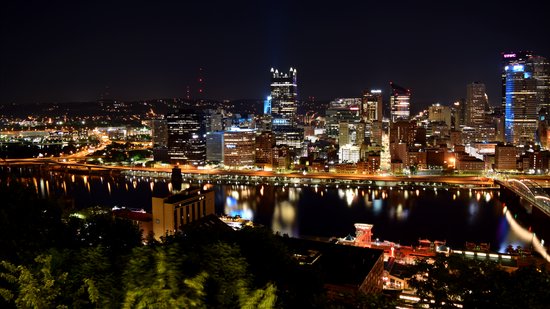 Some of my photos from Grandview Avenue.  I consider these photos kind of "eh".  I believe that I was running out of steam by the time I did the overlook, and that the photos reflected that.  I did better in 2016.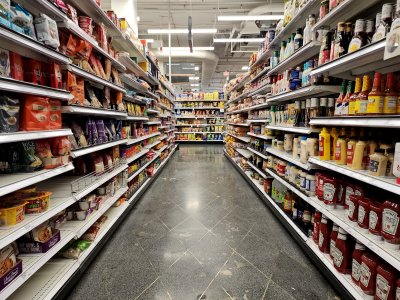 One of our first stops on the next day was this Target store in downtown Pittsburgh in a former Kaufmann's building.  Target did a pretty good job with their buildout, maintaning the original terrazzo flooring.  I feel like any historical elements were maintained respectfully, and unlike in Chicago, it didn't look like they resented having to maintain certain architectural elements.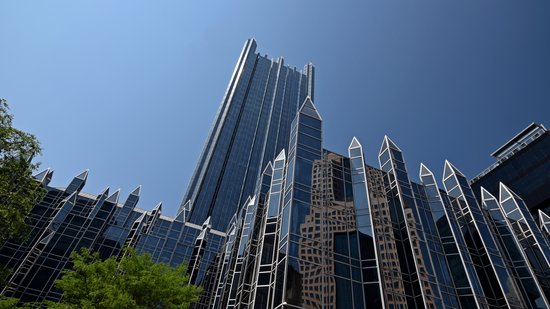 We also went through Market Square, which is adjacent to PPG Place.  Prior to this visit, I had only seen it from a distance.  I knew it had a castle-like appearance, but I never knew how much of a postmodern castle it actually was, with turrets and everything.  This merits further investigation on a future visit.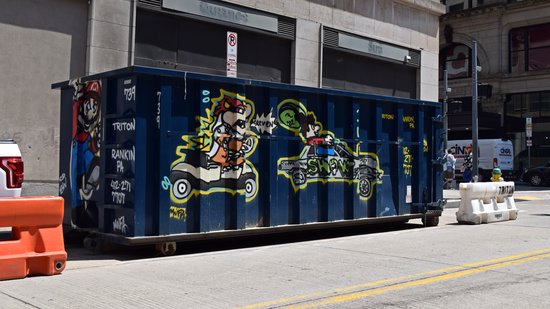 Construction dumpster on the street, painted with a Mario theme.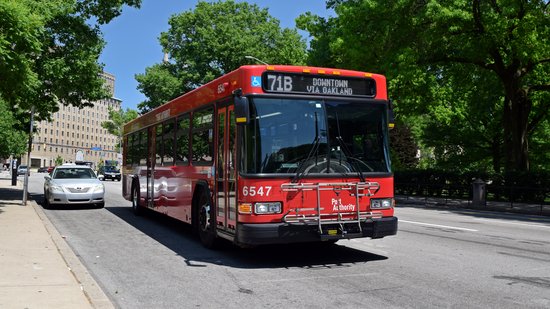 One of many buses that we rode in Pittsburgh.  Pittsburgh basically has two kinds of buses: 40-foot Gillig Low Floors, as seen here, and New Flyer D60LFRs for their artics.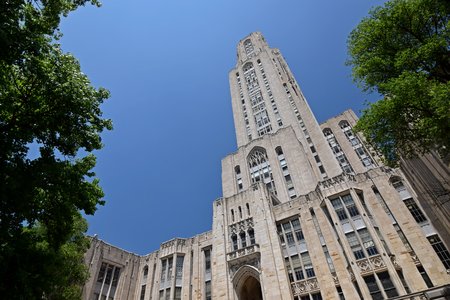 The Cathedral of Learning.  I love photographing this building.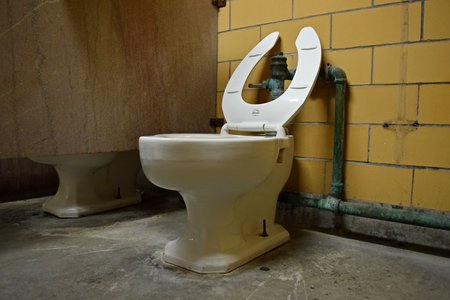 Elyse found a vintage restroom in the basement of the Cathedral, and brought me in to see it.  This is one of the toilets.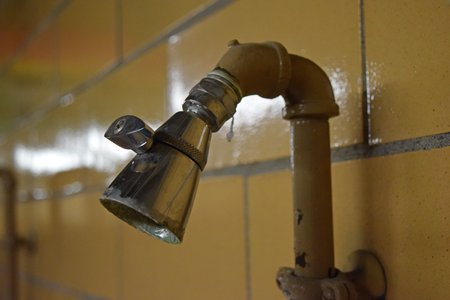 Showerhead on the opposite side of the same restroom.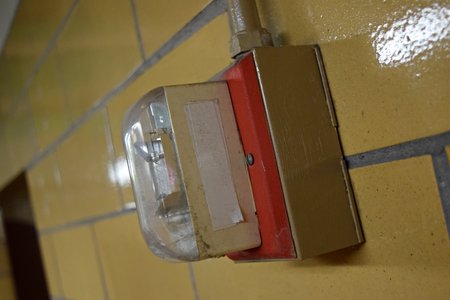 Fire alarm strobe in said restroom.  This was a Wheelock LS1-24-VFR strobe, and in typical Cathedral of Learning fashion, the "FIRE" lettering is covered over.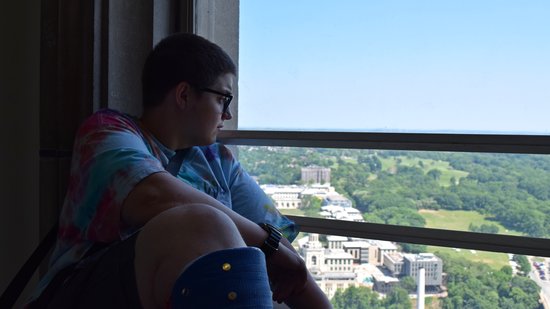 Elyse looks out of a window on the 36th floor of the Cathedral of Learning.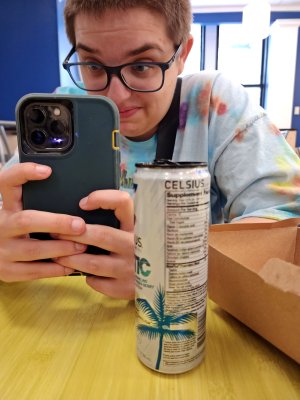 The circumstances of this photo amused me.  Elyse and I were in the cafeteria in the bottom of the Cathedral, and then started talking to each other on text, even though we were sitting directly across from each other.  We both got a photo of each other once we realized what we were doing.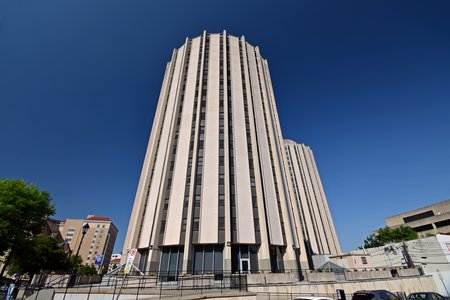 One of my goals on this day was to photograph the Litchfield Towers, which are a complex of three round dormitory buildings just up the street from the Cathedral.  I felt like while the Litchfield Towers were an interesting idea, I didn't like the results as much as I would have liked.  I also felt a little bit dehydrated, which probably contributed to my feelings about the results.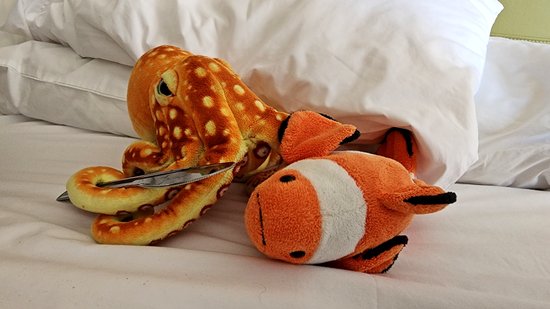 When we stopped back at the room in the early evening in order to change gears a little bit, we found Woomy taking this position, threatening David with a plastic butter knife.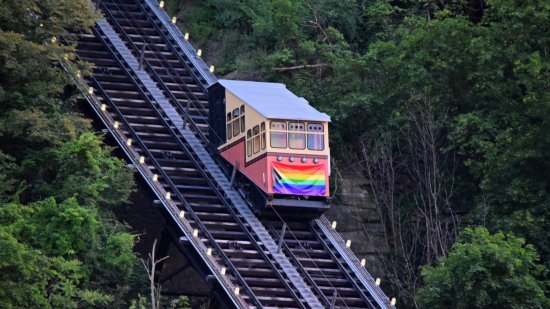 The western vehicle of the Monongahela Incline, decorated with a flag for Pride month.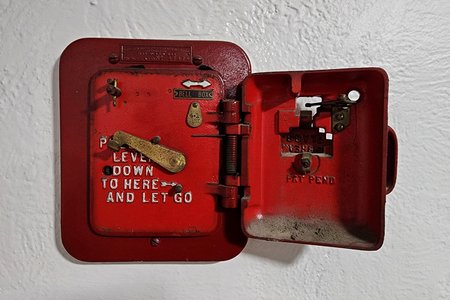 A vintage fire alarm in one of the buildings that we checked out with Jared.
Then on the last day, for which I was completely unsupervised, I started out up on Grandview Avenue once again, getting photos of downtown.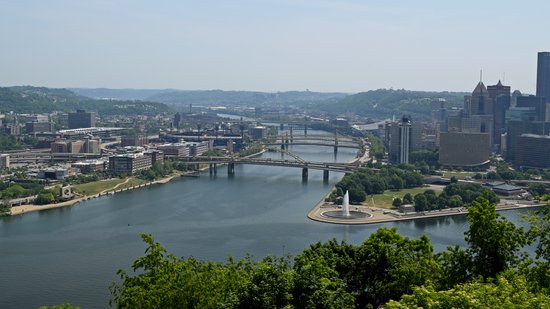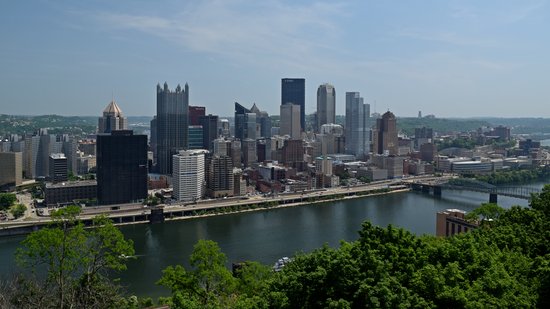 Downtown, as photographed with the DSLR.  If the atmosphere looks a tad more "atmospheric" than usual, smoke from wildfires in Canada had begun to roll in.  This was nothing like we would see about a week later, but it did affect some of my photography nonetheless.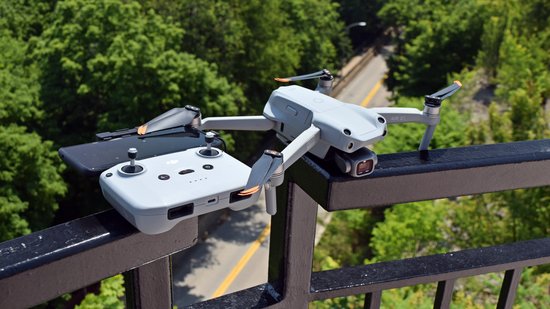 The drone and its remote, connected up and ready to fly.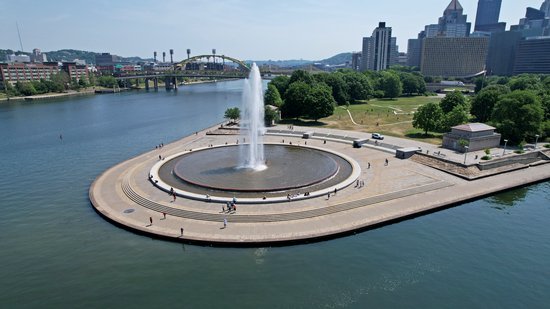 Point State Park, at the confluence of the Allegheny and Monongahela Rivers, together forming the Ohio River.  Pennsylvania prohibits drones in state parks, but nothing says that I can't fly around the state park without actually overflying it.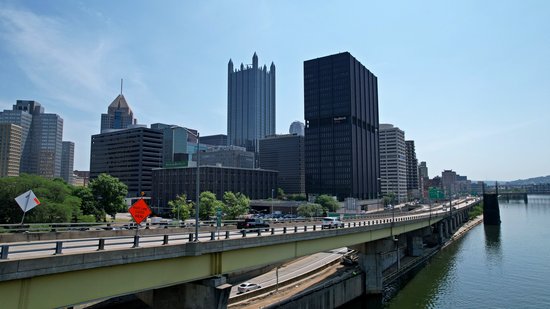 Downtown Pittsburgh, just east of the Fort Pitt Bridge and facing east.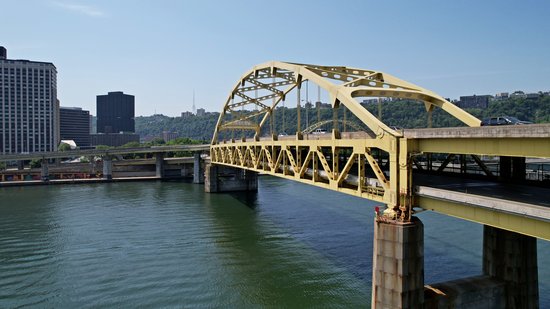 The Fort Duquesne Bridge.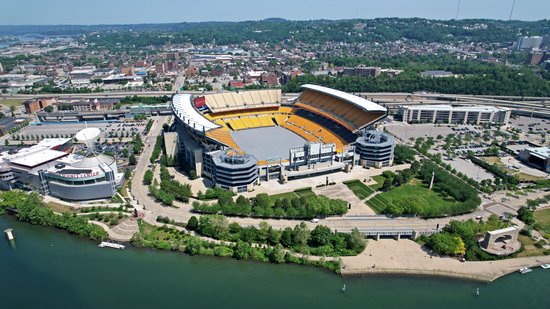 Acrisure Stadium, better known as Heinz Field, from the air.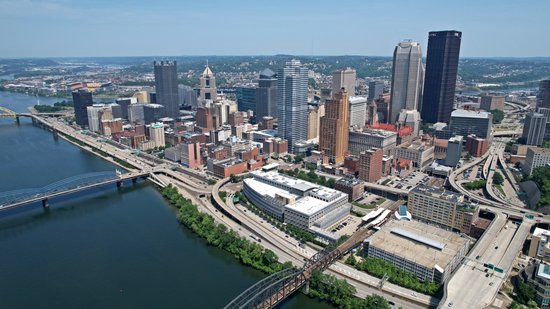 Downtown Pittsburgh, viewed from over the Monongahela River.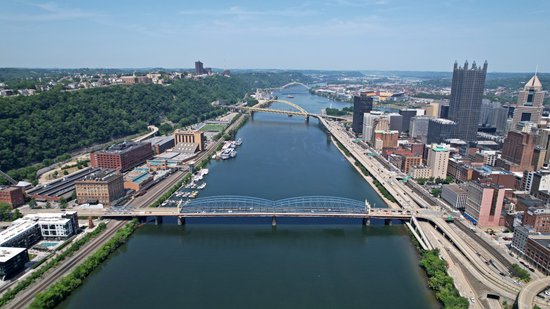 Looking west down the Monongahela River.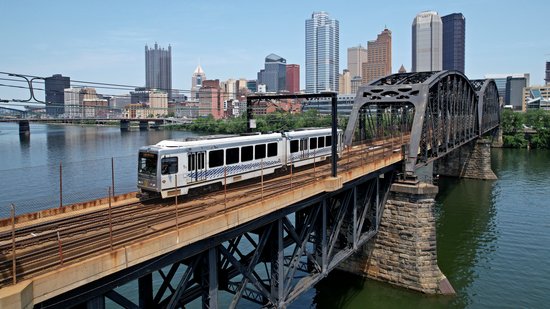 Car 4328, a CAF LRV, on the Panhandle Bridge.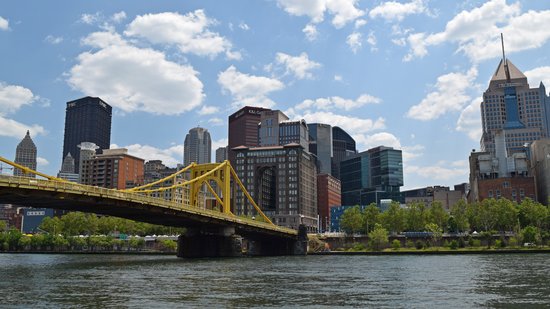 On my riverside photo walk, the Roberto Clemente Bridge spans the Allegheny River.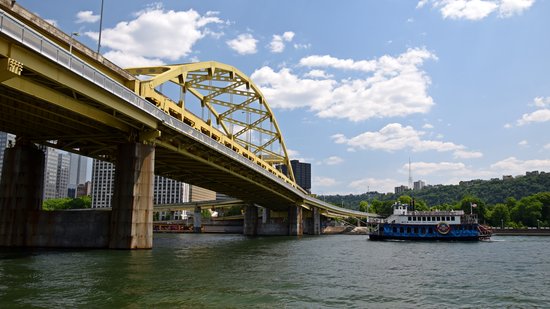 The Fort Duquesne Bridge, viewed from the north shore of the Allegheny River.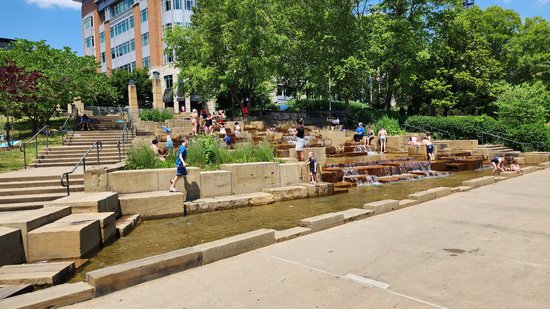 The Water Steps.  I used this as my reference for the general area (it's actually called the North Shore Riverfront Park), but this is my only photo of it, taken with my phone, intended for use as a geo-reference.  I didn't bother with this one, because too many kids around to get in my way.  I suspect that if I want to photograph this without kids crawling all over it, I would need to go very early in the morning.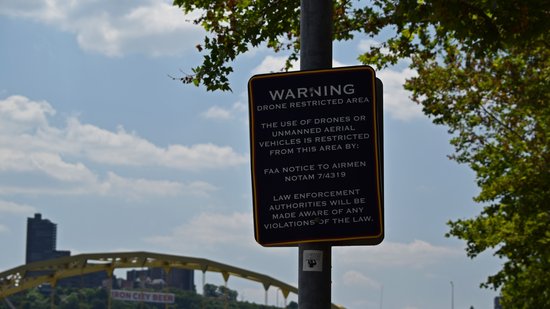 Sign threatening police action regarding use of drones in this area.  For those wondering, NOTAM 7/4319 concerns drone activities around stadiums on days when the stadium is in active use.  Though I could totally see some overzealous and underinformed security or law enforcement person trying to tell someone that they can't fly here at all, when that's absolutely not the case.  I blame the sign, because it fails to state that it only applies when the stadium is hosting an event.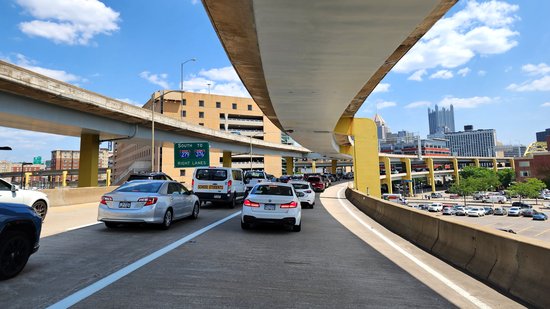 Heading to the Cathedral of Learning, and sitting in traffic while taking the lower level of the Fort Duquesne Bridge to get there.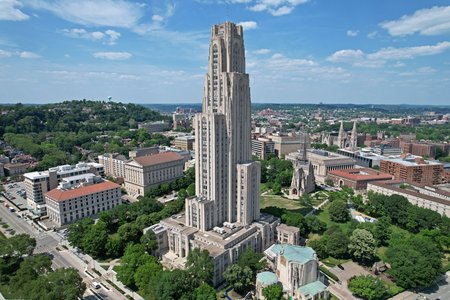 The Cathedral of Learning, viewed from the air.  Only when you see it by drone can you really see how much of an outlier the Cathedral is compared to its surrounding area.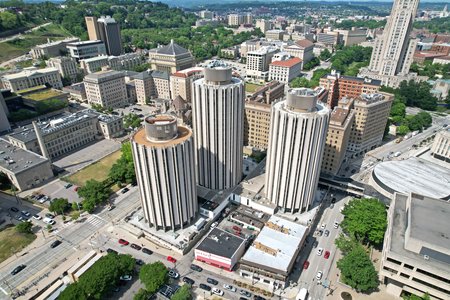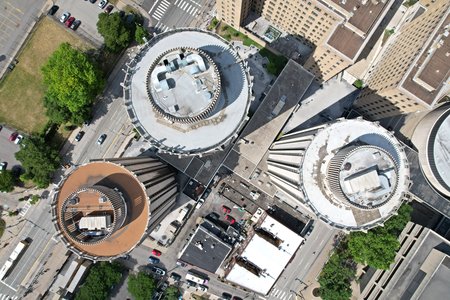 The Litchfield Towers, meanwhile, felt far more photogenic from the air than they did from the ground.  I especially liked that top-down shot.  Considering the shape of the block and the arrangement of the towers, I feel like there should have been a fourth tower in this complex, and you can see exactly where a fourth Litchfield building would fit, too.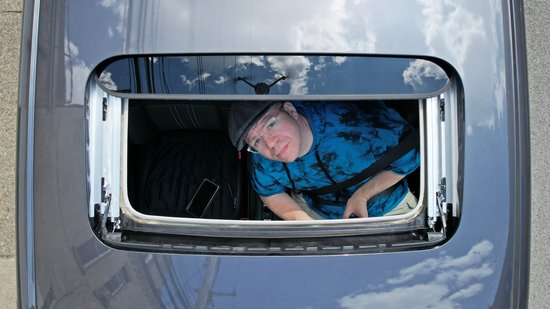 Moon roof selfie after finishing up the Litchfield flight.  A couple of points here.  First, among other reasons, this is why you get a car with a moon roof: drone selfies.  Second, yes, I was flying from the car, launching and landing on the roof.  Unlike the original HR-V, the new HR-V has a flatter roof, which lends itself more to use as a launching and landing platform.  The original HR-V, with its more sloped roof, was good enough for launching, but not so much for landing, as the drone tended to slide as soon as the motors cut off.
And then I relocated to East Liberty.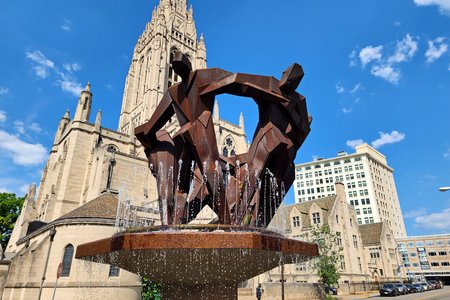 "Joy of Life", i.e. the "Anatomically Correct Statue", as Kathleen from LPCM used to call it.  Prior to today, I had never realized that this was a fountain, because I had only ever seen it in the fall, when the fountain was not running.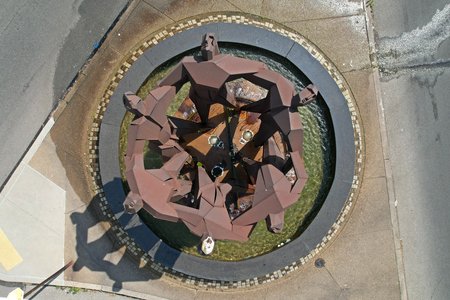 Overhead view of "Joy of Life", showing the faces on the figures.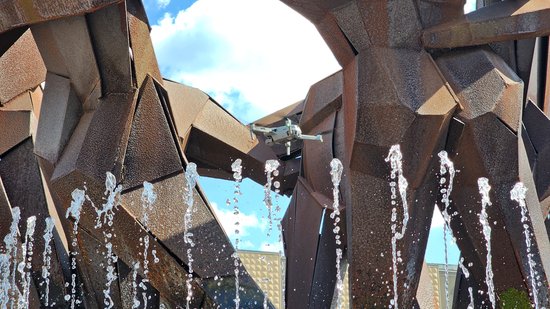 I flew the drone right down into the center of this group of metallic people, in order to get some specific photos for Elyse.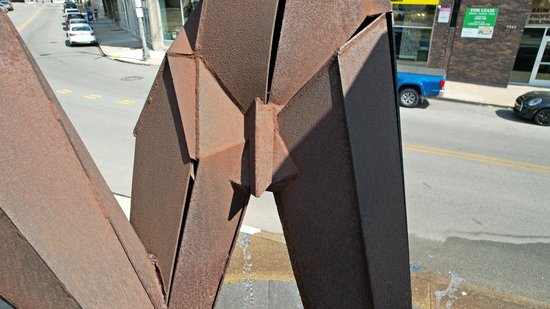 Yeah, Elyse wanted to see the wee-wees on the male figures.  Yes, we're so mature, laughing at the fact that the figures have genitals.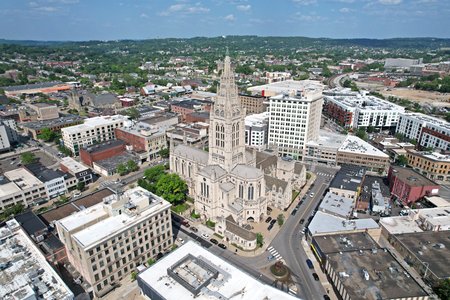 Then I flew East Liberty Presbyterian Church, which is the tallest structure in East Liberty by quite a bit.  This shot really shows how much gentrification has changed this neighborhood over the past two decades, with several examples of "gentrification apartments" visible, among other things.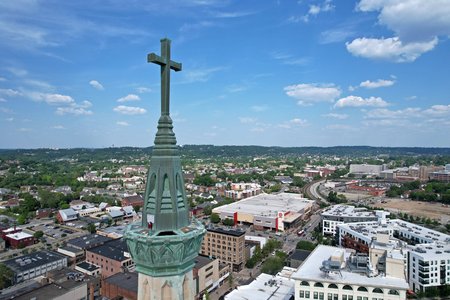 The cross at the top of the church's tower.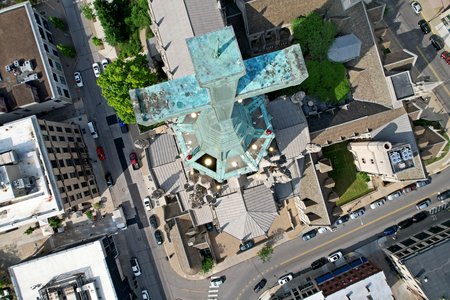 Overhead view of the cross.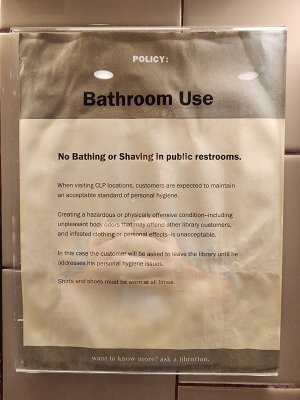 This sign was in the men's room at the East Liberty branch of the Carnegie Library of Pittsburgh, across the street from the church.  This sign concerned me a bit, because it seems to be a way to exclude the homeless, who may not have any way to rectify these conditions.  There was a similar sign at the library branch on Grandview Avenue as well.
Then I headed over to East Mifflin, for some photos of Century III Mall.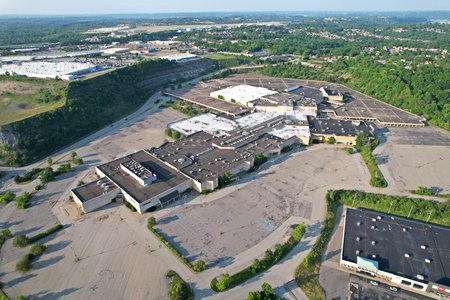 Overview of Century III Mall.  A portion of the mall's ring road, along the far side of the mall from the camera's perspective, is still open to public use, but it is clearly not maintained, as it contains many very deep potholes, making driving through here quite treacherous.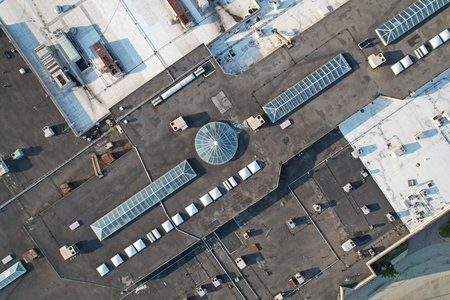 Straight-down view of the mall's skylights.  It had been suggested the day before that due to a recent fire at the mall, I might have been able to drop the drone into the mall through the skylights for some interior photos, but upon investigation of the skylights, I found them to be fully intact.
All in all, this trip to Pittsburgh went pretty well.  I felt like I didn't cover that much new territory, though, which was disappointing, but it was still a lot of fun.  I would love to do another trip to Pittsburgh in the future.  Meanwhile, stay tuned for more photos from this trip on my Flickr (though based on my current backlog, it's going to be a while).