Making a weekend trip out of a delivery…
April 7, 2023, 10:00 AM
Recently, I was finally able to complete the last little bits of business related to the car accident from last October, and put it all behind me.  On Thursday, March 30, I made the 175-mile journey to Stuarts Draft in the Scion – a trip that would leave it back home with my parents, where it belongs.  And while I was at it, I made a weekend trip out of it, coupling it with a day in Richmond, where I did some photography.  As such, I would traverse what I like to call Virginia's "Interstate square".  If you look at a map of Virginia, the various Interstate highways in the state form something like a lopsided square, consisting of I-66 to the north, I-81 to the west, I-64 to the south, and I-95 to the east, and Strasburg, the DC area, Richmond, and Staunton at the corners: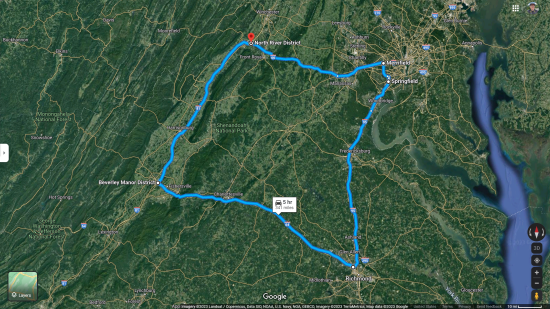 I've done the full square on a single trip once, and that was my "accidental" DC trip in August 2005.  There, I drove out to Richmond from Stuarts Draft, then took I-95 northbound with the intention of going to Potomac Mills.  After I did Potomac Mills, I got back on 95 headed north.  I took that to I-395 and into the District, which marked my first time driving in DC.  I then got on I-66 going westbound, and took that to Strasburg, taking I-81 back to Staunton, and home from there.  Not a bad day, and I consider it a nerdy achievement.  This trip wasn't entirely pure in that regard, though, since I took the alternate route to I-81, going up and over via Frederick, Harpers Ferry, and Winchester instead of the Beltway and I-66.  It's less stressful going that way, and the time difference is negligible.
But before I left, I had to get some photos of the soon-to-be-former fleetmates: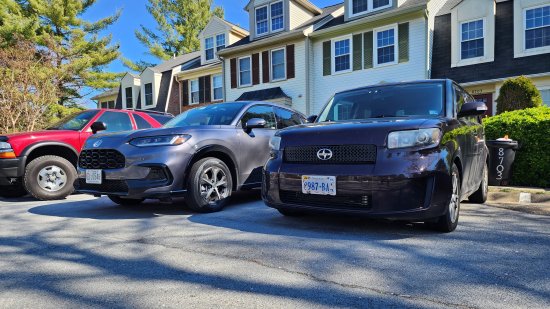 Of course, "fleetmates" is a bit of a stretch there, because truth be told, the Scion didn't move at all in the entire first week that I had the new HR-V.  I parked it in the other parking space and used the HR-V exclusively.  This, therefore, was the Scion's first move in about a week.  I admit that it was a bit sad firing it up and taking it out to return it to my parents, because it had served me well for about five months, and we made a good team in that time.  But since I had the new HR-V, I didn't need it anymore, and having the Scion gives my parents more flexibility in their own movements.  In other words, it was time, but I'm not going to lie to you: I'm going to miss it a little bit.
The trip down was largely uneventful, with a stop at Sheetz in Brunswick for food, and a stop in Harrisonburg to wash the car.  In Harrisonburg, I took Route 11 all the way through the city, because I wanted to verify a few things.  First, a little bit of trivia from my college days.  When I had PSYC 160, which was a class about human development over the lifespan, I had Dr. Bijan Saadatmand, commonly known as "Uncle Bijan".  He was a great guy.  One thing that he told us was about the way memory worked, associating things together to remember things, and he used his office phone extension as an example.  It was x3711, and the way to remember that was that there were three 7-Elevens on Main Street in Harrisonburg.  Before I graduated, I had made sure to visit all three of them, doing the last one, on the north end of town, on my final day on campus in December 2003.  Since then, Uncle Bijan has retired, and I was disappointed to find out that the middle of the three 7-Elevens, i.e. the one closest to campus, had closed some time between 2012 and 2015 (it now houses a business called "Babylon").  That made me sad, because it meant that Uncle Bijan's memory trick didn't work anymore.  However, I discovered on my previous trip down that a second 7-Eleven had opened on the south end of town, almost across the street from the original 7-Eleven in that area.  That means that even though Uncle Bijan retired more than a decade ago, the memory trick for his office extension is back in action, with three 7-Elevens on Main Street once again.  That made me happy.
I also confirmed what I had thought I'd seen on my previous trip through a few weeks ago, that the old Howard Johnson's restaurant at 2455 South Main Street was gone.  When Elyse and I were coming home on this trip, it had looked like the building was missing, but I wasn't sure because it was dark.  Now, I was going through in the daylight, and yep – it had been demolished, to make way for a car wash.  As of my trip down, all that was left was a hole in the pavement where the building once stood.  I suppose that it was time.  The building had housed a number of restaurants over the years, had been enlarged at some point in its history, and its final tenant was a Moose lodge.  Along with the demolition of the old Howard Johnson's on Port Republic Road, which is now owned by JMU and in use as a parking lot, this means that all traces of the Howard Johnson's brand in Harrisonburg have now been removed.
Then my one stop in Harrisonburg was at Miracle Car Wash.  Here, I was getting the Scion all ready for its return.  First, I vacuumed it out, and then I gave it a bath: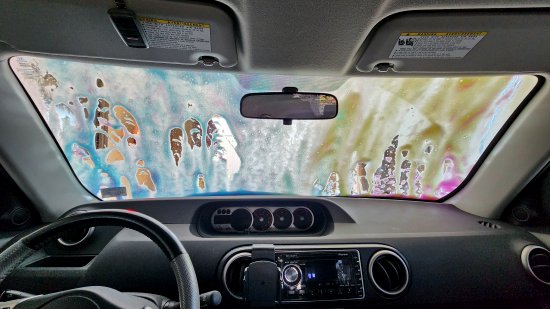 I remember having gone to Miracle Car Wash one time before, in like 2003.  It was the summertime, and I was getting the Previa washed.  The Previa was getting up in age, and the air conditioner had quit working by then, so I was already hot since it was a hot day, and then to add insult to injury, the car wash used hot water.  So it was hot and humid inside while I was in there, and I was uncomfortable.  Thankfully, everything worked on the Scion, plus it was a cooler day, so this was a much more comfortable experience.
From there, it was a quick 30-minute drive down to Staunton, where I rented my ride for the next day and a half or so.  I went to Enterprise, where there was a Volkswagen Atlas with Nebraska plates waiting for me.  That was a bit more car than I was expecting, because in my reservation, I had chosen "Nissan Kicks or similar", i.e. something similar to the HR-V or the Scion.  This was a massive SUV, designed for people who had like seven or eight kids.  After I checked it out, I moved it to the side of the lot, transferred my own stuff, and then continued on in the Scion.  We would be back for it a little later.
Next stop was the Exxon in Stuarts Draft, for a final fill-up: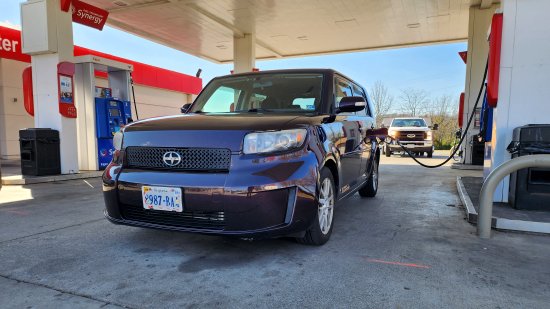 I didn't remember what the fuel level was when I got the Scion back in October, so just to make sure that I had all of my bases covered, I brought it back with a full tank of gas from the closest gas station to their house.
And then, it was time to bring it home: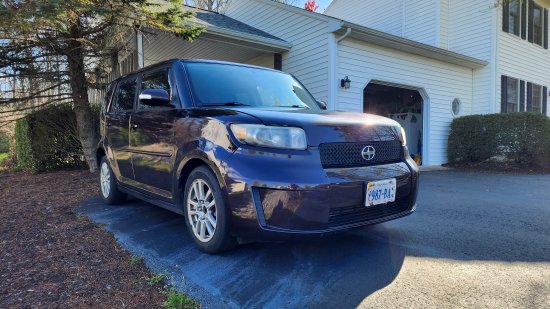 Safe and sound once again, with its mission fulfilled.  I'm sure that the Scion is happy to be back home, and ready to return to the quieter lifestyle that it was accustomed to rather than dealing with DC-area drivers, even though it performed admirably in that role.
Then we got in Dad's car and we rode back out to Staunton to retrieve the rental car.  There, Mom and I went out in search of food to bring back, and Dad went back home.  Mom and I went to Martin's, and then ended up getting food at Hot Wok.  I also got to show Mom how adaptive cruise control worked, since she'd never experienced it before, since the Atlas had it, and I'd had some experience with it in the new HR-V.  She was impressed that the car automatically slowed down when we approached another vehicle, and maintained a safe following distance.  Meanwhile, on the way back to the house, the tire pressure warning went off, and so I stopped in at the Sheetz in Fishersville to check the tire pressures.  They were fine, so I just reset the warning and we kept going.
And then this is the rental car: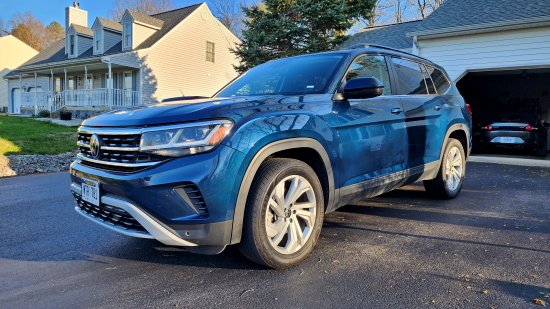 That thing was a beast, for sure.  I immediately went from driving something in the compact range to something more resembling a tank.
After my parents and I had dinner and we visited for a while, I had to get going, as it was time to head off to Richmond, where I was meeting up with Elyse.  Elyse was supposed to have come with me on this trip, but due to another trip that she did with a friend of ours that backed up against this one, she wasn't available to go.  That trip was an important one for her, since she visited her birth mother's grave again, now that it had been properly marked.  There is a photo set about our October trip to Tennessee that is not yet completed where I go into this in more detail, but until that comes out, just know that (A) we unexpectedly discovered that her birth mother's grave was unmarked, and (B) we fixed that, getting a proper marker installed.  The return leg of Elyse's trip was supposed to get her home in enough time to sleep and then head back out with me, but they got back very late, and so they ended the trip at our friend's house in Fort Washington, and Elyse spent the night there.  We all agreed that was a good idea considering how late they arrived, since would ensure that Elyse got sufficient sleep.  However, picking her up in Fort Washington on the way out would have really messed up my itinerary, so I got her an Amtrak ticket to meet me in Richmond.  That way, she could sleep like she meant it and then we would reconvene down there.
Elyse beat me to Richmond, and I kind of expected that she would, considering that I got a later start than I had anticipated.  I planned to leave my parents' house at 7:00, but I didn't get out until 7:30, so, yeah.  I told her that if she got there and I wasn't there yet, to ask the hotel to stash her bags somewhere until I got there.  However, just past Charlottesville, I got a call from Elyse, who was at the hotel saying that they wouldn't let her check in.  After some back-and-forth with her, I said, "Let me call the hotel," and hung up.  I also got a good indication of how smart Google was through Android Auto, since the Atlas had it (as does the new HR-V).  It wasn't too good, as it wasn't able to understand "Moxy Hotel" in order to voice dial it, and it misdirected me a few times.  So I ended up pulling over in order to look it up on my actual phone.  Once I got the front desk on the phone, I quickly figured out what was going on.  Elyse had asked them the wrong thing, and they responded accordingly.  They explained that they couldn't check her in because the reservation was in my name, to which I said, "That's cool.  All I'm asking is that you all find a safe place to put her bags until I get there, and I'm about an hour and some change out."  The correct request was an easy one, and they could accommodate that without any issue.  I said thank you, and called Elyse back, telling her that they would hold onto her bags if she wanted to go and do something.
I got to the hotel at around 9:30, and we got checked in.  The Moxy is definitely a different kind of hotel than I am accustomed to staying at.  Moxy is a brand geared towards people who are a lot younger and hipper than I am, but this was a test to see how I liked the format.  The most important thing about this place, though, was that it was downtown.  Elyse's chief complaint about the hotel on our last Richmond trip was that it was far from downtown, though it was right on a bus line.  I expected a tiny room at the hotel, considering that this is one of those hotels that offers both interior rooms and bunk beds as an option, but our room, which had two double beds, was surprisingly spacious: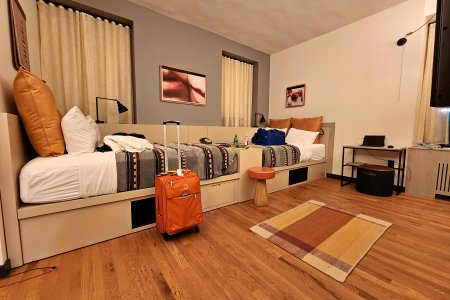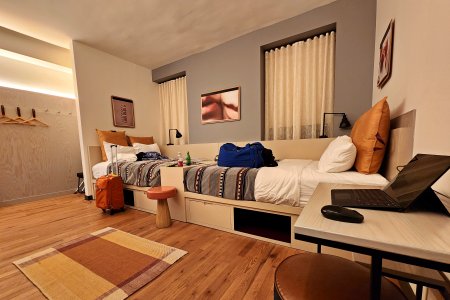 Yes, we had a lot of space in front of the beds.  I figured that with the unorthodox arrangement of the beds, placed foot-to-foot like that, the room would be more akin to a broom closet.  Imagine my surprise to see that we had a lot of space.  The bathroom was also quite nice, and very spacious as well.  However, the barn door on the bathroom and its placement in the room meant that you could see someone sitting on the toilet as you walked out of the room.  You couldn't see it from the hallway, but nonetheless, that was a poor design decision.
And yes, that picture on the wall over the left bed is of cigarette butts with lipstick on them.  Apparently, it's from this stock photo.
Meanwhile, I felt severely underpacked.  This is all that I brought on this trip: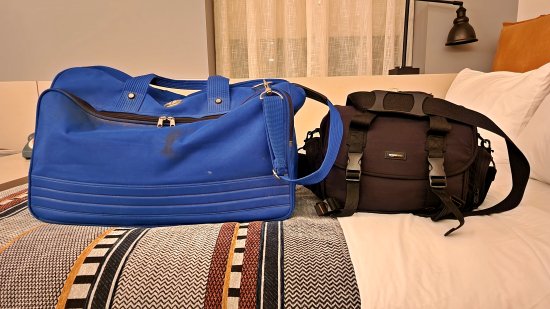 That was it.  A bag for clothes, and my camera bag.  Usually, I bring a big suitcase and a whole lot of other stuff, i.e. I am one of those people who packs half the house for a trip.  But since I would be switching vehicles, the goal was to pack the absolute minimum, because that meant less to move around, and less to potentially lose somewhere.  Elyse called this a normal amount to pack for a trip, while I considered this severely limited.
At the hotel, once we got settled in and I got photos moved over, Elyse and I went down to the lobby and played Cards Against Humanity.  I had heard of this game many times before, but had never actually played.  Basically, you take three or more players, and one person plays a black card with a prompt on it.  Then the other players pick a white card from their hand and play that, and then the person who played the black card decides which answer they like the best, and that player gets a point.  Since it was only two of us, we created a third "computer" player who just had a stack of face-down cards, and we pulled off the top of their pile for their answers.  The "computer" won handily, since nothing that we could come up with beat the savagery that the random cards that the "computer" played out.
The next day, meanwhile, was the day to do Richmond.  I was planning to do a ten-year update on the Richmond 2013 photo set, which itself was a ten-year update on the Richmond's Canal Walk and An Urban Comparison, Richmond, Virginia photo sets.  When I planned this trip, I did it with the expectation that it would be a partly cloudy day, which I considered good for photography.  However, what I got was an entirely cloudy day, which was not what I wanted, but I decided to do the shoot anyway and see what it looked like, with an eye towards converting it to black and white in a potential photo set.  If it came out looking good, then I made lemonade when nature gave me lemons.  If not, well… Richmond's only two hours away, and I can always go back and try again another day when the weather is better.  One thing about the 2013 set, though, is that I consider it to be an absolutely spectacular photo set, so it will be hard to top.  I got lucky in that it was a really nice day that day, and it was a warm Saturday when people were out, which added a bit of life to what might have otherwise been a very sterile-looking set.  This time, it was a Friday, and it was cloudy and cooler.  Also, in 2013, I had more flexible scheduling, being on a two-week vacation from work, and I moved Richmond up a day to get more favorable weather.  I didn't have the option this time, and had to take what I got.
But first, I had an amusing moment: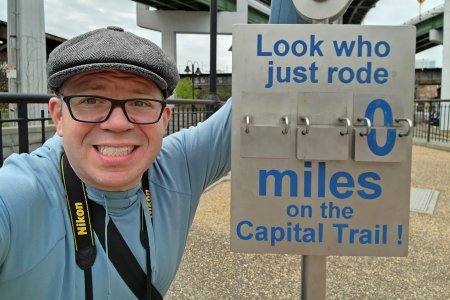 Mr. Big Achiever right here, having ridden zero miles on the Capital Trail.
Also, I found this a bit surprising to see: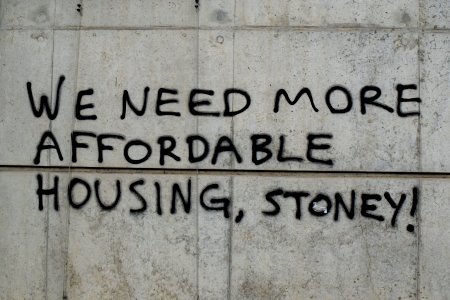 This is a bit of political graffiti on the Richmond Floodwall, reading, "We need more affordable housing, Stoney!"  This was a bit shocking to me, mainly because "Stoney" refers to Levar Stoney, the current mayor of Richmond, whom I know personally from college.  Recall that I wrote about his reelection campaign on this site back when I was in college.  I knew that he was the mayor, but it was still strange to see his name referenced in this way, mainly because I know him personally and we had some classes together.  I don't know anything about the housing situation in Richmond, but it was strange to see the name of someone I knew in graffiti like this.
Meanwhile, this is some of what I got out of my shoot: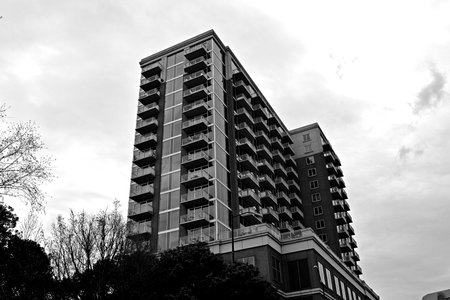 Vistas on the James building.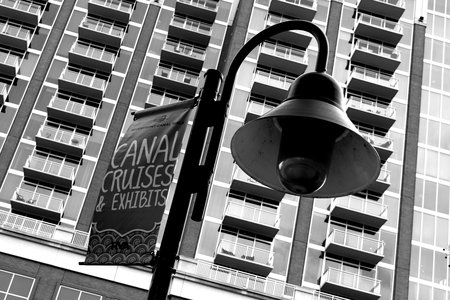 Lamppost in front of the Vistas on the James building.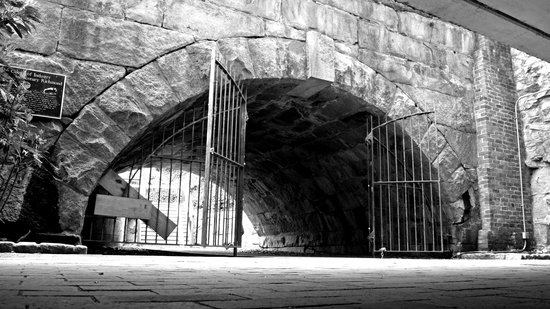 Gates beneath the old Reynolds Aluminum building.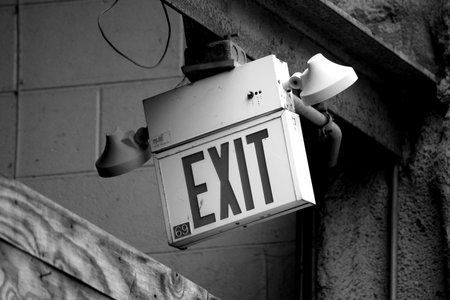 Exit sign in the old Reynolds Aluminum building.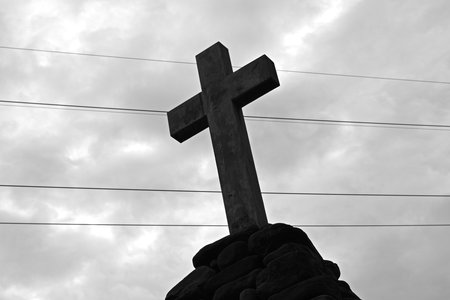 Christopher Newport Cross.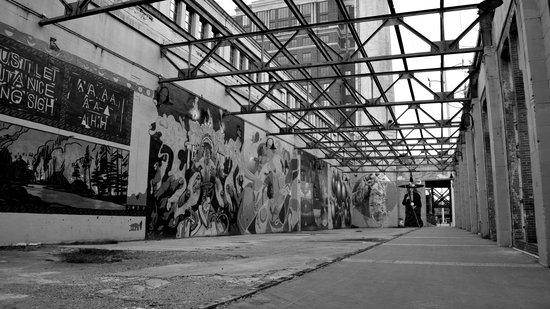 Former power plant building.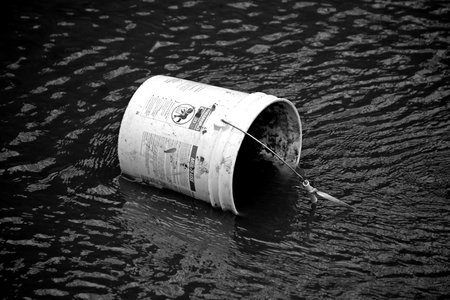 Discarded bucket in the canal.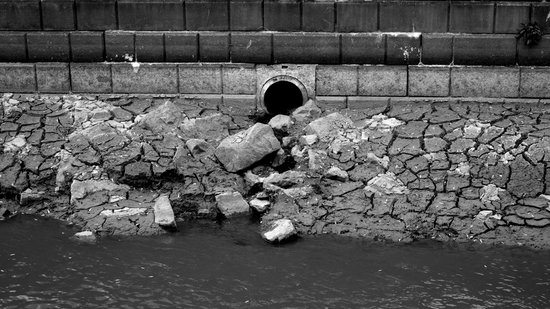 Dried and cracked mud in the canal due to lower water levels to support construction.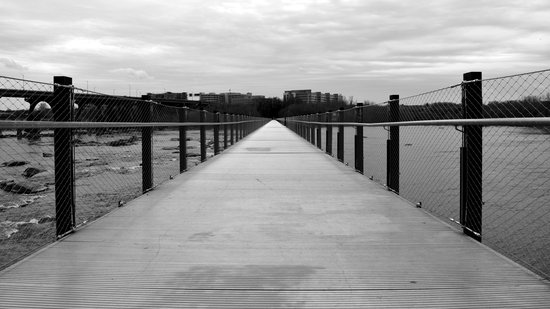 The T. Tyler Potterfield Memorial Bridge, a footbridge that connects Manchester to Brown's Island.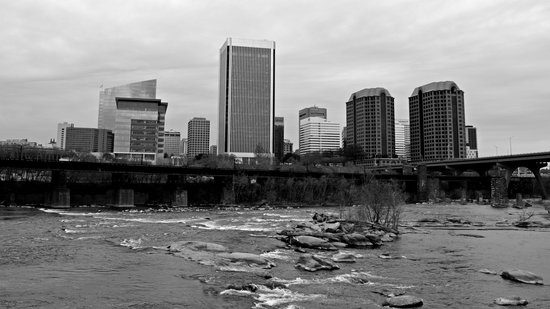 Various elements of the skyline of Richmond.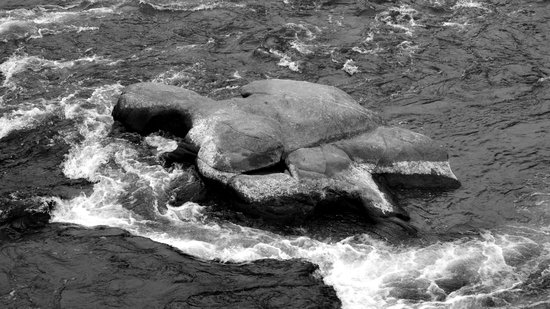 A large rock in the James River.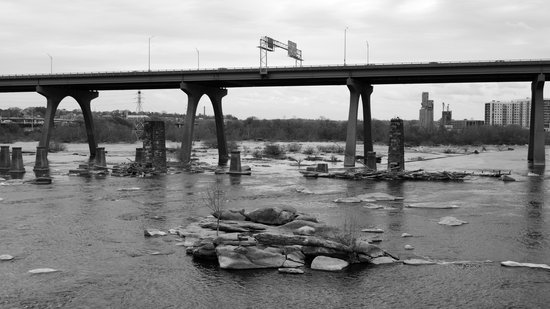 Manchester Bridge.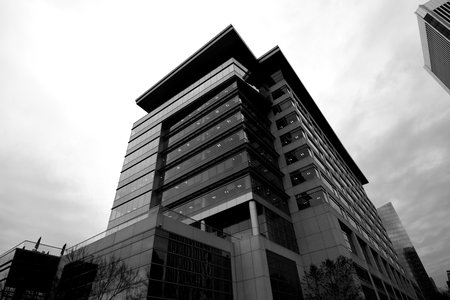 CoStar builiding.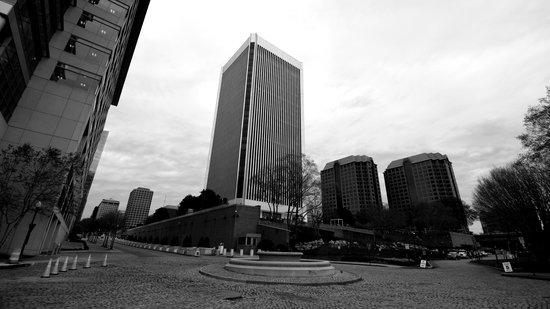 Federal Reserve building, with the Riverfront Plaza towers beyond.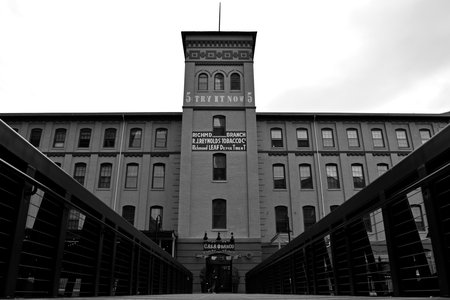 The Italianate, formerly owned by R.J. Reynolds Tobacco, and now used for apartments, with a restaurant on the first floor.
Then there's this selfie that I took of myself while I was photographing the Italianate building: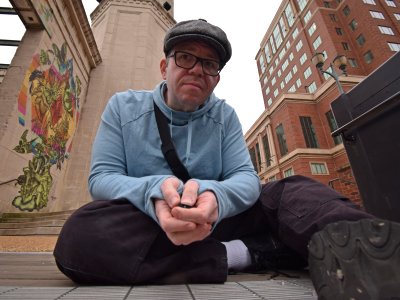 I was pretty pleased with how this came out.
So I have mixed feelings about how this came out.  I feel like black and white with contrast adjustment might work for it, so I'm putting this out as something of a trial balloon.  These photos won't come up in the production schedule for a while, so I have time to determine if I like these, or if another trip down to Richmond is in order for a reshoot.  We'll see how I feel about it with time, I suppose.
Otherwise, I got to the car just in the nick of time.  Just as I got back to the car, the rain began.  I picked Elyse up in Carytown after I finished with the shoot (and parallel parking that massive SUV was a real bother, but I did it), and then we started making moves towards home.  We hit up the Kroger Marketplace that we visited in 2017, which was largely the same except that the jewelry section had been removed.  We also dipped into Panda Express so that Elyse could get something to eat.  We each got a fortune cookie, and this was my fortune: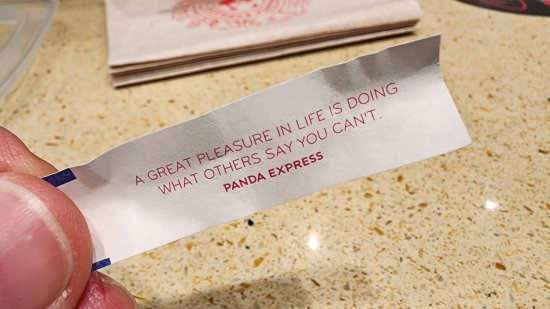 I immediately thought of a specific friend when I got this fortune, and I hope that they take this fortune to heart when people say discouraging things to them.  Take pleasure in accomplishing things that others say are impossible for you to do, and do it with pride.  And even if you fail, at least you tried.
Then we got on 95 and went home.  We stopped at the Sheetz in Thornburg on the way up so that I could get some food (that was a deliberate decision on my part to eat a bit further up the road), and then the trip back was otherwise pretty uneventful.  I had gotten used to driving the Atlas by then, and we rode up using the adaptive cruise control for the most part.  The way that I figured, it wasn't my car, or even the same make as my car, but at least I could get some more experience with a feature that my own car had.
We stopped at a CVS near the house on the way in, and I just have to show you how bad this parking job is: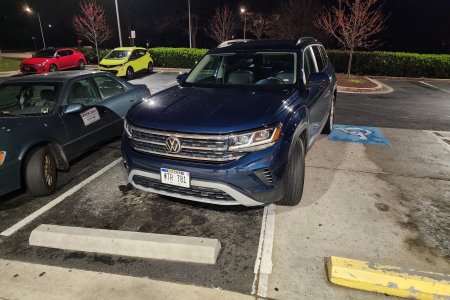 I consider this a combination of not having a good feel for exactly where the front of it ended – thus the short stop – plus a general feeling of "I don't care" with the skewed positioning.  Either way, we weren't there for long.
And then I parked the Atlas right next to the new HR-V, and returned it to Enterprise the following morning at their location near my house.  And with that trip, all of the business related to the accident was complete, and a new baseline was established.  I am once again the proud owner of a Honda HR-V, and my parents' Scion is back with them.  And I got a photo shoot out of it, even though I have mixed feelings about the result.  Nonetheless, I consider the weekend seized.
Categories: Driving, Family, Harrisonburg, Howard Johnson's, JMU, Photography, Richmond, Roads, Scion xB, Staunton, Stuarts Draft, Travel