Richmond was fun…
April 1, 2013, 11:05 PM
So on Saturday, I headed down to Richmond to visit an area that I had not visited in about ten years: the Canal Walk.  You may recall that I first featured the Canal Walk in 2002 in a three-part set in Photography.  Then I visited the area again in 2003 for the Richmond portion of An Urban Comparison.  I photographed the Canal area again with Big Mavica since I was already in the area, but I never really did much with the photos.  There were three Photo Features from that day: one of the Reynolds Tobacco building, one of the skyline, and one of Riverfront Plaza.  Now, ten years later, it was time to get new photos.  I didn't expect that the Canal area would change much, but I had changed quite a bit.  My Canon Powershot SX10 IS is a far superior camera to Big Mavica, and my technique has also improved.  I also have a polarizing filter that I got in January, and I wanted to give that another spin.  The Sandy Point photos that I took in February (photo set from this on its way before too long) came out wonderfully using it, and so I wanted to give it a spin again in a city environment.
I did the same thing that I did ten years ago, parking at the east end of the Canal and walking to the other end.  Like in 2003, I walked down the Canal and then headed over to the Belle Isle pedestrian bridge.  I also explored Belle Isle just a little, which I had never done before, as I had previously just gone to the end of the bridge and then turned around.
The biggest take from this trip was that the Canal area had grown up in ten years.  There were some new buildings, and there were new businesses in some of the older buildings.  The area had flooded in 2004 due to the effects of Hurricane Gaston.  I also noticed a lot more character in the area.  One semi-enclosed section of the Canal Walk now had all sorts of murals painted on it.  There was also a lot more life along the Canal itself, with recently constructed housing nearby, and shops and restaurants fronting the Canal.  Previously, the Canal was somewhat disconnected from the surrounding neighborhood, with not much to do on the Canal Walk except to walk.  Not anymore.
Then there was Belle Isle.  First of all, the bridge was giving people fits on this particular day.  The pedestrian bridge is suspended by cables from beneath a highway bridge, and it usually vibrates from people walking on it.  However, on this day, the wind was also causing the bridge to sway from side to side, which was an odd feeling.  It was a little more challenging to walk on, for sure, as one person described it as saying that it was kind of like walking drunk (and I'll agree with that description).  Others were understandably nervous about walking on the bridge while it was swaying, but it was perfectly safe (the bridge was designed for these sorts of movements), though others indicated that the bridge's movements were causing them motion sickness.  Me, I didn't get any motion sickness from it, though I did find the sideways movement somewhat frustrating when it came to shooting photos from the bridge.  Lining up a shot is difficult when the ground beneath you is moving.  I could get the frame lined up well enough, but motion blurring from the movements was still a concern.  Belle Isle itself lent itself to some pretty nice photos of the skyline (such as the current Photo Feature as of this writing), and it also provided a fairly secluded place for people to hang out.  I saw a group of people (late teens probably) sitting in a circle at the east end of the island drinking beer and smoking cigarettes, and then saw a teenaged couple seriously making out a little bit down from them.  I also had a conversation with an adult couple down from the make-out pair, who gave me some tips on photography locations for a future Richmond visit.
But the photos came out pretty well.  Take a look…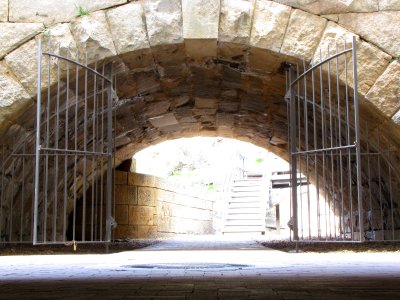 Gates leading to stairs beneath the Reynolds Wrap building.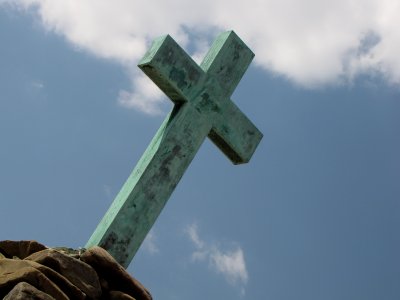 Detail on the Christopher Newport Cross.  Considering that this photo shoot was done on the day before Easter, I found it somewhat fitting, even though I don't celebrate Easter.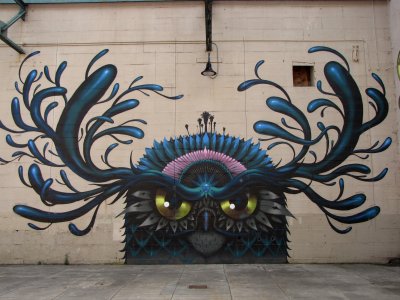 One of the murals that adorns the semi-enclosed part of the Canal Walk (pictured here in 2002).  I saw this, and thought it looked like the evil twin of Looney Bird (from The Rock-afire Explosion).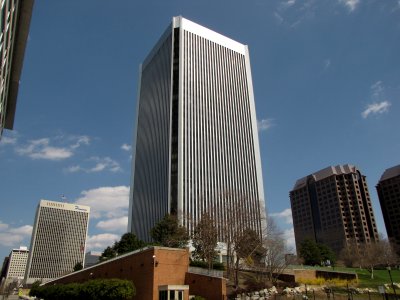 The Federal Reserve Bank of Richmond.  Unlike in 2003, when I was harassed by a security guard for photography, I had no problems whatsoever taking lots of photos of the Fed this time around.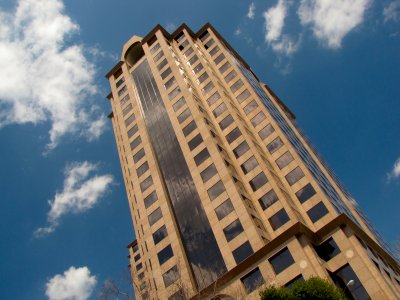 Riverfront Plaza Towers.  Compare this photo to the Photo Feature I ran of this subject in September 2007.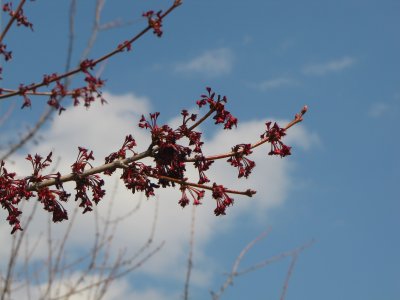 A tree in bloom.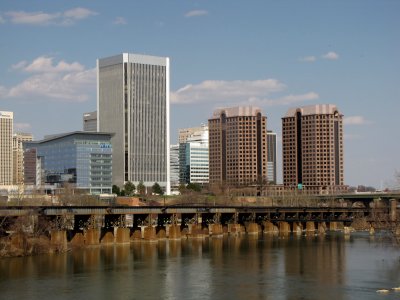 Richmond skyline as viewed from the Belle Isle pedestrian bridge, near the river's north shoreline.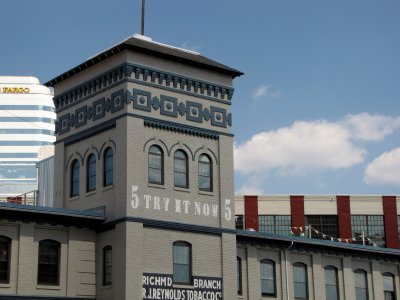 Reynolds Tobacco building.  It has been completely refurbished (compare to 2003 photo), and now contains a restaurant on the lower level, and apartments above.
I got plenty of other photos as well, and those will trickle through eventually.  I'm planning to make a Photography set out of this outing, and then I'm sure that this will turn into a few Photo Features in time.
I was also planning to go to Hollywood Cemetery, which I last visited back in 2009 with the Anons.  However, I ended up running out of time on that one.  While I did get over to Hollywood Cemetery after I finished at the Canal, I found the gates locked.  It should be noted that the cemetery closes at 5:00 PM, and so I had unfortunately missed it by about an hour.  This sounds like something for next time, I suppose.  Couple Hollywood Cemetery with the photo locations that the couple on Belle Isle gave me, and I think I might have a full day.
And then I-95 was a challenge, but such is par for the course.  I-95 between DC and Richmond, is, to put it bluntly, a pain.  It's always congested, but even if you added more lanes, it's still going to be congested.  But I did get a photo of the "LOVE" sign at the Fredericksburg Welcome Center: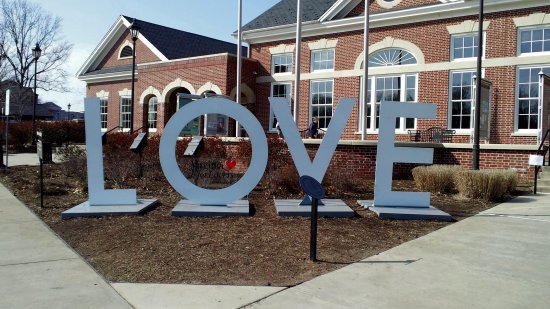 Of course, Virginia is really only for lovers in heteronormative relationships, as same-sex marriage in Virginia is banned by constitutional amendment.  They really should add an asterisk and disclaimer to their "Virginia Is For Lovers" slogan until it becomes legal in Virginia for anyone to marry whomever they wish, regardless of gender.
And then thank goodness for Sheetz.  There's a Sheetz in Ashland that I stopped at both ways – on the way down to give the car a drink, and on the way back to get me something to drink.  And following Sheetz, this is the slightly sunburned face of a person who had a very successful day: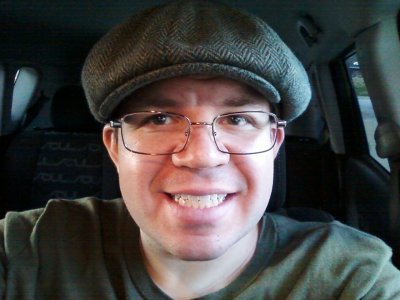 And there's more photography to be done while I'm still on vacation.  I'm going to be photographing up in Cumberland, Maryland on Tuesday.  That should be a lot of fun…