The mildly interesting things that you see in a day…
March 21, 2014, 11:34 PM
So my Friday was fun.  I got together with my friend Matthew, we did some cooking, and then after Matthew and I parted company for the day, I headed over to Dulles Town Center for a bit.  Over the course of the day, I spotted a few things that I found mildly interesting.
On the way in, I stopped over at Aardvark Swim in Chantilly.  I usually go to the Rockville location, but since they were out of goggle straps (the bungee cord kind) in Rockville, and I knew I was going to be out this way sooner than Rockville would get more in stock, I swung by and here to get them.  Those of you who follow me on Instagram may remember that I was contemplating whether or not to buy this: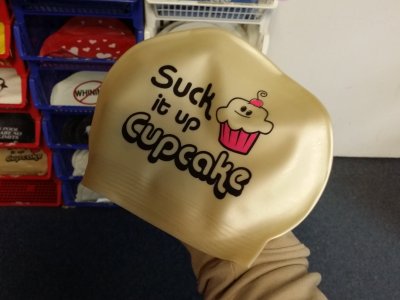 I didn't end up getting this on Tuesday, mainly because I hadn't quite built up the nerve to actually wear it in the pool.  However, I did want that on a shirt, and had been wanting something like that for a while. Found it today: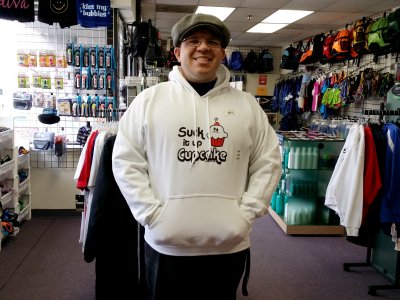 Yes, I found a "Suck it up, cupcake" hoodie in my size.  Sold.  I know what I'm wearing to the pool on Monday.  Time to give my old Schumin Web sweatshirt a rest for a while.  This is very swim-related.
With Matthew, we were planning to do a little cooking.  We tried our hands at cooking hamburgers on the stove, and the first thing that we did was go shopping for the requisite parts.  But on the way out, I got this: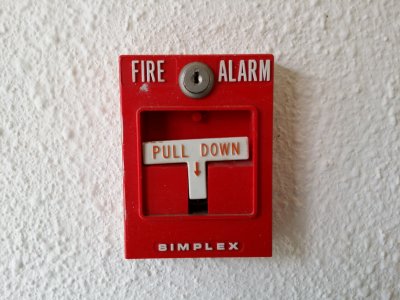 Simplex pull station at Matthew's house.  Does anyone know the model number on the older Simplex single-action pulls?  My Simplex single-action is the 2099-9795, which is a newer model that's also addressable (for intelligent fire alarm systems).  This is an older building, and the system is likely original to the building, with these and 2901-9838 horns without strobes.  So I'm guessing that it has a conventional system.
On the way back to my car, we spotted this: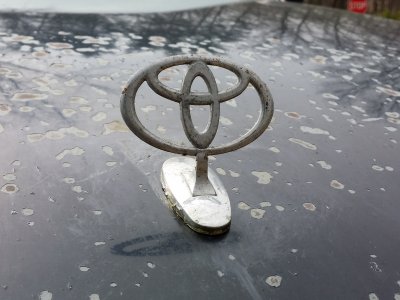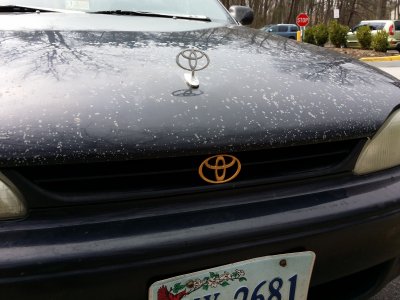 Ever seen a Toyota hood ornament before?  Looks like an aftermarket part, considering that this 1990s-era Camry has the Toyota "bull" logo (I know that's not what it really means, but to me, it's always looked like a bull with big horns) in the usual spot on the grille.
Then, arriving at Safeway, Matthew and I saw these: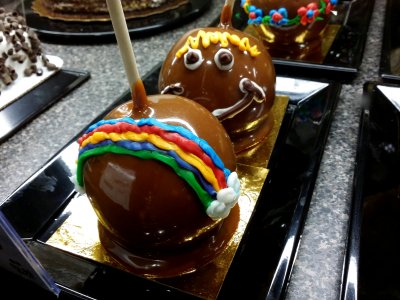 These are caramel apples with frosting decoration.  That was a new one for me.  I've also never seen caramel apples sold out of the bakery case, either, for that matter.  Of course, I don't frequent the grocery store bakery all that much, either.
Getting back to Matthew's house, we got to cooking.  Since neither one of us had ever done this before, we used directions that I found on WikiHow.  We shaped the 93% lean ground beef that we bought into patties, put a little spray on the pan, set the stove to medium heat, and got cooking: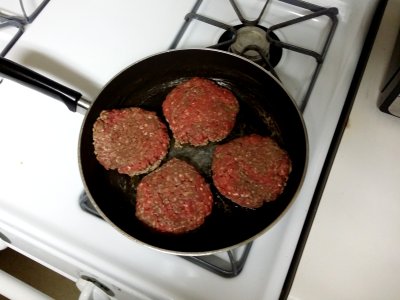 This was right after we started cooking them.  Following the directions from the website, the burgers were still a bit underdone, so we added a little additional heat and flipped them over two more times.  Since we made four patties (mainly as insurance against messing up), we each had two.  Two was a tad much for me, but considering that I didn't have lunch, I think I'm allowed.  Then I put some pickle chips and a little ketchup on there, and I was good to go.  We both agreed that the burgers came out perfectly.  The only thing that was unexpected was some smoke, but a few minutes with the window open took care of that.
All I have to say is that we certainly did much better than I did a decade ago in college when we all tried to cook burgers and did pretty poorly (but the flames were cool looking).
After our meal, Matthew and I parted company for the evening.  He had another engagement to attend to, and I went over to Dulles Town Center, mainly just to walk around for a little bit.  Dulles Town Center was built in two stages, as the main part of the mall was completed in 1999, and the Nordstrom wing was completed in 2002.  The main part of the mall primarily uses Wheelock AS notification appliances, but the Nordstrom wing has Simplex TrueAlert notification appliances.  That's a little unusual, when you consider that when you see Simplex, you see only Simplex on the whole thing, as Simplex sells complete systems, i.e. panel, annunciator, smoke detectors, pull stations, notification appliances, etc.  It's not like other system manufacturers, where they make the panel and some other equipment, contract out to Wheelock, System Sensor, etc. for their notification appliances, and do similarly for their pull stations.  I don't know how the fire alarm system is set up in the Nordstrom wing.  It could be that Simplex did an expansion to the original system, or it could be a completely separate system from the main part of the mall.  If it's the latter, which seems more plausible considering how I usually see Simplex systems installed, it's likely the case that each system shows up as a zone on the other system's panel.  Thus an alarm in the main part of the mall would trip the panel on the Nordstrom wing and vice versa, because when one system goes into alarm, it indicates an alarm condition on the other panel through the alarm zone that I mentioned, which in turn puts it into alarm.
However, over in Simplex territory, I saw what was possibly one of the most unusual intentional alarm installations ever: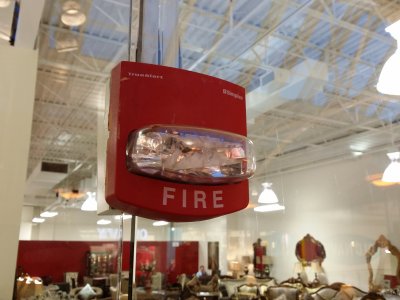 This is a Simplex TrueAlert strobe installed through a glass window.  The device itself is in the mall, and the backbox and conduit are in the store.
Then I also saw dueling strobes at Dick's Sporting Goods at the other end of the mall: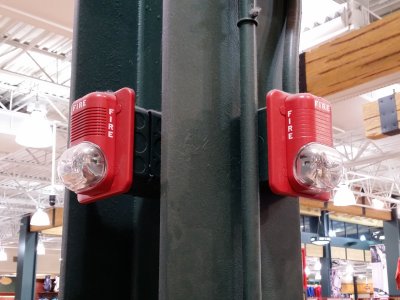 Two System Sensor notification appliances on adjacent sides of the same column.  The one on the left is a horn/strobe, and the one on the right is just a strobe.  They cover different areas, and face the perimeter of the store.  I've seen many cases where two fire alarms are on complete opposite sides of a column, but never on adjacent sides like this.
And then when I got home, I posed with my new hoodie again: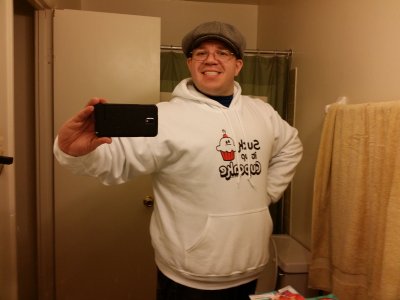 Yes, it's the bathroom selfie.  If you don't like it, well, it's my bathroom, so suck it up, cupcake.
So that was my day!  I definitely had fun, and Matthew and I need to cook stuff together more often.