Driving around Montgomery County…
March 9, 2014, 1:25 PM
For my commercial driving class, I had to watch others' driving to identify distracted and at-risk driving behaviors and document them.  Normally one would do this while another student was driving the bus, but since I'm the only student in the class, I am doing this as homework.  Since I had some issue with making the arrangements for someone else to drive me around so that I could write, I decided to take matters into my own hands and attach my cell phone to the visor to make a movie of my own driving for later analysis.  In other words, something like this: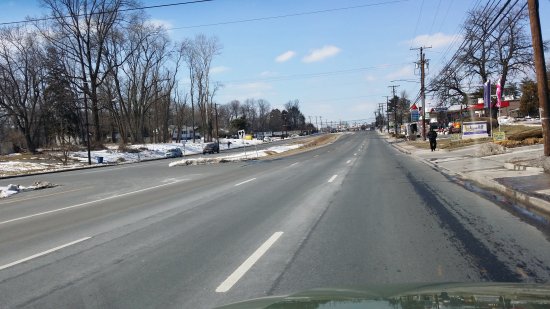 In making this movie, I had to go shopping anyway, so rather than go to a store near me, I went to Milestone Center in Germantown, taking a rather circuitous route to get there for maximum driving exposure.  Normally, I would take Georgia Avenue to either the Intercounty Connector or Norbeck Road to I-370 and then to I-270, and then take Father Hurley Blvd. to get over to Milestone Center.  This time, I added Bel Pre Road in there betwene Georgia and Norbeck, then instead of I-270, I took Sam Eig Highway, Great Seneca Highway, Quince Orchard Road, Firstfield Road, Clopper Road, did a loop around Germantown Indoor Swim Center, went down Germantown Road, and then went through an office park and past the new Wegmans to reach Milestone Center.
The first video went from the Lotte Plaza shopping center on Georgia Avenue to Quince Orchard Road:
Then the second video started on Firstfield Road at Montgomery College's driving range (those are the buses that I am learning on), and ends right around the Wegmans:
And no, there is no sound on either of these videos.
I found that, surprisingly, Montgomery County drivers are pretty careful in the middle of the day on a Thursday.  If I wanted some more action, maybe I should have gone over to Fairfax County, or followed DC Councilman Jim Graham around for a while.
In any case, my main reason for posting these videos is so that others in driver education classes (aka "Driver's Ed") might find them helpful.  If I can make the world a little bit better place to drive in, then that's awesome.
Meanwhile, the evening after I made these videos, I had an amusing moment on the phone with my father about it.  I was telling him about how I attached the camera, using cheap duct tape (because the cheap stuff won't stay stuck to anything).  He asked why I didn't use rubber bands.  My exact response was, "Now you tell me."  The tape certainly worked, but rubber bands would have definitely been far more elegant.
And then my test for my full CDL with MVA is this Thursday!  I do know what I'm doing, but I'm still really nervous about it, and that's because it's a high-stakes test.