Bye bye, beard…
October 18, 2009, 3:14 PM
And hello, soul patch! Take a look: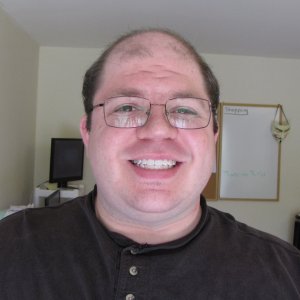 I realize that the soul patch doesn't look like much now, and you really have to look for it to see it, but I'm going to give it a little more time to grow out, and I think it ought to look pretty cool.
Meanwhile, I'm glad to dispense with the rest. I don't really have the patience to deal with it. It itched, and it just didn't seem like me. But if nothing else, it was a learning experience, and hey, I did decide to keep about an inch's worth of it.
And now, I believe I'm ready to go back to work tomorrow. I had a great vacation, as staying at home and just doing stuff I wanted to do was just what I needed. I got to go to four demonstrations: Funk the War 8, a flash raid, a bigger raid, and the National Equality March. I finished the tubing trip in Life and Times, I completely pulled Urban Demolition II together and released it, plus I did some general updates and tweaks (you may notice that the background is a shade darker now). I need to do this kind of "staycation" more often. This vacation was perfect. I got to relax, and I didn't have to worry about spending too much or about making sure I got my money's worth out of a vacation. I just kind of stayed home and chilled.