Trying out electric cars in space tights…
May 25, 2022, 2:31 PM
This past Thursday, Elyse and I went out to take some electric cars out for a test drive.  I started seriously considering purchasing an electric car after filling up the HR-V a few weeks ago and being blown away by how expensive it was to fill it up.  The idea was to use whatever electric car for commuting, and then keep the HR-V for road trips and other adventures where it might not be practical to use an electric car.
In going out, it was warm enough to finally take this pair of men's space leggings that I had bought for myself a while back for a spin.  I had wanted a pair of space tights for a while, and I was delighted to have found a pair of these things for men.  After all, why should women get to keep the joy of fun prints all to themselves?  Plus, after having lost so much weight, I can now fit into a pair of these and not look ridiculous.  You be the judge:
If it tells you anything, I was so excited to actually look decent in these tights that I showed them off to my surgeon, Dr. Brebbia, during our online check-in appointment earlier in the day.
However, this is not my first time wearing men's leggings out in public since I've lost weight.  Back in November, I rediscovered an old pair of jogging tights from ten years ago, and on a warmer day, Elyse made me wear them out on a trip to the mall.  They were comfortable, though I didn't like the lack of pockets.  Other than the lack of pockets, though, the trip to the mall went well.  I just put the little key fob for the car against my stomach, just below the waistband of my tights, and I used my phone for all of my payments.  I also wore one of my short-sleeve hoodies, i.e. I had a pocket somewhere, even if it wasn't attached to pants.  That also had the benefit of being just long enough to go past my hips, because while I did want to wear the tights, I didn't want to look too intimidating.
In any event, I paired the space tights with my sneakers, which gave me something of an athletic look.  I was originally going to wear flip-flops, but Elyse strongly recommended that I wear real shoes, considering that I would be driving cars that I was unfamiliar with.  I thought that was fair enough, so I went with it.  As originally planned, we had four cars on our list: a Volvo XC40 Recharge, an Audi Q4 e-tron, a Ford Mustang Mach-E, and a Volkswagen ID.4.  I looked through some dealerships' stock online, and it looked like the various dealerships up in Frederick had things in stock, so we planned an adventure up there.  I feel like it doesn't take much prodding for Elyse and I to take a trip up to Frederick, especially since, because of traffic, it's often easier to go up to Frederick than to locations closer by in Montgomery County.
Our first stop in Frederick was Sheetz, to get lunch.  The way I figured, the Volvo and Audi dealership were right next door and shared a driveway with Sheetz, plus I didn't want to go driving unfamiliar cars on an empty stomach.  Going over to the dealership, we were disappointed to discover that the Volvo XC40 Recharge that we had hoped to test drive was gone, and that there would be no more until September, i.e. the next model year.  However, they did have a used Polestar 2 out on the lot that we could try.  I wasn't necessarily looking at Polestar because it didn't have any models in the compact SUV form factor like I wanted, but it was there, and Elyse likes Polestar cars, so why not.  We filled out all of the test drive paperwork, they gave us the key fob, and off we went.  I came up with a test drive route through Frederick that did everything that I needed it to: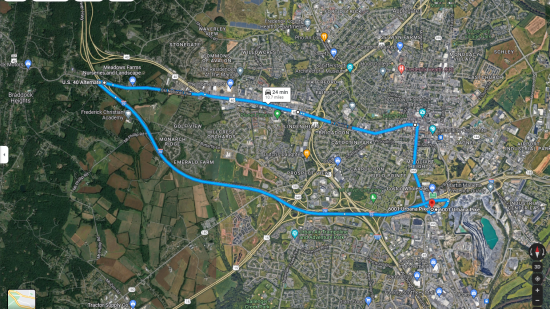 Image: Google Maps
(Click the image to see it in some detail)
Basically, we did a big loop.  Starting with the Volvo/Audi dealership, we made a right turn onto Buckeystown Pike (MD 85), turned right onto Market Street (MD 355), turned left onto West Patrick Street (MD 144, US 40) down the "Golden Mile", made a left onto Old National Pike, and then got on I-70 eastbound, taking that back to the dealership.  That gave me a little bit of everything: city driving, suburban driving, and freeway driving.  We also dipped into a parking lot to try out parking it, as well as taking photos of it (because this would be a very confusing Journal entry without proper visual aids).
The Polestar 2 wasn't a bad car by any means.  It had some serious pickup, which the salesman warned us about before we started.  We discovered this ourselves when I hit the accelerator, and it practically leapt forward.  I said to Elyse, "He wasn't kidding about the fast acceleration!"  I liked that it had a brake hold feature that could be turned on and off (they called it "creep mode"), and I also liked that it had Google Assistant built in, so when I said "OK Google" while driving, expecting to talk to my phone, not only did my phone answer, but the car answered as well, separately from my phone.  That was a welcome feature.  However, what bothered me about it was that I felt like I couldn't see around it as well as I could in the HR-V.  I thought that the side mirrors were relatively small, the "B" pillar (i.e. the one that the seat belt hangs off of) was fairly wide, and the rear window was tiny.  Additionally, it had no camera on the right mirror like I have on the HR-V, but I later learned that the side camera is exclusive to Honda and Hyundai.  Going out with the vehicle, I tried to turn it off before getting out for photos, only to realize that I had no idea how to turn it off.  I learned later from the salesman that you didn't – it sensed the key fob and acted accordingly.
We stopped at Terrace Lanes so that Elyse could use the restroom, and that's where I got my photos.  Check it out: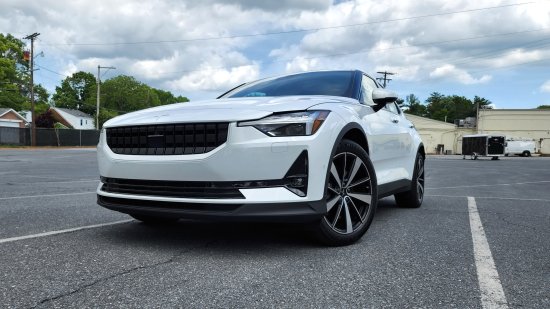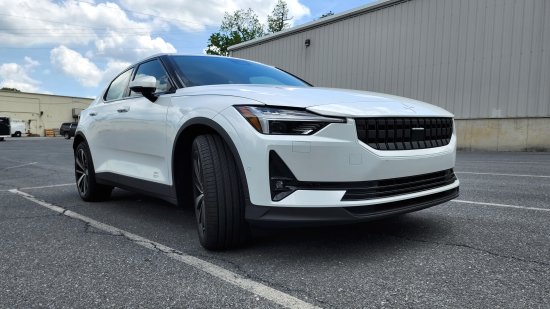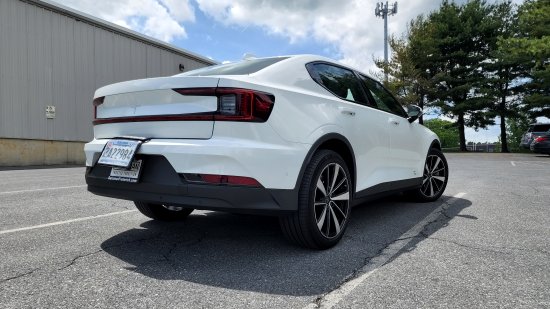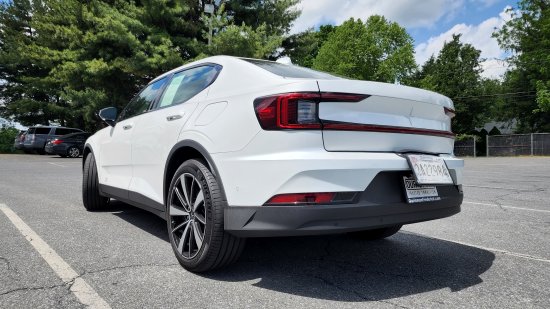 The Polestar 2, parked in the lot at Terrace Lanes.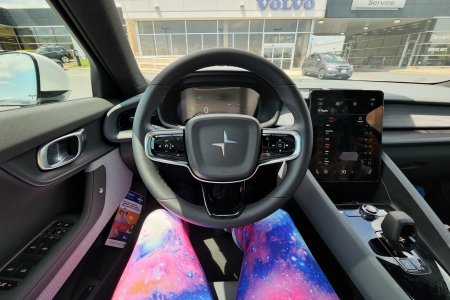 My view inside the Polestar 2.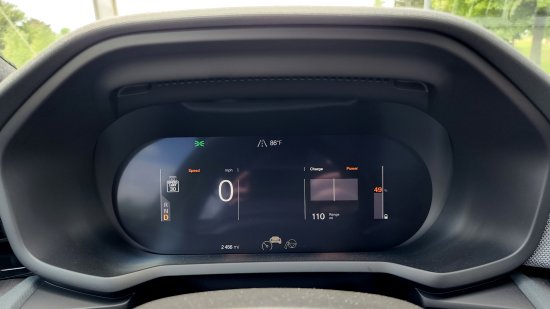 The dashboard was all-digital.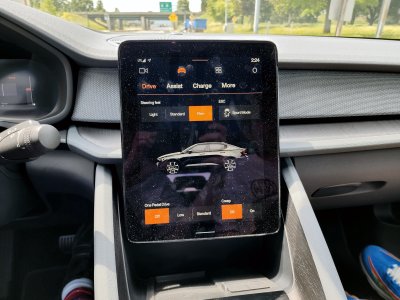 The touchscreen reminded me of a giant tablet.  The driving settings screen is displayed here.  There are three settings for steering, you could turn sport mode on and off, set regenerative braking to off, low, or standard, and enable or disable creep mode.  This is also where you interacted with Google Assistant and messed with all of the other doodads in the car, as well as set climate control.  Also, for what it's worth, that space beneath the tablet is a wireless charging pad for a phone.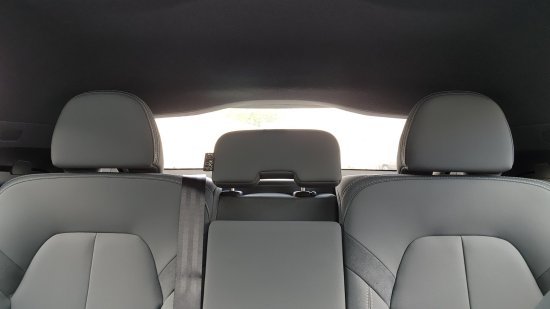 That tiny rear window.  You understand why I didn't like that.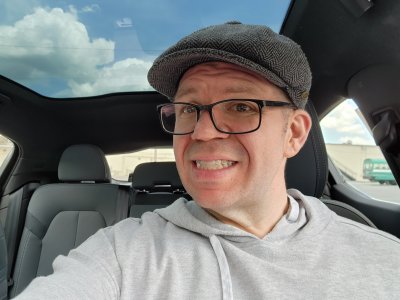 Selfie in the Polestar 2.  Note the full panoramic roof.  Note that while this is bigger than the moon roof that I have on the HR-V, this one doesn't open.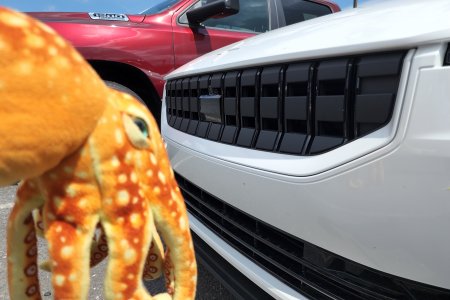 Woomy came along for our test drive, and he had something to say about the Polestar 2.  I told the salesman not to take anything that Woomy says personally, since Woomy doesn't like anything.
We then tried out a 2021 Audi Q4 e-tron.  According to the salesman, the vehicle was "the full Audi experience" but with an electric motor.  An Audi seemed like a stretch for me, since that's not my usual market segment as far as cars go, but from what I could find, the price was fairly close to other models that I was looking at, so it seemed to be worth a try.  The Audi was a little bit different than the Polestar, in that it had an on/off button like the HR-V.  They also tried a bit too hard with some of the functions, like making a horizontal selector lever: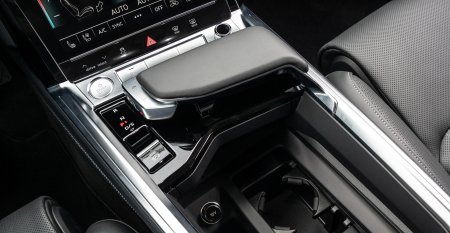 Photo: Audi
I found that thing awkward to use, especially with "park" as a button on the side rather than a position on the lever.  It's like the difference between the master controller on a Broad Street Line train and a WMATA master controller.  The Broad Street one seems awkward with its horizontal design, while the WMATA one generally seems more intuitive.  This thing was not intuitive, and I had to think a lot about it while using it.  And then I also felt like the seat belts were too quick to lock during fast acceleration.  On more than one occasion, the seat belt locked when it shouldn't have, making me feel like I was being choked.
Other than that, the Audi was a decent enough ride, with similar acceleration to the Polestar.  If it tells you anything, we were prevented from doing the full acceleration test on the on-ramp to I-70 due to an old person in a Cadillac in front of us, so we opened it up a bit on the I-70 mainline.  It was very easy to speed in this thing, as I caught myself going 90 mph on the highway (the speed limit is 70).  I slowed down pretty quickly after that, and made a mental note that it was very easy to speed in that car.  Otherwise, I found the touchscreen to be annoying, though we did get Android Auto to work.  The problem with the touchscreen was that you had to "click" it like a mouse button in order to actually register your touches reliably, rather than just touching it like most cars.  The menus were also a bit all over the place, and not as intuitive as you might think.  However, unlike the Polestar, the moon roof actually did open on the Audi.
Here's what the Audi looked like: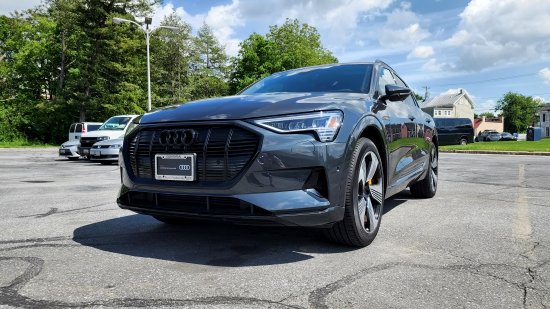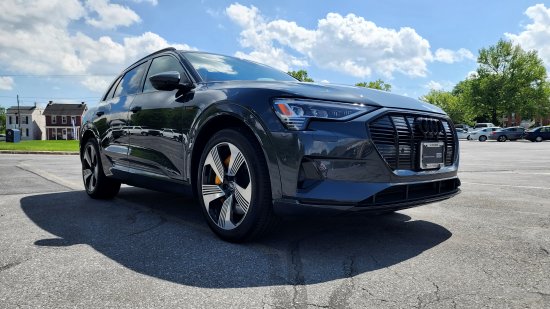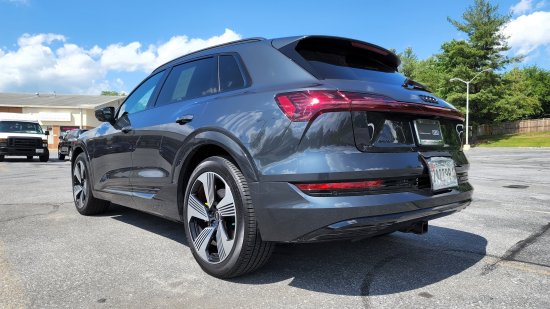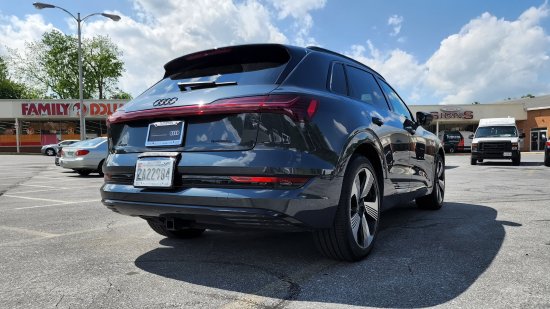 A view of the Audi Q4 e-tron in a parking lot on East Patrick Street in Frederick.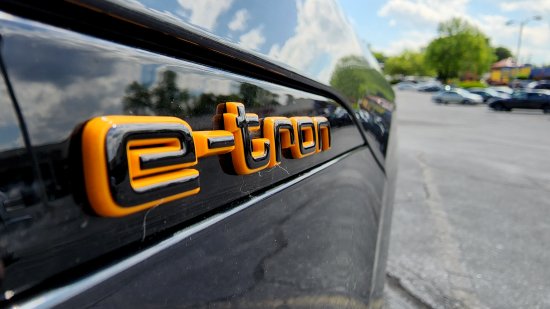 Close-up of the e-tron badging on the side of the car.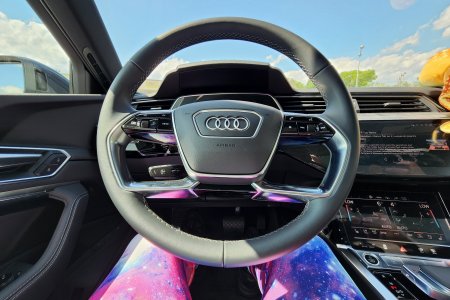 The view from my seat.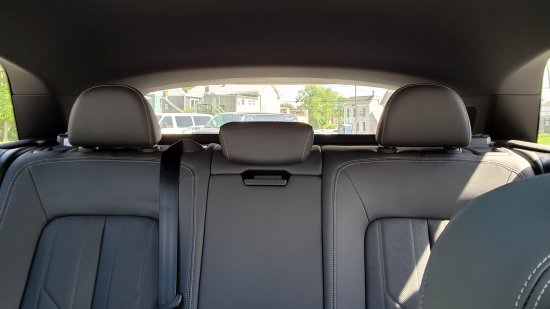 The Audi, like the Polestar, also had a tiny back window, though I felt like the Audi was slightly easier to see around.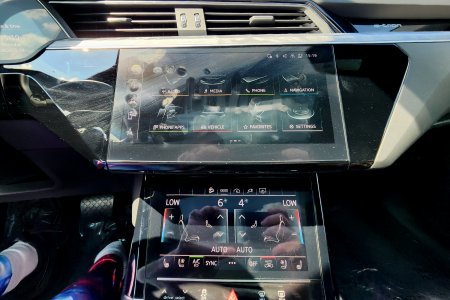 The touchscreens in the center.  The bottom one was more about mechanical functions of the car, while the top one was more about entertainment and communications functions.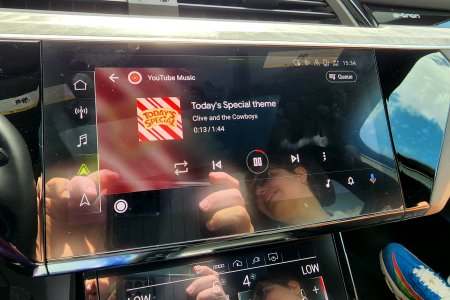 We also played with Android Auto, which is something that the HR-V doesn't have (missed it by one model year).  I got it to play a classic song by Clive and the Cowboys.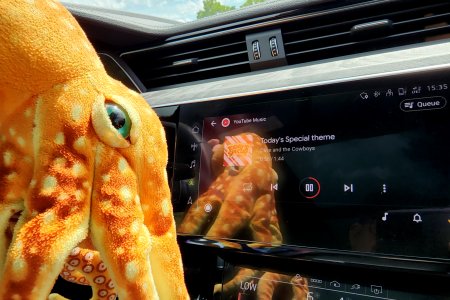 Woomy, however, didn't like my choices in music.  Everyone's a critic…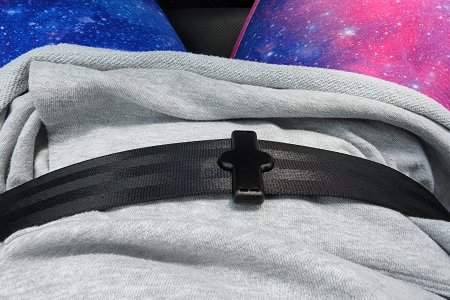 The seat belt, meanwhile, had this thing in the middle of the lap part.  I don't know what it did or why it was shaped like that, but it moved around a bit.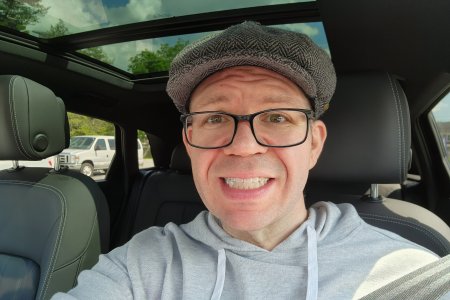 Selfie in the Audi Q4 e-tron.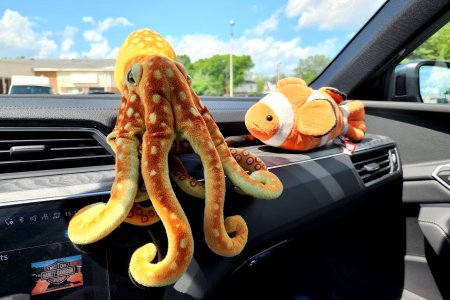 Woomy and David also posed for a photo in the Audi.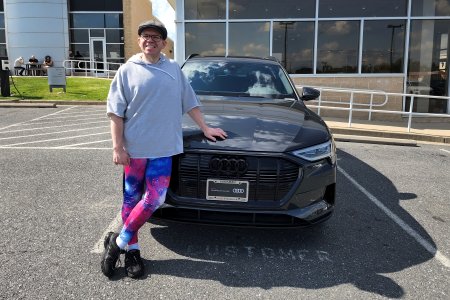 When we got back, I asked the salesman to take a photo of me with the Audi.  I didn't buy it, but I wanted another photo showing me in my space tights, and Elyse refused to do it for me (she tends to get like that when I'm having too much fun with an outfit).
And that was that with the Audi.  I suppose that we had some fun with it, but it just wasn't my type.
After this, we headed down to the Golden Mile, where we visited The Frederick Motor Company, i.e. the Ford and Subaru dealership.  Our goal there was to try the Ford Mustang Mach-E.  Their website indicated that they had two, but when we showed up, we soon learned that they had zero.  Well, crap.  That was a bit of a disappointment, but what are you going to do.  So the Mach-E got tabled for later.
We then headed down the road to the Volkswagen dealership to take an ID.4 out for a spin.  Now when I was looking at car descriptions and prices online, I felt like the ID.4 had a high likelihood of being my first electric car.  So I was genuinely excited about this one, because it seemed like a more serious prospect.  When I was doing my research online, I considered the Aldi to be a stretch, and I had eliminated the Polestar because I thought that they were ugly.  The Mach-E was on the list for sake of completeness, because I'm still a bit skittish about Ford following my experience with the Sable and its many mechanical issues after it surpassed 100,000 miles.  That thing was a major money pit at a time when I didn't have a whole lot of money to spare.  But the Volkswagen ID.4 just gave me that good feeling that I was looking at a winner.  So I had high hopes.
Now, unlike the Mustang Mach-E, I knew that the Volkswagen dealer would have one, because they mentioned having a demonstrator vehicle.  And when we showed up, there it was, sitting in front of their showroom.  I parked the HR-V right next to it, and we talked to the salesman.  I completed the paperwork and all of that, and he gave me the key, and we were off, doing the same route that we did at the other dealership, starting from the Golden Mile and then working our way around to 70, down to the Sheetz, and then through downtown to get back to the dealership.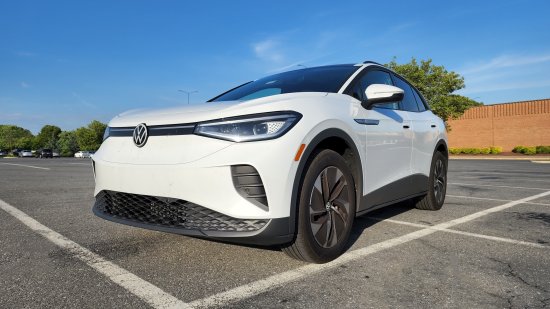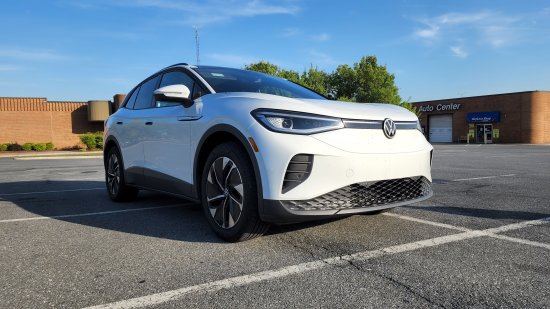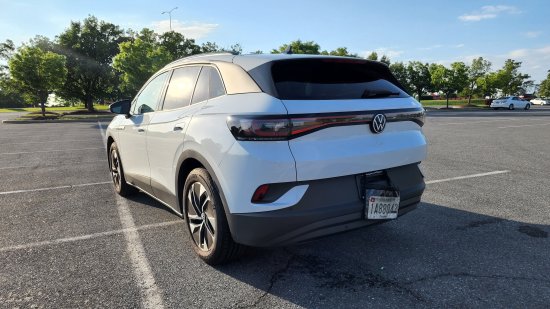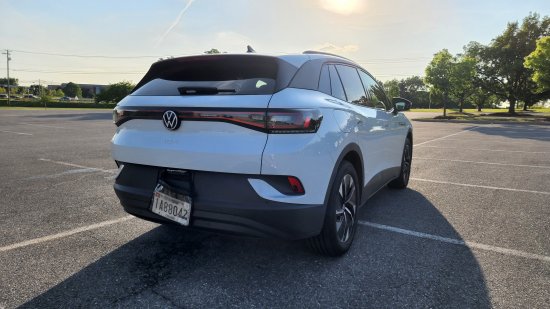 The Volkswagen ID.4 in the parking lot at Francis Scott Key Mall.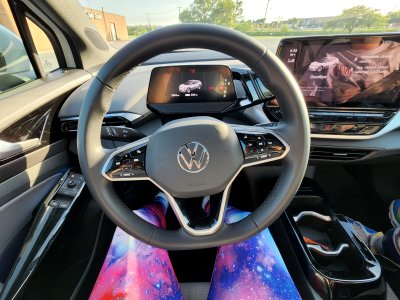 My view from the driver's seat.  Notice that the "dashboard" is mounted on top of the steering column, and therefore adjusts with the steering wheel.  Additionally, the gear selector is mounted on the right side of that dashboard screen, and operates via a twisting motion: twist down for drive, twist one stop up for neutral, and two stops up for reverse.  Park is once again a button.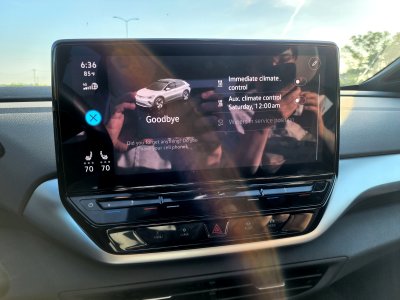 Center touchscreen between the two front seats.  Climate control was accessed using real buttons underneath the screen.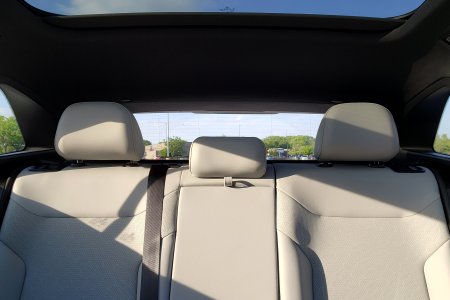 Another relatively small rear window, though nothing like that Polestar.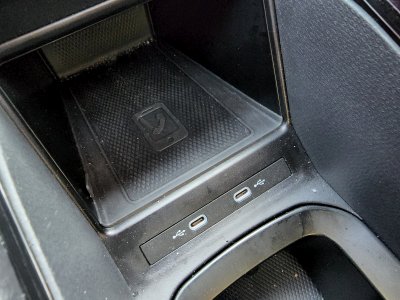 Cell phone holder in the ID.4.  I was disappointed to find that this was not a wireless charging pad, but rather, it was just a slot to hold your phone, with charging via USB-C cables.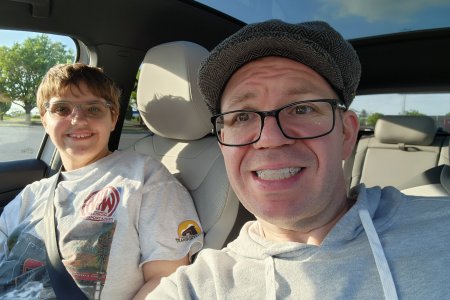 Group selfie in the Volkswagen ID.4.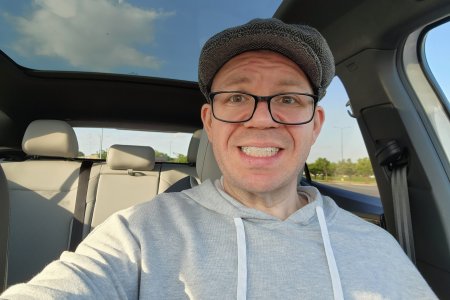 Solo selfie in the ID.4.  Note the big panoramic moon roof.  This moon roof didn't open, but unlike the Polestar, it had a cover that was operated via a switch.
The Volkswagen ID.4 also had various driver assist features that I had never experienced before, mostly to help keep you in your lane should you start to drift.  I figured out how to turn those features on, but I admit that I barely tried those features out, as it was the 6:00 hour when we had this one, and so I had heavier traffic than I did with the Polestar and the Audi.  Therefore, I was not comfortable testing them out in that kind of traffic.  What I did experience, however, was promising, as it did warn me when I was starting to drift a little bit, though I never went so far that it would actually attempt a correction because of the aforementioned traffic and my unwillingness to fool around in said traffic.  But I feel like it has potential.
Overall, I was a little bit disappointed with the Volkswagen ID.4, especially since I anticipated that it would be a winner going into it, and as such, I had high hopes for it.  I got the sense that the designers tried to make this feel very close to a regular car, what with more "normal" acceleration that won't throw you back in your seat if you gun it, but they skimped out on some things, and overdesigned it in some ways.  Right offhand, in skimping out, no wireless charging pad seemed like a big oversight, especially when I was not driving the base model.  Similarly, there was no brake hold feature, i.e. "creep mode" was always on, and no option for regenerative braking, i.e. one-pedal driving.  Those two features just didn't exist on this car.  I have brake hold on the HR-V, and I was delighted to have it there, remembering that feature on the New Flyer Xcelsior buses at work.  As such, I did not want to give that up.  I also found Android Auto integration to be a bit unwieldy.  I hooked my phone up to it successfully, but every time I said "OK Google", the system would hear the wake word, and then ignore everything else that I said.  What good is Android Auto integration if it's going to ignore all of my voice commands, therefore requiring that I touch it?  Though in all fairness on this front, I'm not entirely sure if this isn't just my missing a setting somewhere, as the HR-V does not have Android Auto, so I'm not that familiar with it.  But the Audi's Android Auto worked well without any fooling around, so I expected that this would as well.  Then as far as overdesigning went, that steering column-mounted dashboard fit the definition of "overdesigned".  I felt like it was too close to me, too small, and hard to use.  I would have preferred that it be placed back in the dashboard like most cars, and made bigger to compensate.  I feel like if it had been placed further back, they could have provided more information, and at the further distance, it wouldn't require looking away from the road in order to see it.  And then there was that gear selector knob.  Get out of here with that.  It was just as bad as that weird gear selector in the Audi, but in its own way.  Just give me a fairly conventional gear selector, and I'll be content.  The Polestar had that, which I appreciated.  My father's Chevy Bolt has that as well.
The way I see it it's okay to have very conventional features in your latest-and-greatest vehicles.  It just works.  I remember Ford's version of the Taurus from the late 1990s.  The second-gen Taurus looked fairly conventional, but then went all oval-y for the third-gen model.  They then, thankfully, ditched the oval look for a more conventional appearance for the fourth-gen version starting in 2000.  Similarly, and speaking of Ford, that's another thing that I don't like about Ford compared to other automakers: a lot of stuff is in different places on Ford vehicles.  My Sable had no right stalk on the steering column, because all of the windshield wiper features were on the left stalk along with the turn signal.  The headlights, having been kicked off of the left stalk for the wipers, were in the dash rather than on the steering column.  Weird all around.  No other car that I've owned has been like that.  But apparently, that's just a Ford thing to do, because when I've driven other Ford vehicles for work, they're the exact same way as far as weird control locations go.
In any event, I test drove three vehicles, and put three vehicles onto the "no" list.  I feel like Polestar has potential, if they would introduce a compact SUV form factor like the HR-V and improve the vision around the vehicle, but the specific model that we tried was a "no".  Otherwise, I've driven my father's Chevy Bolt before, and while it was a pretty decent car, it didn't feel like a good car for me.  And that's fine, because while Dad enjoys it, I have my own requirements.  We also sat in a Tesla Model Y in the showroom at Montgomery Mall, and I nixed it in about five minutes, since it seemed too complicated, with everything's being controlled on that big touchscreen, and too many unnecessary features on it.  That Elyse kept batting my hands away when I tried to do anything with it said that it did too much, and that it would be a distraction because of that.  I also envisioned my having an accident while trying to adjust the temperature, because it was too complicated.  Then there's the Hyundai Ioniq, which I dismissed categorically because, well… you know.
The sense that I'm starting to get is that while I would like to get an electric car, the time may not yet be right for me to go into that arena.  After all, not every automaker has come out with an electric car yet.  Toyota is coming out with the bZ4X for the 2023 model year, and Subaru is coming out with the Solterra.  Then Honda is going in with the Prologue, which is expected to come out for the 2024 model year.  I am particularly interested in the Prologue because I already own a Honda that I'm keeping, and know their design language fairly well.  Plus most automakers at this point only have one model of electric car in their lineups, and they're still trying to go all ultramodern in the designs in order to be all high-tech and fancy in order to look futuristic.  I suspect that will change eventually, as automakers make more electric models or make electric versions of existing models, i.e. we will end up with electric cars that look like cars that aren't overdesigned for the sake of being edgy.
So all in all, I suppose that I'm learning a lot about electric vehicles.  Thankfully, I have time on my side, as there is nothing pressing me to make a decision here.  The last three cars, I had some time pressure.  When I bought the Sable, the Previa had recently failed inspection, and was at end of life, and so I needed to replace it before it became undrivable because of the failed inspection.  When I bought the Soul, the Sable was starting to have a lot of mechanical problems, so it was time.  I was trying to get myself into a new car before the old one finally quit on me.  With the HR-V, I had no car following a fire, and was driving a rental that I was being charged for by the day.  This time, there's nothing wrong with the HR-V.  It's well-maintained, it's having no issues, and I'm not planning to get rid of it.  So if it takes me until 2025 to get an electric car, so be it.  I can be picky and select the perfect vehicle for me.
Oh, and I love those space tights.  Expect to see me in those again some time.  I also might get another pair with a different fun pattern on it.  We'll see.