Good to see our old house looking better than it has in quite some time…
June 30, 2016, 6:15 PM
Back on June 9, Elyse and I took a one-day road trip to Philadelphia.  From the outset, this was to be something of a transit adventure, with a visit to the SEPTA gift shop as one of the main priorities.  On the way up, Elyse even got annoyed with me for a few restroom stops (hey, when nature calls…) because she didn't want to miss the SEPTA store.  But then as we were heading up I-295 towards Lindenwold station to get PATCO, I commented as we were approaching the exit for US 322 that this was the exit that you would take to go see my old house in Glassboro.  Her response was an enthusiastic "Let's go!"  Looks like someone just gave up their right to complain about the time.
That said, we went over to Glassboro, and over to 304 Cornell Road.  I was surprised to see how nice the place looked: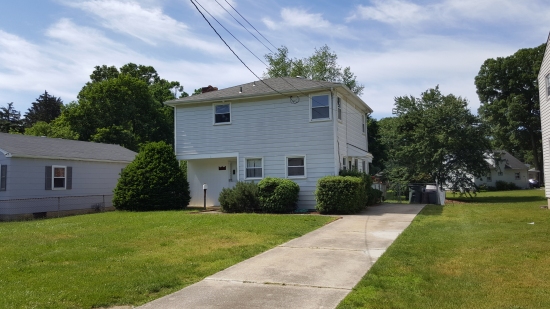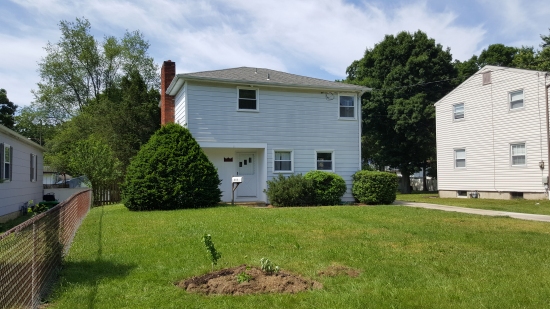 Now compare that to how it looked when I was little: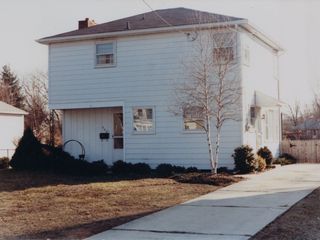 Yes, it once again looks like it did when I was little.  Compare to 2009, when it looked pretty rough: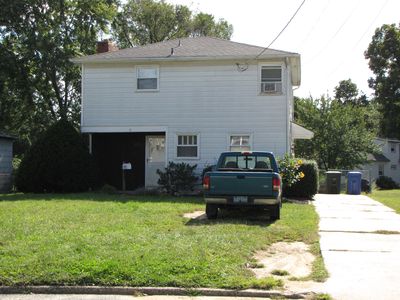 When I showed Mom the 2009 photos, she commented about what it might look like inside. I told her, "You probably don't want to know."  That dark brown patch around the front door made it look particularly bad.  That area became dark brown in the 1990s, and was still there in 2013.  Good to see that the current owners painted that area white again.  With the house looking at its best once again, I have more confidence that the inside looks like something that would make us, as former owners, proud to say that this was once our home.
I also got a photo of Elyse with the "falling down stop sign":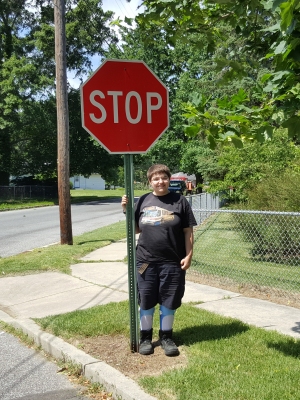 As we left, it is worth noting that there is nothing that says "South Jersey" more than Delsea Drive: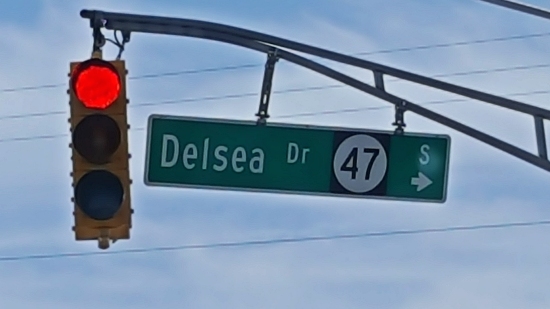 Seeing Delsea Drive is where I have my "welcome home" moment, since I very much remember taking Delsea Drive to go a lot of places, mostly the Haddonwood swim and tennis club (long since closed and demolished), as a small child.
After this, we stopped somewhere near Lindenwold for lunch, and then we headed into Philadelphia via PATCO.  That was kind of interesting, because unlike Metro, PATCO operators dump their train (i.e. vent the brake pipe pressure) any time that they get out of the seat.  In other words, they use it like a parking brake.  Elyse and I sat in the railfan seat which, on the older cars, is directly in front of and facing the front window, so we watched the train as it went down the roadway.  This was our view prior to leaving Lindenwold: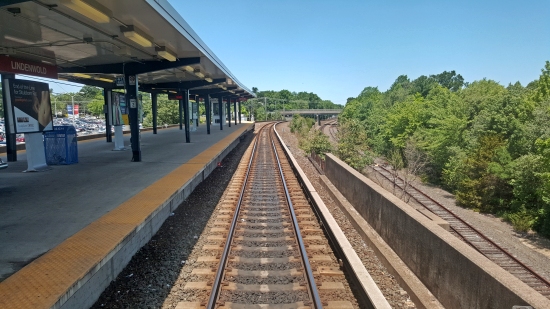 And since PATCO operators sit on the left side of the car and have a half-width cab on the older cars, it felt as though we were operating the train.  We spent our time reading the rail alignments and looking at the signals.  Then as we were approaching Woodcrest, a passenger informed the operator that two elderly passengers had fallen in the second car.  The operator immediately dumped the train, and called it in.
This, meanwhile, was our view while the operator investigated: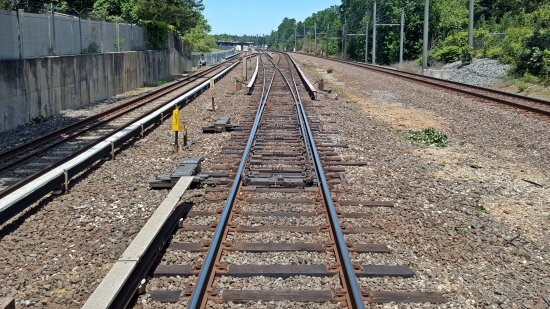 We ended up getting offloaded at Woodcrest, and boarded another train to go into the city.
Getting into Philadelphia, we went to the SEPTA store, and Elyse got her goodies.  While we were at SEPTA headquarters, we also checked out the vintage streetcar that they had on display.  I got a photo of Elyse in the driver's seat: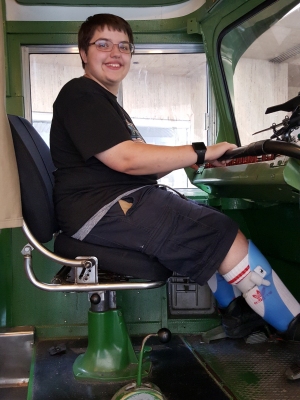 After this, we got together with my friend Pete, who now lives in Philadelphia.  We went on a little transit adventure together, as Pete knows the regional rail really well.  We took the Market-Frankford Line from 15th Street to 69th Street, where we boarded the Norristown High Speed Line, which we rode to the end of the line.  There, we waited for a regional rail train back to the city.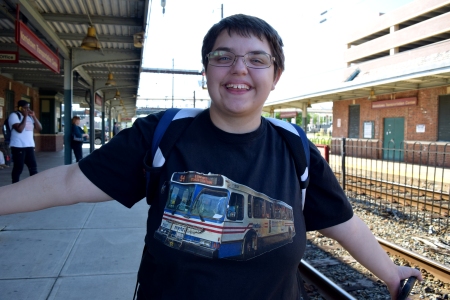 We took the regional rail back to Suburban station: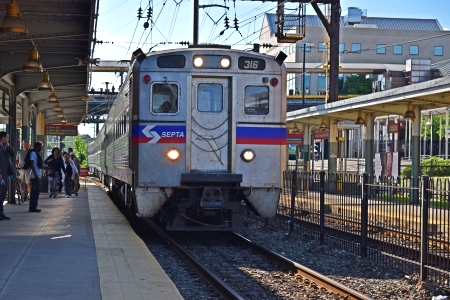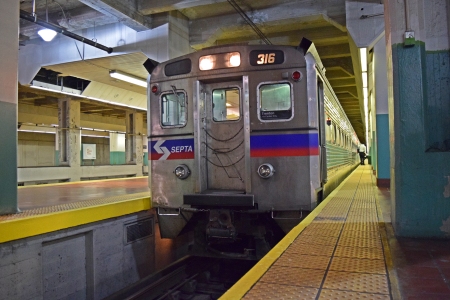 From there, it was time for Elyse and I to start thinking about going back to New Jersey, and Pete had another commitment later in the day that he had to attend to.  We headed over to City Hall station on the the Broad Street Subway, and took it one stop, to Walnut-Locust.  There, we said goodbye to Pete, who continued further on the subway, and Elyse and I walked through some underground walkways to PATCO: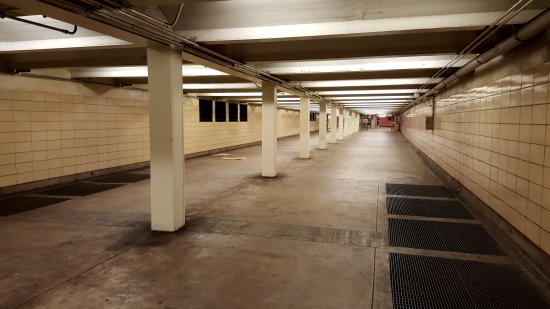 I guess you could call this a highly functional walkway.  Nothing fancy, but it will get you from the BSS to PATCO.  And then when we got to the PATCO station, we got one of the rehabilitated railcars: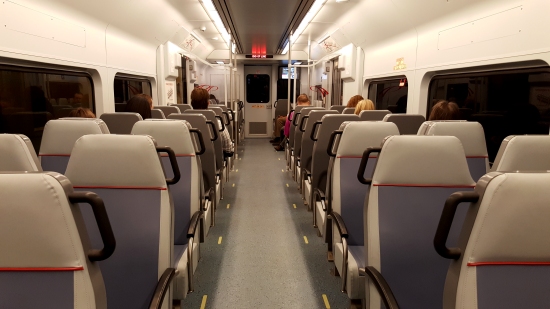 The newly rehabbed cars (which used to look like this) have leather seats, automated announcements, and a full-width cab for the operator.  Pretty cool, if you ask me.  The railfan window is still there, though you're not at the actual front of the car anymore, but separated by a few feet due to the cab space.
Arriving back at Lindenwold, we returned to the car, and then headed across the street to Stratford Diner, where we met my cousins, Mike and Tara.  We had a wonderful dinner, though Elyse's order left something to be desired: first they messed up the number of tenders, giving her the kiddie portion rather than the adult portion, and then when they sent the additional tenders, they came out with a hair on them.  The server blamed a "new cook" in the back for it, and it worked out to just change the order to the kiddie price and call it a day on that mistake.  However, that wasn't the only thing wrong, as those tenders that Elyse did have gave her a bad case of food poisoning.  I don't know if we'll be going to the Stratford Diner again any time soon, since that experience with Elyse made for a somewhat unpleasant ride home.  But other than the restaurant problems, our time with Mike and Tara was awesome.  I always enjoy seeing them.
And that's Philadelphia and New Jersey.  We definitely got around, didn't we?