Man bangle number two…
May 10, 2012, 9:50 PM
So I tried another "man bangle" recently. This time, I got this one from Amazon.com: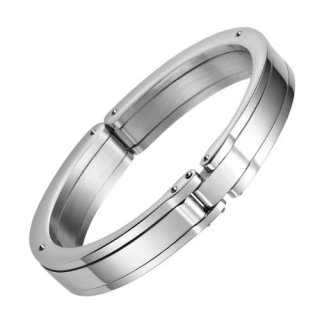 And this time I remembered to get photos of me wearing it: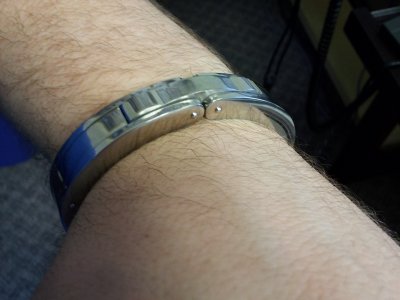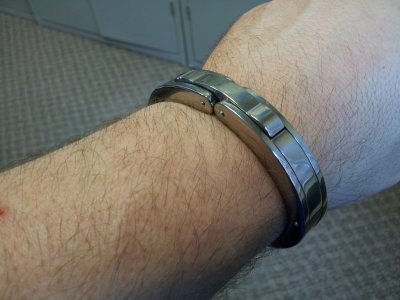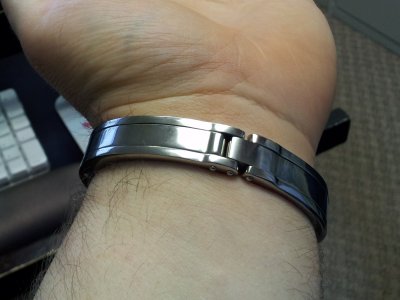 And that's all you will ever see of it. Yeah, I wasn't all that into this one, either. So I returned it. The first one didn't impress me because the open end made it feel too loose and I was worried that it would fall off and become lost. This one went all the way around and had a closure on it, but it didn't feel right. For one thing, it was very heavy. It felt like I had a weight around my wrist. So that's one strike there. Then the second strike against it was that it felt a shade too tight in spots. I wanted something looser that would move around a little bit, and this was staying firmly in one spot. And then strike three was that the whole presentation, when I put it on and started looking at it, just didn't wow me. For $45, I had better be completely in love with it, and I wasn't feeling that about this. I didn't mind that it kind of looked like a handcuff, but I wanted it to fit a bit more loosely than this.
So there goes the second try. I think I'm not going to shop for this online anymore. I think I need to go out to Eastern Market or something if I'm going to keep pursuing this. This way, I don't have to buy, try, be disappointed, return, and get a refund. I can just peruse, test, consider, select, and be done with it.
Plus I also want to go down to Eastern Market in order to photograph fruits and vegetables. Yes, I want to photograph food. See, here's the thing about photographing food. Food, unlike people, doesn't get impatient when you take a while to line up your shot. Food also doesn't need to be asked to pose in a certain way. Plus food doesn't need to get a ride to the photography location. Of course, you can't carry on a conversation with food, nor will food go out to lunch with you afterwards (unless said food is lunch afterwards). So there is a certain thing about human companionship there. Plus people will make silly faces, and food can't do that (with the exception of Pee-wee Herman's refrigerator).
So there you go, I suppose. I'll try again one of these times. But no more shopping online for man bangles. Going to do this in person next time.